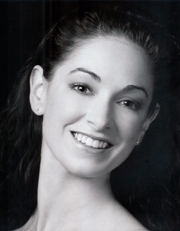 Tricia A. Sundbeck
Lecturer
Adjunct Instructor of Dance, CCM Prep Ballet Instructor
Corbett Cntr Perform Arts
CCM Preparatory and Community Engagement - 0236
Born and raised in Stockton, California, Tricia Sundbeck-Bell became a ballet student before entering grade school.  She apprenticed with the Sacramento Ballet Company throughout her high school years.  While training with the Sacramento Ballet, she enhanced her experience by attending summer workshops with San Francisco Ballet.  She also was awarded a scholarship to Boston Ballet School during this period.  During her apprenticeship with Sacramento, she had the opportunity to perform with Regional Dance America/ Pacific.

Upon matriculation from high school, Ms. Sundbeck became a principal dancer with the Sacramento Ballet Company from 1992-2000.  She joined Cincinnati Ballet in 2000 and was promoted to soloist in 2004 where she continued her professional career until 2008.

Ms. Sundbeck has had the great privilege to dance many of the principal roles of the great classical ballets during her 20-year professional career, including Juliet in Romeo and Juliet, Marie in the Nutcracker, Aurora in Sleeping Beauty, Swanhilda in Coppelia, and the title roles in Giselle, Swan Lake, Cinderella, A Midsummer Nights Dream, La Fille Mal Garde, and Beauty and the Beast.

Ms. Sundbeck also has performed many of George Balachine's great masterpieces like The Four Temperaments, Tschaikovsky Pas De Deux, Who Cares, Serenade, La Sonnambula, Jewels, Concerto Barocco, as well as Allegro Brillante, Donizetti Variations, and Star and Stripes.  Ms. Sundbeck also worked with Balachine Repetiteurs Jean-Pierre Bonnefoux, Elise Bourne, John Clifford, Patricia McBride, Victoria Simon, and Violette Verdy.  She was invited to dance for Chautauqua Ballet Company by Mr. Bonnefoux, where she was a soloist in Paquita. She was further honored to be filmed by the George Balachine Foundation alongside Mr. Frederic Franklin for the National Archives in Washington D.C.

During her long carer, Ms. Sundbeck also has had the distinction of working with such notable stas as Frederic Franklin of The Ballet Russe, and Allegro Kent and Suzanne Farrell of New York City Ballet.  She also has had the privilege of working with a wide range of contemporary choreographers, such as: Val Caniparoli, Adam Hougland, Stanton Welch, Trey McIntyre, Donald McKayle, Darrell Moultrie, Sarah Slipper, Septime Webre, and Amy Seiwert.

Ms. Sundbeck performed with Amy Seiwert's Imagery Ballet Company throughout her career, performing many world premieres.  While dancing with Ms. Seiwert's Company, she performed at the Festival Des Arts De Saint-Sauveur, Quebec. 

Her career has taken her around the world, which has included performing in notable venues and in the company of distinguished dignitaries.  Ms. Sundbeck was invited to perform at the Bolshoi Theatre in the Benois De La Danse Competition where she received audience and critical acclaim.  She also had the honor of performing for President George H.W. Bush and First Lady Barbara Bush.

For the last 10 years, Ms. Sundbeck has been a member of the faculty at the College-Conservatory of Music Preparatory Department.  In 2018, she began teaching for the University of Cincinnati College-Conservatoyr of Music Dance Department.