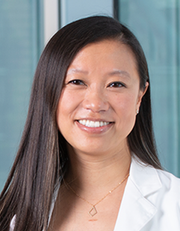 Alice L. Tang , MD
Associate Professor of Clinical
Program Director Fellowship in Head and Cancer
Medical Science Building
321 Albert Sabin Way
Cincinnati, Ohio 45267
Phone 513-558-1719
Fax 513-558-3757

Alice Tang MD specializes in treating head and neck cancers, salivary gland diseases, endocrine disorders, skin cancers and reconstructive surgery.
In her early training years, Dr. Tang spent time at the University of Michigan in Ann Arbor under the T32 research grant evaluating cancer stem cells and properties of human papillomavirus (HPV) infected cancer cells of the throat. She has been able to present her research findings at numerous national meetings including the American Association of Cancer Research (AACR) and the American Thyroid Association (ATA).

After completing her research fellowship, her residency training in clinical otolaryngology brought her to Cincinnati, OH. She then went on to complete a head and neck oncology and reconstructive surgery fellowship under Dr. James Netterville at Vanderbilt University in Nashville, TN. Under his direction and others at the university, she underwent extensive training in thyroid disorders, various head and neck tumors and reconstruction in the face, ear, nose and throat after cancer removing surgeries. Dr. Tang was then recruited back to the University of Cincinnati where she had trained previously to specialize in head and neck cancer surgery.

Her research interests include head and neck cancer, especially the cancer biology of HPV infected throat tumors and malignant thyroid disorders. She is also interested in head and neck cancer survivors and quality of life after treatment. Dr. Tang continues to present her research findings on a national level on a regular basis.
 
Medical Degree: University of Vermont
Bachelor's Degree: University of Pennsylvania Philadelphia, 2006 (Biological Basis of Behavior)
Fellowship: University of Michigan Ann Arbor, Michigan, 2011 (T32 Grant Research)
Residency: University of Cincinnati Cincinnati, Ohio, 2016 (Otolaryngology- Head & Neck Surgery)
Fellowship : Vanderbilt University Nashville, Tennessee, 2017 (Head and Neck Oncology and Microvascular)
American Board of Otolaryngology (Certification Date: 06-01-2017 )
Otolaryngology
Mouth Cancer
Neck Masses
Parathyroid Disease
Salivary Gland Tumors
Thyroid Disease and Cancers
Grant: #2018 AHNS Prevention & Early Detection Community Service Award Investigators:Tang, Alice; Zemtsov, Raquel 03-01-2018 -06-30-2018 American Head and Neck Society AHNS Prevention & Early Detection Committee Community Service Award Role:Collaborator $1,000.00 Active Level:Private Non-Profit
Grant: #RES515013 / R21DE028416 Investigators:Tang, Alice; Zender, Chad 01-01-2020 -05-31-2020 National Institute of Dental and Craniofacial Research HBD-3: A novel factor orchestrating microbial persistence in suspicious oral lesions Role:PI $4,391.00 Awarded Level:Federal
Peer Reviewed Publications
Tang, Alice L; Falciglia, Mercedes; Yang, Huaitao; Mark, Jonathan R; Steward, David L (2017. ) Validation of American Thyroid Association Ultrasound Risk Assessment of Thyroid Nodules Selected for Ultrasound Fine-Needle Aspiration.Thyroid : official journal of the American Thyroid Association, , More Information
Tang, Alice L; Bearelly, Shethal; Mannion, Kyle (2017. ) The expanding role of scapular free-flaps.Current opinion in otolaryngology & head and neck surgery, , More Information
Walline, Heather M; Goudsmit, Christine M; McHugh, Jonathan B; Tang, Alice L; Owen, John H; Teh, Bin T; McKean, Erin; Glover, Thomas W; Graham, Martin P; Prince, Mark E; Chepeha, Douglas B; Chinn, Steven B; Ferris, Robert L; Gollin, Susanne M; Hoffmann, Thomas K; Bier, Henning; Brakenhoff, Ruud; Bradford, Carol R; Carey, Thomas E (2017. ) Integration of high-risk human papillomavirus into cellular cancer-related genes in head and neck cancer cell lines.Head & neck, , 39 (5 ) ,840-852 More Information
Tang, Alice L; Cohen, Aliza P; Benke, James R; Stierer, Kevin D; Stanley, James; Ishman, Stacey L (2016. ) Obstructive Sleep Apnea Resolution in Hypopnea- versus Apnea-Predominant Children after Adenotonsillectomy.Otolaryngology--head and neck surgery : official journal of American Academy of Otolaryngology-Head and Neck Surgery, , 155 (4 ) ,670-5 More Information
Ishman, Stacey L; Tang, Alice; Cohen, Aliza P; Elhadi Babiker, Haithem; Chini, Barbara; Ehsan, Zarmina; Fleck, Robert J; Gordon, Christopher; McPhail, Gary L; Pan, Brian; Saal, Howard M; Shott, Sally R; Amin, Raouf S (2016. ) Decision Making for Children with Obstructive Sleep Apnea without Tonsillar Hypertrophy.Otolaryngology--head and neck surgery : official journal of American Academy of Otolaryngology-Head and Neck Surgery, , 154 (3 ) ,527-31 More Information
Tang, Alice; Benke, James R; Cohen, Aliza P; Ishman, Stacey L (2015. ) Influence of Tonsillar Size on OSA Improvement in Children Undergoing Adenotonsillectomy.Otolaryngology--head and neck surgery : official journal of American Academy of Otolaryngology-Head and Neck Surgery, , 153 (2 ) ,281-5 More Information
Darr, Owen A; Colacino, Justin A; Tang, Alice L; McHugh, Jonathan B; Bellile, Emily L; Bradford, Carol R; Prince, Mark P; Chepeha, Douglas B; Rozek, Laura S; Moyer, Jeffrey S (2015. ) Epigenetic alterations in metastatic cutaneous carcinoma.Head & neck, , 37 (7 ) ,994-1001 More Information
Owen, John H; Hauff, Samantha J; Tang, Alice L; Graham, Martin P; Czerwinski, Michael J; Kaddoura, Marcella; Papagerakis, Silvana; Bradford, Carol R; Carey, Thomas E; Prince, Mark E P (2014. ) UM-SCC-103: a unique tongue cancer cell line that recapitulates the tumorigenic stem cell population of the primary tumor.The Annals of otology, rhinology, and laryngology, , 123 (9 ) ,662-72 More Information
Bassis, Christine M; Tang, Alice L; Young, Vincent B; Pynnonen, Melissa A (2014. ) The nasal cavity microbiota of healthy adults.Microbiome, , 2 ,27 More Information
Tang, Alice L; Owen, John H; Hauff, Samantha J; Park, Jung Je; Papagerakis, Silvana; Bradford, Carol R; Carey, Thomas E; Prince, Mark E (2013. ) Head and neck cancer stem cells: the effect of HPV--an in vitro and mouse study.Otolaryngology--head and neck surgery : official journal of American Academy of Otolaryngology-Head and Neck Surgery, , 149 (2 ) ,252-60 More Information
Eliassen, Anna M; Hauff, Samantha J; Tang, Alice L; Thomas, Dafydd H; McHugh, Jonathan B; Walline, Heather M; Stoerker, Jay; Maxwell, Jessica H; Worden, Francis P; Eisbruch, Avraham; Czerwinski, Michael J; Papagerakis, Silvana M; Chepeha, Douglas B; Bradford, Carol R; Hanauer, David A; Carey, Thomas E; Prince, Mark E (2013. ) Head and neck squamous cell carcinoma in pregnant women.Head & neck, , 35 (3 ) ,335-42 More Information
Tang, Alice L; Hauff, Samantha J; Owen, John H; Graham, Martin P; Czerwinski, Michael J; Park, Jung Je; Walline, Heather; Papagerakis, Silvana; Stoerker, Jay; McHugh, Jonathan B; Chepeha, Douglas B; Bradford, Carol R; Carey, Thomas E; Prince, Mark E (2012. ) UM-SCC-104: a new human papillomavirus-16-positive cancer stem cell-containing head and neck squamous cell carcinoma cell line.Head & neck, , 34 (10 ) ,1480-91 More Information
Winters, Ryan; Trotman, Winifred; Adamson, Christine S C; Rajendran, Vanitha; Tang, Alice; Elhosseiny, Abdelmonem; Evans, Mark F (2011. ) Screening for human papillomavirus in basaloid squamous carcinoma: utility of p16(INK4a), CISH, and PCR.International journal of surgical pathology, , 19 (3 ) ,309-14 More Information
Abuzeid, Waleed M; Davis, Samantha; Tang, Alice L; Saunders, Lindsay; Brenner, J Chadwick; Lin, Jiayuh; Fuchs, James R; Light, Emily; Bradford, Carol R; Prince, Mark E P; Carey, Thomas E (2011. ) Sensitization of head and neck cancer to cisplatin through the use of a novel curcumin analog.Archives of otolaryngology--head & neck surgery, , 137 (5 ) ,499-507 More Information
Winters, Ryan; Evans, Mark; Trotman, Winifred; Tang, Alice; Elhosseiny, Abdelmonem (2010. ) A comparison of p16 INK4A immunohistochemistry, chromogenic in situ hybridization, and polymerase chain reaction genotyping for screening for human papillomavirus in basaloid squamous carcinoma.The Laryngoscope, , 120 Suppl 4 ,S138 More Information
Dong, Kimberly R; Must, Aviva; Tang, Alice M; Beckwith, Curt G; Stopka, Thomas J (2018. ) Competing priorities that rival health in adults on probation in Rhode Island: substance use recovery, employment, housing, and food intake.BMC public health, , 18 (1 ) ,289 More Information
Zafereo, Mark; McIver, Bryan; Vargas, Sergio; Domínguez Ruiz-Tagle, Jose Miguel; Steward, David; Holsinger, F Christopher; Kandil, Emad; Williams, Michelle D; Cruz, Francisco; Loyola, Soledad; Solar, Antonieta; Roa, Juan Carlos; Leon, Augusto; Droppelmann, Nicolás; Arias, Tatiana; Lobos, Maite; Kong, Christina S; Busaidy, Naifa; Grubbs, Elizabeth G; Graham, Paul H; Stewart, John; Tang, Alice; Wang, Jiang; Orloff, Lisa A; Hernríquez-Henríquez, Marcela; Lagos, Marcela; Wohllk, Nelson; Diaz, Rene Eduardo; Véliz, Jesús; Horvath, Eleonora; Tala, Hernan; Pineda, Pedro; Arroyo, Patricia; Vasquez, Felix; Osorio, Miren; Schacter, Dina; Franco, Carmen; Medina, Francisco; Traipe, Eufrosina; Marin, Luis; Miranda, Giovanna; Bruce, Elsa; Bracamonte Nole, Milagros; Mena, Natalia; Gonzalez, Hernan (2020. ) A THYROID GENETIC CLASSIFIER CORRECTLY PREDICTS BENIGN NODULES WITH INDETERMINATE CYTOLOGY: TWO-INDEPENDENT MULTICENTER, PROSPECTIVE VALIDATION TRIALS.Thyroid : official journal of the American Thyroid Association, , More Information
Moussa, Osama; Ardissino, Maddalena; Tang, Alice; Lazzari, Laura; Millar, Ophelia; Ziprin, Paul; Darzi, Ara; Khan, Omar; Collins, Peter; Purkayastha, Sanjay (2019. ) Long-term Impact of Bariatric Surgery on Venous Thromboembolic Risk: A Matched Cohort Study.Annals of surgery, , More Information
Tang, Alice L; Howard, Javier J M; Singh, Eshita; Tabangin, Meredith E; Wang, James C; Myer, Charles M; Altaye, Mekibib; Rohde, Sarah L Are Standardized Letters of Recommendation in Residency Applications Correlated With Objective Data?.Journal of medical education and curricular development, , 6 ,2382120519893976 More Information
Amin, Shaunak N; Shinn, Justin R; Tang, Alice; Lewis, James S; Mannion, Kyle (2019. ) Hypopharyngeal Skin Cancer Following Total Laryngectomy and Pectoralis Flap Reconstruction: Case Report and Literature Review.Head and neck pathology, , 13 (4 ) ,643-647 More Information
Russell, Colin; Tahlil, Kadija; Davis, Margaret; Winston, Anna; Amaambo, Taimi; Hamunime, Ndapewa; Pietersen, Ismelda; Jordan, Michael R; Tang, Alice M; Hong, Steven Y (2019. ) Barriers to condom use among key populations in Namibia.International journal of STD & AIDS, , 30 (14 ) ,1417-1424 More Information
Wurcel, Alysse G; Boll, Griffin; Burke, Deirdre; Khetarpal, Rani; Warner, Patrick J; Tang, Alice M; Warner, Kenneth G (2019. ) Impact of Substance Use Disorder on Midterm Mortality After Valve Surgery for Endocarditis.The Annals of thoracic surgery, , More Information
Redmann, Andrew J; Yuen, Sonia N; VonAllmen, Douglas; Rothstein, Adam; Tang, Alice; Breen, Joseph; Collar, Ryan (2019. ) Does Surgical Volume and Complexity Affect Cost and Mortality in Otolaryngology-Head and Neck Surgery?.Otolaryngology--head and neck surgery : official journal of American Academy of Otolaryngology-Head and Neck Surgery, , 161 (4 ) ,629-634 More Information
Epperson, Madison; Gouveia, Christopher J; Tabangin, Meredith E; Takiar, Vinita; Howell, Rebecca; Altaye, Mekibib; Ishman, Stacey L; Tang, Alice L (2019. ) Female Representation in Otolaryngology Leadership Roles.The Laryngoscope, , More Information
Wong, Yee Ka; Huang, X H Hilda; Cheng, Yuk Ying; Louie, Peter K K; Yu, Alfred L C; Tang, Alice W Y; Chan, Damgy H L; Yu, Jian Zhen (2019. ) Estimating contributions of vehicular emissions to PM2.5 in a roadside environment: A multiple approach study.The Science of the total environment, , 672 ,776-788 More Information
Choi, David Leo; Brannock, Kristina; Tang, Alice L (2019. ) Castleman Disease Presenting as a Parapharyngeal Mass: A Case Report and Review of the Literature.Clinical medicine insights. Case reports, , 12 ,1179547619853799 More Information
Tang, Alice; Coster, Adelle C F; Tonks, Katherine T; Heilbronn, Leonie K; Pocock, Nicholas; Purtell, Louise; Govendir, Matthew; Blythe, Jackson; Zhang, Jialiang; Xu, Aimin; Chisholm, Donald J; Johnson, Nathan A; Greenfield, Jerry R; Samocha-Bonet, Dorit (2019. ) Longitudinal Changes in Insulin Resistance in Normal Weight, Overweight and Obese Individuals.Journal of clinical medicine, , 8 (5 ) , More Information
Kerrigan, Andrew; Kaonga, Nadi N; Tang, Alice M; Jordan, Michael R; Hong, Steven Y (2019. ) Content guidance for mobile phones short message service (SMS)-based antiretroviral therapy adherence and appointment reminders: a review of the literature.AIDS care, , 31 (5 ) ,636-646 More Information
Tang, Alice L; Miller, Adam; Hauff, Samantha; Myer, Charles M; Takiar, Vinita; Howell, Rebecca J; Mark, Jonathan R (2019. ) Maternity and paternity leave in otolaryngology residency training in the United States.The Laryngoscope, , 129 (5 ) ,1093-1099 More Information
Tang, Alice R; Taylor, Graham P; Dhasmana, Divya (2019. ) Self-Flagellation as Possible Route of Human T-Cell Lymphotropic Virus Type-1 Transmission.Emerging infectious diseases, , 25 (4 ) ,811-813 More Information
Jackson, Jennifer A; Branscum, Adam; Tang, Alice; Smit, Ellen (2019. ) Food insecurity and physical functioning limitations among older U.S. adults.Preventive medicine reports, , 14 ,100829 More Information
Ardissino, Maddalena; Moussa, Osama; Tang, Alice; Muttoni, Elisabetta; Ziprin, Paul; Purkayastha, Sanjay (2019. ) Idiopathic intracranial hypertension in the British population with obesity.Acta neurochirurgica, , 161 (2 ) ,239-246 More Information
Ardissino, Maddalena; Tang, Alice; Muttoni, Elisabetta; Tsang, Kevin (2019. ) Decompressive craniectomy in paediatric traumatic brain injury: a systematic review of current evidence.Child's nervous system : ChNS : official journal of the International Society for Pediatric Neurosurgery, , 35 (2 ) ,209-216 More Information
Haque, Sulsal; Karivedu, Vidhya; Riaz, Muhammed K; Choi, David; Roof, Logan; Hassan, Sarah Z; Zhu, Zheng; Jandarov, Roman; Takiar, Vinita; Tang, Alice; Wise-Draper, Trisha (2019. ) High-risk pathological features at the time of salvage surgery predict poor survival after definitive therapy in patients with head and neck squamous cell carcinoma.Oral oncology, , 88 ,9-15 More Information
Tang, Alice L; Seiden, Allen M (2018. ) Sexism and Sexual Harassment: Considering the Impact on Medical Students, Residents, and Junior Faculty.The Laryngoscope, , 128 (9 ) ,1985-1986 More Information
Dong, Kimberly R; Must, Aviva; Tang, Alice M; Stopka, Thomas J; Beckwith, Curt G (2018. ) Food Insecurity, Morbidities, and Substance Use in Adults on Probation in Rhode Island.Journal of urban health : bulletin of the New York Academy of Medicine, , 95 (4 ) ,564-575 More Information
Dong, Kimberly R; Tang, Alice M; Stopka, Thomas J; Beckwith, Curt G; Must, Aviva (2018. ) Food acquisition methods and correlates of food insecurity in adults on probation in Rhode Island.PloS one, , 13 (6 ) ,e0198598 More Information
Tang, Alice; Scalzo, Fabien (2016. ) Similarity Metric Learning for 2D to 3D Registration of Brain Vasculature.Advances in visual computing : ... international symposium, ISVC ... : proceedings. International Symposium on Visual Computing, , 10072 ,3-12 More Information
Newberry, Sydne J; Chung, Mei; Booth, Marika; Maglione, Margaret A; Tang, Alice M; O'Hanlon, Claire E; Wang, Ding Ding; Okunogbe, Adeyemi; Huang, Christina; Motala, Aneesa; Trimmer, Martha; Dudley, Whitney; Shanman, Roberta; Coker, Tumaini R; Shekelle, Paul G (2016. ) Omega-3 Fatty Acids and Maternal and Child Health: An Updated Systematic Review.Evidence report/technology assessment, , (224 ) ,1-826 More Information
Choi D.;Brannock K.;Tang A. (06-01-2019. ) Castleman Disease Presenting as a Parapharyngeal Mass: A Case Report and Review of the Literature.Clinical Medicine Insights: Case Reports, , 12 , More Information
Bassis C.M.;Tang A.L.;Young V.B.;Pynnonen M.A. (08-11-2014. ) The nasal cavity microbiota of healthy adults.Microbiome, , 2 (1 ) , More Information
Eliassen A.M.;Davis S.J.;Tang A.;Thomas D.H.;McHugh J.B.;Walline H.;Czerwinski M.J.;Maxwell J.H.;Papagerakis S.;Chepeha D.B.;Bradford C.R.;Carey T.E.;Prince M.E. (07-11-2011. ) Head and neck squamous cell carcinoma in pregnant women.Laryngoscope, , 121 (SUPPL. 4 ) , More Information
Jordan, Michael R; Hamunime, Ndapewa; Bikinesi, Leonard; Sawadogo, Souleymane; Agolory, Simon; Shiningavamwe, Andreas N; Negussie, Taffa; Fisher-Walker, Christa L; Raizes, Elliot G; Mutenda, Nicholus; Hunter, Christian J; Dean, Natalie; Steegen, Kim; Kana, Vibha; Carmona, Sergio; Yang, Chunfu; Tang, Alice M; Parkin, Neil; Hong, Steven Y (2020. ) High levels of HIV drug resistance among adults failing second-line antiretroviral therapy in Namibia.Medicine, , 99 (37 ) ,e21661 More Information
Hu, Zicheng; Tang, Alice; Singh, Jaiveer; Bhattacharya, Sanchita; Butte, Atul J (2020. ) A robust and interpretable end-to-end deep learning model for cytometry data.Proceedings of the National Academy of Sciences of the United States of America, , 117 (35 ) ,21373-21380 More Information
Maalouf-Manasseh, Zeina; Remancus, Sandra; Milner, Erin; Fenlason, Lindy; Quick, Timothy; Patsche, Cecilie B; Bose, Kaushik; Collins, Steve; Ververs, Mija; Walia, Sonia; Escobar-Alegria, Jessica; Chung, Mei; Tang, Alice M (2020. ) Global mid-upper arm circumference cut-offs for adults: a call to action.Public health nutrition, , 1-2 More Information
Tang, Alice M; Chung, Mei; Dong, Kimberly R; Bahwere, Paluku; Bose, Kaushik; Chakraborty, Raja; Charlton, Karen; Das, Priyanka; Ghosh, Mihir; Hossain, Md Iqbal; Nguyen, Phuong; Patsche, Cecilie B; Sultana, Tania; Deitchler, Megan; Maalouf-Manasseh, Zeina (2020. ) Determining a global mid-upper arm circumference cut-off to assess underweight in adults (men and non-pregnant women).Public health nutrition, , 1-10 More Information
Lewis, Luke M; Tang, Alice L; Wise-Draper, Trisha M; Myers, Kasiani C; Greenberger, Joel S; Takiar, Vinita (2020. ) Successful use of a therapeutic trial of graduated volume and dose escalation for postoperative head and neck radiotherapy in a Fanconi anemia patient.Head & neck, , More Information
Moussa, Osama; Ardissino, Maddalena; Heaton, Tobias; Tang, Alice; Khan, Omar; Ziprin, Paul; Darzi, Ara; Collins, Peter; Purkayastha, Sanjay (2020. ) Effect of bariatric surgery on long-term cardiovascular outcomes: a nationwide nested cohort study.European heart journal, , 41 (28 ) ,2660-2667 More Information
Epperson, Madison V; Tang, Alice L; Owens, Patrick; Tabangin, Meredith E; Altaye, Mekibib; Khosla, Sid; Howell, Rebecca (2020. ) Montgomery's Aperture: An External Anatomic Landmark for Surgical Identification of the Anterior Commissure.Journal of voice : official journal of the Voice Foundation, , More Information
Harvey, Tatiani Vitor; Tang, Alice M; da Paixao Sevá, Anaiá; Albano Dos Santos, Camila; Santos Carvalho, Silvia Maria; Magalhães da Rocha, Christiane Maria Barcellos; Oliveira, Bruno César Miranda; Albuquerque, George Rego (2020. ) Enteric parasitic infections in children and dogs in resource-poor communities in northeastern Brazil: Identifying priority prevention and control areas.PLoS neglected tropical diseases, , 14 (6 ) ,e0008378 More Information
Tang, Alice; Lakhter, Vladimir; Zack, Chad J; Comerota, Anthony J; Shah, Neal; Zhao, Huaqing; Bashir, Riyaz (2020. ) Contemporary nationwide trends and in-hospital outcomes of adjunctive stenting in patients undergoing catheter-directed thrombolysis for proximal deep venous thrombosis.Journal of vascular surgery. Venous and lymphatic disorders, , More Information
Epperson M.V.; Tang A.L.; Owens P.; Tabangin M.E.; Altaye M.; Khosla S.; Howell R. (01-01-2020. ) Montgomery's Aperture: An External Anatomic Landmark for Surgical Identification of the Anterior Com.Journal of Voice, , More Information
Crawford, Emily D; Acosta, Irene; Ahyong, Vida; Anderson, Erika C; Arevalo, Shaun; Asarnow, Daniel; Axelrod, Shannon; Ayscue, Patrick; Azimi, Camillia S; Azumaya, Caleigh M; Bachl, Stefanie; Bachmutsky, Iris; Bhaduri, Aparna; Brown, Jeremy Bancroft; Batson, Joshua; Behnert, Astrid; Boileau, Ryan M; Bollam, Saumya R; Bonny, Alain R; Booth, David; Borja, Michael Jerico B; Brown, David; Buie, Bryan; Burnett, Cassandra E; Byrnes, Lauren E; Cabral, Katelyn A; Cabrera, Joana P; Caldera, Saharai; Canales, Gabriela; Castañeda, Gloria R; Chan, Agnes Protacio; Chang, Christopher R; Charles-Orszag, Arthur; Cheung, Carly; Chio, Unseng; Chow, Eric D; Citron, Y Rose; Cohen, Allison; Cohn, Lillian B; Chiu, Charles; Cole, Mitchel A; Conrad, Daniel N; Constantino, Angela; Cote, Andrew; Crayton-Hall, Tre'Jon; Darmanis, Spyros; Detweiler, Angela M; Dial, Rebekah L; Dong, Shen; Duarte, Elias M; Dynerman, David; Egger, Rebecca; Fanton, Alison; Frumm, Stacey M; Fu, Becky Xu Hua; Garcia, Valentina E; Garcia, Julie; Gladkova, Christina; Goldman, Miriam; Gomez-Sjoberg, Rafael; Gordon, M Grace; Grove, James C R; Gupta, Shweta; Haddjeri-Hopkins, Alexis; Hadley, Pierce; Haliburton, John; Hao, Samantha L; Hartoularos, George; Herrera, Nadia; Hilberg, Melissa; Ho, Kit Ying E; Hoppe, Nicholas; Hosseinzadeh, Shayan; Howard, Conor J; Hussmann, Jeffrey A; Hwang, Elizabeth; Ingebrigtsen, Danielle; Jackson, Julia R; Jowhar, Ziad M; Kain, Danielle; Kim, James Y S; Kistler, Amy; Kreutzfeld, Oriana; Kulsuptrakul, Jessie; Kung, Andrew F; Langelier, Charles; Laurie, Matthew T; Lee, Lena; Leng, Kun; Leon, Kristoffer E; Leonetti, Manuel D; Levan, Sophia R; Li, Sam; Li, Aileen W; Liu, Jamin; Lubin, Heidi S; Lyden, Amy; Mann, Jennifer; Mann, Sabrina; Margulis, Gorica; Marquez, Diana M; Marsh, Bryan P; Martyn, Calla; McCarthy, Elizabeth E; McGeever, Aaron; Merriman, Alexander F; Meyer, Lauren K; Miller, Steve; Moore, Megan K; Mowery, Cody T; Mukhtar, Tanzila; Mwakibete, Lusajo L; Narez, Noelle; Neff, Norma F; Osso, Lindsay A; Oviedo, Diter; Peng, Suping; Phelps, Maira; Phong, Kiet; Picard, Peter; Pieper, Lindsey M; Pincha, Neha; Pisco, Angela Oliveira; Pogson, Angela; Pourmal, Sergei; Puccinelli, Robert R; Puschnik, Andreas S; Rackaityte, Elze; Raghavan, Preethi; Raghavan, Madhura; Reese, James; Replogle, Joseph M; Retallack, Hanna; Reyes, Helen; Rose, Donald; Rosenberg, Marci F; Sanchez-Guerrero, Estella; Sattler, Sydney M; Savy, Laura; See, Stephanie K; Sellers, Kristin K; Serpa, Paula Hayakawa; Sheehy, Maureen; Sheu, Jonathan; Silas, Sukrit; Streithorst, Jessica A; Strickland, Jack; Stryke, Doug; Sunshine, Sara; Suslow, Peter; Sutanto, Renaldo; Tamura, Serena; Tan, Michelle; Tan, Jiongyi; Tang, Alice; Tato, Cristina M; Taylor, Jack C; Tenvooren, Iliana; Thompson, Erin M; Thornborrow, Edward C; Tse, Eric; Tung, Tony; Turner, Marc L; Turner, Victoria S; Turnham, Rigney E; Turocy, Mary J; Vaidyanathan, Trisha V; Vainchtein, Ilia D; Vanaerschot, Manu; Vazquez, Sara E; Wandler, Anica M; Wapniarski, Anne; Webber, James T; Weinberg, Zara Y; Westbrook, Alexandra; Wong, Allison W; Wong, Emily; Worthington, Gajus; Xie, Fang; Xu, Albert; Yamamoto, Terrina; Yang, Ying; Yarza, Fauna; Zaltsman, Yefim; Zheng, Tina; DeRisi, Joseph L (2020. ) Rapid deployment of SARS-CoV-2 testing: The CLIAHUB.PLoS pathogens, , 16 (10 ) ,e1008966 More Information
Aunins, Benjamin; Badhey, Arvind; Conroy, Zachary; Howard, Javier J M; Myer, Charles; Altaye, Mekibib; Tang, Alice L (2022. ) Descriptors in Letters of Recommendation for Otolaryngology Residency Across Gender, Race, and Time.Journal of surgical education, , More Information
Lynch, Caroline A; Bethi, Mridula; Tang, Alice; Lee, Paul; Steward, David; Holm, Tammy M (2022. ) Thyroid nodules >4 cm with atypia of undetermined significance cytology independently associate with malignant pathology.Surgery, , 171 (3 ) ,725-730 More Information
Ardissino, Maddalena; Vincent, Matthew; Hines, Oliver; Amin, Ravi; Eichhorn, Christian; Tang, Alice R; Collins, Peter; Moussa, Osama; Purkayastha, Sanjay (2022. ) Long-term cardiovascular outcomes after orlistat therapy in patients with obesity: a nationwide, propensity-score matched cohort study.European heart journal. Cardiovascular pharmacotherapy, , 8 (2 ) ,179-186 More Information
Tang, Alice S; Oskotsky, Tomiko; Havaldar, Shreyas; Mantyh, William G; Bicak, Mesude; Solsberg, Caroline Warly; Woldemariam, Sarah; Zeng, Billy; Hu, Zicheng; Oskotsky, Boris; Dubal, Dena; Allen, Isabel E; Glicksberg, Benjamin S; Sirota, Marina (2022. ) Deep phenotyping of Alzheimer's disease leveraging electronic medical records identifies sex-specific clinical associations.Nature communications, , 13 (1 ) ,675 More Information
Caulley, Lisa; Eskander, Antoine; Yang, Weining; Auh, Edel; Cairncross, Lydia; Cho, Nancy L; Golbon, Bahar; Iyer, Subramania; Liu, Jeffrey C; Lee, Paul J; Lindeman, Brenessa; Meltzer, Charles; Molin, Nicole; Moore, Alessandra; Noel, Julia; Nozolino, Halie; Pasternak, Jesse; Price, Brendon; Ramsay, Tim; Rolighed, Lars; Sajisevi, Mirabelle; Sharma, Arun; Sinclair, Catherine; Sorensen, Meredith; Tae, Kyung; Tang, Alice L; Tsao, Gabriel; Williams, Michelle; Wrenn, Sean; Xing, Monica H; Zafereo, Mark; Stack, Brendan C; Randolph, Greg; Davies, Louise (2022. ) Trends in Diagnosis of Noninvasive Follicular Thyroid Neoplasm With Papillarylike Nuclear Features and Total Thyroidectomies for Patients With Papillary Thyroid Neoplasms.JAMA otolaryngology-- head & neck surgery, , 148 (2 ) ,99-106 More Information
Oskotsky, Tomiko; Bajaj, Ruchika; Burchard, Jillian; Cavazos, Taylor; Chen, Ina; Connell, William T; Eaneff, Stephanie; Grant, Tianna; Kanungo, Ishan; Lindquist, Karla; Myers-Turnbull, Douglas; Naing, Zun Zar Chi; Tang, Alice; Vora, Bianca; Wang, Jon; Karim, Isha; Swadling, Claire; Yang, Janice ; Lindstaedt, Bill; Sirota, Marina (2022. ) Nurturing diversity and inclusion in AI in Biomedicine through a virtual summer program for high school students.PLoS computational biology, , 18 (1 ) ,e1009719 More Information
Heaven, Michael R; Herren, Anthony W; Flint, Daniel L; Pacheco, Natasha L; Li, Jiangtao; Tang, Alice; Khan, Fatima; Goldman, James E; Phinney, Brett S; Olsen, Michelle L (2022. ) Metabolic Enzyme Alterations and Astrocyte Dysfunction in a Murine Model of Alexander Disease With Severe Reactive Gliosis.Molecular & cellular proteomics : MCP, , 21 (1 ) ,100180 More Information
Belonwu, Stella A; Li, Yaqiao; Bunis, Daniel; Rao, Arjun Arkal; Solsberg, Caroline Warly; Tang, Alice; Fragiadakis, Gabriela K; Dubal, Dena B; Oskotsky, Tomiko; Sirota, Marina (2022. ) Sex-Stratified Single-Cell RNA-Seq Analysis Identifies Sex-Specific and Cell Type-Specific Transcriptional Responses in Alzheimer's Disease Across Two Brain Regions.Molecular neurobiology, , 59 (1 ) ,276-293 More Information
Delman, Aaron M; Turner, Kevin M; Ammann, Allison M; Tang, Alice; Steward, David; Holm, Tammy M (2022. ) Avoiding delays in time to renal transplantation: Pretransplant thyroid malignancy does not affect patient or graft survival after renal transplantation.Surgery, , 171 (1 ) ,220-226 More Information
Tang, Alice; Strat, Ana Nicolle; Rahman, Mahmudur; Zhang, Helen; Bao, Weili; Liu, Yunfeng; Shi, David; An, Xiuli; Manwani, Deepa; Shi, Patricia; Yazdanbakhsh, Karina; Mendelson, Avital (2021. ) Murine bone marrow mesenchymal stromal cells have reduced hematopoietic maintenance ability in sickle cell disease.Blood, , 138 (24 ) ,2570-2582 More Information
Hernandez Brandi, Marianna; Howell, Rebecca; Power, Amelia; Tabangin, Meredith; Altaye, Mekibib; Zender, Chad A; Takiar, Vinita; Tang, Alice L (2021. ) Trends in Number of Women Speakers at the American Head and Neck Society Meetings, 2007-2019.JAMA otolaryngology-- head & neck surgery, , 147 (12 ) ,1053-1058 More Information
Luginbuhl, Adam; Calder, Alyssa; Kutler, David; Zender, Chad; Wise-Draper, Trisha; Patel, Jena; Cheng, Michael; Karivedu, Vidhya; Zhan, Tingting; Parashar, Bhupesh; Gulati, Shuchi; Yao, Min; Lavertu, Pierre; Takiar, Vinita; Tang, Alice; Johnson, Jennifer; Keane, William; Curry, Joseph; Cognetti, David; Bar-Ad, Voichita (2021. ) Multi-Institutional Study Validates Safety of Intraoperative Cesium-131 Brachytherapy for Treatment of Recurrent Head and Neck Cancer.Frontiers in oncology, , 11 ,786216 More Information
Karunaratne, Dilhara; Karunaratne, Nisal; Wilmot, Jade; Vincent, Tim; Wright, Juliet; Mahmood, Nadia; Tang, Alice; Sam, Amir H; Reed, Malcolm; Howlett, David (2021. ) An Online Teaching Resource to Support UK Medical Student Education During the COVID-19 Pandemic: A Descriptive Account.Advances in medical education and practice, , 12 ,1317-1327 More Information
Tang, Alice; Mendelson, Avital (2021. ) Recent lessons learned for ex-vivo platelet production.Current opinion in hematology, , 28 (6 ) ,424-430 More Information
Oskotsky, Tomiko; Maric, Ivana; Tang, Alice; Oskotsky, Boris; Wong, Ronald J; Aghaeepour, Nima; Sirota, Marina; Stevenson, David K (2021. ) Mortality Risk Among Patients With COVID-19 Prescribed Selective Serotonin Reuptake Inhibitor Antidepressants.JAMA network open, , 4 (11 ) ,e2133090 More Information
von Allmen, Douglas; Tang, Alice; Takiar, Vinita; Zender, Chad; Romeo, Stephen; Masch, Jessica; Casper, Keith; Patil, Yash; Wilson, Keith; Khosla, Siddarth; Niu, Liang; Altaye, Mekibib; Tabangin, Meredith; Howell, Rebecca J (2021. ) Modified Head and Neck Swallow Scale: Using EORTC-QLQ-H&N35 to Predict Overall Survival.The Laryngoscope, , 131 (11 ) ,2478-2482 More Information
Tang, Alice; Oskotsky, Tomiko; Sirota, Marina (2021. ) Personalizing routine lab tests with machine learning.Nature medicine, , 27 (9 ) ,1514-1515 More Information
Badhey, Arvind K; Tikhtman, Raisa; Tang, Alice L (2021. ) Management of dermatofibrosarcoma protuberans.Current opinion in otolaryngology & head and neck surgery, , 29 (4 ) ,278-282 More Information
Sharma, Anish; Tang, Alice L; Takiar, Vinita; Wise-Draper, Trisha M; Langevin, Scott M (2021. ) Human Papillomavirus and Survival of Sinonasal Squamous Cell Carcinoma Patients: A Systematic Review and Meta-Analysis.Cancers, , 13 (15 ) , More Information
Trivedi, Shreya P; Kopp, Zoe; Tang, Alice J; Mammen, Albin; Pandya, Dharmini; Horwitz, Leora I; Schwartz, Mark D (2021. ) Discharge Communication: A Multi-Institutional Survey of Internal Medicine Residents' Education and Practices.Academic medicine : journal of the Association of American Medical Colleges, , 96 (7 ) ,1043-1049 More Information
Auchus, Isabella C; Jaradeh, Katrin; Tang, Alice; Marzan, Jackie; Boslett, Bryn (2021. ) Transitioning to Telehealth During the COVID-19 Pandemic: Patient Perspectives and Attendance at an HIV Clinic in San Francisco.AIDS patient care and STDs, , 35 (7 ) ,249-254 More Information
Yuen, Sonia N; Gengler, Isabelle; Badhey, Arvind K; Tang, Alice L; Zender, Chad (2021. ) Absent Posterior Belly of Digastric Muscle.The Laryngoscope, , 131 (7 ) ,1501-1502 More Information
Moussa, Osama; Ardissino, Maddalena; Muttoni, Silvia; Faraj, Ara; Tang, Alice; Khan, Omar; Collins, Peter; Jaffer, Usman; Purkayastha, Sanjay (2021. ) Long-term incidence and outcomes of obesity-related peripheral vascular disease after bariatric surgery.Langenbeck's archives of surgery, , 406 (4 ) ,1029-1036 More Information
Moussa, Osama; Ardissino, Maddalena; Tang, Alice; Edwards, Jonathan; Heaton, Tobias; Khan, Omar; Tsang, Kevin; Collins, Peter; Purkayastha, Sanjay (2021. ) Long-term cerebrovascular outcomes after bariatric surgery: A nationwide cohort study.Clinical neurology and neurosurgery, , 203 ,106560 More Information
Frankart, Andrew J; Frankart, Michael J; Cervenka, Brian; Tang, Alice L; Krishnan, Deepak G; Takiar, Vinita (2021. ) Osteoradionecrosis: Exposing the Evidence Not the Bone.International journal of radiation oncology, biology, physics, , 109 (5 ) ,1206-1218 More Information
Tang, Alice L; Kloos, Richard T; Aunins, Benjamin; Holm, Tammy M; Roth, Mara Y; Yeh, Michael W; Randolph, Gregory W; Tabangin, Meredith E; Altaye, Mekibib; Steward, David L (2021. ) Pathologic Features Associated With Molecular Subtypes of Well-Differentiated Thyroid Cancer.Endocrine practice : official journal of the American College of Endocrinology and the American Association of Clinical Endocrinologists, , 27 (3 ) ,206-211 More Information
Martinez, Daniel C; Badhey, Arvind; Cervenka, Brian; Zender, Chad; Tang, Alice; Patil, Yash (2020. ) Surgical Techniques for Head and Neck Reconstruction in the Vessel-Depleted Neck.Facial plastic surgery : FPS, , 36 (6 ) ,746-752 More Information
Howell, Rebecca; Tang, Alice; Allen, Jacqui; Altaye, Mekibib; Amin, Milan; Bayan, Semirra; Belafsky, Peter; Cervenka, Brian; deSilva, Brad; Dion, Greg; Ekbom, Dale; Friedman, Aaron; Fritz, Mark; Giliberto, John Paul; Guardiani, Elizabeth; Harmon, Jeffrey; Kasperbauer, Jan L; Khosla, Sid; Kim, Brandon; Kuhn, Maggie; Kwak, Paul; Ma, Yue; Madden, Lyndsay; Matrka, Laura; Mayerhoff, Ross; Piraka, Cyrus; Rosen, Clark; Tabangin, Meredith E; Wahab, Shaun A; Wilson, Keith; Wright, S Carter; Young, Vyvy; Yuen, Sonia; Postma, Gregory N (2023. ) Killian Jamieson Diverticulum, the Great Mimicker: A Case Series and Contemporary Review.The Laryngoscope, , 133 (9 ) ,2110-2115 More Information
Shah, Neal B; Sharedalal, Parija; Shafi, Irfan; Tang, Alice; Zhao, Huaqing; Lakhter, Vladimir; Kolluri, Raghu; Rao, A Koneti; Bashir, Riyaz (2023. ) Prevalence and outcomes of heparin-induced thrombocytopenia in hospitalized patients with venous thromboembolic disease: Insight from national inpatient sample.Journal of vascular surgery. Venous and lymphatic disorders, , 11 (4 ) ,723-730 More Information
Golob, Jonathan L; Oskotsky, Tomiko T; Tang, Alice S; Roldan, Alennie; Chung, Verena; Ha, Connie W Y; Wong, Ronald J; Flynn, Kaitlin J; Parraga-Leo, Antonio; Wibrand, Camilla; Minot, Samuel S; Andreoletti, Gaia; Kosti, Idit; Bletz, Julie; Nelson, Amber; Gao, Jifan; Wei, Zhoujingpeng; Chen, Guanhua; Tang, Zheng-Zheng; Novielli, Pierfrancesco; Romano, Donato; Pantaleo, Ester; Amoroso, Nicola; Monaco, Alfonso; Vacca, Mirco; De Angelis, Maria; Bellotti, Roberto; Tangaro, Sabina; Kuntzleman, Abigail; Bigcraft, Isaac; Techtmann, Stephen; Bae, Daehun; Kim, Eunyoung; Jeon, Jongbum; Joe, Soobok ; Theis, Kevin R; Ng, Sherrianne; Lee Li, Yun S; Diaz-Gimeno, Patricia; Bennett, Phillip R; MacIntyre, David A; Stolovitzky, Gustavo; Lynch, Susan V; Albrecht, Jake; Gomez-Lopez, Nardhy; Romero, Roberto; Stevenson, David K; Aghaeepour, Nima; Tarca, Adi L; Costello, James C; Sirota, Marina (2023. ) Microbiome Preterm Birth DREAM Challenge: Crowdsourcing Machine Learning Approaches to Advance Preterm Birth Research.medRxiv : the preprint server for health sciences, , More Information
Woldemariam, Sarah R; Tang, Alice S; Oskotsky, Tomiko T; Yaffe, Kristine; Sirota, Marina (2023. ) Similarities and differences in Alzheimer's dementia comorbidities in racialized populations identified from electronic medical records.Communications medicine, , 3 (1 ) ,50 More Information
Bedard, Mary C; Chihanga, Tafadzwa; Carlile, Adrean; Jackson, Robert; Brusadelli, Marion G; Lee, Denis; VonHandorf, Andrew; Rochman, Mark; Dexheimer, Phillip J; Chalmers, Jeffrey; Nuovo, Gerard; Lehn, Maria; Williams, David E J; Kulkarni, Aditi; Carey, Molly; Jackson, Amanda; Billingsley, Caroline; Tang, Alice; Zender, Chad; Patil, Yash; Wise-Draper, Trisha M; Herzog, Thomas J; Ferris, Robert L; Kendler, Ady; Aronow, Bruce J; Kofron, Matthew; Rothenberg, Marc E; Weirauch, Matthew T; Van Doorslaer, Koenraad; Wikenheiser-Brokamp, Kathryn A; Lambert, Paul F; Adam, Mike; Steven Potter, S; Wells, Susanne I (2023. ) Single cell transcriptomic analysis of HPV16-infected epithelium identifies a keratinocyte subpopulation implicated in cancer.Nature communications, , 14 (1 ) ,1975 More Information
Leo, Antonio Parraga; Oskotsky, Tomiko T; Oskotsky, Boris; Wibrand, Camilla; Roldan, Alennie; Tang, Alice; Ha, Connie W Y; Wong, Ronald J; Minot, Samuel S; Andreoletti, Gaia; Kosti, Idit; Theis, Kevin R; Ng, Sherrianne; Lee, Yun S; Diaz-Gimeno, Patricia; Bennett, Phil R; MacIntyre, David A; Lynch, Susan V; Romero, Roberto; Tarca, Adi L; Stevenson, David K; Aghaeepour, Nima; Golob, Jonathan; Sirota, Marina (2023. ) VMAP: Vaginal Microbiome Atlas During Pregnancy.medRxiv : the preprint server for health sciences, , More Information
Jaradeh, Katrin; Tang, Alice; Czechowicz, Josephine A; Jacobson, Lia; Raphael, Eva (2023. ) Prevalence of otolaryngological disease in a refugee population compared to US-born patients.Laryngoscope investigative otolaryngology, , 8 (2 ) ,394-400 More Information
Roger, Jacquelyn; Xie, Feng; Costello, Jean; Tang, Alice; Liu, Jay; Oskotsky, Tomiko; Woldemariam, Sarah; Kosti, Idit; Le, Brian; Snyder, Michael; Giudice, Linda; Torgerson, Dara; Shaw, Gary; Stevenson, David; Rajkovic, Aleksandar; Aghaeepour, Nima; Glymour, M; Cakmak, Hakan; Lathi, Ruth; Sirota, Marina (2023. ) Leveraging electronic health records to identify risk factors for recurrent pregnancy loss across two medical centers: a case-control study.Research square, , More Information
De Francesco, Davide; Reiss, Jonathan D; Roger, Jacquelyn; Tang, Alice S; Chang, Alan L; Becker, Martin; Phongpreecha, Thanaphong; Espinosa, Camilo; Morin, Susanna; Berson, Eloïse; Thuraiappah, Melan; Le, Brian L; Ravindra, Neal G; Payrovnaziri, Seyedeh Neelufar; Mataraso, Samson; Kim, Yeasul; Xue, Lei; Rosenstein, Melissa G; Oskotsky, Tomiko; Marić, Ivana; Gaudilliere, Brice; Carvalho, Brendan; Bateman, Brian T; Angst, Martin S; Prince, Lawrence S; Blumenfeld, Yair J; Benitz, William E; Fuerch, Janene H; Shaw, Gary M; Sylvester, Karl G; Stevenson, David K; Sirota, Marina; Aghaeepour, Nima (2023. ) Data-driven longitudinal characterization of neonatal health and morbidity.Science translational medicine, , 15 (683 ) ,eadc9854 More Information
Labouesse, Marie; Torres-Herraez, Arturo; Chohan, Muhammad; Villarin, Joseph; Greenwald, Julia; Sun, Xiaoxiao; Zahran, Mysarah; Tang, Alice; Lam, Sherry; Veenstra-VanderWeele, Jeremy; Lacefield, Clay; Bonaventura, Jordi; Michaelides, Michael; Chan, Savio; Yizhar, Ofer; Kellendonk, Christoph (2023. ) A non-canonical striatopallidal "Go" pathway that supports motor control.Research square, , More Information
Morris, John H; Soman, Karthik; Akbas, Rabia E; Zhou, Xiaoyuan; Smith, Brett; Meng, Elaine C; Huang, Conrad C; Cerono, Gabriel; Schenk, Gundolf; Rizk-Jackson, Angela; Harroud, Adil; Sanders, Lauren; Costes, Sylvain V; Bharat, Krish; Chakraborty, Arjun; Pico, Alexander R; Mardirossian, Taline; Keiser, Michael; Tang, Alice; Hardi, Josef; Shi, Yongmei; Musen, Mark; Israni, Sharat; Huang, Sui; Rose, Peter W; Nelson, Charlotte A; Baranzini, Sergio E (2023. ) The scalable precision medicine open knowledge engine (SPOKE): a massive knowledge graph of biomedical information.Bioinformatics (Oxford, England), , 39 (2 ) , More Information
Domack, Aaron M; Silverman, Dustin A; Tang, Alice L; Zender, Chad A; Patil, Yash J (2023. ) Managing Oromandibular Hardware Failure after Free Flap Surgery.Seminars in plastic surgery, , 37 (1 ) ,53-56 More Information
Boomsma, Cassidy; Poplausky, Dina; Jasper, Jacob M; MacRae, MacKenzie Clark; Tang, Alice M; Byhoff, Elena; Wurcel, Alysse G; Doron, Shira; Subbaraman, Ramnath (2023. ) Sources of exposure and risk among employees infected with severe acute respiratory coronavirus virus 2 (SARS-CoV-2) in a large, urban, tertiary-care hospital in the United States.Antimicrobial stewardship & healthcare epidemiology : ASHE, , 3 (1 ) ,e20 More Information
Galiveti, Chenna R; Kuhnell, Damaris; Biesiada, Jacek; Zhang, Xiang; Kelsey, Karl T; Takiar, Vinita; Tang, Alice L; Wise-Draper, Trisha M; Medvedovic, Mario; Kasper, Susan; Langevin, Scott M (2023. ) Small extravesicular microRNA in head and neck squamous cell carcinoma and its potential as a liquid biopsy for early detection.Head & neck, , 45 (1 ) ,212-224 More Information
Tang, Alice Chu Wen; Chen, Chih-Kuang; Wu, Szu Yuan; Tang, Simon F T (2022. ) Improvement of Pain and Function by Using Botulinum Toxin Type A Injection in Patients with an Osteoarthritic Knee with Patellar Malalignment: An Electromyographic Study.Life (Basel, Switzerland), , 13 (1 ) , More Information
Lim, Ryan G; Al-Dalahmah, Osama; Wu, Jie; Gold, Maxwell P; Reidling, Jack C; Tang, Guomei; Adam, Miriam; Dansu, David K; Park, Hye-Jin; Casaccia, Patrizia; Miramontes, Ricardo; Reyes-Ortiz, Andrea M; Lau, Alice; Hickman, Richard A; Khan, Fatima; Paryani, Fahad; Tang, Alice; Ofori, Kenneth; Miyoshi, Emily; Michael, Neethu; McClure, Nicolette; Flowers, Xena E; Vonsattel, Jean Paul; Davidson, Shawn; Menon, Vilas; Swarup, Vivek; Fraenkel, Ernest; Goldman, James E; Thompson, Leslie M (2022. ) Huntington disease oligodendrocyte maturation deficits revealed by single-nucleus RNAseq are rescued by thiamine-biotin supplementation.Nature communications, , 13 (1 ) ,7791 More Information
Tang, Alice L; O'Neil, Thomas; McDermott, Sean; Tripathi, Siddhant; Tikhtman, Raisa; Mark, Jonathan R; Patil, Yash; Tabangin, Meredith; Altaye, Mekibib; Wise-Draper, Trisha M; Zender, Chad A (2022. ) Association of Neoadjuvant Pembrolizumab for Oral Cavity Squamous Cell Carcinoma With Adverse Events After Surgery in Treatment-Naive Patients.JAMA otolaryngology-- head & neck surgery, , 148 (10 ) ,935-939 More Information
Sajisevi, Mirabelle; Caulley, Lisa; Eskander, Antoine; Du, Yue Jennifer; Auh, Edel; Karabachev, Alexander; Callas, Peter; Conradie, Wilhelmina; Martin, Lindi; Pasternak, Jesse; Golbon, Bahar; Rolighed, Lars; Abdelhamid Ahmed, Amr H; Badhey, Arvind; Cheung, Anthony Y; Corsten, Martin; Forner, David; Liu, Jeffrey C; Mavedatnia, Dorsa; Meltzer, Charles; Noel, Julia E; Patel, Vishaal; Sharma, Arun; Tang, Alice L; Tsao, Gabriel; Venkatramani, Mandakini; Williams, Michelle; Wrenn, Sean M; Zafereo, Mark; Stack, Brendan C; Randolph, Gregory W; Davies, Louise (2022. ) Evaluating the Rising Incidence of Thyroid Cancer and Thyroid Nodule Detection Modes: A Multinational, Multi-institutional Analysis.JAMA otolaryngology-- head & neck surgery, , 148 (9 ) ,811-818 More Information
Delman, Aaron M; Turner, Kevin M; Ahmad, Mirza; Silski, Latifa A S; Hanseman, Dennis; Tang, Alice; Steward, David; Shah, Shimul A; Holm, Tammy M (2022. ) Surgery Is Underutilized in the Management of Tertiary Hyperparathyroidism.The Journal of surgical research, , 277 ,261-268 More Information
Leddon, Jennifer L; Gulati, Shuchi; Haque, Sulsal; Allen, Casey; Palackdharry, Sarah; Mathews, Maria; Kurtzweil, Nicky; Riaz, Muhammed Kashif; Takiar, Vinita; Nagasaka, Misako; Patil, Yash; Zender, Chad; Tang, Alice; Cervenka, Brian; McGrath, Julie; Korn, W Michael; Hinrichs, Benjamin H; Jandarov, Roman; Harun, Nusrat; Sukari, Ammar; Wise-Draper, Trisha M (2022. ) Phase II Trial of Adjuvant Nivolumab Following Salvage Resection in Patients with Recurrent Squamous Cell Carcinoma of the Head and Neck.Clinical cancer research : an official journal of the American Association for Cancer Research, , 28 (16 ) ,3464-3472 More Information
Tang, Alice; Woldemariam, Sarah; Roger, Jacquelyn; Sirota, Marina (2022. ) Translational Bioinformatics to Enable Precision Medicine for All: Elevating Equity across Molecular, Clinical, and Digital Realms.Yearbook of medical informatics, , 31 (1 ) ,106-115 More Information
Marryshow, Terry A; Muhairwe, Josephine; Tang, Alice; Molulela, Maleliha Morake M; Matta, Riya; Jordan, Michael R (2022. ) Determining the acceptability of point-of-care urine tenofovir testing and its performance in predicting HIV RNA suppression.International journal of STD & AIDS, , 33 (8 ) ,777-783 More Information
Tang, Alice L; Aunins, Benjamin; Chang, Katherine; Wang, James C; Hagen, Matthew; Jiang, Lan; Lee, Cortney Y; Randle, Reese W; Houlton, Jeffery J; Sloan, David; Steward, David L (2022. ) A multi-institutional study evaluating and describing atypical parathyroid tumors discovered after parathyroidectomy.Laryngoscope investigative otolaryngology, , 7 (3 ) ,901-905 More Information
Dong, Kimberly R; Chen, Xuemeng; Stopka, Thomas J; Must, Aviva; Beckwith, Curt G; Tang, Alice M (2022. ) Food Access, Dietary Intake, and Nutrition Knowledge of Adults on Probation.Journal of nutrition education and behavior, , 54 (6 ) ,510-520 More Information
Jordan, Michael R; Bikinesi, Leonard; Ashipala, Laimi; Mutenda, Nicholus; Brantuo, Mary; Hunt, Gillian; Shiningavamwe, Andreas; Mutandi, Gram; Beukes, Anita; Beard, Suzanne; Battey, Katherine; Dziuban, Eric J; Raizes, Elliot; Adjei, Paul; Tang, Alice; Giron, Amalia; Hong, Steven Y (2022. ) Pretreatment Human Immunodeficiency Virus (HIV) Drug Resistance Among Treatment-Naive Infants Newly Diagnosed With HIV in 2016 in Namibia: Results of a Nationally Representative Study.Open forum infectious diseases, , 9 (5 ) ,ofac102 More Information
Varman, Rahul; Wang, James; Varman, Archana; Li, Ziyang; Tang, Alice; Patil, Yash; Demke, Joshua; Cordero, Joehassin (2022. ) Comparison of cervical neck strain in common otolaryngology surgeries.American journal of otolaryngology, , 43 (3 ) ,103405 More Information
Ghazizadeh, Zaniar; Zhu, Jiajun; Fattahi, Faranak; Tang, Alice; Sun, Xiaolu; Amin, Sadaf; Tsai, Su-Yi; Khalaj, Mona; Zhou, Ting; Samuel, Ryan M; Zhang, Tuo; Ortega, Francis A; Gordillo, Miriam; Moroziewicz, Dorota ; Paull, Daniel; Noggle, Scott A; Xiang, Jenny Zhaoying; Studer, Lorenz; Christini, David J; Pitt, Geoffrey S; Evans, Todd; Chen, Shuibing (2022. ) A dual SHOX2:GFP; MYH6:mCherry knockin hESC reporter line for derivation of human SAN-like cells.iScience, , 25 (4 ) ,104153 More Information
Hong, Steven Y; Winston, Anna; Mutenda, Nicholus; Hamunime, Ndapewa; Roy, Tuhin; Wanke, Christine; Tang, Alice M; Jordan, Michael R (2022. ) Predictors of loss to follow-up from HIV antiretroviral therapy in Namibia.PloS one, , 17 (4 ) ,e0266438 More Information
Wise-Draper, Trisha M; Gulati, Shuchi; Palackdharry, Sarah; Hinrichs, Benjamin H; Worden, Francis P; Old, Matthew O; Dunlap, Neal E; Kaczmar, John M; Patil, Yash; Riaz, Muhammed Kashif; Tang, Alice; Mark, Jonathan; Zender, Chad; Gillenwater, Ann M; Bell, Diana; Kurtzweil, Nicky; Mathews, Maria; Allen, Casey L; Mierzwa, Michelle L; Casper, Keith; Jandarov, Roman; Medvedovic, Mario; Lee, J Jack; Harun, Nusrat; Takiar, Vinita; Gillison, Maura (2022. ) Phase II Clinical Trial of Neoadjuvant and Adjuvant Pembrolizumab in Resectable Local-Regionally Advanced Head and Neck Squamous Cell Carcinoma.Clinical cancer research : an official journal of the American Association for Cancer Research, , 28 (7 ) ,1345-1352 More Information
Academic - Medical Science Building
321 Albert Sabin Way
Cincinnati  Ohio, 45267
Phone: 513-558-1719
Fax: 513-558-3757