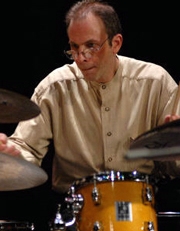 John W. Taylor
Instructor - Adjunct
Corbett Cntr Perform Arts
CCM Ensembles & Conducting - 0003
John Taylor is a freelance drummer, composer, arranger and educator based in Southern Ohio. Primarily a drum set player, he also plays piano, guitar and electric bass. He performs regularly with the Phil DeGreg Trio, Brasilia, Kim Pensyl Group, Rusty Burge, Steve Allee, Puzzle of Light, Theater of Sound, PanVibe and leads his own trio with Brian Cashwell and Chris Berg. Taylor recently performed with the Dayton Philharmonic Orchestra under guest conductor Steven Reineke - conductor of the New York Pops. Taylor studied at Berklee College of Music in Boston, MA., where he was the recipient of a Professional Music Scholarship and a Steve Smith Jazz Master's Award. He later earned a B.A. in Music Education from Wright State University, where he graduated Magna Cum Laude. Taylor was also winner of the Concerto Night Competition, performing the Creston "Concertino for Marimba" with the Wright State University Orchestra.

In addition to his career in performance, Taylor maintains parallel careers as an arranger, composer and educator. He has 28 years experience arranging winds and percussion for competitive High School and College Marching Bands and Percussion Ensembles throughout the Midwest. He has done post-scoring work for Fox Family Music in Los Angeles - scoring, producing and recording music soundtracks for animated stories. He has also composed and produced music for regional radio and television jingles. Taylor has also done professional Copyist work, with works being performed by the New York Opera Orchestra. He maintains a home studio running Logic Pro - a program utilized as the core of his musical work since it's inception as Creator/Notator in 1992. Taylor is currently working on his own multi-instrumentalist solo CD.

As an educator, Taylor has maintained a private studio of up to 40 students, instructed High School and College Marching Band, Drumline and Indoor Percussion Ensembles. He has worked with many award winning programs in the region, including Centerville - Bands of America Grand National Champion 1992, Springboro - WGI Indoor Class A Champion 2001, and Williamstown HS - six time KMEA State Champions. He was the drumline instructor at the University of Dayton 2000-02 where he also directed an indoor percussion ensemble and served as Wind Arranger. Taylor was a featured clinician at the Beavercreek High School Jazz Festival in 2016 and has worked guest clinician with Centerville and Kettering High School Jazz ensembles.