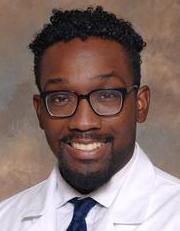 Austin Dean Thompson
Medical Resident/Fellow
Personal Statement
The 13 annual BronzeLens Film Festival featured a young pastor from Cleveland, Ohio by the name of the Reverend Darrien Fann. Reverend Darrien Fann, or first cousin as I know him, was born with cerebral palsy. Despite that, he has become a leader in his field and was one of the youngest ever ordained ministers within the CME church at age 14. This describes just one of many moments that despite his situation, he has been able to excel and maximize the function of the body and mind that was given to him. Darrien was one of the instrumental reasons why I went into medicine; however, it was not until late in my third year of medical school that I realized more specifically how he has influenced my connection to physical medicine and rehabilitation. The ability to care for patients, and more specifically to be able to work to get them to their maximal functional and emotional capacity is what initially drew me to medicine. My PM&R experiences brought everything in full circle. Growing up and seeing Darrien persevere and maximize his capabilities to his fullest potential was my inspiration. As a PM&R doctor, I look forward to a career where I can help my patients achieve their goals. Whether it's a grandmother working to bake cookies or a college student trying to walk after a spinal injury, I will help them make the most of their lives.
 
Why I Chose Cincinnati
I hose Cincinnati because I have really enjoyed my last 8 years here as it has become like a second home for me.