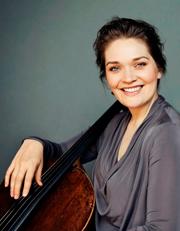 Saeunn Thorsteinsdottir
Asst Professor
Assistant Professor of Cello
Memorial Hall
342
CCM Violoncello - 0003
Praised by the Los Angeles Times for the "emotional intensity" of her performances, Sæunn Thorsteinsdóttir enjoys a varied career as a performer, collaborator and teaching artist. She has appeared as soloist with the Los Angeles Philharmonic, NDR Elbphilharmonie Orchester, BBC Symphony Orchestra, Seattle Symphony, Toronto Symphony Orchestra and Iceland Symphony, among others, and her recital and chamber music performances have taken her across the US, Europe and Asia. Thorsteinsdóttir has performed in many of the world's prestigious venues including Carnegie Hall, Suntory Hall, Elbphilharmonie, Barbican Center and Disney Hall.

Her recent releases include Vernacular, a solo album of Icelandic music for cello, and the award-winning cello concerto Quake, which was written for her by Páll Ragnar Pálsson and performed with the Iceland Symphony under the direction of conductor Daníel Bjarnason. Released on the Sono Luminus label, Quake was nominated for a 2021 Grammy. Her recording of the Bach Cello Suites is due out in early 2023.

In addition to collaborating with Daníel Bjarnason on his award-winning composition Bow to String, Thorsteinsdóttir enjoys working with composers of our time such as Páll Ragnar Pálsson, Þuríður Jónsdóttir, Halldór Smárason and Melia Watras. She has also given the US premiere of Betsy Jolas' Wanderlied and the Hong Kong premiere of Sofia Gubaidulina's Canticle of the Sun for cello, two percussionists and choir.

An avid chamber musician, she has collaborated in performance with Itzhak Perlman, Mitsuko Uchida, Richard Goode and members of the Emerson, Guarneri and Cavani Quartets. She has also participated in numerous chamber music festivals, including Prussia Cove and Marlboro, with whom she has toured. Formerly Artist-in-Residence at Green Music Center's Weill Hall in Sonoma as well as cellist of the Manhattan Piano Trio, she is currently cellist and founding member of Decoda, the Affiliate Ensemble of Carnegie Hall. 

Born in Reykjavik, Iceland, Thorsteinsdóttir has garnered numerous prizes in international competitions, including the Naumburg Competition in New York and the Antonio Janigro Competition in Zagreb, Croatia. She received a Bachelor of Music degree from the Cleveland Institute of Music, a Master of Music degree from the Juilliard School and a Doctor of Musical Arts degree from SUNY Stony Brook. Her principal teachers include Richard Aaron, Tanya L. Carey, Colin Carr and Joel Krosnick.

Thorsteinsdóttir is an alum of Ensemble Connect — a program of Carnegie Hall, the Juilliard School and the Weill Music Institute in partnership with the New York City Department of Education — which performs chamber music at Carnegie Hall and brings classical music to students in the New York City Public Schools.