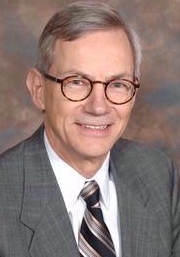 Thomas A. Tomsick
MD, FACR
Medical Sciences Building
COM Radiology Neuroradiology - 0761
University of Cincinnati Medical Center
PO Box 670761
Cincinnati, Ohio 45267-0761
Dr. Tomsick has been a faculty member since 1976 and Director of Neuroradiology since 1993.  He is the Past President of the American Society of Interventional Neuroradiology (2001) and a member of the American Stroke Association Stroke Council Executive Committee 2000-2004.  He was the Surgical Physician of the Year at University Hospital, 2004.


He has been honored with the Samuel Kaplan Award for Excellence in Cardiovascular Science from the Cincinnati Chapter of the American Heart Association, February 2005.  He was the Luessenhop Lecturer for the ASITN and JSCVS February, 19, 2006.  He was recently awarded the Harold B. Spitz Resident Teaching Award on June 6, 2009.  He has been named one of the Best Doctors in America 2001-2009.


His past research includes participation in multiple studies of methods and devices for treatment of aneurysms, vascular malformations, and stroke. He first described a device and method for nitiniol coil removal of clot in acute ischemic stroke in April, 1993.  He was the Principal Investigator for the Cordis Neurovascular nBCA Trial for Pre-Surgical Treatment of brain AVM 1997-2001.  He was Principal Neurointerventional Investigator for the Interventional Management of Stroke Trials I, II, and the ongoing IMS III Trial.  The latter is a $21 million NIH sponsored trial of combined IV rtPA and intraarterial intervention to reopen blocked arteries in acute stroke.  Current research also includes investigation of contrast material effects in acute stroke treatment.

He is author/co-author of over 130 manuscripts and chapters.  He is author and Editor of "Carotid Cavernous Fistula" (1997).
John Carroll University Cleveland, OH, 1966 (Undergraduate Study)
Doctor of Medicine, Saint Louis University School of Medicine Saint Louis, MO, 1970 (Honors: Cum Laude)
Research and Practice Interests
My research interests and expertise include developing a safe method to occlude blood vessels involved in vascular malformations, post-traumatic fistulae, stroke, and tumors.My interests also include computerized tomography (CT);aneurysm;subarachnoid hemorrhage;magnetic resonance imaging (MRI);fistulae.
Diagnostic Radiology
Neuroradiology
Radiology
Neuroradiology
Radiology-Diagnostic
American Board of Radiology (Diagnostic Radiology)
01/01/1976
Grant: #U01 NS052220-03 Investigators:Broderick, J. Principal Investigator 09-15-2005 -11-30-2010 NIH/NINDS Clinical Trial Grant Interventional Management of Stroke III Trial (IMS III) Role:Co-Principal Interventional Investigator Active Type:Grant
Grant: #RO1 P50 NS44283 (SPOTRIOS) 04-01-2008 -03-31-2013 NIH / NINDS Specialized Program of Translational Research in Acute Stroke (SPOTRIAS) Role:Co-Investigator; CT Scan Imaging Core Lab Active Type:Grant
Grant: #U54EB007954-02 10-01-2007 -06-30-2012 NIH/NIBIB Point of Care Center for Emerging Neurotechnologies (POC-CENT) (Participant Preclinical Trial & Administration) Role:Participant Core 1 (Preclinical Trials); Participant Core 5 (Administration) Active
Grant: #R01 NS057367-01A2 Investigators:Lu, A 04-01-2008 -03-31-2012 NIH/NINDS Reperfusion & Postischemic Hemorrhage in Brain Role:Advisor/Investigator Active
Grant: #P50-NS-044373 Investigators:Tomsick, Thomas 09-30-2003 -05-31-2008 National Institute of Neurological Disorders and Stroke MR Rescue Role:PI $124,198.00 Closed Level:Federal
Grant: #K23 NS059843 Investigators:Broderick, Joseph; Khatri, Pooja; Tomsick, Thomas 07-01-2007 -01-31-2012 National Institute of Neurological Disorders and Stroke The Significance of Intracranial Hemorrhage after Revascularization Therapy Role:Collaborator $778,258.00 Closed Level:Federal
Grant: #U54 EB007954 Investigators:Air, Dorothy; Beyette, Fred; Bishop, Paul; Broderick, Joseph; Clark, Joseph; Haridas, Balakrishna; Helmicki, Arthur; Jauch, Edward; Kanter, Daniel; Pancioli, Arthur; Papautsky, Ian; Privitera, Mary Beth; Shutter, Lori; Steckl, Andrew; Todd, Anita; Tomsick, Thomas; Wilsey, Philip 09-30-2007 -06-30-2014 National Institute of Biomedical Imaging and Bioengineering Point of Care-Care Center for Emerging Neurotechnologies Role:Collaborator $9,416,342.00 Active Level:Federal
Grant: #R01 NS057367 Investigators:Clark, Joseph; Lu, Aigang; Pyne-Geithman, Gail Jean; Tomsick, Thomas; Wagner, Kenneth 04-01-2008 -03-31-2013 National Institute of Neurological Disorders and Stroke Reperfusion and Postischemic Hemorrhage in Brain Role:Collaborator $1,354,763.00 Closed Level:Federal
Grant: #U01NS052220 Investigators:Broderick, Joseph; Khatri, Pooja; Tomsick, Thomas 09-30-2011 -12-31-2013 National Institute of Neurological Disorders and Stroke Interventional Management of Stroke Study (IMS III) Role:Collaborator $5,500,088.00 Active Level:Federal
Grant: #R01NS103824 Investigators:Cornelius, Rebecca; Gaskill-Shipley, Mary; Khatri, Pooja; Kissela, Brett; Tomsick, Thomas; Vagal, Achala; Wang, Lily 09-30-2018 -07-31-2023 National Institute of Neurological Disorders and Stroke Assessing Population-based Radiological brain health in Stroke Epidemiology (APRISE) Study Role:Collaborator $654,143.00 Active Level:Federal
Published Abstracts
Morales H, Lu A, Kurosawa Y, Clark J, Tomsick T (05-17-2010. ) Test Tube Contrast .[Abstract]Presented at ANSR Scientific Meeting, Boston, MA,
Morales H, Lu A, Kurosawa Y, Clark J, Tomsick T (05-17-2010. ) Isosmolar contrast causes smaller infarcts than hypo-osmolar contrast. .[Abstract]Presented at ASNR Scientific Meeting, Boston, MA,
Khatri P, Martin R, Hill M, Jauch E, Tomsick T, Palesch Y, Broderick J (02-18-2009. ) Hemorrhagic infarction after intra-arterial thrombolysis is not a marker of early, successful reperfusion .[Abstract]Presented International Stroke Congress, San Diego, CA,
Khatri P, Abruzzo T, Yeatts S, Broderick J , Tomsick T (02-22-2008. ) Good outcome after technically successful intra-arterial therapy is time-dependent .[Abstract]Presented International Stroke Congress, New Orleans, LA,
Khatri P, Tomsick T, Palesch Y, Hill M, Broderick J (02-22-2008. ) Clinical effect of mild hemorrhagic transformation after acute intraarterial revascularization therapy: an exploratory analysis .[Abstract]Presented International Stroke Congress, New Orleans, LA,
Greeley A, Tomsick T, Broderick J, for the IMS Investigators (06-13-2007. ) Internal carotid artery occlusion/stenosis in the IMS Trials .[Abstract]ASNR, Chicago, IL,
Santucci G, Leach J, Tomsick T (06-12-2007. ) Parenchymal signal abnormalities associated with developmental venous anomalies: MR Imaging of 174 cases .[Abstract]ASNR, Chicago, IL,
Khatri R, Tomsick T, ,Khatri P, Broderick J, Khoury J, Carrozella J (2007. ) Registry Experience: Microcatheter contrast injections during intraarterial thrombolysis increase intracranial hemorrhage risk .[Abstract]Stroke, 38 ,454
Muzzaffar M, Tomsick T (12-03-2006. ) Documentation of Non-diagnostic Runs in Digital Subtraction Angiography, .[Abstract] Presented Scientific Meeting of Radiologic Society of North America, Chaicgo, IL,
Tomsick T, Khatri R, Khatri P, Broderick J, Khoury J, Carrozella J (07-26-2006. ) Registry Experience: Microcatheter contrast injections during intraarterial thrombolysis increase intracranial hemorrhage risk .[Abstract]3rd Annual ASITN Course, Rio Grande, Puerto Rico,
King S, Katri P, Broderick J, Khoury J, Carrozella J, Spilker J, Tomsick T for the IMS I and II Investigators (05-2006. ) ACA emboli in combined IV/IA treatment .[Abstract]44th Annual Meeting ASNR, San Diego, CA,
Tomsick T, , King S, Katri P, Broderick J, Khoury J, Carrozella J, Spilker J, for the IMS I and II Investigators (05-2006. ) ACA emboli in combined IV/IA treatment .[Abstract]44th Annual Meeting ASNR, San Diego, CA,
Tomsick T, King S, Katri P, Broderick J, Khoury J, Carrozella J, Spilker J, Stroke Team Greater Cincinnati, No. Ky (02-18-2006. ) ACA emboli in intracranial thrombolysis: Registry experience .[Abstract]Presented ASITN/JSCVS, Orlando, FL,
Tomsick TA, for the IMS II investigators (02-18-2006. ) Comparison of recanalization during EKOS MicroLysus catheter-assisted vs standard microcatheter thrombolysis .[Abstract]Presented ASITN/JSCVS, Orlando, FL,
Khatri P, Broderick J, Khoury J, Carrozella J, Tomsick T, IMS I & II Investigators (02-16-2006. ) Microcatheter contrast injections during intraarterial thrombolysis increase intracranial hemorrhage risk .[Abstract]Presented International Stroke Congress, Orlando, FL,
Tomsick TA (01-18-2006. ) IA temperature measurements furing EKOS Microlysus assisted fibrinolysis .[Abstract]Presented International Stroke Congress, Orlando, FL,
Tomsick T, for IMS II Investigators (10-2005. ) IA Temperature Measurements during EKOS Microlysis catheter-assisted fibrinolysis .[Abstract]Presented at World Federation Interventional Therapeutic Neuroradiology, Venice, IT,
Tomsick T, for IMS II Investigators (10-2005. ) Comparison of recanalization during EKOS Microlysus catheter-assisted fibrinolysus vs. standard microcatheter thrombolysis .[Abstract]Presented at World Federation Interventional Therapeutic Neuroradiology, Venice, IT,
Strub W, Tomsick T, Moulton J (09-2005. ) Resident preliminary reads on CT examinations. Should the process continue? .[Abstract]Presented American Society of Emergency Radiologists Annual Meeting, Tucson, AZ,
Neff J, Katri P, Khoury J, Tomsick TA (05-24-2005. ) Recanalization versus perfusion in acute ischemic stroke revascularization therapy .[Abstract]ASNR, Toronto, CA,
Corrigan K , Ringer A, Tomsick TA (05-24-2005. ) Superior Cerebellar Aneurysms: Vertebral artery dominance and basilar artery tortuosity .[Abstract]ASNR, Toronto, CA,
Tomsick TA for IMS II Study Group (06-2004. ) Ultrasound-assisted Thrombolysis with EKOS MicroLysus Catheter Following IV rtPA Administration: IMS II .[Abstract] Accepted for poster presentation 5th World Stroke Congress, Vancouver, B.C,
Tomsick TA for IMS II Study Group (06-2004. ) IA Temperature Measurements During Ekos Microlysus Catheter-Assisted Thrombolysis .[Abstract]Presented at the 8th International Symposium Thrombolysis and Acute Stroke, Whistler, CA,
Tomsick TA for IMS Study Group (2004. ) Relationship of NIHSSS and outcome with IV/IA treatment .[Abstract]Stroke, 35 ,293
D Kleindorfer, D Woo, J Broderick, D Losiewicz, A Pancioli, T Tomsick, A Schneider, E Jauch (2004. ) Physician Reimbursement for Thrombolytic Therapy for Acute Ischemic Stroke .[Abstract]Stroke, 35 ,241
A Schneider, T Tomsick, D Woo, A Mazhari (2004. ) Clinical and Radiographic Outcomes in IV/IA tPA Treated Patients Without Proximal Arterial Occlusive Lesions .[Abstract]Stroke, 35 ,291
Tomsick TA, IMS Study Group, Stroke Team Greater Cincinnati, No. Kentucky (11-02-2003. ) Outcomes of patients NIHSSS > 20 following IV/IA rtPA therapy .[Abstract]Accepted 7th Congress WFITN,
Ringer A, Auyang E, Tomsick TA (02-18-2003. ) Durability of Coil embolization for basilar terminus aneurysms,: long-term follow-up .[Abstract]Presented at the 2003 Joint Meeting of AANS/CNS Section on Cerebrovascular Surgery, American Society of Interventional and Neuroradiology, Phoenix, AZ ,
Tomsick TA for the IMS Investigators (02-17-2003. ) The IMS trial: Combined intravenous and intraarterial rtPA in acute ischemic stroke .[Abstract]Presented at the 2003 Joint Meeting of AANS/CNS Section on Cerebrovascular Surgery, American Society of Interventional and Neuroradiology, Phoenix, AZ,
Gebel JM, Brott TG, Howard VJ, Tomsick TA, Sauerbeck LR, Toole JF (2003. ) Brain Injury as detected by computerized tomography in CT scan in ACAS .[Abstract]Stroke, 34 ,238
Hill MD, Demchuk AM, Tomsick TA, et al. (2003. ) Baseline CT ASPECT Score predicts outcome after IV-IA Therapy .[Abstract]Stroke, 34 ,279
Tomsick TA for the IMS Investigators (2003. ) Interventional Management of Stroke: Relationship of Arterial Occlusive lesion to Outcome .[Abstract]Stroke, 34 ,278
A Schneider, B Kissela, J Carrozzella, A Ringer, T Tomsick, D White, AKhaja, A Geers, D Oberschmidt, J Khoury, C Moomaw, D Woo, J Broderick Brain Angiographic Stroke Evaluation (BASE) Scale for Acute Stroke .[Abstract]
Peer Reviewed Publications
Nichols C, Carrozella J, Yeatts S, Tomsick T, Broderick J, Khatri P (2010. ) Is peri-procedural sedation during acute stroke therapy associated with poorer functional outcome? .J Neurointervent Surg, , 2 ,67-70
Kurosawa Y, Lu A, Khatri P, Carrozzella JA, Clark JF, Khoury J, Tomsick T (2010. ) Intra-arterial Iodinated Radiographic Contrast Material Injection and Intravenous Heparin Administration in a Rat Middle Cerebral Artery Occlusion and Reperfusion Model: Possible Effects on Intracerebral Hemorrhage Stroke .Stroke, , 41 ,1013-1017
Tomsick T, Khatri P, Jovin T, Daemerschalk B, Malisch T, et al (2010. ) Equipoise Among Recanalization Strategies .Neurology, , 74 ,1069-1076
Meyers PM, Schumacher HC, Alexander MJ, Derdeyn CP, Furland AJ, Higashida RT, Moran CJ, Tarr RW, Heck DV, Hirsch JA, Jensen ME, Infante I, McDougall CG, Nesbit GM, Rasmussen PA, Tomsick TA (11-2009. ) Performance and Training Standards for Endovascular Ischemic Stroke Treatment .J Stroke Cerebrovasc Dis , , 18 ,411-415
Khatri R, Khatri P, Khoury J, Broderick J, Carrozella J, Tomsick T (10-2009. ) Microcatheter Contrast Injections during Intra-arterial Thrombolysis Increase Intracranial Hemorrhage Risk .J Neurointervention Surg, ,
Khatri P, Abruzzo T, Yeatts SD, Nichols C, Broderick JP, Tomsick TA (09-2009. ) Good clinical outcome after ischemic stroke with successful revascularization is time-dependent .Neurology, , 73 ,1077-1072
Lu A, Clark JF, Broderick JP, Pyne-Geithman GJ, Wagner KR, Khatri P, Tomsick T, Sharp FR (04-2009. ) Mechanical reperfusion is associated with post-ischemic hemorrhage in rat brain .Exper Neurol, , 216 ,407-412
Pancioli AM, Broderick J, Brott T, Tomsick T, Khoury , et al. for the CLEAR Trial Investigators (09-04-2008. ) The Combined Approach to Lysis Utilizing Eptifibatide and rt-PA in Acute Ischemic Stroke. The CLEAR Stroke Trial .Stroke, , 39 ,3268-3276
Khatri P, Broderick J, Khoury J, Carrozzella J, Tomsick T for the IMS I and II Investigators (09-04-2008. ) Microcatheter Contrast Injections during Intra-arterial Thrombolysis May Increase Intracranial Hemorrhage Risk .Stroke, , 39 ,3283-3287
Mahajan V, Minshew P, Khoury J, Shu PP, Muzaffar M, Abruzzo T, Leach JL, Khatri P, Tomsick TA (2008. ) *Eye deviation on CT increases sensitivity to ischemic hypodensity .AJNR, , 29 ,1144-1146
Tomsick TA, Broderick J, Carrozella J, Khatri P, Hill M, Palesch Y,Khoury J, for the IMS II Investigators (2008. ) Revascularization results in the Interventional Management of Stroke II Trial .AJNR, , 29 ,582-587
Santucci GM, Ying J, Tomsick T (2008. ) Brain Parenchymal Signal Abnormalities Associated with Developmental Venous Anomalies: Detailed MRI Assessment .AJNR, , 29 ,1317-1323
Leach J, Jones B, Meyer K, Tomsick T (2008. ) Large archnoid granulations involving the posterior superior sagittal sinus: findings on MRI and MR venography .AJNR, , 29 ,1317-1323
Lu A, Clark JF, Broderick JP, Pyne-Geithman GJ, Wagner KR, Ran R, Khatri P, Tomsick T, Sharp FR (2008. ) Reperfusiuon activates metalloproteinases that contribute to neurovascular injury .Exper Neurol, , 210 ,549-559
Khatri P, Palesch YY, Spilker J, Jauch EC, Carrozzella, Demchuk AM, Martin R, Mauldin P, Dillon C, Ryckhorst KJ, Janis S, Tomsick TA, Broderick JP (2008. ) Interventional Management of Stroke III Investigators .Int J Stroke, , 3 ,130-7
King S, Katri P, Broderick J, Khoury J, Carrozella J, Spilker J, Tomsick T for the IMS I and II Investigators (03-29-2007. ) ACA emboli in intracranial thrombolysis: IMS I, II Experience .AJNR, ,
Strub WM, Leach JL, Tomsick TA, Vagal A (2007. ) Overnight preliminary head CT interpretations provided by residents: locations of misidentified intracranial hemorrhage .AJNR, , 28 ,1679-1682
The IMS II Study Investigators (2007. ) The Interventional Management of Stroke (IMS) II Study .Stroke, , 38 ,
Kasper GC, Welling RE, Wladis AR, Cajacob DE, Grisham AD, Tomsick TA, Gluckman JL, Muck PE (12-2006. ) A multidisciplinary approach to carotid paragangliomas . Vasc Endovascular Surg, , 40 (6 ) ,467-74
Strub W, Vagal A, Tomsick T, Moulton J (10-2006. ) Overnight resident preliminary reads on CT examinations. Should the process continue. Emerg Radiol, , 13 (1 ) ,19-23
Sacco RL, Adams R, Albers G, Albers MJ…Tomsick TA, et al (03-14-2006. ) Guidelines for prevention of stroke in patients with ischemic stroke or transient ischemic attack: a statement for healthcare professionals from the American Heart Association/American Stroke Association Council on Stroke: co-sponsored by the Council on Cardiovascular Radiology and Intervention: the American Academy of Neurology affirms the value of this guideline .Circulation, , 113 (10 ) ,e409-49
Sacco RL, Adams R, Albers G, Albers MJ…Tomsick TA, et al (02-2006. ) Guidelines for prevention of stroke in patients with ischemic stroke or transient ischemic attack: a statement for healthcare professionals from the American Heart Association/American Stroke Association Council on Stroke: co-sponsored by the Council on Cardiovascular Radiology and Intervention: the American Academy of Neurology affirms the value of this guideline .Stroke, , 37 (2 ) ,577-617
IMS Investigators (2006. ) Hemorrhage in the interventional management of stroke trial .Stroke, , 37 ,847-851
Strub W, Leach J, Tomsick T (2006. ) Left vertebral artery origin from Thyrocervical trunk .AJNR, , 37 ,
Andulaz N, Tomsick TA, Keeler, J, Zuccarello M (2006. ) Case report. Subdural hematoma following balloon occlusion test for giant aneurysm .J Neurosurg , , 105 ,315-319
IMS Study Investigators (2006. ) Hemorrhage in the Interventional Management of Stroke Study .Stroke, , 37 ,847-851
Hill M, Broderick J, Tomsick TA for the IMS Group (2006. ) Using the baseline CT scan to select acute stroke patients for IV-IA therapy .AJNR, , 27 ,1155-1160
Ringer AJ, Salud L, Tomsick TA (04-2005. ) Carotid cavernous fistulas: anatomy, classification, and treatment .Neurosurg Clin N Am, , 16 (2 ) ,279-95 -viii
Strub WM, Leach JL, Tomsick TA (04-2005. ) Persistent Falcine Sinus in an Adult: Demonstration by MR Venography .AJNR Am J Neuroradiol, , 26 (4 ) ,750-1
Saqqur M, Shuaib A, Alexandrov AV, Hill MD, Calleja S, Tomsick T, Broderick J, Demchuk AM (04-2005. ) Derivation of Transcranial Doppler Criteria for Rescue Intra-arterial Thrombolysis. Multicenter Experience from the Interventional Management of Stroke Study .Stroke, , 36 (4 ) ,865 8
Kleindorfer D, Hill MD, Woo D, Tomsick T, Pancioli A, Kissela B, Demchuk AM, Losiewicz D, Jauch E, Schneider A, Ringer A, Kanter D, Broderick JP (03-2005. ) A description of Canadian and United States physician reimbursement for thrombolytic therapy administration in acute ischemic stroke .Stroke, , 36 (3 ) ,682-7
Flaherty ML, Woo D, Kissela B, Jauch E, Pancioli A, Carrozzella J, Spilker J, Sekar P, Broderick J, Tomsick T (01-25-2005. ) Combined IV and intra-arterial thrombolysis for acute ischemic stroke .Neurology, , 64 (2 ) ,386-8
Connors JJ 3rd, Sacks D, Furlan AJ, Selman WR, Russell EJ, Stieg PE, Hadley MN, Wojak JC, Koroshetz WJ, Heros RC, Strother CM, Duckwiler GR, Durham JD, Tomsick TO, Rosenwasser RH, McDougall CG, Haughton VM, Derdeyn CP, Wechsler LR, Hudgins PA, Alberts MJ, Raabe RD, Gomez CR, Cawley CM 3rd, Krol KL, Futrell N, Hauser RA, Frank JI (01-25-2005. ) American Academy of Neurology; American Association of Neurological Surgeons; American Society of Interventional and Therapeutic Neuroradiology; American Society of Neuroradiology; Congress of Neurological Surgeons; AANS/CNS Cerebrovascular Section; Society of Interventional Radiology; NeuroVascular Coalition Writing Group: Training, competency, and credentialing standards for diagnostic cervicocerebral angiography, carotid stenting, and cerebrovascular intervention: a joint statement from the American Academy of Neurology, the American Association of Neurological Surgeons, the American Society of Interventional and Therapeutic Neuroradiology, the American Society of Neuroradiology, the Congress of Neurological Surgeons, the AANS/CNS Cerebrovascular Section, and the Society of Interventional Radiology .Neurology, , 64 (2 ) ,190-8
Katri P, Neff J, Broderick J, Khoury J, Carrozella J, Tomsick TA (2005. ) Revascularization end points in stroke interventional trials:recanalization versus reperfusion in IMS- .Stroke, , 36 ,2400-3
Beretta F, Nader Sepahi A., Keller JT, van Loveren HR, Tomsick TA, Zuccarello M (2005. ) Radiographic imaging of the distal dural ring for determination of intra- versus extradural aneurysms .Skull Base Surgery, , 15 ,253-262
Hill, Michael D; Khatri, Pooja; Tomsick, Thomas A; Simpson, Kit N; Broderick, Joseph P (2011. ) Letter by Hill et al regarding article, "A cost-utility analysis of mechanical thrombectomy as an adjunct to intravenous tissue-type plasminogen activator for acute large-vessel ischemic stroke".Stroke; a journal of cerebral circulation, , 42 (12 ) ,e641-2; author reply
Meyers, Philip M; Schumacher, H Christian; Alexander, Michael J; Derdeyn, Colin P; Furlan, Anthony J; Higashida, Randall T; Moran, Christopher J; Tarr, Robert W; Heck, Donald V; Hirsch, Joshua A; Jensen, Mary E; Linfante, Italo; McDougall, Cameron G; Nesbit, Gary M; Rasmussen, Peter A; Tomsick, Thomas A; Wechsler, Lawrence R; Wilson, John A; Zaidat, Osama O (2010. ) Performance and training standards for endovascular ischemic stroke treatment.Journal of neurosurgery, , 113 (1 ) ,149-52
Kurosawa, Yuko; Lu, Aigang; Khatri, Pooja; Carrozzella, Janice A; Clark, Joseph F; Khoury, Jane; Tomsick, Thomas A (2010. ) Intra-arterial iodinated radiographic contrast material injection administration in a rat middle cerebral artery occlusion and reperfusion model: possible effects on intracerebral hemorrhage.Stroke; a journal of cerebral circulation, , 41 (5 ) ,1013-7
Tomsick, T A; Khatri, P; Jovin, T; Demaerschalk, B; Malisch, T; Demchuk, A; Hill, M D; Jauch, E; Spilker, J; Broderick, J P (2010. ) Equipoise among recanalization strategies.Neurology, , 74 (13 ) ,1069-76
, ; Meyers, P M; Schumacher, H C; Alexander, M J; Derdeyn, C P; Furlan, A J; Higashida, R T; Moran, C J; Tarr, R W; Heck, D V; Hirsch, J A; Jensen, M E; Linfante, I; McDougall, C G; Nesbit, G M; Rasmussen, P A; Tomsick, T A; Wechsler, L R; Wilson, J R; Zaidat, O O (2010. ) Performance and training standards for endovascular ischemic stroke treatment. AJNR. American journal of neuroradiology, , 31 (1 ) ,E8-11
Meyers, Philip M; Schumacher, H Christian; Alexander, Michael J; Derdeyn, Colin P; Furlan, Anthony J; Higashida, Randall T; Moran, Christopher J; Tarr, Robert W; Heck, Donald V; Hirsch, Joshua A; Jensen, Mary E; Linfante, Italo; McDougall, Cameron G; Nesbit, Gary M; Rasmussen, Peter A; Tomsick, Thomas A; Wechsler, Lawrence R; Wilson, John R; Zaidat, Osama O Performance and training standards for endovascular ischemic stroke treatment.Journal of stroke and cerebrovascular diseases : the official journal of National Stroke Association, , 18 (6 ) ,411-5
Khatri, P; Abruzzo, T; Yeatts, S D; Nichols, C; Broderick, J P; Tomsick, T A (2009. ) Good clinical outcome after ischemic stroke with successful revascularization is time-dependent.Neurology, , 73 (13 ) ,1066-72
, ; Meyers, P M; Schumacher, H C; Alexander, M J; Derdeyn, C P; Furlan, A J; Higashida, R T; Moran, C J; Tarr, R W; Heck, D V; Hirsch, J A; Jensen, M E; Linfante, I; McDougall, C G; Nesbit, G M; Rasmussen, P A; Tomsick, T A; Wechsler, L R; Wilson, J A; Wilson, J R; Zaidat, O O (2009. ) Performance and training standards for endovascular ischemic stroke treatment.Journal of neurointerventional surgery, , 1 (1 ) ,10-2
Khatri, Pooja; Broderick, Joseph P; Khoury, Jane C; Carrozzella, Janice A; Tomsick, Thomas A (2008. ) Microcatheter contrast injections during intra-arterial thrombolysis may increase intracranial hemorrhage risk.Stroke; a journal of cerebral circulation, , 39 (12 ) ,3283-7
Santucci, G M; Leach, J L; Ying, J; Leach, S D; Tomsick, T A (2008. ) Brain parenchymal signal abnormalities associated with developmental venous anomalies: detailed MR imaging assessment.AJNR. American journal of neuroradiology, , 29 (7 ) ,1317-23
Leach, J L; Meyer, K; Jones, B V; Tomsick, T A (2008. ) Large arachnoid granulations involving the dorsal superior sagittal sinus: findings on MR imaging and MR venography.AJNR. American journal of neuroradiology, , 29 (7 ) ,1335-9
Tomsick, S D; Tomsick, T A (2008. ) Direct ascending pharyngeal artery to jugular vein arteriovenous fistula. A case report. Interventional neuroradiology : journal of peritherapeutic neuroradiology, surgical procedures and related neurosciences, , 14 (2 ) ,191-4
Mahajan, V; Minshew, P T; Khoury, J; Shu, P P; Muzaffar, M; Abruzzo, T; Leach, J L; Tomsick, T A (2008. ) Eye position information on CT increases the identification of acute ischemic hypoattenuation.AJNR. American journal of neuroradiology, , 29 (6 ) ,1144-6
Khatri, Pooja; Hill, Michael D; Palesch, Yuko Y; Spilker, Judith; Jauch, Edward C; Carrozzella, Janice A; Demchuk, Andrew M; Martin, Renee'; Mauldin, Patrick; Dillon, Catherine; Ryckborst, Karla J; Janis, Scott; Tomsick, Thomas A; Broderick, Joseph P (2008. ) Methodology of the Interventional Management of Stroke III Trial.International journal of stroke : official journal of the International Stroke Society, , 3 (2 ) ,130-7
Kasper, Gregory C; Welling, Richard E; Wladis, Alan R; CaJacob, Daniel E; Grisham, Andre D; Tomsick, Thomas A; Gluckman, Jack L; Muck, Patrick E A multidisciplinary approach to carotid paragangliomas.Vascular and endovascular surgery, , 40 (6 ) ,467-74
Tomsick, Thomas A 2006: a stroke odyssey. AJNR. American journal of neuroradiology, , 27 (10 ) ,2019-21
Hill, M D; Demchuk, A M; Tomsick, T A; Palesch, Y Y; Broderick, J P (2006. ) Using the baseline CT scan to select acute stroke patients for IV-IA therapy. AJNR. American journal of neuroradiology, , 27 (8 ) ,1612-6
Andaluz, Norberto; Tomsick, Thomas A; Keller, Jeffrey T; Zuccarello, Mario (2006. ) Subdural hemorrhage in the posterior fossa caused by a ruptured cavernous carotid artery aneurysm after a balloon occlusion test. Case report.Journal of neurosurgery, , 105 (2 ) ,315-9
Strub, W M; Leach, J L; Tomsick, T A (2006. ) Left vertebral artery origin from the thyrocervical trunk: a unique vascular variant. AJNR. American journal of neuroradiology, , 27 (5 ) ,1155-6
Beretta, Federica; Sepahi, Ali Nader; Zuccarello, Mario; Tomsick, Thomas A; Keller, Jeffrey T (2005. ) Radiographic imaging of the distal dural ring for determining the intradural or extradural location of aneurysms.Skull base : official journal of North American Skull Base Society ... [et al.], , 15 (4 ) ,253-61; discussion 2
Tomsick, Thomas A (2005. ) Mechanical embolus removal: a new day dawning. Stroke; a journal of cerebral circulation, , 36 (7 ) ,1439-40
Strub, William M; Leach, James L; Tomsick, Thomas A (2005. ) Persistent falcine sinus in an adult: demonstration by MR venography. AJNR. American journal of neuroradiology, , 26 (4 ) ,750-1
Ringer, Andrew J; Salud, Leo; Tomsick, Thomas A (2005. ) Carotid cavernous fistulas: anatomy, classification, and treatment.Neurosurgery clinics of North America, , 16 (2 ) ,279-95, viii
Tomsick, Thomas A (2004. ) Intravenous thrombolysis for acute ischemic stroke. Journal of vascular and interventional radiology : JVIR, , 15 (1 Pt 2 ) ,S67-76
Derdeyn, Colin P; Barr, John D; Berenstein, Alejandro; Connors, John J; Dion, Jacques E; Duckwiler, Gary R; Higashida, Randall T; Strother, Charles M; Tomsick, Thomas A; Turski, Patrick (2003. ) The International Subarachnoid Aneurysm Trial (ISAT): a position statement from the Executive Committee of the American Society of Interventional and Therapeutic Neuroradiology and the American Society of Neuroradiology. AJNR. American journal of neuroradiology, , 24 (7 ) ,1404-8
Jones, Blaise V; Ball, William S; Tomsick, Thomas A; Millard, Justin; Crone, Kerry R Vein of Galen aneurysmal malformation: diagnosis and treatment of 13 children with extended clinical follow-up. AJNR. American journal of neuroradiology, , 23 (10 ) ,1717-24
Cloft, Harry J; Tomsick, Thomas A; Kallmes, David F; Goldstein, Jonas H; Connors, John J Assessment of the interventional neuroradiology workforce in the United States: a review of the existing data. AJNR. American journal of neuroradiology, , 23 (10 ) ,1700-5
Gebel, James M; Jauch, Edward C; Brott, Thomas G; Khoury, Jane; Sauerbeck, Laura; Salisbury, Shelia; Spilker, Judith; Tomsick, Thomas A; Duldner, John; Broderick, Joseph P (2002. ) Relative edema volume is a predictor of outcome in patients with hyperacute spontaneous intracerebral hemorrhage. Stroke; a journal of cerebral circulation, , 33 (11 ) ,2636-41
Gebel, James M; Jauch, Edward C; Brott, Thomas G; Khoury, Jane; Sauerbeck, Laura; Salisbury, Shelia; Spilker, Judith; Tomsick, Thomas A; Duldner, John; Broderick, Joseph P (2002. ) Natural history of perihematomal edema in patients with hyperacute spontaneous intracerebral hemorrhage. Stroke; a journal of cerebral circulation, , 33 (11 ) ,2631-5
Chun, Galen F H; Tomsick, Thomas A (2002. ) Transvenous embolization of a direct carotid cavernous fistula through the pterygoid plexus. AJNR. American journal of neuroradiology, , 23 (7 ) ,1156-9
Jones, Blaise V; Tomsick, Thomas A; Franz, David N (2002. ) Guglielmi detachable coil embolization of a giant midbasilar aneurysm in a 19-month-old patient. AJNR. American journal of neuroradiology, , 23 (7 ) ,1145-8
Andaluz, Norberto; Tomsick, Thomas A; Tew, John M; van Loveren, Harry R; Yeh, Hwa-Shain; Zuccarello, Mario (2002. ) Indications for endovascular therapy for refractory vasospasm after aneurysmal subarachnoid hemorrhage: experience at the University of Cincinnati. Surgical neurology, , 58 (2 ) ,131-8; discussion 13
Ringer, Andrew J; Tomsick, Thomas A (2002. ) Developments in endovascular therapy for acute ischemic stroke. Neurological research, , 24 Suppl 1 ,S43-6
McPherson, C M; Woo, D; Cohen, P L; Pancioli, A M; Kissela, B M; Carrozzella, J A; Tomsick, T A; Zuccarello, M (2001. ) Early carotid endarterectomy for critical carotid artery stenosis after thrombolysis therapy in acute ischemic stroke in the middle cerebral artery. Stroke; a journal of cerebral circulation, , 32 (9 ) ,2075-80
, ; Atkinson, R P; Awad, I A; Batjer, H H; Dowd, C F; Furlan, A; Giannotta, S L; Gomez, C R; Gress, D; Hademenos, G; Halbach, V; Hemphill, J C; Higashida, R T; Hopkins, L N; Horowitz, M B; Johnston, S C; Lawton, M W; McDermott, M W; Malek, A M; Mohr, J P; Qureshi, A I; Riina, H; Smith, W S; Pile-Spellman, J; Spetzler, R F; Tomsick, T A; Young, W L (2001. ) Reporting terminology for brain arteriovenous malformation clinical and radiographic features for use in clinical trials. Stroke; a journal of cerebral circulation, , 32 (6 ) ,1430-42
Kissela, B M; Kothari, R U; Tomsick, T A; Woo, D; Broderick, J Embolization of calcific thrombi after tissue plasminogen activator treatment.Journal of stroke and cerebrovascular diseases : the official journal of National Stroke Association, , 10 (3 ) ,135-8
Derex, L; Tomsick, T A; Brott, T G; Lewandowski, C A; Frankel, M R; Clark, W; Starkman, S; Spilker, J; Udsten, G J; Khoury, J; Grotta, J C; Broderick, J P (2001. ) Outcome of stroke patients without angiographically revealed arterial occlusion within four hours of symptom onset. AJNR. American journal of neuroradiology, , 22 (4 ) ,685-90
Tomsick, T A (2000. ) Tick tock, doc: the rapid evaluation of acute stroke to direct therapy and improve patient outcome. AJNR. American journal of neuroradiology, , 21 (7 ) ,1177-9
Gebel, J M; Brott, T G; Sila, C A; Tomsick, T A; Jauch, E; Salisbury, S; Khoury, J; Miller, R; Pancioli, A; Duldner, J E; Topol, E J; Broderick, J P (2000. ) Decreased perihematomal edema in thrombolysis-related intracerebral hemorrhage compared with spontaneous intracerebral hemorrhage. Stroke; a journal of cerebral circulation, , 31 (3 ) ,596-600
Link, M J; Tomsick, T A; Tew, J M (2000. ) Honored guest presentation: therapeutic carotid occlusion. Clinical neurosurgery, , 46 ,326-38
Lewandowski, C A; Frankel, M; Tomsick, T A; Broderick, J; Frey, J; Clark, W; Starkman, S; Grotta, J; Spilker, J; Khoury, J; Brott, T (1999. ) Combined intravenous and intra-arterial r-TPA versus intra-arterial therapy of acute ischemic stroke: Emergency Management of Stroke (EMS) Bridging Trial. Stroke; a journal of cerebral circulation, , 30 (12 ) ,2598-605
Ouanounou, S; Tomsick, T A; Heitsman, C; Holland, C K (1999. ) Cavernous sinus and inferior petrosal sinus flow signal on three-dimensional time-of-flight MR angiography. AJNR. American journal of neuroradiology, , 20 (8 ) ,1476-81
Tomsick, T A (1999. ) Balloon dilatation of middle carotid artery occlusion combined with balloon angioplasty and stent therapy of internal carotid artery stenosis. AJNR. American journal of neuroradiology, , 20 (8 ) ,1389-90
Keiper, G L; Sherman, J D; Tomsick, T A; Tew, J M (1999. ) Dural sinus thrombosis and pseudotumor cerebri: unexpected complications of suboccipital craniotomy and translabyrinthine craniectomy.Journal of neurosurgery, , 91 (2 ) ,192-7
Luh, G Y; Dean, B L; Tomsick, T A; Wallace, R C (1999. ) The persistent fetal carotid-vertebrobasilar anastomoses. AJR. American journal of roentgenology, , 172 (5 ) ,1427-32
Gruber, D P; Zimmerman, G A; Tomsick, T A; van Loveren, H R; Link, M J; Tew, J M (1999. ) A comparison between endovascular and surgical management of basilar artery apex aneurysms.Journal of neurosurgery, , 90 (5 ) ,868-74
Meyers, P M; Thakur, G A; Tomsick, T A (1999. ) Temporary endovascular balloon occlusion of the internal carotid artery with a nondetachable silicone balloon catheter: analysis of technique and cost. AJNR. American journal of neuroradiology, , 20 (4 ) ,559-64
Akimura, T; Yeh, H S; Mantil, J C; Privitera, M D; Gartner, M; Tomsick, T A (1999. ) Cerebral metabolism of the remote area after epilepsy surgery. Neurologia medico-chirurgica, , 39 (1 ) ,16-25; discussion 25
Tomsick, T A (1998. ) Eye-popping fistulas: what's in a name? .AJNR. American journal of neuroradiology, , 19 (9 ) ,1591-3
Yeh, H; Tomsick, T A (1997. ) Obliteration of a giant carotid aneurysm after extracranial-to-intracranial bypass surgery: case report. Surgical neurology, , 48 (5 ) ,473-6
Ernst, R J; Gaskill-Shipley, M; Tomsick, T A; Hall, L C; Tew, J M; Yeh, H S (1997. ) Cervical myelopathy associated with intracranial dural arteriovenous fistula: MR findings before and after treatment. AJNR. American journal of neuroradiology, , 18 (7 ) ,1330-4
Devoto, M H; Egbert, J E; Tomsick, T A; Kulwin, D R (1997. ) Acute exophthalmos during treatment of a cavernous sinus-dural fistula through the superior ophthalmic vein. Archives of ophthalmology, , 115 (6 ) ,823-4
Jones, B V; Ernst, R J; Tomsick, T A; Tew, J (1997. ) Spinal dural arteriovenous fistulas: recognizing the spectrum of magnetic resonance imaging findings. The journal of spinal cord medicine, , 20 (1 ) ,43-8
Leach, J L; Jones, B V; Tomsick, T A; Stewart, C A; Balko, M G (1996. ) Normal appearance of arachnoid granulations on contrast-enhanced CT and MR of the brain: differentiation from dural sinus disease. AJNR. American journal of neuroradiology, , 17 (8 ) ,1523-32
Gaskill-Shipley, M F; Tomsick, T A (1996. ) Angiography in the evaluation of head and neck trauma. Neuroimaging clinics of North America, , 6 (3 ) ,607-24
Lewis, A I; Tomsick, T A; Tew, J M; Lawless, M A (1996. ) Long-term results in direct carotid-cavernous fistulas after treatment with detachable balloons.Journal of neurosurgery, , 84 (3 ) ,400-4
Jones, B V; Tomsick, T A (1995. ) Shotgun pellet embolus to the basilar artery. AJR. American journal of roentgenology, , 165 (3 ) ,744
Ernst, R J; Bulas, R V; Gaskill-Shipley, M; Tomsick, T A (1995. ) Endovascular therapy of intractable epistaxis complicated by carotid artery occlusive disease. AJNR. American journal of neuroradiology, , 16 (7 ) ,1463-8
Tomsick, T A; Ernst, R J; Tew, J M; Brott, T G; Breneman, J C (1995. ) Adult choroidal vein of Galen malformation. AJNR. American journal of neuroradiology, , 16 (4 Suppl ) ,861-5
Timperman, P E; Tomsick, T A; Tew, J M; van Loveren, H R (1995. ) Aneurysm formation after carotid occlusion. AJNR. American journal of neuroradiology, , 16 (2 ) ,329-31
Albernaz, V S; Tomsick, T A (1995. ) Embolization of arteriovenous fistulae of the maxillary artery after Le Fort I osteotomy: a report of two cases. Journal of oral and maxillofacial surgery : official journal of the American Association of Oral and Maxillofacial Surgeons, , 53 (2 ) ,208-10
Lewis, A I; Tomsick, T A; Tew, J M (1995. ) Management of 100 consecutive direct carotid-cavernous fistulas: results of treatment with detachable balloons. Neurosurgery, , 36 (2 ) ,239-44; discussion 2
Larson, J J; Tew, J M; Tomsick, T A; van Loveren, H R (1995. ) Treatment of aneurysms of the internal carotid artery by intravascular balloon occlusion: long-term follow-up of 58 patients. Neurosurgery, , 36 (1 ) ,26-30; discussion 30
Lewis, A I; Tomsick, T A; Tew, J M (1994. ) Management of tentorial dural arteriovenous malformations: transarterial embolization combined with stereotactic radiation or surgery.Journal of neurosurgery, , 81 (6 ) ,851-9
Perata, H J; Tomsick, T A; Tew, J M (1994. ) Feeding artery pedicle aneurysms: association with parenchymal hemorrhage and arteriovenous malformation in the brain.Journal of neurosurgery, , 80 (4 ) ,631-4
Patterson, R D; Tomsick, T A; Wilson, J H; Frey, R T; Deak, A; Schreiber, T Transvenous Fogarty balloon catheter occlusion of an iatrogenic innominate artery to innominate vein fistula. Cardiovascular and interventional radiology, , 16 (5 ) ,316-8
Tomsick, T A (1990. ) Imaging techniques in suspected internal carotid artery dissection. Stroke; a journal of cerebral circulation, , 21 (9 ) ,1378-80
Tomsick, T A; Brott, T G; Chambers, A A; Fox, A J; Gaskill, M F; Lukin, R R; Pleatman, C W; Wiot, J G; Bourekas, E (1990. ) Hyperdense middle cerebral artery sign on CT: efficacy in detecting middle cerebral artery thrombosis. AJNR. American journal of neuroradiology, , 11 (3 ) ,473-7
Wiot, J G; Lukin, R R; Tomsick, T A Xanthogranuloma of the third ventricle. AJNR. American journal of neuroradiology, , 10 (5 Suppl ) ,S57
Tomsick, T A; Brott, T G; Olinger, C P; Barsan, W; Spilker, J; Eberle, R; Adams, H (1989. ) Hyperdense middle cerebral artery: incidence and quantitative significance. Neuroradiology, , 31 (4 ) ,312-5
Buckingham, M J; Crone, K R; Ball, W S; Tomsick, T A; Berger, T S; Tew, J M (1988. ) Traumatic intracranial aneurysms in childhood: two cases and a review of the literature. Neurosurgery, , 22 (2 ) ,398-408
Welling, R E; Saul, T G; Tew, J M; Tomsick, T A; Kremchek, T E; Bellamy, M J (1987. ) Management of blunt injury to the internal carotid artery. The Journal of trauma, , 27 (11 ) ,1221-6
Neils, E W; Lukin, R; Tomsick, T A; Tew, J M (1987. ) Magnetic resonance imaging and computerized tomography scanning of herpes simplex encephalitis. Report of two cases.Journal of neurosurgery, , 67 (4 ) ,592-4
Weil, S M; van Loveren, H R; Tomsick, T A; Quallen, B L; Tew, J M (1987. ) Management of inoperable cerebral aneurysms by the navigational balloon technique. Neurosurgery, , 21 (3 ) ,296-302
Tomsick, T A (1985. ) Osmotic effects upon long term inflation of latex detachable balloons. Neurosurgery, , 17 (6 ) ,952-4
Lubbers, D J; Tomsick, T A (1985. ) CT demonstration of spontaneous internal carotid artery dissection. Case report.Journal of neurosurgery, , 63 (5 ) ,792-3
Ball, J B; Lukin, R R; Tomsick, T A; Chambers, A A (1985. ) Complications of intravenous digital subtraction angiography. Archives of neurology, , 42 (10 ) ,969-72
Tomsick, T A; Ball, J B Balloons and coils: aids in particulate/liquid head-neck embolization. AJNR. American journal of neuroradiology, , 6 (4 ) ,598-601
Yeh, H S; Tomsick, T A; Tew, J M (1985. ) Intraventricular hemorrhage due to aneurysms of the distal posterior inferior cerebellar artery. Report of three cases.Journal of neurosurgery, , 62 (5 ) ,772-5
Hartrick, C T; Pither, C E; Pai, U; Raj, P P; Tomsick, T A (1985. ) Subdural migration of an epidural catheter. Anesthesia and analgesia, , 64 (2 ) ,175-8
Kakkasseril, J S; Tomsick, T A; Arbaugh, J A; Cranley, J J (1984. ) Carotid cavernous fistula following Fogarty catheter thrombectomy. Archives of surgery (Chicago, Ill. : 1960), , 119 (9 ) ,1095-6
Yamamoto, I; Sato, O; Tew, J M; Tomsick, T A (1984. ) [Use of detachable balloon catheters in the treatment of carotid-cavernous fistula]. Neurologia medico-chirurgica, , 24 (9 ) ,678-88
Chambers, A A; Lukin, R R; Tomsick, T A (1984. ) Suprasellar masses. Seminars in roentgenology, , 19 (2 ) ,84-90
Wood, G W; Lukin, R R; Tomsick, T A; Chambers, A A (1983. ) Digital subtraction angiography with intravenous injection: assessment of 1,000 carotid bifurcations. AJR. American journal of roentgenology, , 140 (5 ) ,855-9
Wood, G W; Lukin, R R; Tomsick, T A; Chambers, A A (1983. ) Modified venous catheter technique for digital angiography. Radiology, , 147 (1 ) ,272
Tomsick, T A; Tew, J M; Lukin, R R; Johnson, J K (1983. ) Balloon catheters for aneurysms and fistulae. Clinical neurosurgery, , 31 ,135-64
Yamamoto, I; Tew, J M; Tomsick, T A (1982. ) The use of balloon catheters in the treatment of carotid cavernous sinus fistula. No shinkei geka. Neurological surgery, , 10 (11 ) ,1175-81
Eggers, F M; Tomsick, T A; Lukin, R R; Chambers, A A Recognition of subdural hematoma secondary to ruptured aneurysm by computerized tomography. Computerized radiology : official journal of the Computerized Tomography Society, , 6 (5 ) ,309-13
Eggers, F M; Tomsick, T A; Chambers, A A; Lukin, R R (1982. ) Aneurysms of persistent trigeminal arteries. Report of two cases. Neuroradiology, , 24 (1 ) ,65-6
Modic, M T; Kaufman, B; Bonstelle, C T; Tomsick, T A; Weinstein, M A (1981. ) Megalocephaly and hypodense extracerebral fluid collections. Radiology, , 141 (1 ) ,93-100
Tomsick, T A; Eggers, F M; Lukin, R R; Sprich, W; Chambers, A A Detachable balloon closure of carotid-jugular fistulas in dogs. Investigative radiology, , 15 (6 ) ,481-9
Lukin, R; Tomsick, T A; Chambers, A A (1980. ) Lymphoma and leukemia of the central nervous system. Seminars in roentgenology, , 15 (3 ) ,246-50
Tomsick, T A (1980. ) Emergency department skull radiography. Annals of emergency medicine, , 9 (4 ) ,233-4
Eggers, F; Lukin, R; Chambers, A A; Tomsick, T A; Sawaya, R (1979. ) Iatrogenic carotid-cavernous fistula following Fogarty catheter thromboendarterectomy. Case report.Journal of neurosurgery, , 51 (4 ) ,543-5
Chambers, A A; Lukin, R R; Tomsick, T A (1979. ) Cranial and intracranial tuberculosis. Seminars in roentgenology, , 14 (4 ) ,319-24
Tomsick, T A; Lukin, R R; Chambers, A A (1979. ) Persistent trigeminal artery: unusual associated abnormalities. Neuroradiology, , 17 (5 ) ,253-7
Thomas, S R; Schneider, A J; Kereiakes, J G; Lukin, R R; Chambers, A A; Tomsick, T A An evaluation of the performance characteristics of different types of collimators used with the EMI brain scanner (MKI) and their significance in specific clinical applications. Medical physics, , 5 (2 ) ,124-32
Tomsick, T A (1978. ) Normal skull variant that may simulate a fracture. Seminars in roentgenology, , 13 (1 ) ,3
Tomsick, T A; Chambers, A A; Lukin, R R (1978. ) Skull fractures. Seminars in roentgenology, , 13 (1 ) ,27-36
Chambers, A A; Lukin, R R; Tomsick, T A Cranial epidermoid tumors: diagnosis by computed tomography. Neurosurgery, , 1 (3 ) ,276-80
Lukin, R R; Tomsick, T A; Chambers, A A (1977. ) Neuroradiology of sellar and parasellar lesions with emphasis on computerized tomography (CT). Clinical neurosurgery, , 24 ,118-50
Lukin, R R; Chambers, A A; Tomsick, T A (1977. ) Cerebral vascular lesions: infarction, hemorrhage, aneurysm, and arteriovenous malformation. Seminars in roentgenology, , 12 (1 ) ,77-89
Tomsick, T A; Lukin, R R; Chambers, A A; Benton, C (1976. ) Neurofibromatosis and intracranial arterial occlusive disease. Neuroradiology, , 11 (5 ) ,229-34
Tomsick, T A; Moesner, S E; Smith, W L (1976. ) The congenital pulmonary venolobar syndrome in three successive generations. Journal of the Canadian Association of Radiologists, , 27 (3 ) ,196-9
Tomsick, T A; Holder, L E (1975. ) Unilateral absent perfusion of the lung. JAMA : the journal of the American Medical Association, , 234 (1 ) ,89-90
Tomsick, T A; Ahlstrand, R A; Kiesel, T M (1974. ) Thoracic outlet syndrome associated with rib fusion and cervicothoracic scoliosis. Journal of the Canadian Association of Radiologists, , 25 (3 ) ,211-3
Tomsick, T A; Lebowitz, M E; Campbell, C (1974. ) The congenital absence of pedicles in the thoracic spine. Report of two cases. Radiology, , 111 (3 ) ,587-9
Tomsick, T A (1974. ) Dental surgical subcutaneous and mediastinal emphysema: a case report. Journal of the Canadian Association of Radiologists, , 25 (1 ) ,49-51
Palesch, Yuko Y; Yeatts, Sharon D; Tomsick, Thomas A; Foster, Lydia D; Demchuk, Andrew M; Khatri, Pooja; Hill, Michael D; Jauch, Edward C; Jovin, Tudor G; Yan, Bernard; von Kummer, Rüdiger; Molina, Carlos A; Goyal, Mayank; Schonewille, Wouter J; Mazighi, Mikael; Engelter, Stefan T; Anderson, Craig; Spilker, Judith; Carrozzella, Janice; Ryckborst, Karla J; Janis, L Scott; Simpson, Annie; Simpson, Kit N; Broderick, Joseph P (2015. ) Twelve-Month Clinical and Quality-of-Life Outcomes in the Interventional Management of Stroke III Trial.Stroke; a journal of cerebral circulation, ,
Morales H, Lu A, Kurosawa Y, Clark JR, Leach J, Weiss K, Tomsick T. (2014. ) Decreased infarct volume and intracranial hemorrhage associated with intra-arterial nonionic iso-osmolar contrast material in an MCA occlusion/reperfusion model. .AJNR American Journal of Neuroradiology, , 35 (10 ) ,1885-91
Broderick, Joseph; Tomsick, Thomas A (2013. ) Tribulations of stroke trials.Journal of neurointerventional surgery, ,
Tomsick TA, Yeatts SD, Liebeskind DS, Carrozzella J, Foster L, Goyal M, von Kummer R, Hill MD, Demchuk AM, Jovin T, Yan B, Zaidat OO, Schonewille W, Engelter S, Martin R, Khatri P, Spilker J, Palesch YY, Broderick JP. (2015. ) Endovascular revascularization results in IMS III: intracranial ICA and M1 occlusions. .J Neurointerv Surg , , 7 (11 ) ,795-802
Al-Ali F, Elias JJ, Tomsick TT, Liebeskind DS, Broderick JP. (2015. ) Relative influence of capillary index score, revascularization, and time on stroke outcomes from the interventional management of stroke III trial. .Stroke, , 46 (6 ) ,1590-4
Tomsick TA, Foster LD, Liebeskind DS, Hill MD, Carrozzella J, Goyal M, von Kummer R, Demchuk AM, Dzialowski I, Puetz V, Jovin T, Morales H, Palesch YY, Broderick J, Khatri P, Yeatts SD. (2015. ) Outcome differences between intra-arterial iso- and low-osmolality iodinated radiographic contrast media in the interventional management of Stroke III trial. .AJNR Am J Neuroradiol , , 36 (11 ) ,2074-81
Nichols C, Carrozzella J, Yeatts S, Tomsick T, Broderick J, Khatri P (2018. ) Is periprocedural sedation during acute stroke therapy associated with poorer functional outcomes?.J Neurointerv Surg, , 10 (Suppl1 ) ,i40
Fan L, Yeatts SD, Foster LD, Khatri P, Tomsick T, Broderick JP, Palesch YY (2017. ) Endovascular Therapy Demonstrates Benefit over Intravenous Recombinant Tissue Plasminogen Activator Based on Repeatedly Measured National Institutes of Health Stroke Scale.Interv Neurol, , 6 (1-2 ) ,25
Simpson KN, Simpson AN, Mauldin PD, Palesch YY, Yeatts SD, Kleindorfer D, Tomsick TA, Foster LD, Demchuk AM, Khatri P, Hill MD, Jauch EC, Jovin TG, Yan B, von Kummer R, Molina CA, Goyal M, Schonewille WJ, Mazighi M, Engelter ST, Anderson C, Spilker J, Carrozzella J, Ryckborst KJ, Janis LS, Broderick JP; Interventional Management of Stroke (IMS) III Investigators (2017. ) Observed Cost and Variations in Short Term Cost-Effectiveness of Therapy for Ischemic Stroke in Interventional Management of Stroke (IMS) III.J Am Heart Assoc, , 6 (5 ) ,e004513
Tomsick TA, Peak E, Wang L (2017. ) Fluid-Signal Structures in the Cervical Spinal Cord on MRI: Anterior Median Fissure versus Central Canal.AJNR, , 38 (4 ) ,840
Gogela SL, Gozal YM, Zhang B, Tomsick TA, Ringer AJ, Broderick JP, Khatri P, Abruzzo TA (2018. ) Severe carotid stenosis and delay of reperfusion in endovascular stroke treatment: an Interventional Management of Stroke-III study.J Neurosurg, , 128 (1 ) ,94
Morales H, Lu A, Kurosawa Y, Clark JF, Tomsick T (2017. ) Variable MR and pathologic patterns of hemorrhage after iodinated contrast infusion in MCA occlusion/reperfusion model.J Neurointerv Surg, , 9 (12 ) ,1248
Schmitz ML, Yeatts SD, Tomsick TA, Liebeskind DS, Vagal A, Broderick JP, Khatri P (2016. ) Recanalization and Angiographic Reperfusion Are Both Associated with a Favorable Clinical Outcome in the IMS III Trial .Interv Neurol, , 5 (3-4 ) ,118
Tomsick TA, Carrozzella J, Foster L, Hill MD, von Kummer R, Goyal M, Demchuk AM, Khatri P, Palesch Y, Broderick JP, Yeatts SD, Liebeskind DS; IMS III Investigators (2017. ) Endovascular Therapy of M2 Occlusion in IMS III: Role of M2 Segment Definition and Location on Clinical and Revascularization Outcomes.AJNR, , 38 (1 ) ,84
Morales H, Lemen L, Samaratunga R, Nguyen P, Tomsick T (2016. ) Effects of iodinated contrast on various magnetic resonance imaging sequences and field strength: Implications for characterization of hemorrhagic transformation in acute stroke therapy.World J Radiol, , 28 (8 ) ,6
Vagal A, Foster LD, Menon B, Livorine A, Shi J, Qazi E, Yeatts SD, Demchuk AM, Hill MD, Tomsick TA, Goyal M (2016. ) Multimodal CT Imaging: Time to Treatment and Outcomes in the IMS III Trial.AJNR, , 37 (8 ) ,1393
Lemmens R, Hamilton SA, Liebeskind DS, Tomsick TA, Demchuk AM, Nogueira RG, Marks MP, Jahan R, Gralla J, Yoo AJ, Yeatts SD, Palesch YY, Saver JL, Pereira VM, Broderick JP, Albers GW, Lansberg MG; DEFUSE 2, IMS III, STAR, and SWIFT trialists; DEFUSE 2 IMS III STAR and SWIFT trialists (2016. ) Effect of endovascular reperfusion in relation to site of arterial occlusion.Neurology, , 86 (8 ) ,762
Morales H, Tomsick T (2015. ) Middle cerebellar peduncles: Magnetic resonance imaging and pathophysiologic correlate.World J Radiol, , 7 (12 ) ,438
Gogela, Steven L; Gozal, Yair M; Zhang, Bin; Tomsick, Thomas A; Ringer, Andrew J; Broderick, Joseph P; Khatri, Pooja; Abruzzo, Todd A (2018. ) Severe carotid stenosis and delay of reperfusion in endovascular stroke treatment: an Interventional Management of Stroke-III study.Journal of neurosurgery, , 128 (1 ) ,94-99
Tomsick, T A; Liebeskind, D S; Hill, M D; von Kummer, R; Goyal, M; Broderick, J P (2017. ) Reply.AJNR. American journal of neuroradiology, , 38 (6 ) ,E44-E45
Simpson, Kit N; Simpson, Annie N; Mauldin, Patrick D; Palesch, Yuko Y; Yeatts, Sharon D; Kleindorfer, Dawn; Tomsick, Thomas A; Foster, Lydia D; Demchuk, Andrew M; Khatri, Pooja; Hill, Michael D; Jauch, Edward C; Jovin, Tudor G; Yan, Bernard; von Kummer, Rüdiger; Molina, Carlos A; Goyal, Mayank; Schonewille, Wouter J; Mazighi, Mikael; Engelter, Stefan T; Anderson, Craig; Spilker, Judith; Carrozzella, Janice; Ryckborst, Karla J; Janis, L Scott; Broderick, Joseph P (2017. ) Observed Cost and Variations in Short Term Cost-Effectiveness of Therapy for Ischemic Stroke in Interventional Management of Stroke (IMS) III.Journal of the American Heart Association, , 6 (5 ) ,
Tomsick, T A; Peak, E; Wang, L (2017. ) Fluid-Signal Structures in the Cervical Spinal Cord on MRI: Anterior Median Fissure versus Central Canal.AJNR. American journal of neuroradiology, , 38 (4 ) ,840-845
Tomsick, T A; Carrozzella, J; Foster, L; Hill, M D; von Kummer, R; Goyal, M; Demchuk, A M; Khatri, P; Palesch, Y; Broderick, J P; Yeatts, S D; Liebeskind, D S (2017. ) Endovascular Therapy of M2 Occlusion in IMS III: Role of M2 Segment Definition and Location on Clinical and Revascularization Outcomes.AJNR. American journal of neuroradiology, , 38 (1 ) ,84-89
Schmitz, Marie L; Yeatts, Sharon D; Tomsick, Thomas A; Liebeskind, David S; Vagal, Achala; Broderick, Joseph P; Khatri, Pooja (2016. ) Recanalization and Angiographic Reperfusion Are Both Associated with a Favorable Clinical Outcome in the IMS III Trial.Interventional neurology, , 5 (3-4 ) ,118-122
Vagal, A; Foster, L D; Menon, B; Livorine, A; Shi, J; Qazi, E; Yeatts, S D; Demchuk, A M; Hill, M D; Tomsick, T A; Goyal, M (2016. ) Multimodal CT Imaging: Time to Treatment and Outcomes in the IMS III Trial.AJNR. American journal of neuroradiology, , 37 (8 ) ,1393-8
Lemmens, Robin; Hamilton, Scott A; Liebeskind, David S; Tomsick, Tom A; Demchuk, Andrew M; Nogueira, Raul G; Marks, Michael P; Jahan, Reza; Gralla, Jan; Yoo, Albert J; Yeatts, Sharon D; Palesch, Yuko Y; Saver, Jeffrey L; Pereira, Vitor M; Broderick, Joseph P; Albers, Gregory W; Lansberg, Maarten G (2016. ) Effect of endovascular reperfusion in relation to site of arterial occlusion.Neurology, , 86 (8 ) ,762-70
Broderick, Joseph P; Berkhemer, Olvert A; Palesch, Yuko Y; Dippel, Diederik W J; Foster, Lydia D; Roos, Yvo B W E M; van der Lugt, Aad; Tomsick, Thomas A; Majoie, Charles B L M; van Zwam, Wim H; Demchuk, Andrew M; van Oostenbrugge, Robert J; Khatri, Pooja; Lingsma, Hester F; Hill, Michael D; Roozenbeek, Bob; Jauch, Edward C; Jovin, Tudor G; Yan, Bernard; von Kummer, Rüdiger; Molina, Carlos A; Goyal, Mayank; Schonewille, Wouter J; Mazighi, Mikael; Engelter, Stefan T; Anderson, Craig S; Spilker, Judith; Carrozzella, Janice; Ryckborst, Karla J; Janis, L Scott; Simpson, Kit N (2015. ) Endovascular Therapy Is Effective and Safe for Patients With Severe Ischemic Stroke: Pooled Analysis of Interventional Management of Stroke III and Multicenter Randomized Clinical Trial of Endovascular Therapy for Acute Ischemic Stroke in the Netherlands Data.Stroke, , 46 (12 ) ,3416-22
Tomsick, T A; Foster, L D; Liebeskind, D S; Hill, M D; Carrozella, J; Goyal, M; von Kummer, R; Demchuk, A M; Dzialowski, I; Puetz, V; Jovin, T; Morales, H; Palesch, Y Y; Broderick, J; Khatri, P; Yeatts, S D (2015. ) Outcome Differences between Intra-Arterial Iso- and Low-Osmolality Iodinated Radiographic Contrast Media in the Interventional Management of Stroke III Trial.AJNR. American journal of neuroradiology, , 36 (11 ) ,2074-81
MacIsaac, Rachael L; Khatri, Pooja; Bendszus, Martin; Bracard, Serge; Broderick, Joseph; Campbell, Bruce; Ciccone, Alfonso; Dávalos, Antoni; Davis, Stephen M; Demchuk, Andrew; Diener, Hans-Christoph; Dippel, Diederik; Donnan, Geoffrey A; Fiehler, Jens; Fiorella, David; Goyal, Mayank; Hacke, Werner; Hill, Michael D; Jahan, Reza; Jauch, Edward; Jovin, Tudor; Kidwell, Chelsea S; Liebeskind, David; Majoie, Charles B; Martins, Sheila Cristina Ouriques; Mitchell, Peter; Mocco, J; Muir, Keith W; Nogueira, Raul; Saver, Jeffrey L; Schonewille, Wouter J; Siddiqui, Adnan H; Thomalla, Götz; Tomsick, Thomas A; Turk, Aquilla S; White, Philip; Zaidat, Osama; Lees, Kennedy R (2015. ) A collaborative sequential meta-analysis of individual patient data from randomized trials of endovascular therapy and tPA vs. tPA alone for acute ischemic stroke: ThRombEctomy And tPA (TREAT) analysis: statistical analysis plan for a sequential meta-analysis performed within the VISTA-Endovascular collaboration.International journal of stroke : official journal of the International Stroke Society, , 10 Suppl A100 ,136-44
Al-Ali, Firas; Elias, John J; Tomsick, Thomas A; Liebeskind, David S; Broderick, Joseph P (2015. ) Relative Influence of Capillary Index Score, Revascularization, and Time on Stroke Outcomes From the Interventional Management of Stroke III Trial.Stroke, , 46 (6 ) ,1590-4
Khatri, Pooja; Hacke, Werner; Fiehler, Jens; Saver, Jeffrey L; Diener, Hans-Christoph; Bendszus, Martin; Bracard, Serge; Broderick, Joseph; Campbell, Bruce; Ciccone, Alfonso; Dávalos, Antoni; Davis, Stephen; Demchuk, Andrew M; Dippel, Diederik; Donnan, Geoffrey; Fiorella, David; Goyal, Mayank; Hill, Michael D; Jauch, Edward C; Jovin, Tudor G; Kidwell, Chelsea S; Majoie, Charles; Martins, Sheila Cristina Ouriques; Mitchell, Peter; Mocco, J; Muir, Keith; Nogueira, Raul G; Schonewille, Wouter J; Siddiqui, Adnan H; Thomalla, Götz; Tomsick, Thomas A; Turk, Aquilla S; White, Philip M; Zaidat, Osama O; Liebeskind, David S; Fulton, Rachel; Lees, Kennedy R (2015. ) State of acute endovascular therapy: report from the 12th thrombolysis, thrombectomy, and acute stroke therapy conference.Stroke, , 46 (6 ) ,1727-34
2004 Surgical Physician of the Year, University Hospital
02-2005 Samuel Kaplan Award for Excellence in Cardiovascular Science from the Cincinnati Chapter of the American Heart Association
Best Doctors America 2001-2010
Best Doctors Cincinnati 2001-2008, 2010
Post Graduate Training and Education
1970-1971 Rotating Internship, University of Cincinnati Medical Center, , Cincinnati, OH
1971-1975 Residency in Diagnostic Radiology, University of Cincinnati Medical Center, , Cincinnati, OH
1975-1976 Fellowship in Neuroradiology, University of Cincinnati Medical Center, , Cincinnati, OH
Radiology,Neuroradiology
1976 -To Present: American College of Radiology, (Ohio Chapter)
1976 -To Present: Cincinnati Radiological Society,
1976 -To Present: American Society of Neuroradiology, Senior Member,
1976: Cincinnati Neurology and Neurosurgical Society,
1977 -To Present: American Medical Association,
1977 -To Present: Academy of Medicine, Cincinnati
1977 -To Present: Ohio State Medical Association,
1977 -To Present: Radiologic Society of North America,
1977 -To Present: American Roentgen Ray Society,
1993 -To Present: Joint Section on Cerebrovascular Surgery, Assocation of Neurologic Surgeons and Congress of Neurologic Surgeons, Adjunct Associate,
1993 -To Present: American Society of Interventional and Therapeutic Neuroradiology,
1994 -To Present: World Federation Interventional and Therapeutic Neuroradiology,
1999 -2001: Society of Cardiovascular and Interventional Radiology,
1990 -To Present: American Stroke Association,
09-1992 -To Present: American College of Radiology, Fellow,
Alpha Omega Alpha,
University of Cincinnati Medical Center
PO Box 670761
Cincinnati  Ohio, 45267-0761
Phone: 513-558-2043
Fax: 513-558-1599
tomsickta@ucmail.uc.edu