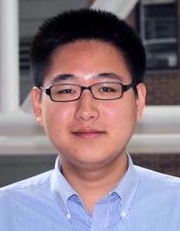 Han Tong
Graduate Assistant
As a neuroscience graduate student, my current research focuses on understanding the brain mechanisms and psychological processes that underlie chronic pain. Specifically, I will use functional neuroimaging techinique and cutting-edge brain mapping and machine learning methods to identify neural signatures of chronic pain conditions and distinguish primary chronic pain conditions from those secondary to depression and anxiety. 
 
Medical Degree, Capital Medial University Beijing, 2013 (Clinical Medicine)
Master's Degree, Capital Medical University Beijing, 2016 (Neuroscience)
Research and Practice Interests
fMRI, Human Brain Mapping, Machine Learning, Chronic Pain, Depression, Anxiety.
Post Graduate Training and Education
2013-2016 Resident, Department of Neurology, Capital Medical University Xuanwu Hospital, , Beijing