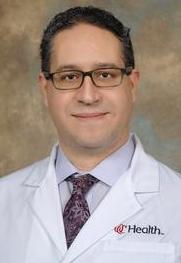 Juan Ed Torres-Reveron , MD,PhD
Volunteer Assistant Professor
CARE/CRAWLEY Building, Suite E-870, 3230 Eden Avenue
Cincinnati, Ohio 45267
Phone 5134758990
Email torresjv@ucmail.uc.edu
Neurosurgeon and neurophysiologist with interests in Parkinson's disease, movement disorders and epilepsy. Research expertise in electrophysiology and developmental neurobiology.
Bachelor's Degree: University of Puerto Rico Cayey, PR, 1996 (General Natural Sciences)
Doctoral Degree: University of Alabama at Birmingham Alabama, 2005 (Neurobiology)
Medical Degree: Baylor College of Medicine Houston, TX, 2007 (Medicine)
Residency: Yale-New Haven Hospital New Haven, CT, 2014 (Neurosurgery Resident)
Fellowship: Yale- New Haven Hospital New Haven, CT, 2015 (Epilepsy Surgery)
American Board of Neurological Surgery (Certification Date: 11-02-2019 )
Neurosurgery
Epilepsy
Movement Disorders
Parkinson's Disease
Arachnoid Cysts
Arnold-Chiari Malformation
Chiari Malformation
Dystonia
Essential Tremor (ET)
Facial Neuralgia
Facial Pain
Frontal Lobe Seizures
Generalized Epilepsy
Generalized Seizure
Hydrocephalus
Normal Pressure Hydrocephalus
Seizure Disorders
Seizures
Severe Seizures
Subdural Hematoma
Tremors
Trigeminal Nerve Injuries
Trigeminal Neuralgia (Tic douloureux)
Research and Practice Interests
Dr. Juan Torres-Reveron is a board-certified neurosurgeon who provides the highest level of complex care to patients suffering from disorders of the brain, nerves and spine. He specializes in caring for patients with movement disorders including Parkinson's disease and essential tremor as well as surgical treatment of intractable epilepsy. He also specializes in the surgical treatment of pain and spasticity.
Positions and Work Experience
2015 -2017 Neurosurgeon, Premier Health Specialists, Dayton, OH
2018 -2021 Director Functional and Epilepsy Surgery, University of Cincinnati, Cincinnati, OH
2020 -2021 Neurosurgery Ambulatory Medical Director, UC Health, Cincinnati, OH
2020 -2021 Project Improvement Director, UC College of Medicine and UC Physicians, Cincinnati, OH
2020 -2021 Site Director for Neurosurgery and Residency Program, West Chester Hospital, West Chester, OH
2021 - Weary Foundation, Janet W. Bay MD, Endowed Chair in Neurosurgery, Endowed Chair in Neurosurgery with focus in epilepsy and functional neurosurgery, OhioHealth, Columbus, OH
Grant: #1F31NS10608-01 Investigators:Juan Torres Reveron 1997 -2002 National Institutes of Health Role:Principal Investigator Completed Type:Grant Level:National
Grant: #5T32-GMO8470 1996 -1997 National Institutes of Health Predoctoral Training of Neuroscientists Completed Type:Grant
Grant: #R21MH127009 Investigators:Basu, Ishita; Shear, Paula; Torres Reveron, Juan 04-01-2022 -03-31-2024 National Institute of Mental Health A neural population model-based characterization and modulation of neural oscillations underlying cognitive control in healthy and depressed/anxious human subjects Role:Collaborator 202500.00 Awarded Level:Federal
Peer Reviewed Publications
Torres-Reveron J.;Tomasiewicz H.;Shetty A.;Amankulor N.;Chiang V. (07-01-2013. ) Stereotactic laser induced thermotherapy (LITT): A novel treatment for brain lesions regrowing after.Journal of Neuro-Oncology, , 113 (3 ) ,495-503 More Information
Torres-Reveron J.;Piepmeier J.;Becker K. (01-01-2013. ) Clinical presentation in diffuse low-grade gliomas.Diffuse Low-Grade Gliomas in Adults: Natural History, Interaction with the Brain, and New Individualized Therapeutic Strategies, , 9781447122135 ,179-188 More Information
Pathania M.;Torres-Reveron J.;Yan L.;Kimura T.;Lin T.V.;Gordon V.;Teng Z.Q.;Zhao X.;Fulga T.A.;van Vactor D.;Bordey A. (05-31-2012. ) miR-132 enhances dendritic morphogenesis, spine density, synaptic integration, and survival of newbo.PLoS ONE, , 7 (5 ) , More Information
Friedlander M.;Torres-Reveron J. (08-07-2009. ) The changing roles of neurons in the cortical subplate.Frontiers in Neuroanatomy, , 3 (AUG ) , More Information
Torres-Reveron J.;Friedlander M. (09-12-2007. ) Properties of persistent postnatal cortical subplate neurons.Journal of Neuroscience, , 27 (37 ) ,9962-9974 More Information
Cooper, Stephen W; Bethea, Kimberly B; Skrobut, Trevor J; Gerardo, Rod; Herzing, Karen; Torres-Reveron, Juan; Ekeh, Akpofure Peter (2019. ) Management of traumatic subarachnoid hemorrhage by the trauma service: is repeat CT scanning and routine neurosurgical consultation necessary?.Trauma surgery & acute care open, , 4 (1 ) ,e000313 More Information
Hsieh, Lawrence S; Wen, John H; Nguyen, Lena H; Zhang, Longbo; Getz, Stephanie A; Torres-Reveron, Juan; Wang, Ying; Spencer, Dennis D; Bordey, Angélique (2020. ) Ectopic HCN4 expression drives mTOR-dependent epilepsy in mice.Science translational medicine, , 12 (570 ) , More Information
Academic - CARE/CRAWLEY Building, Suite E-870, 3230 Eden Avenue
Cincinnati  Ohio, 45267
Phone: 5134758990
torresjv@ucmail.uc.edu