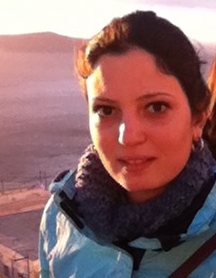 Valia Tsikritea
Valia Tsikritea is a Ph.D. candidate specializing in Late Bronze Age-Early Iron Age archaeology. Her dissertation "An Archaeology of Cult at Juktas,
Crete: Early Iron Age Pottery and Figurines from the 'Tomb of Zeus'" is a study of the 12th-7th centuries BCE material culture from the peak sanctuary on Mt. Juktas, in central Crete. Her dissertation examines developments in the cult practices at the sanctuary and situates them within their sociopolitical context. The tradition that identifies the site with the burial place of Zeus is also investigated.

Valia has conducted filedwork and survey projects in mainland Greece (Pylos and Mt. Lykaion in the Peloponnese and several sites in Attica), as well as on sites on Crete and other Aegean islands (Euboea, Andros, Kos). She earned her B.A. in Archeology and Art History from the University of Athens. Her M.A., completed at the Department of Classics at UC, focused on the social meaning of decoration on Late Bronze Age textiles and pottery.

Currently, she is the Ione Mylonas Shear Associate Fellow at the American School of Classical Studies at Athens. Her reasearch has been further supported by the American School (Emily Townsend Vermuele Refular Fellow in 2019-2020) and the UC Graduate Student Government.
Paper Presentations
Valia Tsikritea (03-2021. ) The Peak after the Peak: The Sanctuary on Juktas after the Collapse of the Palaces .Athens.
Valia Tsikritea (02-2019. ) A Motif is Worth a Thousand Words: The Social Function of Minoan Textile and Pottery Decoration .Cincinnati. UC.
Valia Tsikritea (09-2018. ) The Social Power of Minoan Textile and Pottery Decoration: Neopalatial and Final Palatial Consumption of Motifs .Cincinnati. UC.