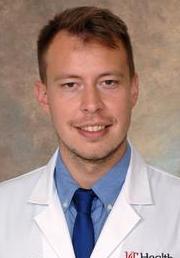 Andreas Tzoumas , MD
Medical Resident/Fellow
Cardiovascular Disease Physician-Scientist Fellow
Personal Statement
During my high school years, I used to help my uncle, a retired plumber, in updating plumbing installations in old buildings in my hometown Igoumenitsa, Greece. He used to associate all the plumbing tasks with medical terms to stress the importance of our work. He would say, for example, "Look at this disaster being caused by this blocked pipe; don't you think that this could be prevented? Changes in the ceilings, walls, or floor are always alarming "symptoms"". Sometimes he even utilized a stethoscope to locate a leaking pipe, emphasizing the necessity of an appropriate "diagnosis" before proceeding to the "treatment". With a deep respect and admiration for physicians, he advised me to study hard and become a "good doctor". Keeping his words in mind and driven by my passion for serving my country, I set sail for the Greek Military Medical School of Combat Support Officers. During my four-year military training, the principles of discipline and cooperation became an integral part of my daily routine. Night patrols, sleep deprivation, and numerous failures have taught me the true value of acceptance. It was part of our training to constantly fail in several military tasks, despite our effort and preparation, in order to build mental strength and move on successfully to the next task. We lived together as a unit and we had to practice every day under those values to achieve common goals. Strong communication, planning, and cooperation skills clearly helped me to serve my community by working as a resident in the local hospital of my hometown in Greece during the unprecedented times of the COVID-19 pandemic. Pursuing my residency training in the US is definitely the greatest transition of my life. And truth be told, UC is one of the few places in the world that can provide someone the amount and variety of clinical experience and research opportunities required to become an accomplished physician-scientist. My favorite quote, by Charles Bukowski, says:
…If you are going to try, go all the way…

Why I Chose Cincinnati
Choosing Cincinnati was not a difficult decision for me. The constant growth mindset and the evidence-based approaches to learning and patient care definitely prove that UC is a unique place to train. Despite the virtual nature of my interview, I was amazed by the warm atmosphere and the positive attitude of all the faculty members and residents I talked with. I am so excited about joining UC family and looking forward to thriving as a resident in this collegial and supportive environment.
 
Medical Degree: Aristotle University of Thessaloniki Medical School
Residency, Internal Medicine: University of Cincinnati College of Medicine
Peer Reviewed Publications
Liaqat, Wasla; Palaiodimos, Leonidas; Li, Weijia; Karamanis, Dimitrios; Tahir, Arooj; Tzoumas, Andreas; Nagraj, Sanjana; Tiwari, Nidhish; Grushko, Michael; Kokkinidis, Damianos; Gashi, Eleonora; Leider, Jason; Coyle, Christina; Faillace, Robert T (2023. ) Correction: Epidemiologic and clinical characteristics of infective endocarditis: a single-center retrospective study in the Bronx, New York.Infection, , 51 (4 ) ,1183-1184 More Information
Nagraj, Sanjana; Varrias, Dimitrios; Kharawala, Amrin; Mathai, Sheetal V; Seo, Jiyoung; Narvel, Hiba; Li, Weijia; Kokkinidis, Damianos G; Barakakis, Paraschos Archontakis; Tzoumas, Andreas; Liaqat, Wasla; Peppas, Spyros; Palaiodimos, Leonidas; Thachil, Rosy (2023. ) Ethnic and sex-based differences in outcomes after out-of-hospital cardiac arrest: a glimpse of the largest municipal healthcare system in the United States.Cardiovascular diagnosis and therapy, , 13 (1 ) ,1-10 More Information
Nagraj, Sanjana; Tzoumas, Andreas; Kakargias, Fotis; Giannopoulos, Stefanos; Ntoumaziou, Athina; Kokkinidis, Damianos G; Alvarez Villela, Miguel; Latib, Azeem (2022. ) Hybrid coronary revascularization (HCR) versus coronary artery bypass grafting (CABG) in multivessel coronary artery disease (MVCAD): A meta-analysis of 14 studies comprising 4226 patients.Catheterization and cardiovascular interventions : official journal of the Society for Cardiac Angiography & Interventions, , 100 (7 ) ,1182-1194 More Information
Giannopoulos, Stefanos; Sagris, Marios; Giannopoulos, Spyridon; Tzoumas, Andreas; Kokkinidis, Damianos G; Texakalidis, Pavlos; Koutsias, George; Volteas, Panagiotis; Jing, Li; Malgor, Rafael D (2022. ) Embolic protection devices for carotid artery stenting: A network meta-analysis.Vascular, , 17085381221140616 More Information
Tasoudis, Panagiotis T; Varvoglis, Dimitrios N; Tzoumas, Andreas; Doulamis, Ilias P; Tzani, Aspasia; Sá, Michel Pompeu; Kampaktsis, Polydoros N; Gallo, Michele (2022. ) Percutaneous coronary intervention versus coronary artery bypass graft surgery in dialysis-dependent patients: A pooled meta-analysis of reconstructed time-to-event data.Journal of cardiac surgery, , 37 (10 ) ,3365-3373 More Information
Liaqat, Wasla; Palaiodimos, Leonidas; Li, Weijia; Karamanis, Dimitrios; Tahir, Arooj; Tzoumas, Andreas; Nagraj, Sanjana; Tiwari, Nidhish; Grushko, Michael; Kokkinidis, Damianos; Gashi, Eleonora; Leider, Jason; Coyle, Christina; Faillace, Robert T (2022. ) Epidemiologic and clinical characteristics of infective endocarditis: a single-center retrospective study in the Bronx, New York.Infection, , 50 (5 ) ,1349-1361 More Information
Tzoumas, Andreas; Peppas, Spyridon; Sagris, Marios; Papanastasiou, Christos A; Barakakis, Paraschos Archontakis; Bakoyiannis, Christos; Taleb, Adam; Kokkinidis, Damianos G; Giannakoulas, George (2022. ) Advances in treatment of chronic thromboembolic pulmonary hypertension.Thrombosis research, , 212 ,30-37 More Information
Sagris, Marios; Tzoumas, Andreas; Kokkinidis, Damianos G; Korosoglou, Grigorios; Lichtenberg, Michael; Tzavellas, Georgios (2022. ) Invasive and Pharmacological Treatment of Deep Vein Thrombosis: A Scoping Review.Current pharmaceutical design, , 28 (10 ) ,778-786 More Information