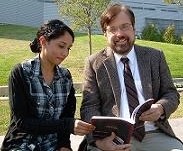 Gary Lee Vaughn
Associate Professor
Associate Professor
Essays
"Interview with the Zombie: A Veteran of World War Z Speaks Out," Crooked Shift, July, 2014.
Review
Autism Spectrum Disorders in the College Composition Classroom: Making Writing Instruction More Accessible for All Students, ed. Val Gerstle and Lynda Walsh, Marquette University Press.  Teaching English in the Two-Year College, March, 2013.
Peer Reviewed Publications
Gary Vaughn & Barbara Wenner (1999). "Fare from the Madding Crowd: The Lighter Side of Error in Student Writing." Teaching English in the Two-Year College.
Gary Vaughn & Rex Easley (1993). "Writing and the Real World: Using Case Studies in Basic Writing Classes ." The OADE Journal.
Gary Vaughn & Rex Easley (1991). "Computer-Assisted Instruction in Learning Centers: Goals and Plans for Set Up and Operation." Breaking Barriers to Learning.
Paper Presentations
Gary Vaughn (10-2013. ) The Working Dead .St. Louis, MO.
(04-2013. ) "Cowboy" and "Soldier": The Nature of Contested Spaces in "Brokeback Mountain" and Jarhead .Savannah, GA. Level:National
Gary Vaughn (03-2012. ) Restoring Diversity to Urban Campuses: Bridging Access at the University of Cincinnati .Richmond, VA.
Gary Vaughn (03-2010. ) Reinterpreting Shared Governance at a Center for Access and Transition .Louisville, KY.
Gary Vaughn and Aaron Kerley (03-2010. ) Assignments That Incorporate Visual Literacy into Writing Classes .Columbus, OH.
Gary Vaughn (03-2009. ) Launching a Lifeboat: Strength in Numbers .Pittsburgh, PA.
(Composition Advisory Committee ) Elected Member 2012 -2013
(University Faculty Grievance Committee ) Elected Member 2012 -2013
(Subcommittee on English 1000 ) Member 2012
(William C. Boyce Excellence in Teaching Award Committee ) Member 2011
(Developmental Curriculum Work Group, part of the University's Collegiate Restructuring Initiatives II ) Committee Member 2009
(Student Grievance Committee, College of Applied Science ) Committee Chair 2009 -2010
(Reappointment, Promotion, and Tenure Committee, Humanities, Media, and Cultural Studies Department ) Committee Member 2007 -2008
University of Cincinnati Kendo Club (Faculty Advisor ) 2007 -To Present
Composition Program, Center for Access and Transition, College of Applied Science, Co-Director 2006 -2008
(Reappointment, Promotion, and Tenure Committee, College of Applied Science ) Committee Chair 2005 -2006
(Humanities, Media, and Cultural Studies Department Reappointment, Promotion, and Tenure Committee, College of Applied Science ) Committee Chair 2004 -2005
University College Summer English Placement Testing Director 1993
University College Writing Lab Director 1992 -2000