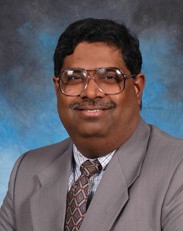 Ranganadha Vemuri
Professor
Dr. Ranga Vemuri has been on the faculty of Electrical and Computer Engineering at University of Cincinnati since 1989 and is currently a Professor. 

His interests span various topics within Hardware Trust, Correctness and Security; VLSI Design and Architectures; Embedded Systems, Cyber-Physical Systems and Applications; Formal Methods and Formal Verification; Electronic Design Automation, Logic and Physical Synthesis; Reconfigurable Computing and FPGAs; Approximate Computing; Sensor Networks.

He and his students have published over 250 papers.  Dr. Vemuri graduated over 40 PhD and 60 MS students. 

His reseach has been funded by AFRL, DARPA, NSF, SRC, State of Ohio and various industries including EDAptive Computing Inc..
Ph.D: Case Western Reserve University Cleveland, 1988 (Computer Engineering)
M.Tech.: Indian Institute of Technology Kharagpur, India, 1984 (Computer Engineering)
B.Tech.: Nagarjuna University India, 1983 (Electronics and Communications Engineering)
Research and Practice Interests
VLSI Design, Design Automation of Digital, Analog and Mixed Signal Systems, Reconfigurable Architectures, Hardware Security and Side-Channel Attacks, Formal Methods and Verification
 
Grant: #OBR AF 749 Investigators:Vemuri, Ranganadha 09-01-2004 -08-31-2007 Ohio Board of Regents Acquisition of Research Equipment for Electronic Systems Emulation, Prototyping and Testing Role:PI $60,000.00 Closed Level:State of Ohio
Grant: #CNS-0421092 Investigators:Vemuri, Ranganadha 09-01-2004 -08-31-2008 National Science Foundation Acquisition of Research Equipment for Electronic Systems Emulation, Prototyping and Testing Role:PI $280,085.00 Closed Level:Federal
Grant: #CCF-0429717 Investigators:Vemuri, Ranganadha 08-15-2004 -07-31-2008 National Science Foundation Performance Macromodeling for Synthesis of Electronic Systems Role:PI $224,960.00 Closed Level:Federal
Grant: #FY2004-0903-08 Investigators:Vemuri, Ranganadha 07-01-2003 -06-01-2004 Ohio Arts Council Indian Classical Music and Dance Role:PI $2,918.00 Closed Level:State of Ohio
Grant: #S00-001UC/Mod Investigators:Vemuri, Ranganadha 10-20-2000 -09-20-2002 Department of the Air Force Genetic Partitioning Role:PI $129,800.00 Closed Level:Federal
Grant: #FY2000-917-08 Investigators:Vemuri, Ranganadha 07-01-1999 -06-30-2000 Ohio Arts Council Indian Classical Music and Dance Role:PI $4,629.00 Closed Level:State of Ohio
Grant: #IF-UC-00-07 Investigators:Vemuri, Ranganadha 04-03-2000 -03-31-2003 Ohio Board of Regents Application Accelerating Reconfigurable Computer Role:PI $249,768.00 Closed Level:State of Ohio
Grant: #SN-UC-01-08 Investigators:Vemuri, Ranganadha 07-01-2001 -06-30-2004 Ohio Board of Regents Mixed Signal Synthesis Role:PI $166,920.00 Closed Level:State of Ohio
Grant: #F3361501C1977/P00004 Investigators:Vemuri, Ranganadha 06-19-2001 -10-31-2004 Department of the Air Force Design Automation for High Performance Analog Systems Role:PI $1,150,000.00 Closed Level:Federal
Grant: #WC104-010-UC-1 Investigators:Vemuri, Ranganadha 10-27-2003 -06-30-2009 Ohio Department of Development Wright Center of Innovation for Advanced Data Management and Analysis Role:PI $449,986.00 Closed Level:State of Ohio
Grant: #F3361596C1911/P00009 Investigators:Vemuri, Ranganadha 09-13-1996 -09-30-2001 Department of the Air Force Synthesis of Mixed-Signal Systems Role:PI $513,000.00 Closed Level:Federal
Grant: #DABT6396C0051/P00004 Investigators:Vemuri, Ranganadha 09-10-1996 -09-09-1999 Department of the Army Techniques for Ultra Large Scale Hardware Verification Role:PI $209,844.00 Closed Level:Federal
Grant: #CDA-9634462-001 Investigators:Vemuri, Ranganadha 08-15-1996 -07-31-2002 National Science Foundation Integration of High Level Synthesis, Analysis and Test Generation Research Results into Undergraduate Minor Curriculum in VLSI Systems Role:PI $249,042.00 Closed Level:Federal
Grant: #DABT6397C0030/P00001 Investigators:Vemuri, Ranganadha 07-01-1997 -10-31-2000 Advanced Research Projects Agency The Comprehensive Analysis of Adaptive Computing Systems Role:PI $619,635.00 Closed Level:Federal
Grant: #F3361597C1043/P00008 Investigators:Vemuri, Ranganadha 07-25-1997 -09-30-2001 Department of the Air Force Synthesis of Reconfigurable Architectures Role:PI $698,000.00 Closed Level:Federal
Grant: #S99-001-UC/Mods 1,2 Investigators:Vemuri, Ranganadha 01-04-1999 -01-03-2001 Department of the Army Systems on a Chip Created Using Extended Requirements Language - Phase II Role:PI $50,015.00 Closed Level:Federal
Grant: #ECA - Master for 11 Students Investigators:Agrawal, Dharma; Bakshi, Arjun; Berman, Kenneth; Bhatnagar, Raj; Bhattacharya, Prabir; Borowczak, Mike; Chaganti, Shikha; Davis, Karen; Guo, Minzhe; Helmicki, Arthur; Kohram, Mojtaba; Li, Hailong; Mukherjee, Tuhin; Ralescu, Anca; Ren, Zhaowei; Tan, Lirong; Vemuri, Ranganadha; Wu, Chao; Zhu, Cheng 09-01-2012 -08-31-2013 Cincinnati Children's Hospital Medical Center Education Collaboration Agreement with CCHMC - 11 Students Role:Collaborator $246,693.00 Active Level:Private Non-Profit
Grant: #SETS03-UC-2017 / USAF FA8650-14-D-1724/0003 Investigators:Jha, Rashmi; Vemuri, Ranganadha 02-01-2018 -01-30-2019 Air Force Research Laboratory Secure Engineering of Trusted Systems (SETS), USAF FA8650-14-D-1724/0003 Role:PI $102,500.00 Active Level:Federal
Grant: #SETS08-UC-2017 / AFRL Prime Contract FA8650-14-D-1724/FA8650-17-F-1034 Investigators:Vemuri, Ranganadha 06-07-2017 -11-01-2020 Air Force Research Laboratory Trust in Integrated Circuits - Application of REVEAL Role:PI $358,037.00 Awarded Level:Federal
Grant: #RY3-UC-18-6-AFRL_Fellowship_Chuvalas Investigators:Vemuri, Ranganadha 07-01-2018 -12-31-2019 Air Force Research Laboratory Hardware Acceleration of Assessment Tools for Trusted Microelectronics Role:PI $51,925.00 Active Level:Federal
Grant: #SETS04-UC-2019 / FA8650-14-D-1724/0004 Investigators:Emmert, John; Jha, Rashmi; Vemuri, Ranganadha 06-01-2019 -04-30-2020 Air Force Research Laboratory Secure Engineering of Trusted Systems (SETS 04) Role:Collaborator $932,517.00 Awarded Level:Federal
Grant: #STAMP01-UC/MAA-2018 (A-8) / FA8650-18-F-1613 Investigators:Bhatnagar, Raj; Minai, Ali; Niu, Nan; Ralescu, Anca; Vemuri, Ranganadha 08-26-2019 -12-28-2019 Air Force Research Laboratory Exhibit A-8: Application and research into using ML analytics to evaluate/improve verification test processes and results Role:Collaborator $123,689.40 Awarded Level:Federal
Grant: #IMPACT02-UC-02-2020 / AFRL - W911QY-17-C-0114 Investigators:Vemuri, Ranganadha 01-02-2020 -08-25-2020 Air Force Research Laboratory A Platform for Obfuscation of Hardware Designs Role:PI $175,000.00 Awarded Level:Federal
Grant: #IMPACT02-UC-03-2020 / AFRL - W911QY-17-C-0114 Investigators:Vemuri, Ranganadha 01-02-2020 -08-25-2020 Air Force Research Laboratory SoC Trust Validation Using Formal Security Assertions Role:PI $175,000.00 Awarded Level:Federal
Grant: #STAMP02-UC/MAA-2018 (A-9) / FA8650-20-F-1956 Investigators:Bhatnagar, Raj; Minai, Ali; Niu, Nan; Vemuri, Ranganadha 12-29-2019 -05-02-2020 Air Force Research Laboratory Exhibit A-9: Application and research into using ML analytics to evaluate/improve verification test processes and results Role:Collaborator $98,661.80 Awarded Level:Federal
Grant: #STAMP02-UC/MAA-2018 / Exh A-10_FA8650-20-F-1956 Investigators:Bhatnagar, Raj; Minai, Ali; Niu, Nan; Vemuri, Ranganadha 05-03-2020 -08-22-2020 Air Force Research Laboratory Application and research into using ML analytics to evaluate/improve verification test processes and results Role:Collaborator $114,519.08 Awarded Level:Federal
Investigators:Emmert, John; Vemuri, Ranganadha 12-09-2021 -08-30-2022 Galois, Inc. VHDL Combinational and Synchronous Module Development Role:Collaborator 152815.00 Hold Level:Industry
Peer Reviewed Publications
Doboli A.;Vemuri R. (12-01-2000. ) Towards a specification notation for high-level synthesis of mixed-signal and analog systems.2000 IEEE/ACM International Workshop on Behavioral Modeling and Simulation, , 109-116 More Information
Chatha K.;Vemuri R. (01-01-2001. ) MAGELLAN: Multiway hardware-software partitioning and scheduling for latency minimization of hierarc .Hardware/Software Codesign - Proceedings of the International Workshop, , 42-47
Ganesan S.;Vemuri R. (01-01-2001. ) Behavioral partitioning in the synthesis of mixed analog-digital systems .Proceedings - Design Automation Conference, , 133-138
Doboli A.;Vemuri R. (01-01-2001. ) Integrated high-level synthesis and power-net routing for digital design under switching noise const.Proceedings - Design Automation Conference, , 629-634 More Information
Ganesan S.;Vemuri R. (01-01-2001. ) Library binding for high-level synthesis of analog systems .Proceedings of the IEEE International Conference on VLSI Design, , 261-268
Doboli A.;Vemuri R. (01-01-2001. ) Hierarchical performance optimization for synthesis of linear analog systems .ISCAS 2001 - 2001 IEEE International Symposium on Circuits and Systems, Conference Proceedings, , 5 ,431-434
Sundararaman S.;Govindarajan S.;Vemuri R. (01-01-2001. ) Application specific macro based synthesis.Proceedings of the IEEE International Conference on VLSI Design, , 317-324 More Information
Vemuri R.;Gupta R. (02-01-2001. ) Guest editorial: Reconfigurable and adaptive VLSI systems.IEEE Transactions on Very Large Scale Integration (VLSI) Systems, , 9 (1 ) ,107-108 More Information
Srinivasan V.;Govindarajan S.;Vemuri R. (02-01-2001. ) Fine-grained and coarse-grained behavioral partitioning with effective utilization of memory and des.IEEE Transactions on Very Large Scale Integration (VLSI) Systems, , 9 (1 ) ,140-158 More Information
Narasimhan N.;Teica E.;Radhakrishnan R.;Govindarajan S.;Vemuri R. (01-01-2001. ) Theorem proving guided development of formal assertions in a resource-constrained scheduler for high.Formal Methods in System Design, , 19 (3 ) ,237-273 More Information
Doboli A.;Vemuri R. (11-01-2001. ) A regularity-based hierarchical symbolic analysis method for large-scale analog networks.IEEE Transactions on Circuits and Systems II: Analog and Digital Signal Processing, , 48 (11 ) ,1054-1068 More Information
Vemuri R.;Katkoori S.;Kaul M.;Roy J. (01-01-2002. ) An efficient register optimization algorithm for high-level synthesis from hierarchical behavioral s.ACM Transactions on Design Automation of Electronic Systems, , 7 (1 ) ,189-216 More Information
Chatha K.;Vemuri R. (06-01-2002. ) Hardware-software partitioning and pipelined scheduling of transformative applications.IEEE Transactions on Very Large Scale Integration (VLSI) Systems, , 10 (3 ) ,193-208 More Information
Wolfe G.;Vemuri R. (02-01-2003. ) Extraction and use of neural network models in automated synthesis of operational amplifiers.IEEE Transactions on Computer-Aided Design of Integrated Circuits and Systems, , 22 (2 ) ,198-212 More Information
Ganesan S.;Vemuri R. (12-01-2000. ) An integrated temporal partitioning and partial reconfiguration technique for design latency improve.Proceedings -Design, Automation and Test in Europe, DATE, , 320-325 More Information
Doboli A.;Vemuri R. (12-01-2002. ) A functional specification notation for co-design of mixed analog-digital systems.Proceedings -Design, Automation and Test in Europe, DATE, , 760-767 More Information
Doboli A.;Vemuri R. (11-01-2003. ) Behavioral modeling for high-level synthesis of analog and mixed-signal systems from VHDL-AMS.IEEE Transactions on Computer-Aided Design of Integrated Circuits and Systems, , 22 (11 ) ,1504-1520 More Information
Doboli A.;Vemuri R. (11-01-2003. ) Exploration-based high-level synthesis of linear analog systems operating at low/medium frequencies.IEEE Transactions on Computer-Aided Design of Integrated Circuits and Systems, , 22 (11 ) ,1556-1568 More Information
Mukherjee M.;Vemuri R. (12-02-2003. ) A novel synthesis strategy driven by partial evaluation based circuit reduction for application spec .Proceedings - IEEE International Conference on Computer Design: VLSI in Computers and Processors, , 436-440
Mukherjee M.;Vemuri R. (12-01-2004. ) A methodology for performance driven incremental placement with high level exploration .Midwest Symposium on Circuits and Systems, , 1 ,
Bhaduri A.;Vijay V.;Agarwal A.;Vemuri R.;Mukherjee B.;Wang P.;Pacelli A. (12-01-2004. ) Parasitic-aware synthesis of RF LNA circuits considering quasi-static extraction of inductors and in .Midwest Symposium on Circuits and Systems, , 1 ,
Handa M.;Vemuri R. (12-01-2004. ) Hardware assisted two dimensional ultra fast placement .Proceedings - International Parallel and Distributed Processing Symposium, IPDPS 2004 (Abstracts and CD-ROM), , 18 ,1915-1922
Huang R.;Vemuri R. (12-01-2004. ) Forward-looking macro generation and relational placement during high level synthesis to FPGAs .Proceedings - International Parallel and Distributed Processing Symposium, IPDPS 2004 (Abstracts and CD-ROM), , 18 ,1893-1898
Khan J.;Sethuraman B.;Vemuri R. (12-01-2004. ) A power-performance trade-off methodology for portable reconfigurable platforms .Proceedings of the International Conference on Engineering of Reconfigurable Systems and Algorithms, ERSA'04, , 33-37
Jia X.;Vemuri R. (12-01-2004. ) A design methodology for self-timed event logic pipelines .Proceedings of the International Conference on Embedded Systems and Applications ESA'04 - Proceedings of the International Conference on VLSI, VLSI'04, , 475-479
Handa M.;Vemuri R. (12-01-2004. ) Area fragmentation in reconfigurable operating systems .Proceedings of the International Conference on Engineering of Reconfigurable Systems and Algorithms, ERSA'04, , 77-83
Khan J.;Rajagopalan J.;Huang R.;Vemuri R. (12-01-2004. ) A portable face recognition system using reconfigurable hardware .Proceedings of the International Conference on Engineering of Reconfigurable Systems and Algorithms, ERSA'04, , 213-217
Sethuraman B.;Khan J.;Vemuri R. (12-01-2004. ) Battery-efficient task execution on portable reconfigurable computing platforms .Proceedings - IEEE International SOC Conference, , 237-240
Ranjan M.;Bhaduri A.;Verhaegen W.;Mukherjee B.;Vemuri R.;Gielen G.;Pacelli A. (12-01-2004. ) Use of symbolic performance models in layout-inclusive RF low noise amplifier synthesis .BMAS 2004 - Proceedings of the 2004 IEEE International Behavioral Modeling and Simulation Conference, , 130-134
Wolfe G.;Vemuri R. (12-01-2004. ) Adaptive sampling and modeling of analog circuit performance parameters with pseudo-cubic splines.IEEE/ACM International Conference on Computer-Aided Design, Digest of Technical Papers, ICCAD, , 931-938 More Information
Huang R.;Vemuri R. (12-01-2004. ) Analysis and evaluation of a hybrid interconnect structure for FPGAs .IEEE/ACM International Conference on Computer-Aided Design, Digest of Technical Papers, ICCAD, , 595-601
Mukherjee M.;Vemuri R. (12-01-2004. ) Simultaneous scheduling, binding and layer assignment for synthesis of vertically integrated 3D syst.Proceedings - IEEE International Conference on Computer Design: VLSI in Computers and Processors, , 222-227 More Information
Ouaiss I.;Vemuri R. (01-01-2001. ) Global memory mapping for FPGA-based reconfigurable systems.Proceedings - 15th International Parallel and Distributed Processing Symposium, IPDPS 2001, , 1473-1480 More Information
Yang H.;Agarwal A.;Vemuri R. (10-25-2005. ) Fast analog circuit synthesis using multiparameter sensitivity analysis based on element-coefficient.Proceedings - IEEE Computer Society Annual Symposium on VLSI - New Frontiers in VLSI, , 71-76 More Information
Huang R.;Vemuri R. (10-25-2005. ) Sensitivity analysis of a cluster-based interconnect model for FPGAs .Proceedings - IEEE Computer Society Annual Symposium on VLSI - New Frontiers in VLSI, , 250-251
Khan J.;Vemuri R. (12-01-2005. ) An iterative algorithm for battery - A ware task scheduling on portable computing platforms.Proceedings -Design, Automation and Test in Europe, DATE '05, , I ,622-628 More Information
Ranganathan N.;Agrawal V.;Chakradhar S.;Chakrabarty K.;Courtois B.;DeMara R.;Hu X.;Ismail Y.;Jha N.;John L.;Ker M.;Koren I.;Liu B.;Marculescu D.;Marculescu R.;Narayanan V.;Nassif S.;Nowick S.;Sapatnekar S.;Sherlekar S.;Sylvester D.;Vemuri R.;Pham M. (07-01-2005. ) Appointments for 2005-2006 term.IEEE Transactions on Very Large Scale Integration (VLSI) Systems, , 13 (7 ) ,773-782 More Information
Ding M.;Vemuri R. (12-01-2005. ) A combined feasibility and performance macromodel for analog circuits .Proceedings - Design Automation Conference, , 63-68
Huang R.;Vemuri R. (12-01-2005. ) On-line synthesis for partially reconfigurable FPGAs.Proceedings of the IEEE International Conference on VLSI Design, , 663-668 More Information
Ding M.;Vemuri R. (12-01-2005. ) An active learning scheme using support vector machines for analog circuit feasibility classificatio .Proceedings of the IEEE International Conference on VLSI Design, , 528-534
Mukherjee M.;Vemuri R. (12-01-2005. ) On physical-aware synthesis of vertically integrated 3D systems.Proceedings of the IEEE International Conference on VLSI Design, , 647-652 More Information
Bhaduri A.;Vemuri R. (12-29-2005. ) Moment-driven coupling-aware routing methodology .Proceedings of the ACM Great Lakes Symposium on VLSI, GLSVLSI, , 390-395
Sethuraman B.;Bhattacharya P.;Khan J.;Vemuri R. (12-29-2005. ) LiPaR: A light-weight parallel router for FPGA-based networks-on-chip .Proceedings of the ACM Great Lakes Symposium on VLSI, GLSVLSI, , 452-457
Agarwal A.;Wolfe G.;Vemuri R. (12-29-2005. ) Accuracy driven performance macromodeling of feasible regions during synthesis of analog circuits .Proceedings of the ACM Great Lakes Symposium on VLSI, GLSVLSI, , 482-487
Doboli A.;Dhanwada N.;Nunez-Aldana A.;Vemuri R. (04-01-2004. ) A two-layer library-based approach to synthesis of analog systems from VHDL-AMS specifications.ACM Transactions on Design Automation of Electronic Systems, , 9 (2 ) ,238-271 More Information
Badaoui R.F.;Sampath H.;Agarwal A.;Vemuri R. (06-28-2004. ) A high level language for pre-layout extraction in parasite-aware analog circuit synthesis .Proceedings of the ACM Great Lakes Symposium on VLSI, , 271-276
Doboli A.;Vemuri R. (01-01-2001. ) Fast evaluation of digital switching noise for synthesis of mixed-signal applications.Proceedings of the IEEE International Workshop on Behavioral Modeling and Simulation, BMAS, , 2001-January ,32-37 More Information
Handa M.;Vemuri R. (07-12-2004. ) A fast algorithm for finding maximal empty rectangles for dynamic FPGA placement.Proceedings - Design, Automation and Test in Europe Conference and Exhibition, , 1 ,744-745 More Information
Ranjan M.;Verhaegen W.;Agarwal A.;Sampath H.;Vemuri R.;Gielen G. (07-12-2004. ) Fast, layout-inclusive analog circuit synthesis using pre-compiled parasitic-aware symbolic performa.Proceedings - Design, Automation and Test in Europe Conference and Exhibition, , 1 ,604-609 More Information
Agarwal A.;Sampath H.;Yelamanchili V.;Vemuri R. (07-12-2004. ) Accurate estimation of parasitic capacitances in analog circuits.Proceedings - Design, Automation and Test in Europe Conference and Exhibition, , 2 ,1364-1365 More Information
Dhanwada N.;Doboli A.;Nunez-Aldana A.;Vemuri R. (06-01-2006. ) Hierarchical constraint transformation based on genetic optimization for analog system synthesis.Integration, the VLSI Journal, , 39 (3 ) ,267-290 More Information
Bhaduri A.;Vemuri R. (12-01-2005. ) Inductive and capacitive coupling aware routing methodology driven by a higher order RLCK moment met.Proceedings -Design, Automation and Test in Europe, DATE '05, , II ,922-923 More Information
Badaoui R.;Vemuri R. (12-01-2005. ) Multi-placement structures for fast and optimized placement in analog circuit synthesis.Proceedings -Design, Automation and Test in Europe, DATE '05, , I ,138-143 More Information
Ding M.;Vemuri R. (12-01-2005. ) A two-level modeling approach to analog circuit performance macromodeling.Proceedings -Design, Automation and Test in Europe, DATE '05, , II ,1088-1089 More Information
Jia X.;Vemuri R. (12-01-2005. ) The GAPLA: A globally asynchronous locally synchronous FPGA architecture.Proceedings - 13th Annual IEEE Symposium on Field-Programmable Custom Computing Machines, FCCM 2005, , 2005 ,291-292 More Information
Khan J.;Vemuri R. (12-01-2005. ) Battery-efficient task execution on reconfigurable computing platforms with multiple processing unit.Proceedings - 19th IEEE International Parallel and Distributed Processing Symposium, IPDPS 2005, , 2005 , More Information
Khan J.;Vemuri R. (12-01-2005. ) Energy management in battery-powered sensor networks with reconfigurable computing nodes.Proceedings - 2005 International Conference on Field Programmable Logic and Applications, FPL, , 2005 ,543-546 More Information
Jia X.;Vemuri R. (12-01-2005. ) A novel asynchronous FPGA architecture design and its performance evaluation.Proceedings - 2005 International Conference on Field Programmable Logic and Applications, FPL, , 2005 ,287-292 More Information
Huang R.;Vemuri R. (12-01-2005. ) Pahls: Towards run-time synthesis for FPGAs.Proceedings - 2005 International Conference on Field Programmable Logic and Applications, FPL, , 2005 ,739-740 More Information
Jia X.;Vemuri R. (12-01-2005. ) Using GALS architecture to reduce the impact of long wire delay on FPGA performance .Proceedings of the Asia and South Pacific Design Automation Conference, ASP-DAC, , 2 ,1260-1263
Jia X.;Vemuri R. (09-18-2006. ) CAD tools for a globally asynchronous locally synchronous FPGA architecture.Proceedings of the IEEE International Conference on VLSI Design, , 2006 ,251-256 More Information
Ding M.;Vemuri R. (09-18-2006. ) Efficient analog performance macromodeling via sequential design space decomposition.Proceedings of the IEEE International Conference on VLSI Design, , 2006 ,553-556 More Information
Agarwal A.;Vemuri R. (12-01-2005. ) Layout-aware RF circuit synthesis driven by worst case parasitic corners.Proceedings - IEEE International Conference on Computer Design: VLSI in Computers and Processors, , 2005 ,444-449 More Information
Chakraborty R.;Ranjan M.;Vemuri R. (09-18-2006. ) Symbolic time-domain behavioral and performance modeling of linear analog circuits using an efficien.Proceedings of the IEEE International Conference on VLSI Design, , 2006 ,689-694 More Information
Bhaduri A.;Vemuri R. (09-18-2006. ) Parasitic aware routing methodology based on higher order RLCK moment metrics.Proceedings of the IEEE International Conference on VLSI Design, , 2006 ,141-146 More Information
Sundaresan V.;Vemuri R. (10-09-2006. ) A novel approach to performance-oriented datapath allocation and floorplanning.Proceedings - IEEE Computer Society Annual Symposium on Emerging VLSI Technologies and Architectures 2006, , 2006 ,323-328 More Information
Huang R.;Vemuri R. (11-16-2006. ) Transformation synthesis for data intensive applications to FPGAs .Proceedings of the ACM Great Lakes Symposium on VLSI, GLSVLSI, , 2006 ,349-352
Agarwal A.;Vemuri R. (12-01-2005. ) Hierarchical performance macromodels of feasible regions for synthesis of analog and RF circuits.IEEE/ACM International Conference on Computer-Aided Design, Digest of Technical Papers, ICCAD, , 2005 ,429-435 More Information
Sundaresan V.;Radhakrishnan R.;Siva S.;Vemuri R. (12-01-2005. ) Symbolic verification of synthesized RTL using boolean satisfiability and uninterpreted RTL transfor.Midwest Symposium on Circuits and Systems, , 2005 ,99-103 More Information
Sethuraman B.;Vemuri R. (12-01-2006. ) OptiMap: A tool for automated generation of NoC architectures using multi-port routers for FPGAs .Proceedings -Design, Automation and Test in Europe, DATE, , 1 ,
Yang H.;Vemuri R. (12-01-2006. ) Efficient temperature-dependent symbolic sensitivity analysis and symbolic performance evaluation in .Proceedings -Design, Automation and Test in Europe, DATE, , 1 ,
Khan J.;Handa M.;Vemuri R. (12-01-2002. ) iPACE-V1: A portable adaptive computing engine for real time applications .Lecture Notes in Computer Science (including subseries Lecture Notes in Artificial Intelligence and Lecture Notes in Bioinformatics), , 2438 LNCS ,69-78
Ranjan M.;Vemuri R. (12-01-2006. ) Exact hierarchical symbolic analysis of large analog networks using a general interconnection templa .Proceedings - IEEE International Symposium on Circuits and Systems, , 1776-1779
Basu S.;Thakore P.;Vemuri R. (08-28-2007. ) Process variation tolerant standard cell library development using reduced dimension statistical mod.Proceedings - Eighth International Symposium on Quality Electronic Design, ISQED 2007, , 814-820 More Information
Handa M.;Radhakrishnan R.;Mukherjee M.;Vemuri R. (01-01-2003. ) A fast macro based compilation methodology for partially reconfigurable FPGA designs.Proceedings of the IEEE International Conference on VLSI Design, , 2003-January ,91-96 More Information
Das A.;Vemuri R. (09-27-2007. ) GAPSYS: A GA-based tool for automated passive analog circuit synthesis .Proceedings - IEEE International Symposium on Circuits and Systems, , 2702-2705
Bhaduri A.;Vemuri R. (12-01-2006. ) Parasitic-aware and moment-driven constraint satisfying non-linear routing methodology.Midwest Symposium on Circuits and Systems, , 2 ,84-88 More Information
Khan J.;Vemuri R. (12-01-2004. ) An efficient battery-aware task scheduling methodology for portable RC platforms .Lecture Notes in Computer Science (including subseries Lecture Notes in Artificial Intelligence and Lecture Notes in Bioinformatics), , 3203 ,669-678
Handa M.;Vemuri R. (12-01-2004. ) An integrated online scheduling and placement methodology .Lecture Notes in Computer Science (including subseries Lecture Notes in Artificial Intelligence and Lecture Notes in Bioinformatics), , 3203 ,444-453
Das A.;Vemuri R. (11-28-2007. ) An automated passive analog circuit synthesis framework using genetic algorithms.Proceedings - IEEE Computer Society Annual Symposium on VLSI: Emerging VLSI Technologies and Architectures, , 145-150 More Information
Basu S.;Vemuri R. (11-28-2007. ) Process variation and NBTI tolerant standard cells to improve parametric yield and lifetime of ICs.Proceedings - IEEE Computer Society Annual Symposium on VLSI: Emerging VLSI Technologies and Architectures, , 291-296 More Information
Sethuraman B.;Vemuri R. (12-17-2007. ) Multicasting based topology generation and core mapping for a power efficient networks-on-chip.Proceedings of the International Symposium on Low Power Electronics and Design, , 399-402 More Information
Ganesan S.;Vemuri R. (01-01-2001. ) Analog-digital partitioning for field-programmable mixed signal systems.Proceedings - 2001 Conference on Advanced Research in VLSI, ARVLSI 2001, , 172-185 More Information
Jia X.;Vemuri R. (12-01-2006. ) Studying a GALS FPGA architecture using a parameterized automatic design flow.IEEE/ACM International Conference on Computer-Aided Design, Digest of Technical Papers, ICCAD, , 688-693 More Information
Handa M.;Vemuri R. (09-20-2004. ) An efficient algorithm for finding empty space for online FPGA placement.Proceedings - Design Automation Conference, , 960-965 More Information
Agarwal A.;Sampath H.;Yelamanchili V.;Vemuri R. (09-20-2004. ) Fast and accurate parasitic capacitance models for layout-aware synthesis of analog circuits .Proceedings - Design Automation Conference, , 145-150
Sethuraman B.;Vemuri R. (12-01-2006. ) Multi2 router: A novel multi LOCAL port router architecture with broadcast fa.Proceedings - 2006 International Conference on Field Programmable Logic and Applications, FPL, , 795-798 More Information
Kommineni B.;Basu S.;Vemuri R. (12-01-2007. ) A spline based regression technique on interval valued noisy data.Proceedings - 6th International Conference on Machine Learning and Applications, ICMLA 2007, , 241-247 More Information
Das A.;Vemuri R. (07-22-2008. ) A self-learning optimization technique for topology design of computer networks.Lecture Notes in Computer Science (including subseries Lecture Notes in Artificial Intelligence and Lecture Notes in Bioinformatics), , 4974 LNCS ,38-51 More Information
Basu S.;Kommineni B.;Vemuri R. (07-25-2008. ) Mismatch aware analog performance macromodeling using spline center and range regression on adaptive.Proceedings of the IEEE International Frequency Control Symposium and Exposition, , 287-293 More Information
Pradhan A.;Vemuri R. (12-01-2007. ) Regression based circuit matrix models for accurate performance estimation of analog circuits.2007 IFIP International Conference on Very Large Scale Integration, VLSI-SoC, , 48-53 More Information
Pradhan A.;Vemuri R. (07-25-2008. ) On the use of hash tables for efficient analog circuit synthesis.Proceedings of the IEEE International Frequency Control Symposium and Exposition, , 647-652 More Information
Sundaresan V.;Rammohan S.;Vemuri R. (12-01-2007. ) Power invariant secure IC design methodology using reduced complementary dynamic and differential lo.2007 IFIP International Conference on Very Large Scale Integration, VLSI-SoC, , 1-6 More Information
Rammohan S.;Sundaresan V.;Vemuri R. (07-25-2008. ) Reduced complementary dynamic and differential logic: A CMOS logic style for DPA-resistant secure IC.Proceedings of the IEEE International Frequency Control Symposium and Exposition, , 699-705 More Information
Sethuraman B.;Vemuri R. (12-01-2007. ) A force-directed approach for fast generation of efficient multi-port NoC architectures.Proceedings of the IEEE International Conference on VLSI Design, , 419-424 More Information
Yang H.;Vemuri R. (12-01-2007. ) Efficient symbolic sensitivity based parasitic-inclusive optimization in layout aware analog circuit.Proceedings of the IEEE International Conference on VLSI Design, , 201-206 More Information
Pradhan A.;Vemuri R. (08-25-2008. ) Fast analog circuit synthesis using sensitivity based near neighbor searches.Proceedings -Design, Automation and Test in Europe, DATE, , 523-526 More Information
Basu S.;Kommineni B.;Vemuri R. (08-26-2008. ) Variation aware spline center and range modeling for analog circuit performance.Proceedings of the 9th International Symposium on Quality Electronic Design, ISQED 2008, , 162-167 More Information
Das A.;Vemuri R. (09-17-2008. ) Topology synthesis of analog circuits based on adaptively generated building blocks.Proceedings - Design Automation Conference, , 44-49 More Information
Das A.;Vemuri R. (09-19-2008. ) ATLAS: An adaptively formed hierarchical cell library based analog synthesis framework.Proceedings - IEEE International Symposium on Circuits and Systems, , 2542-2545 More Information
Sethuraman B.;Vemuri R. (12-01-2007. ) Power variations of multi-port routers in an application-specific NoC design: A case study.2007 IEEE International Conference on Computer Design, ICCD 2007, , 595-600 More Information
Pradhan A.;Vemuri R. (12-01-2008. ) A layout-aware analog synthesis procedure inclusive of dynamic module geometry selection.Proceedings of the ACM Great Lakes Symposium on VLSI, GLSVLSI, , 159-162 More Information
Xu H.;Vemuri R.;Jone W. (12-17-2008. ) Dynamic virtual ground voltage estimation for power gating.Proceedings of the International Symposium on Low Power Electronics and Design, , 27-32 More Information
Xu H.;Jone W.;Vemuri R. (12-26-2008. ) Accurate energy Breakeven time estimation for run-time power gating.IEEE/ACM International Conference on Computer-Aided Design, Digest of Technical Papers, ICCAD, , 161-168 More Information
Xu H.;Vemuri R.;Jone W. (12-01-2008. ) Run-time active leakage reduction by power gating and reverse body biasing: An energy view.26th IEEE International Conference on Computer Design 2008, ICCD, , 618-625 More Information
Basu S.;Kommineni B.;Vemuri R. (03-30-2009. ) Variation-aware macromodeling and synthesis of analog circuits using spline center and range method .Proceedings: 22nd International Conference on VLSI Design - Held Jointly with 7th International Conference on Embedded Systems, , 433-438 More Information
Das A.;Vemuri R. (03-30-2009. ) Fuzzy logic based guidance to graph grammar framework for automated analog circuit design.Proceedings: 22nd International Conference on VLSI Design - Held Jointly with 7th International Conference on Embedded Systems, , 445-448 More Information
Pradhan A.;Vemuri R. (03-30-2009. ) Efficient synthesis of a uniformly spread layout aware pareto surface for analog circuits.Proceedings: 22nd International Conference on VLSI Design - Held Jointly with 7th International Conference on Embedded Systems, , 131-136 More Information
Pradhan A.;Vemuri R. (04-22-2009. ) Accurate performance estimation using circuit matrix models in analog circuit synthesis.IFIP International Federation for Information Processing, , 291 ,131-150 More Information
Vemuri R.;Borowczak M.;Avakian A. (12-01-2008. ) Safety-centric design of distributed embedded avionics.National Aerospace and Electronics Conference, Proceedings of the IEEE, , 293-299 More Information
Sundaresan V.;Rammohan S.;Vemuri R. (12-01-2008. ) Defense against side-channel power analysis attacks on microelectronic systems.National Aerospace and Electronics Conference, Proceedings of the IEEE, , 144-150 More Information
Badaoui R.;Vemuri R. (12-01-2005. ) Analog VLSI circuit-level synthesis using multi-placement structures.Proceedings - IEEE International Symposium on Circuits and Systems, , 5978-5981 More Information
Hao X.;Vemuri R.;Jone W. (10-22-2009. ) Selective light Vth hopping (SLITH): Bridging the gap between runtime dynamic .Proceedings -Design, Automation and Test in Europe, DATE, , 594-597
Das A.;Vemuri R. (10-22-2009. ) A graph grammar based approach to automated multi-objective analog circuit design .Proceedings -Design, Automation and Test in Europe, DATE, , 700-705
Subramanian B.;Sethuraman ;Vemuri R. (11-06-2009. ) A methodology for application-specific noc architecture generation in a dynamic task structure envir.Proceedings of the ACM Great Lakes Symposium on VLSI, GLSVLSI, , 149-152 More Information
Xu H.;Vemuri R.;Jone W.B. (12-01-2009. ) Temporal and spatial idleness exploitation for optimal-grained leakage control .IEEE/ACM International Conference on Computer-Aided Design, Digest of Technical Papers, ICCAD, , 468-473
Xu H.;Jone W.;Vemuri R. (03-31-2010. ) Novel Vth hopping techniques for aggressive runtime leakage control.Proceedings of the IEEE International Conference on VLSI Design, , 51-56 More Information
Fernandes R.;Vemuri R. (12-01-2009. ) Accurate estimation of vector dependent leakage power in the presence of process variations.Proceedings - IEEE International Conference on Computer Design: VLSI in Computers and Processors, , 451-458 More Information
Ouaiss I.;Vemuri R. (12-01-2000. ) Efficient resource arbitration in reconfigurable computing environments.Proceedings -Design, Automation and Test in Europe, DATE, , 560-566 More Information
Avakian A.;Nafziger J.;Panda A.;Vemuri R. (07-02-2010. ) A reconfigurable architecture for multicore systems.Proceedings of the 2010 IEEE International Symposium on Parallel and Distributed Processing, Workshops and Phd Forum, IPDPSW 2010, , More Information
Ouaiss I.;Vemuri R. (12-01-2001. ) Hierarchical memory mapping during synthesis in FPGA-based reconfigurable computers.Proceedings -Design, Automation and Test in Europe, DATE, , 650-657 More Information
Xu H.;Jone W.;Vemuri R. (12-01-2010. ) Stretching the limit of microarchitectural level leakage control with adaptive light-weight Vth hopp.IEEE/ACM International Conference on Computer-Aided Design, Digest of Technical Papers, ICCAD, , 632-636 More Information
Xu H.;Vemuri R.;Jone W. (12-01-2010. ) Current shaping and multi-thread activation for fast and reliable power mode transition in multicore.IEEE/ACM International Conference on Computer-Aided Design, Digest of Technical Papers, ICCAD, , 637-641 More Information
Xu H.;Vemuri R.;Jone W. (02-01-2011. ) Dynamic characteristics of power gating during mode transition.IEEE Transactions on Very Large Scale Integration (VLSI) Systems, , 19 (2 ) ,237-249 More Information
Xu H.;Jone W.B.;Vemuri R. (10-01-2010. ) Tuning Vth hopping for aggressive runtime leakage control.Journal of Low Power Electronics, , 6 (3 ) ,447-456 More Information
Xu H.;Jone W.B.;Vemuri R. (07-01-2011. ) Aggressive runtime leakage control through adaptive light-weight V th hopping.IEEE Transactions on Very Large Scale Integration (VLSI) Systems, , 19 (7 ) ,1319-1323 More Information
Nafziger J.;Avakian A.;Vemuri R. (12-01-2010. ) A prediction-based, data Migration Algorithm for hybrid Architecture NoC systems.Proceedings - IEEE International SOC Conference, SOCC 2010, , 435-440 More Information
Panda A.;Avakian A.;Vemuri R. (12-28-2011. ) Configurable workload generators for multicore architectures.International System on Chip Conference, , 179-184 More Information
Avakian A.;Agrawal N.;Vemuri R. (04-11-2012. ) Reconfigurable multicore architecture for dynamic processor reallocation.Lecture Notes in Computer Science (including subseries Lecture Notes in Artificial Intelligence and Lecture Notes in Bioinformatics), , 7199 LNCS ,329-334 More Information
Yang H.;Ranjan M.;Verhaegen W.;Ding M.;Vemuri R.;Gielen G. (12-01-2005. ) Efficient symbolic sensitivity analysis of analog circuits using element-coefficient diagrams .Proceedings of the Asia and South Pacific Design Automation Conference, ASP-DAC, , 1 ,230-235
Ramakrishnan L.;Chakkaravarthy M.;Manchanda A.;Borowczak M.;Vemuri R. (07-27-2012. ) SDMLp: On the use of complementary pass transistor Logic for design of DPA resistant circuits.Proceedings of the 2012 IEEE International Symposium on Hardware-Oriented Security and Trust, HOST 2012, , 31-36 More Information
Pattabiraman A.;Avakian A.;Vemuri R. (10-18-2012. ) A heterogeneous cache distribution with reconfigurable interconnect.Proceedings of the 2012 IEEE 26th International Parallel and Distributed Processing Symposium Workshops, IPDPSW 2012, , 271-276 More Information
Borowczak M.;Vemuri R. (06-12-2013. ) S*FSM: A paradigm shift for attack resistant fsm designs and encodings.Proceedings of the 2012 ASE International Conference on BioMedical Computing, BioMedCom 2012, , 96-100 More Information
Borowczak M.;Vemuri R. (12-01-2013. ) Secure controllers: Requirements of S*FSM.Midwest Symposium on Circuits and Systems, , 553-557 More Information
Teica E.;Radhakrishnan R.;Vemuri R. (12-01-2001. ) On the verification of synthesized designs using automatically generated transformational witnesses.Proceedings -Design, Automation and Test in Europe, DATE, , 798 More Information
Chawla P.;Walrath J.;Simone K.;Miles K.;Bellando J.;Hirsch H.;Vemuri R.;Sandstrom J.;Rubeiz M. (12-01-2001. ) Rapidly porting commercial electronic designs to radiationhardened domain .AIAA Space 2001 Conference and Exposition, ,
Balasubramanian V.;Xu H.;Vemuri R. (01-01-2013. ) Design automation flow for voltage adaptive optimum granularity LITHE for sequential circuits.International System on Chip Conference, , 355-360 More Information
Pan Y.;Li J.;Vemuri R. (01-01-2001. ) Continuous wavelet transform on reconfigurable meshes.Proceedings - 15th International Parallel and Distributed Processing Symposium, IPDPS 2001, , 1158-1163 More Information
Borowczak M.;Vemuri R. (01-01-2014. ) Enabling side channel secure FSMs in the presence of low power requirements.Proceedings of IEEE Computer Society Annual Symposium on VLSI, ISVLSI, , 232-235 More Information
Nair R.;Vemuri R. (01-01-2014. ) MITH-Dyn: A multi Vth dynamic logic design style using mixed mode FinFETs.International System on Chip Conference, , 140-145 More Information
Radhakrishnan R.;Teica E.;Vemuri R. (01-01-2001. ) Verification of basic block schedules using RTL transformations .Lecture Notes in Computer Science (including subseries Lecture Notes in Artificial Intelligence and Lecture Notes in Bioinformatics), , 2144 ,173-178
Huang R.;Handa M.;Vemuri R. (01-01-2004. ) Analysis of a hybrid interconnect architecture for dynamically reconfigurable FPGAs .Lecture Notes in Computer Science (including subseries Lecture Notes in Artificial Intelligence and Lecture Notes in Bioinformatics), , 3203 ,900-905
Jia X.;Rajagopalan J.;Vemuri R. (01-01-2004. ) A dynamically reconfigurable asynchronous FPGA architecture .Lecture Notes in Computer Science (including subseries Lecture Notes in Artificial Intelligence and Lecture Notes in Bioinformatics), , 3203 ,836-841
Kasat A.;Ouaiss I.;Vemuri R. (01-01-2001. ) Memory synthesis for FPGA-based reconfigurable computers .Lecture Notes in Computer Science (including subseries Lecture Notes in Artificial Intelligence and Lecture Notes in Bioinformatics), , 2147 ,70-80
Handa M.;Vemuri R. (01-01-2005. ) Hardware assisted two dimensional ultra fast online placement .International Journal of Embedded Systems, , 1 (3-4 ) ,291-299
Dasasathyan S.;Radhakrishnan R.;Vemuri R. (01-01-2002. ) Framework for synthesis of virtual pipelines.Proceedings - 7th Asia and South Pacific Design Automation Conference, 15th International Conference on VLSI Design, ASP-DAC/VLSI Design 2002, , 326-331 More Information
Yi H.;Tang S.;Vemuri R. (07-01-2016. ) Fast inversions in small finite fields by using binary trees.Computer Journal, , 59 (7 ) ,1102-1112 More Information
Komari P.;Vemuri R. (11-22-2016. ) A novel simulation based approach for trace signal selection in silicon debug.Proceedings of the 34th IEEE International Conference on Computer Design, ICCD 2016, , 193-200 More Information
Liu X.;Vemuri R. (11-22-2017. ) Effective signal restoration in post-silicon validation.Proceedings - 35th IEEE International Conference on Computer Design, ICCD 2017, , 169-176 More Information
Liu X.;Vemuri R. (03-27-2018. ) Combined Inference and Satisfiability Based Methods for Complete Signal Restoration in Post-Silicon .Proceedings of the IEEE International Conference on VLSI Design, , 2018-January ,416-421 More Information
Lokare R.;Vemuri R. (03-26-2018. ) Progressive and secure performance unlocking for digital integrated circuits.2018 IEEE International Conference on Consumer Electronics, ICCE 2018, , 2018-January ,1-6 More Information
Nayak A.;Vemuri R. (03-26-2018. ) A secure tunable-precision architecture for image processing applications.2018 IEEE International Conference on Consumer Electronics, ICCE 2018, , 2018-January ,1-5 More Information
Chen S.;Vemuri R. (05-30-2018. ) Improving the security of split manufacturing using a novel BEOL signal selection method.Proceedings of the ACM Great Lakes Symposium on VLSI, GLSVLSI, , 135-140 More Information
Agrawal R.;Vemuri R. (06-12-2018. ) On state encoding against power analysis attacks for finite state controllers.Proceedings of the 2018 IEEE International Symposium on Hardware Oriented Security and Trust, HOST 2018, , 181-186 More Information
Liu X.;Vemuri R. (08-07-2018. ) Fast heuristics for near-optimal signal restoration in post-silicon validation.Proceedings of IEEE Computer Society Annual Symposium on VLSI, ISVLSI, , 2018-July ,34-39 More Information
Dharmadhikari P.;Raju A.;Vemuri R. (08-07-2018. ) Detection of sequential trojans in embedded system designs without scan chains.Proceedings of IEEE Computer Society Annual Symposium on VLSI, ISVLSI, , 2018-July ,678-683 More Information
Chen S.;Vemuri R. (01-16-2019. ) Reverse Engineering of Split Manufactured Sequential Circuits Using Satisfiability Checking.Proceedings - 2018 IEEE 36th International Conference on Computer Design, ICCD 2018, , 530-536 More Information
Chen S.;Vemuri R. (02-19-2019. ) On the Effectiveness of the Satisfiability Attack on Split Manufactured Circuits.IEEE/IFIP International Conference on VLSI and System-on-Chip, VLSI-SoC, , 2018-October ,83-88 More Information
Liu X.;Vemuri R. (04-23-2019. ) Assertion Coverage Aware Trace Signal Selection in Post-Silicon Validation.Proceedings - International Symposium on Quality Electronic Design, ISQED, , 2019-March ,271-277 More Information
Kasarabada Y.;Chen S.;Vemuri R. (04-23-2019. ) On SAT-Based Attacks on Encrypted Sequential Logic Circuits.Proceedings - International Symposium on Quality Electronic Design, ISQED, , 2019-March ,204-211 More Information
Agrawal R.;Borowczak M.;Vemuri R. (05-09-2019. ) A state encoding methodology for side-channel security vs. Power trade-off exploration.Proceedings - 32nd International Conference on VLSI Design, VLSID 2019 - Held concurrently with 18th International Conference on Embedded Systems, ES 2019, , 70-75 More Information
Borowczak M.;Vemuri R. (07-01-2019. ) Mitigating information leakage during critical communication using S?FSM.IET Computers and Digital Techniques, , 13 (4 ) ,292-301 More Information
Chen S.;Vemuri R. (05-01-2019. ) Exploiting proximity information in a satisfiability based attack against split manufactured circuit.Proceedings of the 2019 IEEE International Symposium on Hardware Oriented Security and Trust, HOST 2019, , 171-180 More Information
Kaul M.;Vemuri R. (12-01-1999. ) Temporal partitioning combined with design space exploration for latency minimization of run-time re.Proceedings -Design, Automation and Test in Europe, DATE, , 202-209 More Information
Roy J.;Kumar N.;Dutta R.;Vemuri R. (01-01-1992. ) DSS: A Disiributed High-Level Synthesis System.IEEE Design and Test of Computers, , 9 (2 ) ,18-32 More Information
Ganesan S.;Vemuri R. (12-01-2000. ) Technology mapping and retargeting for field-programmable analog arrays.Proceedings -Design, Automation and Test in Europe, DATE, , 58-64 More Information
Vemuri R.;Kumar N.;Vutukuru R.;Rao P.;Sinha P.;Ren N.;Mamtora P.;Mandayam R.;Vemuri R.;Roy J. (01-01-1993. ) An Integrated Multicomponent Synthesis Environment for MCMs.Computer, , 26 (4 ) ,62-74 More Information
Koutsougeras C.;Papachristou C.A.;Vemuri R.R. (12-01-1986. ) DATA FLOW GRAPH PARTITIONING TO REDUCE COMMUNICATION COST. MICRO: Annual Microprogramming Workshop, , 82-91
Vemuri R. (12-01-1989. ) On the effectiveness of a system of RT-level transformations for design-space exploration .Midwest Symposium on Circuits and Systems, , 1078-1084
Vemuri R. (12-01-1990. ) How to prove the completeness of a set of register level design transformations .27th ACM/IEEE Design Automation Conference. Proceedings 1990, , 207-212
Sridhar A.;Vemuri R. (12-01-1990. ) Automatic precondition verification for high-level design transformations .Proceedings - IEEE International Symposium on Circuits and Systems, , 4 ,2654-2657
Kumar N.;Vemuri R. (12-01-1992. ) Finite state machine verification on MIMD machines .European Design Automation Conference, , 514-520
Dutta R.;Roy J.;Vemuri R. (12-01-1992. ) Distributed design-space exploration for high-level synthesis systems .Proceedings - Design Automation Conference, , 644-650
Mandayam R.;Vemuri R. (01-01-1993. ) Performance specification using attributed grammars .Proceedings - Design Automation Conference, , 661-667
Vemuri R.;Mamtora P.;Sinha P.;Kumar N.;Roy J.;Vetukuru R. (01-01-1993. ) Experience in functional validation of a high level synthesis system .Proceedings - Design Automation Conference, , 194-201
Mandayam R.;Vemuri R. (12-01-1993. ) Performance specification and measurement .IFIP Transactions A: Computer Science and Technology, , (A-32 ) ,281-298
Vemuri R. (01-01-1994. ) MCM layer assignment using genetic search.Electronics Letters, , 30 (20 ) ,1635-1637 More Information
Vemuri R. (08-04-1994. ) Genetic algorithms for MCM partitioning.Electronics Letters, , 30 (16 ) ,1270-1271 More Information
Kumar N.;Katkoori S.;Rader L.;Vemuri R. (01-01-1995. ) Profile-Driven Behavioral Synthesis for Low-Power VLSI Systems.IEEE Design and Test of Computers, , 12 (3 ) ,70-84 More Information
Katkoori S.;Kumar N.;Vemuri R. (12-01-1995. ) High level profiling based low power synthesis technique .Proceedings - IEEE International Conference on Computer Design: VLSI in Computers and Processors, , 446-452
Bradley W.;Vemuri R. (12-01-1995. ) Performance verification using PDL and constraint satisfaction .Proceedings of the Asia and South Pacific Design Automation Conference, ASP-DAC, , 531-538
Katkoori S.;Kumar N.;Rader L.;Vemuri R. (12-01-1995. ) Profile driven approach for low power synthesis .Proceedings of the Asia and South Pacific Design Automation Conference, ASP-DAC, , 759-766
Katkoori S.;Roy J.;Vemuri R. (01-01-1996. ) Hierarchical register optimization algorithm for behavioral synthesis .Proceedings of the IEEE International Conference on VLSI Design, , 126-132
Katkoori S.;Vemuri R. (01-01-1996. ) Simulation based architectural power estimation for PLA-based controllers .International Symposium on Low Power Electronics and Design, Digest of Technical Papers, , 121-124
Narasimhan N.;Roy J.;Vemuri R. (01-01-1996. ) Synchronous controller models for synthesis from communicating VHDL processes .Proceedings of the IEEE International Conference on VLSI Design, , 198-204
Kumar N.;Srinivasan V.;Vemuri R. (01-01-1996. ) Hierarchical behavioral partitioning for multicomponent synthesis .European Design Automation Conference - Proceedings, , 212-217
Narasimhan N.;Srinivasan V.;Vootukuru M.;Walrath J.;Govindarajan S.;Vemuri R. (01-01-1996. ) Rapid prototyping of reconfigurable coprocessors .International Conference on Application-Specific Systems, Architectures and Processors, Proceedings, , 303-312
Walrath J.;Chatha K.;Vemuri R.;Narasimhan N.;Srinivasan V. (01-01-1996. ) Performance modeling and tradeoff analysis during rapid prototyping .International Conference on Application-Specific Systems, Architectures and Processors, Proceedings, , 313-322
Vemuri R.;Mandayam R.;Meduri V. (04-01-1996. ) Performance modeling using PDL.Computer, , 29 (4 ) ,44-53 More Information
Katkoori S.;Vemuri R. (12-01-1996. ) Simulation based architectural power estimation for PLA-based controllers .IEEE Symposium on Low Power Electronics, , 121-124
Walrath J.;Vemuri R.;Bradley W. (01-01-1997. ) Performance verification using partial evaluation and interval analysis .Proceedings of European Design and Test Conference, , 622
Govindarajan S.;Vemuri R. (01-01-1997. ) Cone-based clustering heuristic for list-scheduling algorithms .Proceedings of European Design and Test Conference, , 456-462
Natesan V.;Gupta A.;Katkoori S.;Bhatia D.;Vemuri R. (01-01-1997. ) Constructive method for data path area estimation during high-level VLSI synthesis .Proceedings of the Asia and South Pacific Design Automation Conference, ASP-DAC, , 509-515
Walrath J.;Vemuri R. (01-01-1997. ) Symbolic evaluation of performance models for tradeoff visualization .Proceedings - Design Automation Conference, , 359-364
Vootukuru M.;Vemuri R.;Kumar N. (01-01-1997. ) Resource constrained RTL partitioning for synthesis of multi-FPGA designs .Proceedings of the IEEE International Conference on VLSI Design, , 140-144
Govindarajan S.;Vemuri R. (12-01-1997. ) Dynamic bounding of successor force computations in the Force Directed List Scheduling Algorithm .Proceedings - IEEE International Conference on Computer Design: VLSI in Computers and Processors, , 752-757
Katkoori S.;Vemuri R. (01-01-1998. ) Architectural power estimation based on behavior level profiling.VLSI Design, , 7 (3 ) ,255-270 More Information
Chatha K.;Vemuri R. (01-01-1998. ) Performance evaluation tool for rapid prototyping of hardware-software codesigns .Proceedings of the International Workshop on Rapid System Prototyping, , 218-224
Srinivasan V.;Vemuri R. (01-01-1998. ) Retiming based relaxation heuristic for resource-constrained loop pipelining .Proceedings of the IEEE International Conference on VLSI Design, , 435-441
Chatha K.;Vemuri R. (01-01-1998. ) RECOD: A retiming heuristic to optimize resource and memory utilization in HW/SW codesigns .Hardware/Software Codesign - Proceedings of the International Workshop, , 139-143
Dhanwada N.;Vemuri R. (01-01-1998. ) Constraint allocation in analog system synthesis .Proceedings of the IEEE International Conference on VLSI Design, , 253-258
Narasimhan N.;Teica E.;Radhakrishnan R.;Govindarajan S.;Vemuri R. (12-01-1998. ) Theorem proving guided development of formal assertions in a resource-constrained scheduler for high .Proceedings - IEEE International Conference on Computer Design: VLSI in Computers and Processors, , 392-399
Paruthi V.;Mansouri N.;Vemuri R. (12-01-1998. ) Automatic data path abstraction for verification of large scale designs .Proceedings - IEEE International Conference on Computer Design: VLSI in Computers and Processors, , 192-194
Chawla P.;Alexander P.;Vemuri R. (12-01-1998. ) Search and retrieval tool to enable system design through intellectual property reuse .National Aerospace and Electronics Conference, Proceedings of the IEEE, , 620-626
Chatha K.;Vemuri R. (01-01-1999. ) Iterative algorithm for partitioning and scheduling of area constrained HW-SW systems .Proceedings of the International Workshop on Rapid System Prototyping, , 134-139
Dhanwada N.;Nunez-Aldana A.;Vemuri R. (01-01-1999. ) Genetic approach to simultaneous parameter space exploration and constraint transformation in analog .Proceedings - IEEE International Symposium on Circuits and Systems, , 6 ,
Doboli A.;Nunez-Aldana A.;Dhanwada N.;Ganesan S.;Vemuri R. (01-01-1999. ) Behavioral synthesis of analog systems using two-layered design space exploration .Proceedings - Design Automation Conference, , 951-957
Kaul M.;Vemuri R.;Govindarajan S.;Ouaiss I. (01-01-1999. ) Automated temporal partitioning and loop fission approach for FPGA based reconfigurable synthesis of .Proceedings - Design Automation Conference, , 616-622
Ganesan S.;Vemuri R. (01-01-1999. ) FAAR: A router for field-programmable analog arrays .Proceedings of the IEEE International Conference on VLSI Design, , 556-563
Dhanwada N.R.;Nunez-Aldana A.;Vemuri R. (01-01-1999. ) Component characterization and constraint transformation based on directed intervals for analog synt .Proceedings of the IEEE International Conference on VLSI Design, , 589-596
Ghosh A.;Vemuri R. (12-01-1999. ) Formal verification of synthesized analog designs .Proceedings - IEEE International Conference on Computer Design: VLSI in Computers and Processors, , 40-45
Ganesan S.;Vemuri R. (12-01-1999. ) Methodology for rapid prototyping of analog systems .Proceedings - IEEE International Conference on Computer Design: VLSI in Computers and Processors, , 482-488
Katkoori S.;Vemuri R. (12-01-1999. ) Accurate resource estimation algorithms for behavioral synthesis .Proceedings of the IEEE Great Lakes Symposium on VLSI, , 338-339
Pandey A.;Vemuri R. (12-01-1999. ) Combined temporal partitioning and scheduling for reconfigurable architectures .Proceedings of SPIE - The International Society for Optical Engineering, , 3844 ,93-103
Ganesan S.;Vemuri R. (12-01-1999. ) FPGA/FPAA-based rapid prototyping environment for mixed signal systems .Proceedings of SPIE - The International Society for Optical Engineering, , 3844 ,49-60
Ghosh A.;Lodha S.;Vemuri R. (12-01-1999. ) Hierarchical scheduling in high level synthesis using resource sharing across nested loops .Proceedings of the IEEE Great Lakes Symposium on VLSI, , 140-143
Srinivasan V.;Vemuri R. (12-01-1999. ) Task-level partitioning and RTL design space exploration for multi-FPGA architectures .IEEE Symposium on FPGAs for Custom Computing Machines, Proceedings, , 272-273
Mansouri N.;Vemuri R. (01-01-2000. ) Automated correctness condition generation for formal verification of synthesized RTL designs.Formal Methods in System Design, , 16 (1 ) ,59-91 More Information
Doboli A.;Dhanwada N.;Vemuri R. (01-01-2000. ) Heuristic technique for system-level architecture generation from signal-flow graph representations .Proceedings - IEEE International Symposium on Circuits and Systems, , 3 ,
Katkoori S.;Vemuri R. (01-01-2000. ) Scheduling for low power under resource and latency constraints .Proceedings - IEEE International Symposium on Circuits and Systems, , 2 ,
Govindarajan S.;Srinivasan V.;Lakshmikanthan P.;Vemuri R. (01-01-2000. ) Technique for dynamic high-level exploration during behavioral-partitioning for multi-device archite .Proceedings of the IEEE International Conference on VLSI Design, , 212-219
Kaul M.;Vemuri R. (01-01-2000. ) Design-space exploration for block-processing based temporal partitioning of run-time reconfigurable .Journal of VLSI Signal Processing Systems for Signal, Image, and Video Technology, , 24 (2 ) ,181-209
Ghosh A.;Vemuri R. (01-01-2000. ) Formal verification of synthesized mixed signal designs using*BMDs .Proceedings of the IEEE International Conference on VLSI Design, , 84-90
Vemuri R.;Harr R. (04-01-2000. ) Configurable computing: Technology and applications.Computer, , 33 (4 ) ,39-40 More Information
Chatha K.S.;Vemuri R. (08-01-2000. ) Iterative algorithm for hardware-software partitioning, hardware design space exploration and schedu .Design Automation for Embedded Systems, , 5 (3 ) ,281-293
Vemuri R.;Walrath J. (12-01-1998. ) Abstract models of reconfigurable architectures for synthesis and compilation.Proceedings of SPIE - The International Society for Optical Engineering, , 3526 ,162-175 More Information
Mansouri N.;Vemuri R. (01-01-1998. ) A methodology for automated verification of synthesized RTL designs and its integration with a high- .Lecture Notes in Computer Science (including subseries Lecture Notes in Artificial Intelligence and Lecture Notes in Bioinformatics), , 1522 ,102-204
Mansouri N.;Vemuri R. (12-01-1999. ) Accounting for various register allocation schemes during post-synthesis verification of RTL designs.Proceedings -Design, Automation and Test in Europe, DATE, , 223-230 More Information
Kaul M.;Vemuri R. (12-01-1998. ) Optimal temporal partitioning and synthesis for reconfigurable architectures.Proceedings -Design, Automation and Test in Europe, DATE, , 389-396 More Information
Nunez-Aldana A.;Vemuri R. (12-01-1999. ) An analog performance estimator for improving the effectiveness of CMOS analog systems circuit synth.Proceedings -Design, Automation and Test in Europe, DATE, , 406-411 More Information
Narasimhan N.;Vemuri R. (01-01-1998. ) On the effectiveness of theorem proving guided discovery of formal assertions for a register allocat .Lecture Notes in Computer Science (including subseries Lecture Notes in Artificial Intelligence and Lecture Notes in Bioinformatics), , 1479 ,367-386
Lakshmikanthan P.;Govindarajan S.;Srinivasan V.;Vemuri R. (12-01-2000. ) Behavioral partitioning with synthesis for Multi-FPGA architectures under interconnect, area, and la .Lecture Notes in Computer Science (including subseries Lecture Notes in Artificial Intelligence and Lecture Notes in Bioinformatics), , 1800 LNCS ,924-931
Doboli A.;Vemuri R. (12-01-1999. ) A VHDL-AMS compiler and architecture generator for behavioral synthesis of analog systems.Proceedings -Design, Automation and Test in Europe, DATE, , 338-345 More Information
Dhanwada N.;Nunez-Aldana A.;Vemuri R. (12-01-1999. ) Hierarchical constraint transformation using directed interval search for analog system synthesis.Proceedings -Design, Automation and Test in Europe, DATE, , 328-335 More Information
Govindarajan S.;Ouaiss I.;Kaul M.;Srinivasan V.;Vemuri R. (01-01-1998. ) An effective design system for dynamically reconfigurable architectures.Proceedings - IEEE Symposium on FPGAs for Custom Computing Machines, FCCM 1998, , 1998-April ,1-2 More Information
Vemuri R.;Kalyanaraman R. (01-01-1995. ) Generation of Design Verification Tests from Behavioral VHDL Programs Using Path Enumeration and Con.IEEE Transactions on Very Large Scale Integration (VLSI) Systems, , 3 (2 ) ,201-214 More Information
Srinivasan V.;Radhakrishnan S.;Vemuri R. (12-01-1998. ) Hardware software partitioning with integrated hardware design space exploration.Proceedings -Design, Automation and Test in Europe, DATE, , 28-35 More Information
Vemuri R. (01-01-1991. ) Genetic synthesis: Performance-driven logic synthesis using genetic evolution.Proceedings - 1st Great Lakes Symposium on VLSI, GLSV 1991, , 312-317 More Information
Vemuri R. (01-01-1990. ) On the notion of the normal form register-level structures and its applications in design-space expl.Proceedings of the European Design Automation Conference, EDAC 1990, , 46-51 More Information
Ouaiss I.;Govindarajan S.;Srinivasan V.;Kaul M.;Vemuri R. (01-01-1998. ) An integrated partitioning and synthesis system for dynamically reconfigurable multi-FPGA architectu .Lecture Notes in Computer Science (including subseries Lecture Notes in Artificial Intelligence and Lecture Notes in Bioinformatics), , 1388 ,31-36
Walrath J.;Vemuri R. (01-01-1998. ) A performance modeling and analysis environment for reconfigurable computers .Lecture Notes in Computer Science (including subseries Lecture Notes in Artificial Intelligence and Lecture Notes in Bioinformatics), , 1388 ,19-24
Govindarajan S.;Vemuri R. (01-01-2000. ) Tightly integrated design space exploration with spatial and temporal partitioning in SPARCS .Lecture Notes in Computer Science (including subseries Lecture Notes in Artificial Intelligence and Lecture Notes in Bioinformatics), , 1896 ,7-18
Chatha K.S.;Vemuri R. (12-02-1998. ) A tool for partitioning and pipelined scheduling of hardware-software systems .Proceedings of the International Symposium on System Synthesis, , Part F129250 ,145-151
Chatha K.S.;Vemuri R. (01-01-1999. ) Hardware-software codesign for dynamically reconfigurable architectures .Lecture Notes in Computer Science (including subseries Lecture Notes in Artificial Intelligence and Lecture Notes in Bioinformatics), , 1673 ,175-185
Srinivasan V.;Radhakrishnan S.;Vemuri R.;Walrath J. (01-01-1999. ) Interconnect synthesis for reconfigurable multi-FPGA architectures.Lecture Notes in Computer Science (including subseries Lecture Notes in Artificial Intelligence and Lecture Notes in Bioinformatics), , 1586 ,588-596 More Information
Kaul M.;Vemuri R. (01-01-1999. ) Integrated block-processing and design-space exploration in temporal partitioning for RTR architectu.Lecture Notes in Computer Science (including subseries Lecture Notes in Artificial Intelligence and Lecture Notes in Bioinformatics), , 1586 ,606-615 More Information
Narasimhan N.;Vemuri R. (01-01-1996. ) Specification of control flow properties for verification of synthesized VHDL designs.Lecture Notes in Computer Science (including subseries Lecture Notes in Artificial Intelligence and Lecture Notes in Bioinformatics), , 1166 ,327-345 More Information
Vemuri R.;Hoffa R.;Vemuri R. (01-01-1992. ) An application of genetic algorithms to solve the layer assignment problem in multi chip modules.Conference Proceedings - IEEE International Conference on Systems, Man and Cybernetics, , 1992-January ,1520-1525 More Information
Vemuri R. (08-04-1994. ) Genetic algorithm for MCM partitioning.Electronics Letters, , 30 (16 ) ,1270-1272 More Information
Vemuri R.;Sridhar A. (01-01-1992. ) Temporal precondition verification of design transformations.Lecture Notes in Computer Science (including subseries Lecture Notes in Artificial Intelligence and Lecture Notes in Bioinformatics), , 575 LNCS ,125-135 More Information
Walrath J.;Vemuri R.;Bradley W. (03-17-1997. ) Performance verification using partial evaluation and interval analysis .Proceedings of the 1997 European Conference on Design and Test, EDTC 1997, , 622
Govindarajan S.;Vemuri R. (03-17-1997. ) Cone-based clustering heuristic for list-scheduling algorithms .Proceedings of the 1997 European Conference on Design and Test, EDTC 1997, , 456-462
Núñez-Aldana A.;Vemuri R. (01-01-1999. ) Two level performance estimator for high level synthesis of analog integrated circuits with feedback.Proceedings of the 3rd International Workshop on Design of Mixed-Mode Integrated Circuits and Applications, , 167-170 More Information
https://scholar.google.com/citations?user=Yq8TtKcAAAAJ&hl=en&oi=ao,