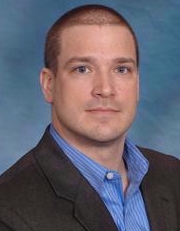 Brian J. Verkamp
Assistant Vice President for Enterprise Shared Services
Brian Verkamp brings leadership and hands-on experience in information systems, information technologies, operations, and shared services to IT@UC. As Assistant Vice President for Enterprise Shared Services, Brian provides leadership and oversees the architecture, implementation and support of all enterprise identity management, academic technologies, enterprise applications, systems/device management, server/storage management, backup/disaster recovery, data center operations, electronic learning spaces/labs, network/telecommunication operations, collaboration technologies, and overall infrastructure design. Brian provides vision and leadership for developing and implementing information technology initiatives, as well as, supports these initiatives in a HANDS-ON manner. Brian works with faculty, students and staff to implement technology innovations that will enhance our teaching and research mission. Finally, Brian supports business operations in order to improve cost effectiveness and service quality within the University.
 
Most recently, Brian served as Assistant Dean for Innovative Technologies at the College of Education, Criminal Justice, and Human Services at the University of Cincinnati. As senior leader in the college, Brian had a wide range of responsibilities including the overall leadership and oversight of CECH's information technology, learning design, marketing and recruiting efforts to ensure continuous development and execution of operations strategies.
 
Brian holds a BS in Information Technology from the University of Cincinnati's College of Applied Science, a Master's of Business Administration from the University of Cincinnati's College of Business, and is an Educational Studies PH.D student in the College of Education, Criminal Justice, and Human Services.
Grant: #ODHE Cyber Range Investigators:Baker, Vicki; Cahay, Marc; Franco, John; Gerst, Jason; Harknett, Richard; Li, Chengcheng; Said, Hazem; Verkamp, Brian 07-01-2017 -06-30-2019 Ohio Department of Higher Education Ohio Cyber Range Role:Collaborator $1,900,000.00 Active Level:State of Ohio