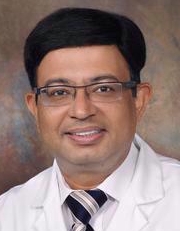 Brinder Vij , MD
Associate Professor of Clinical
Division Chief
Bachelor's Degree: M.P. Shah Medical College & Hospital, Jamnagar.Gujrat India Saurashtra University Rajkot ,Gujrat.India, 1997 (Bachelor of Medicine & Bachelor of Surgery )
Residency : M.P.Shah Medical College & Hospital Rajkot, Gujrat, India, 2001 (Internal Medicine)
Residency: Wyckoff Heights Medical Center Brooklyn, New York, 2009 (Internal Medicine)
Fellowship: NorthShore (Northwell) LIJ Health System New Hyde Park, New York, 2010 (Geriatric Medicine)
Fellowship : Beth Israel Medical Center New York, NY, 2011 (Hospice & Palliative care Medicine)
Fellowship: Memorial Sloan Kettering Cancer Center New York, NY, 2012 (Pain Medicine )
American Board of Internal Medicine (Geriatric Medicine) (Certification Date: 11-03-2010 )
American Board of Internal Medicine (Hospice and Palliative Care) (Certification Date: 10-04-2012 )
American Board of Internal Medicine (Certification Date: 08-20-2009 ) - (Recertification Date: to 11-05-2020 )
American Board of Psychiatry and Neurology (Pain Medicine) (Certification Date: 08-18-2012 )
United Council for Neurologic Subspecialties (Certification Date: 10-31-2014 )
Headache
Neurology
Atypical Facial Pain
Bell's Palsy
Botulinum Toxins
Brain Concussion
Cervicogenic Headaches
Chronic Daily Headaches
Cluster Headaches
Concussion
Concussion in Athletes
Exercise Headaches
Exertional Headaches
External Compression Headaches
Facial Nerve Disease
Facial Neuralgia
Hemicrania Continua
Hypnic Headaches
Ice cream Headaches
Intracranial Hypertension
Intracranial Vasospasm
Low Pressure Headaches (Intracranial Hypotension)
Medication Overuse Headaches
Meningioma
Migraine Disorders
Migraine with Aura
Migraine without Aura
Migraines
Muscular Atrophy
Occipital Neuralgia (ON)
Rebound Headache
Sex Headaches
Spinal Headaches
Syncope
Tension-Type Headaches
Thunderclap Headaches
Traumatic Brain Injury (TBI)
Trigeminal Autonomic Cephalalgias
Trigeminal Neuralgia (Tic douloureux)
Type II Trigeminal Neuralgia
Vascular Headaches
Wernicke Encephalopathy
Geriatric Medicine
Headache
Hospice and Palliative Medicine
Internal Medicine
Pain Medicine
Published Abstracts
Huffman KL1, Rush TE, Fan Y, Sweis GW, Vij B, Covington EC, Scheman J, Mathews M. (03-2017. ) Sustained improvements in pain, mood, function and opioid use post interdisciplinary pain rehabilitation in patients weaned from high and low dose chronic opioid therapy. .[Abstract]Pain,
Tariq N, Estemalik E, Vij B, Kriegler JS, Tepper SJ, Stillman MJ Long Term outcomes and Clinical Characteristics of Hypnic Headache Syndrome:-40 patient series from a tertiary referral center. Headache , April 2016 ,
Peer Reviewed Publications
Martin, Vincent T; Vij, Brinder (2016. ) Diet and Headache: Part 1.Headache, , 56 (9 ) ,1543-1552 More Information
Martin, Vincent T; Vij, Brinder (2016. ) Diet and Headache: Part 2.Headache, , 56 (9 ) ,1553-1562 More Information
Brinder Vij, MD, Mary O. Whipple, BSN, RN, CCRP, Stewart J. Tepper, MD, Arya B. Mohabbat, MD, Mark Stillman, MD, Ann Vincent, MD Frequency of Migraine Headaches in Patients with Fibromyalgia .Headache (The Journal of Head and Face Pain), ,
Garg, Shuchita; Vij, Malti; Edward, Neeraj; Vij, Brinder Erenumab: A novel calcitonin gene-related peptide receptor antagonist developed specifically for migraine prevention.Journal of anaesthesiology, clinical pharmacology, , 36 (1 ) ,104-109 More Information
Ali, Ashhar; Kriegler, Jennifer; Tepper, Stewart; Vij, Brinder New Daily Persistent Headache and OnabotulinumtoxinA Therapy.Clinical neuropharmacology, , 42 (1 ) ,1-3 More Information
Berk, Thomas; Ashina, Sait; Martin, Vincent; Newman, Lawrence; Vij, Brinder (2018. ) Diagnosis and Treatment of Primary Headache Disorders in Older Adults.Journal of the American Geriatrics Society, , 66 (12 ) ,2408-2416 More Information
Poster Presentations
B Vij, M Whipple, S J Tepper, A Mohabbat , M Stillman, A Vincent (05-2015. ) Prevalence of migraine headaches in patients with Fibromyalgia .Annual meeting of American Pain Society, Palm Springs, CA. . Professional Meeting. .
Kelly Martincin, PhD; Alix Aboussouan, BS1; Nicolas Thompson, MS1; Brinder Vij, MD, SA2; Kelly Huffman, PhD1; (2017. ) Older Adults with Chronic Non-Cancer Pain Benefit from Treatment in an Interdisciplinary Chronic Pain Rehabilitation Program .American Association of Physicists in Medicine, University of Cincinnati Medical Center . . Level:State