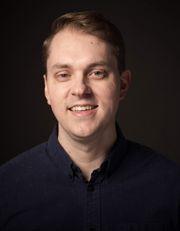 Andrew C Villemez
Assistant Professor-Educator
Memorial Hall
450
CCM Keyboard Studies - 0003
Andy Villemez, DMA, is a composer, educator, and performer based in Cincinnati, Ohio, where he serves as Assistant Professor-Educator at CCM.

Villemez has presented lectures and workshops nationally, including national conferences of the Music Teachers National Association and state conferences of the Ohio Music Teachers Association (OMTA). Most recently, Villemez presented two sessions at the 2017 OMTA State Conference entitled "Teaching to Everyone: The Basics of Universal Design," and "Creating Arts Ambassadors Through Private Music Instruction." His research focuses on creativity in piano teaching and the relationship between character development and music education.

As a composer and arranger, he has been commissioned by concert pianists, performing arts guilds, Cincinnati Public Radio and regional piano competitions. His works range from pedagogical pieces to concert works with emphasis on writing for piano and keyboards. He is also a prominent creator of educational materials, and his textbook "Musicianship at the Keyboard" is set to be released in the summer of 2019.

Villemez is the founder and director of Creative Commissions – an annual arts outreach initiative that pairs professional composers with young musicians and their primary music teachers in order to collaborate on the creation of a new work. Each new piece is based on students' strengths, weaknesses, interests and goals. Each project culminates in a premieres recital held every June in Cincinnati. Started in 2016, the project has involved award-winning composers and students from all over the country.

Villemez earned degrees from CCM (DMA, MM) and Vanderbilt University (BM). A native of Little Rock, AR, he currently lives in Cincinnati with his wife, Julie.
BM, Vanderbilt University Nashville, TN, 2010
MM, University of Cincinnati College-Conservatory of Music Cincinnati, OH, 2012
DMA, University of Cincinnati College-Conservatory of Music Cincinnati, OH, 2015
andrew.villemez@uc.edu