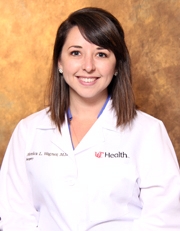 Monica L Wagner , MD
Clinical Instructor
Resident in General Surgery
Medical Sciences Building
231 Albert Sabin Way
Cincinnati, Ohio 45267-0558
Phone 513-558-4206
Email monica.wagner@uc.edu
Medical Degree: University of Cincinnati 2016
Bachelor's Degree: Purdue University 2012 (Neurobiology and Physiology)
Fellowship: University of Cincinnti Cincinnati, OH , ( Research Fellowship Department of Surgery)
Positions and Work Experience
2009 -2012 Research Assistant, Department of Biological Sciences, Purdue University (Mentor: Peter Hollenbeck, PhD), Mitochondrial Transport in Legionella Infection. Used cell-plating and staining methods, microscopy, and computer programs to track individual mitochondria in infected cells. ,
2013 -2015 Medical Student Research Fellow, Department of Neurology, University of Cincinnati College of Medicine (Mentor: Joseph Broderick, MD), Withdrawal of antithrombotic agents can lead to an increased risk of stroke. Performed a literature review and meta-analysis.,
Peer Reviewed Publications
Sun EW, Wagner ML, Maize A, Kemler D, Garland-Kuntz E, Xu L, Luo ZQ, Hollenbeck PJ (2013. ) Legionella pneumophila infection of Drosophila S2 cells induces only minor changes in mitochondrial dynamics.PLoS One, , 30 (8(4) ) ,e62972 More Information
Wagner ML, Khoury JC, Alwell K, Rademacher E, Woo D, Flaherty ML, Anderson AM, Adeoye O, Ferioli S, Kissela BM, Kleindorfer D, Broderick JP (2016. ) Withdrawal of antithrombotic agents and the risk of stroke.J Stroke Cerebrovasc Dis, , 25 (4 ) ,902-6 More Information
2008 -2012 Purdue University Trustees Scholarship. Awarded to 100 outstanding applicants who have demonstrated exceptional academic achievement and experience in leadership, service, and/or school or community activity.
2008 -2012 Purdue University Dean's List.
2012 Phi Beta Kappa Society.
Emergency department volunteer, Bethesda North Hospital, Cincinnati, OH 2009
Purdue University Dance Marathon -- Participated in the annual 18-hour dance marathon to raise money for Riley Children's Hospital. 2010 -2011
UC College of Medicine Initiatives on Poverty, Justice, and Health -- Participated in several community volunteer activities and public health education enrichment. 2012 -2013
Medical Volunteers of UC College of Medicine -- Helped to provide free healthcare for Cincinnati's homeless population, approximately once a month. 2012 -2014
Academic - Medical Sciences Building
231 Albert Sabin Way
Cincinnati  Ohio, 45267-0558
Phone: 513-558-4206
monica.wagner@uc.edu