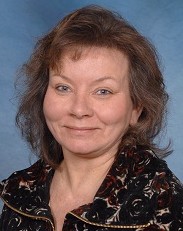 Robin W. Wagner
Associate Professor Educator
Director Skills and Simulation Lab; Associate Professor
University of Cincinnati College of Nursing
3110 Vine St.
Cincinnati, Ohio 45221
Phone 513-558-2347
Email robin.wagner@uc.edu
MSN: University of Cincinnati Cincinnati, OH, 1999 (Community Health Nursing)
BSN: University of Cincinnati Cincinnati, OH, 1993 (Nursing)
Diploma: Good Samaritan Hospital School of Nursing Cincinnati, OH, 1984 (Nursing)
Diploma: St Francis School of Practical Nursing 1979
DNP: University of Cincinnati College of Nursing Cincinnati, Ohio, 2019 (Nursing)
Positions and Work Experience
1993 -1994 Education Coordinator UC CON , Design, implement and evaluate a Health Promotion Program designed for older adults; Design educational materials using adult learning principles; Design educational material to accomodate normal aging changes (funded project), University of Cincinnati College of Nursing and Health, Cincinnati, OH
1990 -1993 Rehabilitation Coordinator, • Design, implement & evaluate restorative nursing programs in full compliance with OBRA regulations • Design, implement & evaluate training programs for rehab. Assistants and staff development programs • Oversee day-to-day operation of Rehab Department, coordinating resident care in collaboration with PT, OT and Speech Therapy professional • Systems management analysis inclusive of forms, protocols, policies and procedures , Maple Knoll Village,
01-1990 -09-1990 Utilization Review Coordinator, Perform concurrent on-site utilization review; Perform prior authorization for surgical and diagnostic procedures; Review emergency room claims based on medical need, Magna Health Care,
1984 -1990 RN Staff Nurse, Perform general direct care duties on Oncology/Neurology unit; Acting Charge Nurse responsible for staff assignemtn and supervision of unit activity; Specialty training in chemotherapy and radiation therapy; Experience with insertion and maintenance of peripheral IV lines; Experiences with maintenance of long term access lines, Deaconess Hospital, Cincinnati, OH
- Clinical Site Development/Management, • Participate in Clinical Education Task Force • Develop and maintain long-term relationship with clinical agencies and contact nurses in the community to comply with regulatory requirements of both the College and the agency • Develop and manage unique community clinical sites that enrich student learning as well as increase the College of Nursing involvement in a variety of community agencies and innovative/non-traditional clinical sites. For example... • Clifton Sr. Center and attached subsidized Senior housing Unit • Hamilton County Board of Developmental Disabilities Protected Worksites • Clinical collaboration in progress with Jewish Family Services with potential to develop into multi-level student clinical site in the community using the Naturally Occurring Retirement Community (NORC) model. ,
- Private Consulting Experience , • Legal nurse consulting • Organize, review and summarize client health information to identify questions, issues ,and other information that need to be further investigated • Synthesis of information with written case report ,
2005 -2007 Parish Nurse , • Develop and analyze congregational health survey • Develop health promotion/disease prevention programs based on needs identified through survey • Design monthly educational poster presentations based on the National Health Observances calendar • Co-facilitate an End-of-life-Care panel format seminar • Coordinate community health fair • Monthly newsletter "The Healing Word" , St. Paul UMC ,
2000 -2010 Adjunct Assistant Professor of Clinical, University of Cincinnati College of Nursing ,
2015 - Director Skills and Simulation Labs; Associate Professor, University of Cincinnati College of Nursing, Cincinnati, OH
2010 -2014 Assistant Professor , University of Cincinnati College of Nursing, Cincinnati, Ohi
Grant: #2013PL2 Investigators:Mitchell, Claudia; Wagner, Robin 09-01-2013 -08-31-2015 Ohio Board of Nursing Use of Innovative Clinical Partnership to Develop an Academic Pipeline for Transitioning Staff Nurses to the Clinical Instructor Role Role:Collaborator $198,330.00 Awarded Level:State of Ohio
Investigators:Mathew Rota (PI) 2016 -2017 Office of the Provost Developing an inter-professional virtual healthcare world framework $96,179.46 Active Type:Grant Level:University
Investigators:Debi Sampsel PI, Tamilyn Bakas Co-PI 2/15/0201 12:00:00 AM -2/15/0201 12:00:00 AM A proposal was submitted to the UC Health and UC Academic Health Center Care Delivery Innovation Competition. A decision was made that the project would be funded in 2016. The T-CHAT Project: Using Telehealth to Optimize Healthy Independent Living in Older Adults Role:Investigator, Educator Active Type:Grant Level:University
Investigators:Michael Brubaker (PI) and Angela Clark (CO-I) 2019 -2022 HRSA Opioid Workforce Expansion Program SAFE-T Role:Consultant $1,349,807 Type:Grant
Investigators:Robin Wagner (PI),Eileen Werdman (CO-I), Paula Teleky(CO-I) 2021 -2022 Dean's Scholarship of Teaching and Learning (SOTL) Tanner's Clinical Judgement Model and Simulation Design Role:PI $5000 Type:Grant
Grant: #U4E42429 Investigators:Clark, Angela; Green, Donna; Irwin, Amber; Rota, Matthew; Wagner, Robin; Werdman, Eileen 07-01-2021 -06-30-2023 Health Resources and Services Administration Appalachian Experiential Learning and Simulation Program (App-ELS) Role:Collaborator 500000.00 Awarded Level:Federal
Peer Reviewed Publications
Wagner, R., Maddox, K. R., Glazer, G., Hittle, B. M. (2020. ) Maximizing Effectiveness of the Holistic Admission Process: Implementing the Multiple Mini Interview Model.Nurse Educator, , 45 (2 ) , More Information
Anthony, J., Wagner, R., Sampsel, D. (2022. ) Engaging seniors in a depression simulation .Journal of Nursing Education, , 61 (4 ) , More Information
Other Publications
Clark, A., Brubaker, M., Acquavita, S., Wagner, R., Wilder, C. (2021. ) Pandemic related disruptions in nursing education: Zooming out for an innovative interprofessional simulation. Commissioned report from Josiah Macy Jr. Foundation Conference on COVID – 19 and the Impact on Medical and Nursing Education.
Invited Presentations
(2014. ) Creating an Inter-Professional Simulation Group in a Large University Setting: Community of Practice as a Forum for Collaborative Projects .2014 International Lilly Conference on College Teaching, Miami of Oxford. Other Institution. . Level:International
Robin Wagner, Debi Sampsel Creating New Directions in Simulation .CCHMC 2014 Regional Simulation Conference, Cincinnati, OH. Other Institution. . Level:Regional
Robin Wagner, Patty Ford (08-20-2016. ) Increased Student Engagement in the Classroom, Lab and Clinical Setting .2016 ICON Summer Institute, Cincinnati, Ohio. Workshop. . Level:University
Kathleen Ballman, Robin Wagner (08-20-2016. ) Using iPads in Simulation and More! .2016 ICON Summer Institute, Cincinnati, Ohio. Workshop. . Level:University
Wagner, R., Dawson, S. K. (2019. ) More Than Just Another Manikin: Creating Engaging Simulated-Based Learning .INACSL 2019 Conference, Phoenix, Arizona. Level:International
Wagner, R., Werdman, E. (2019. ) Simulation Based Strategy Uniting Art with Science: Facilitating Development of Professional Presence .Ohio League of Nursing Education Summit, Dublin, Ohio. Level:State
Goodin, J. & Wagner, R. (2022. ) Remote Access Labs: Maximizing Learning Opportunities for Beginning Nursing Students .Ohio League of Nursing (OLN) Education Summit, Westerville, OH. Conference. . Level:Regional
Wagner, R. & Catalano, L. (2020. ) Context Based Learning: Flipping the Classroom to the Simulation Lab .International Nursing Association for Clinical Simulation and Learning (INACSL) Conference, Raleigh, NC (Virtual). Conference. . Level:International
Wagner, R. & Werdman, E. (2020. ) Polarity Thinking: Method to the Madness of Change Management .International Meeting on Simulation in Healthcare (IMSH) Conference, San Diego, CA. Conference. . Level:International
Poster Presentations
Robin Wagner, Eileen Werdman (09-20-2016. ) What Can You See When You Look Through The Looking Glass .NLN Educational Summit, Orlando, Florida. . Conference. . Level:National
Robin Wagner, Sara Dawson (06-20-2017. ) Student Centered Practice for Skill Development in Undergraduate Nursing Education .INACSL Conference, Washington, DC. . Conference. . Level:National
Debi Sampsel, Robin Wagner, and Sara Dawson (06-20-2017. ) Creating a 21st Century Clinical Translation Simulation Ceter .INACSL Conference, Washington, DC. . Conference. . Level:National
Eileen Werdman, Robin Wagner (04-20-2017. ) What Can You See When You Look Through The Looking Glass .OLN Education Summit, Dublin, Ohio. . Conference. . Level:Regional
Robin Wagner, Eileen Werdman (04-2018. ) Changing Student Presence at the Bedside Using an HD Camera Enhanced Patient Communicative Simulator .2018 Ohio League of Nursing Education Summit, Dublin, Ohio. . Level:Regional
Wagner, R., Dawson, S. K. (2019. ) Simulating Simulation: A Valuable Tool for Faculty Development in Simulation-Based Education .INACSL 2019 Conference, Phoenix, Arizona. . Level:International
Lecture
Robin Wagner, Sara Dawson (2016. ) Fidelity and Context in Simulation: Strategy to Teach Infection Control to Undergraduate Nursing Students .Peoria, IL. Conference. Level:National
1993 Magna cum Laude while a student at University of Cincinnati College of Nursing & Health
1993 Honors Member of the Nightingale Society
1992 -1993 Deans Award for Outstanding Academic Achievement
1979 Salutatorian while a student at St. Francis Central School of Practical Nursing
04-2015 125th Anniversary Alumni Legacy Award University of Cincinnati College of Nursing Status:Recipient Level:College
2020 International Nursing Association for Clinical Simulation & Learning (INACSL) Research Fellowship INACSL Status:Recipient Level:International Type:Fellowship
2022 National League of Nursing Leadership Institute: Leadership for the Simulation Educator NLN Status:Recipient Level:National Type:Fellowship
Sigma Theta Tau Beta Iota Chapter
TriState Healthcare Simulation Consortium Member, Director of Education
American Nurses Association Member
International Nursing Association for Clinical Simulation and learning Member
SimGHOST Member
Society for Simulation in Healthcare Member
Community as Partner
Concepts of Community
Community as Client
Community as Client Practicum
RN Nursing Elective – Clinical Leadership
On-line Course Curriculum
Academic - University of Cincinnati College of Nursing
3110 Vine St.
Cincinnati  Ohio, 45221
Phone: 513-558-2347
robin.wagner@uc.edu