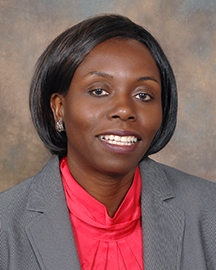 Victoria M. N. Wangia-Anderson
Assoc Professor Educ; Program Director - Health Informatics
French East
CAHS Clinical & Health Info Sciences - 0394
French East
3202 Eden Avenue
Cincinnati, Ohio 45267
Launch New Master of Health Informatics Program
Develop Graduate-level coursesin the Master of Health Informatics program
Teach Graduate-level courses in the Master of  Health Informatics program
Manage student recuritment, application, admission,  orientation and advising process
Hire, appoint and mentor program faculty and staff
Ph.D., University of Minnesota Minneapolis, (Health Informatics)
MS, University of Tennessee Knoxville, (Information Science)
BS, Earlham College Richmond, (Biology)
Grant: #5R01DK080111-02 Investigators:Dr. Shireman and Wangia 2010 -2012 NIH Are Cardioprotective Medications Effective in ESRD? Role:Supplement Award Completed Type:Grant
Peer Reviewed Publications
Wangia, Victoria; Shireman, Theresa I A review of geographic variation and Geographic Information Systems (GIS) applications in prescription drug use research.Research in social & administrative pharmacy : RSAP, ,9 (6 ),666-87
Wangia, Victoria (2012. )Testing an extended theoretical framework to explain variance in use of a public health information system.Online journal of public health informatics, ,4 (3 ),
Invited Presentations
Victoria Wangia-Anderson (BAD DATE. )Introduction to Research Careers (Invited by Dr. LaSharon Mosley) .University of Cincinnati - West Campus, 645 Baldwin. Level:University
Victoria Wangia-Anderson (Invited by Ms. Shameka Neely) (11-12-2014. )Historical Perspectives -Modern Day Healthcare System: How the past influences today .University of Cincinnati - West Campus, Clifton Courts South room S15. Level:University
Poster Presentations
Victoria Wangia-Anderson and Malinda Reynolds (10-16-2014. )Tripartite Learning Framework: Is Our Health Informatics Program in Alignment? .Lilly Conference, Traverse City, MI. .Level:National
Positions and Work Experience
2005 -2013 Research Assistant Professor and Coordinator, University of Kansas Medical Center, Kansasd City, KS
2003 -2005 Informatics Fellow, Centers for Disease Control and Prevention, Atlanta, GA
Post Graduate Training and Education
2003-2005 Informatics Fellow, Centers for Disease Control and Prevention, ,Atlanta
2010-2011 Kansas Public Health Leadership Institute, Kansas
2014-2014 Data Analytics and Business Intelligence Training, IBM Training, IBM, ,Savannah GA
2003-2005 Georgia Institute of Technology Training, Database, Information Security and Project Management Training, Georgia Institute of Technology, ,Atlanta GA
11-07-2014-11-07-2014 Independent Applying the QM Rubric (APPQMR), This workshop explores the Quality Matters Project and Processes and will prepare you to be part of an initiative that positively impacts the design of online/blended courses and ultimately, student learning and success. QM is designed to improve the quality of online and blended courses by establishing a peer-reviewed quality assurance review process. You will become familiar with the Quality Matters standards and participate in a practice peer course review of an online course using the review tools. Participants in this hands-on workshop can be online/blended instructors, instructional designers, and/or faculty members & faculty developers. After successfully completing this workshop, you will be eligible to move into the Online Peer Reviewer Certification. In addition, you will gain ideas to improve your own courses using the QM Standards. , University of Cincinnati, ,Cincinnati
health informatics, health information technology, public health, consumers, patients, public health informatics, health disparities, GIS, geographic information system
Research and Practice Interests
Past experience with  applied Public Health, U.S. health policy initiatives aimed at engaging the patient and clinicians in the use and adoption of health information technology and exchange, and addressing electronic health information privacy and security issues.
Research and Practice interests include: Health Information Technology Implementaion and Usability, Health Informatics, Healthcare Quality Improvement, Public Health , Telemedicine, Application of Geographic Information Systems, and Online learning and instructional design, Health Disparities and Patient-centered care.
American Medical Informatics Association
American Health Information Management Association
Health Information Management and Systems Society
American Public Health Association
Faculty Development Activities
05-20-2013 -07-26-2013 Online Course Design and Development Fellowship College of Allied Health Sciences Cincinnati Type:Workshop
09-24-2013 -11-19-2013 CAHS Writing Fellows Certificate A special series of workshops geared to educate and train in pedagogical strategies for the development and implementation of writing across the curriculum assignments., College of Allied Health Sciences Cincinnati Type:Faculty Fellowship
11-07-2014 -11-07-2014 Applying Quality Matters Rubric This workshop explores the Quality Matters Project and Processes and will prepare you to be part of an initiative that positively impacts the design of online/blended courses and ultimately, student learning and success. QM is designed to improve the quality of online and blended courses by establishing a peer-reviewed quality assurance review process. You will become familiar with the Quality Matters standards and participate in a practice peer course review of an online course using the review tools. Participants in this hands-on workshop can be online/blended instructors, instructional designers, and/or faculty members & faculty developers. After successfully completing this workshop, you will be eligible to move into the Online Peer Reviewer Certification. In addition, you will gain ideas to improve your own courses using the QM Standards , University of Cincinnati Cincinnati Type:Workshop
Academic - French East
3202 Eden Avenue
Cincinnati  Ohio, 45267
Phone: 513-558-7518
wangiava@ucmail.uc.edu