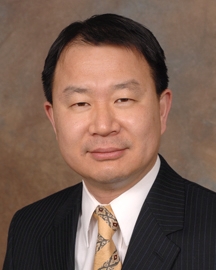 Shao-Chun Wang , PhD
Adjunct Associate Professor
Vontz Center for Molecular Studies
3125 Eden Avenue
ML 0521
Cincinnati, Ohio 45267
Phone 513-558-4259
Email shao-chun.wang@uc.edu
Dr. Wang came to UC in 2007 from the University of Texas, M. D. Anderson Cancer Center. His research interest is on the molecular mechanisms controlling cancer cell proliferation and tumor development. The current study focuses on the signaling mechanisms regulating the function of PCNA (proliferating cell nuclear antigen), the key molecule coordinating DNA synthesis during cell proliferation and DNA damage repair. In mammalian cells, PCNA is known to be regulated by ubiquitination in response to DNA damage stress and during cell cycle progression. Previous study also revealed that PCNA is subject to phosphorylation mediated by tyrosine kinases such as EGFR. The phosphorylation is closely correlated with poor survival of breast cancer patients. The Wang laboratory further demonstrates that specific tyrosine phosphorylation of PCNA conveys sensitivity to chemotherapeutic agents in cancer cells. It is becoming evident that PCNA is subject to the regulation by multiple post-translational modifications. A cohort of cellular activities, such as ubiquitin ligases, protein kinases, phosphatases, and chromatin remodeling enzymes are involved in the regulation. The laboratory is moving forward to understand the physiological role of this network in normal and cancer biology using molecular, cellular, and genetic approaches, and to explore molecular strategies targeting this essential pathway for tumor growth as a means for cancer therapy.
Bachelor's Degree: Taipei Medical University 1988 (Pharmacy)
Doctoral Degree: University of Minnesota 1995 (Genetics and Cell biology)
Fellowship: M. D. Anderson Cancer Center 2000 (Cancer Biology)
Research and Practice Interests
My laboratory uses molecular, cellular, and genetic approaches to study the following projects:
(1) Proliferating Cell Nuclear Antigen (PCNA): PCNA is an indispensable protein forming the platform on the chromatin to coordinate cell proliferation and DNA damage repair. My laboratory focuses on the signaling mechanisms regulating the function of PCNA in tumor epithelium and stroma in response to growth signals and DNA damage stresses, and their role in cancer initiation and development, as well as responsiveness to cancer therapies.
(2) Targeting hormone-related cancers: The laboratory has a special interest on tumors that do not respond to conventional targeted therapies, such as triple-negative breast cancer (TNBC) and breast cancer cells which have developed resistance to anti-estrogens. Our work aims to understand how receptor tyrosine kinases promote cell survival and metastasis through exploiting a network of cellular proteins and non-coding RNAs in response to targeted therapeutic agents.
(3) PCNA signaling in adipogenesis and obesity: Differentiation of mature adipocyte from progenitor cells is normally under a tight but yet poorly understood regulation. Using a recently generated genetic mouse model, the laboratory shows that phosphorylation of PCNA is an essential signaling during adipogenesis and for the development of diet-induced obesity in mice. In addition, this signaling event can be induced by exposure to a group of environmentally present synthetic compounds (phthalates). The laboratory is working to uncover the underlying mechanism and test the potential functions of PCNA in energy homeostasis under high-fat diet and in response to environmental toxins.   
 
Positions and Work Experience
1988 -1990 Second Lieutenant, mandatory military service , Air Force, Taiwan R.O.C.
2000 -2002 Instructor, University of Texas M. D. Anderson Cancer Center, Houston, TX
2002 -2007 Research Assistant Professor, University of Texas M. D. Anderson Cancer Center, Houston, TX
2007 -To Present Assistant Professor, Department of Surgery, Division of Research, University of Cincinnati, College of Medicine, Cincinnati, OH
2007 -To Present Associate Member, University of Cincinnati Cancer Center, Cincinnati, OH
2007 -To Present Faculty, Cell and Cancer Biology Graduate Program, University of Cincinnati, College of Medicine, Cincinnati, OH
2007 -To Present Associate Member, Digestive Health Center, Cincinnati Children's Hospital, Cincinnati, OH
2008 -To Present Assistant Professor, College of Medicine, Department of Cancer and Cell Biology, University of Cincinnati, OH,
Grant: #PC073951 09-02-2008 -09-01-2011 Department of Defense (DoD) Prostate Cancer Research Program - New Investigator Award Regulation of PCNA Tyrosine Phosphorylation in Prostate Cancer Role:Principal Investigator
Grant: #KG080540 10-23-2008 -10-22-2011 Susan Komen Investigator-Initiated Research Grant Tyrosine phosphorylation and functional regulation of PCNA in breast cancer Role:Principal Investigator
Grant: #W81XWH-08-1-0443 Investigators:Ho, Shuk Mei; Waltz, Susan; Wang, Shao-Chun 09-02-2008 -09-01-2012 Department of the Army Medical Research Acquisition Activity Regulation of PCNA Function by Tyrosine Phosphorylation in Prostate Cancer Role:PI $350,369.00 Active Level:Federal
Grant: #KG080540 Investigators:Waltz, Susan; Wang, Shao-Chun 10-23-2008 -10-22-2011 Susan G. Komen Breast Cancer Foundation Tyrosine Phosphorylation and Functional Regulation of PCNA in Breast Cancer Role:PI $600,000.00 Active Level:Private Non-Profit
Grant: #SRS 007871 Investigators:Wang, Jiang; Wang, Shao-Chun 01-01-2012 -02-28-2014 Elsa U. Pardee Foundation An Efficient Targeted Strategy Against Endocrine- Resistant and Triple-Negative Breast Cancer Role:PI $125,000.00 Active Level:Private Non-Profit
Grant: #13GRNT16370019 Investigators:Wang, Shao-Chun 07-01-2013 -06-30-2015 American Heart Association - Great Rivers Affiliate Role of Tyrosine Phosphorylation of PCNA in Adipogenesis and Diet-Induced Obesity Role:PI $77,000.00 Active Level:Private Non-Profit
Grant: #R21ES023942 Investigators:Hui, David; Wang, Shao-Chun 02-01-2015 -01-31-2017 National Institute of Environmental Health Sciences Early exposure to phthalate & obesity: the role of PCNA tyrosine phosphorylation Role:PI $197,761.00 Awarded Level:Federal
Peer Reviewed Publications
Wang, Shao-Chun; Lin, Sue-Hwa; Su, Li-Kuo; Hung, Mien-Chie (1997. ) Changes in BRCA2 Expression during Progression of the Cell Cycle .Biochemical and Biophysical Research Communications, , 234 (1 ) ,247-251
Su, L. K.; Wang, S. C.; Qi, Y.; Luo, W.; Hung, M. C.; Lin, S. H. (1998. ) Characterization of BRCA2: temperature sensitivity of detection and cell-cycle regulated expression .Oncogene, , 17 (18 ) ,2377-81
Lo, S. S.; Lo, S. H.; Wang, S. C.; Hung, M. C. (1999. ) Inhibition of focal contact formation in cells transformed by p185neu .Mol Carcinog, , 25 (2 ) ,150-4
Hung, M. C.; Wang, S. C. (2000. ) Suppressing HER2/neu-mediated cell transformation by transcriptional repressors .Breast Dis, , 11 (2 ) ,133-44
Xing, X.; Wang, S. C.; Xia, W.; Zou, Y.; Shao, R.; Kwong, K. Y.; Yu, Z.; Zhang, S.; Miller, S.; Huang, L.; Hung, M. C. (2000. ) The ets protein PEA3 suppresses HER-2/neu overexpression and inhibits tumorigenesis .Nat Med, , 6 (2 ) ,189-95
Wang, S. C.; Hung, M. C. (2000. ) Transcriptional targeting of the HER-2/neu oncogene .Drugs Today (Barc), , 36 (12 ) ,835-43
Tsai, E. M.; Wang, S. C.; Lee, J. N.; Hung, M. C. (2001. ) Akt activation by estrogen in estrogen receptor-negative breast cancer cells .Cancer Res, , 61 (23 ) ,8390-2
Wang, S. C.; Makino, K.; Xia, W.; Kim, J. S.; Im, S. A.; Peng, H.; Mok, S. C.; Singletary, S. E.; Hung, M. C. (2001. ) DOC-2/hDab-2 inhibits ILK activity and induces anoikis in breast cancer cells through an Akt-independent pathway .Oncogene, , 20 (47 ) ,6960-4
Wang, S. C.; Hung, M. C. (2001. ) HER2 overexpression and cancer targeting .Semin Oncol, , 28 (5 Suppl 16 ) ,115-24
Wang, S. C.; Zhang, L.; Hortobagyi, G. N.; Hung, M. C. (2001. ) Targeting HER2: recent developments and future directions for breast cancer patients .Semin Oncol, , 28 (6 Suppl 18 ) ,21-9
Wang, S. C.; Makino, K.; Su, L. K.; Pao, A. Y.; Kim, J. S.; Hung, M. C. (2001. ) Ultraviolet irradiation induces BRCA2 protein depletion through a p53-independent and protein synthesis-dependent pathway .Cancer Res, , 61 (7 ) ,2838-42
Zou, Y.; Peng, H.; Zhou, B.; Wen, Y.; Wang, S. C.; Tsai, E. M.; Hung, M. C. (2002. ) Systemic tumor suppression by the proapoptotic gene bik .Cancer Res, , 62 (1 ) ,8-12
Lee, C. M.; Shvartsman, H.; Deavers, M. T.; Wang, S. C.; Xia, W.; Schmandt, R.; Bodurka, D. C.; Atkinson, E. N.; Malpica, A.; Gershenson, D. M.; Hung, M. C.; Lu, K. H. (2003. ) beta-catenin nuclear localization is associated with grade in ovarian serous carcinoma .Gynecol Oncol, , 88 (3 ) ,363-8
Yan, D. H.; Wen, Y.; Su, L. K.; Xia, W.; Wang, S. C.; Zhang, S.; Gan, L.; Lee, D. F.; Spohn, B.; Frey, J. A.; Hortobagyi, G. N.; Hung, M. C. (2004. ) A delayed chemically induced tumorigenesis in Brca2 mutant mice .Oncogene, , 23 (10 ) ,1896-901
Wang, Shao-Chun; Lien, Huang-Chun; Xia, Weiya; Chen, I. -Fen; Lo, Hui-Wen; Wang, Zhiqin; Ali-Seyed, Mohamed; Lee, Dung-Fang; Bartholomeusz, Geoffrey; Ou-Yang, Fu; Hung, Mien-Chie (2004. ) Binding at and transactivation of the COX-2 promoter by nuclear tyrosine kinase receptor ErbB-2 .Cancer Cell, , 6 (3 ) ,251-261
Wang, S. C.; Hung, M. C. (2004. ) Finding the bEST routes to cancer .Cancer Biol Ther, , 3 (11 ) ,1090-1
Lee, C. M.; Lo, H. W.; Shao, R. P.; Wang, S. C.; Xia, W.; Gershenson, D. M.; Hung, M. C. (2004. ) Selective activation of ceruloplasmin promoter in ovarian tumors: potential use for gene therapy .Cancer Res, , 64 (5 ) ,1788-93
Wang, S. C.; Hung, M. C. (2005. ) Cytoplasmic/nuclear shuttling and tumor progression .Ann N Y Acad Sci, , 1059 (24 ) ,11-5
Giri, Dipak K.; Ali-Seyed, Mohamed; Li, Long-Yuan; Lee, Dung-Fang; Ling, Pin; Bartholomeusz, Geoffrey; Wang, Shao-Chun; Hung, Mien-Chie (2005. ) Endosomal Transport of ErbB-2: Mechanism for Nuclear Entry of the Cell Surface Receptor .Mol. Cell. Biol., , 25 (24 ) ,11005-11018
Chen, I. F.; Ou-Yang, F.; Hung, J. Y.; Liu, J. C.; Wang, H.; Wang, S. C.; Hou, M. F.; Hortobagyi, G. N.; Hung, M. C. (2006. ) AIM2 suppresses human breast cancer cell proliferation in vitro and mammary tumor growth in a mouse model .Mol Cancer Ther, , 5 (1 ) ,1-7
Xia, W. Y.; Lien, H. C.; Wang, S. C.; Pan, Y.; Sahin, A.; Kuo, Y. H.; Chang, K. J.; Zhou, X.; Wang, H.; Yu, Z.; Hortobagyi, G.; Shi, D. R.; Hung, M. C. (2006. ) Expression of PEA3 and lack of correlation between PEA3 and HER-2/neu expression in breast cancer .Breast Cancer Res Treat, , 98 (3 ) ,295-301
Wang, Shao-Chun (2014. ) PCNA: a silent housekeeper or a potential therapeutic target?.Trends in pharmacological sciences, , 35 (4 ) ,178-86 More Information
Yu, Yung-Luen; Chou, Ruey-Hwang; Liang, Jia-Hong; Chang, Wei-Jung; Su, Kuo-Jung; Tseng, Yen-Ju; Huang, Wei-Chien; Wang, Shao-Chun; Hung, Mien-Chie (2013. ) Targeting the EGFR/PCNA signaling suppresses tumor growth of triple-negative breast cancer cells with cell-penetrating PCNA peptides.PloS one, , 8 (4 ) ,e61362 More Information
Lo, Yuan-Hung; Ho, Po-Chun; Chen, Min-Shan; Hugo, Eric; Ben-Jonathan, Nira; Wang, Shao-Chun (2013. ) Phosphorylation at tyrosine 114 of Proliferating Cell Nuclear Antigen (PCNA) is required for adipogenesis in response to high fat diet.Biochemical and biophysical research communications, , 430 (1 ) ,43-8 More Information
Cui, Jiajun; Germer, Katherine; Wu, Tianying; Wang, Jiang; Luo, Jia; Wang, Shao-chun; Wang, Qianben; Zhang, Xiaoting (2012. ) Cross-talk between HER2 and MED1 regulates tamoxifen resistance of human breast cancer cells.Cancer research, , 72 (21 ) ,5625-34 More Information
Lo, Yuan-Hung; Ho, Po-Chun; Wang, Shao-Chun (2012. ) Epidermal growth factor receptor protects proliferating cell nuclear antigen from cullin 4A protein-mediated proteolysis.The Journal of biological chemistry, , 287 (32 ) ,27148-57 More Information
Hsieh, Tsung-Hua; Tsai, Cheng-Fang; Hsu, Chia-Yi; Kuo, Po-Lin; Lee, Jau-Nan; Chai, Chee-Yin; Wang, Shao-Chun; Tsai, Eing-Mei (2012. ) Phthalates induce proliferation and invasiveness of estrogen receptor-negative breast cancer through the AhR/HDAC6/c-Myc signaling pathway.FASEB journal : official publication of the Federation of American Societies for Experimental Biology, , 26 (2 ) ,778-87 More Information
Hsieh, Tsung-Hua; Tsai, Cheng-Fang; Hsu, Chia-Yi; Kuo, Po-Lin; Hsi, Edward; Suen, Jau-Ling; Hung, Chih-Hsing; Lee, Jau-Nan; Chai, Chee-Yin; Wang, Shao-Chun; Tsai, Eing-Mei (2012. ) n-Butyl benzyl phthalate promotes breast cancer progression by inducing expression of lymphoid enhancer factor 1.PloS one, , 7 (8 ) ,e42750 More Information
Zhao, Huajun; Ho, Po-Chun; Lo, Yuan-Hung; Espejo, Alexsandra; Bedford, Mark T; Hung, Mien-Chie; Wang, Shao-Chun (2012. ) Interaction of proliferation cell nuclear antigen (PCNA) with c-Abl in cell proliferation and response to DNA damages in breast cancer.PloS one, , 7 (1 ) ,e29416 More Information
Ding, Qingqing; Chang, Chun-Ju; Xie, Xiaoming; Xia, Weiya; Yang, Jer-Yen; Wang, Shao-Chun; Wang, Yan; Xia, Jiahong; Chen, Libo; Cai, Changchun; Li, Huabin; Yen, Chia-Jui; Kuo, Hsu-Ping; Lee, Dung-Fang; Lang, Jingyu; Huo, Longfei; Cheng, Xiaoyun; Chen, Yun-Ju; Li, Chia-Wei; Jeng, Long-Bin; Hsu, Jennifer L; Li, Long-Yuan; Tan, Alai; Curley, Steven A; Ellis, Lee M; Dubois, Raymond N; Hung, Mien-Chie (2011. ) APOBEC3G promotes liver metastasis in an orthotopic mouse model of colorectal cancer and predicts human hepatic metastasis.The Journal of clinical investigation, , 121 (11 ) ,4526-36 More Information
Zhao, Huajun; Lo, Yuan-Hung; Yu, Ling; Wang, Shao-Chun (2011. ) Overcoming resistance to fulvestrant (ICI182,780) by downregulating the c-ABL proto-oncogene in breast cancer.Molecular carcinogenesis, , 50 (5 ) ,383-9 More Information
Lo, Yuan-Hung; Ho, Po-Chun; Zhao, Huajun; Wang, Shao-Chun (2011. ) Inhibition of c-ABL sensitizes breast cancer cells to the dual ErbB receptor tyrosine kinase inhibitor lapatinib (GW572016). Anticancer research, , 31 (3 ) ,789-95
Zhao, Huajun; Lo, Yuan-Hung; Ma, Li; Waltz, Susan E; Gray, Jerilyn K; Hung, Mien-Chie; Wang, Shao-Chun (2011. ) Targeting tyrosine phosphorylation of PCNA inhibits prostate cancer growth.Molecular cancer therapeutics, , 10 (1 ) ,29-36 More Information
Zhao, Huajun; Ou-Yang, Fu; Chen, I-Fen; Hou, Ming-Feng; Yuan, Shyng-Shiou F; Chang, Hsueh-Ling; Lee, Yi-Chen; Plattner, Rina; Waltz, Susan E; Ho, Shuk-Mei; Sims, Jonathan; Wang, Shao-Chun (2010. ) Enhanced resistance to tamoxifen by the c-ABL proto-oncogene in breast cancer. Neoplasia (New York, N.Y.), , 12 (3 ) ,214-23
Wang, Shao-Chun; Hung, Mien-Chie (2009. ) Nuclear translocation of the epidermal growth factor receptor family membrane tyrosine kinase receptors.Clinical cancer research : an official journal of the American Association for Cancer Research, , 15 (21 ) ,6484-9 More Information
Nakagawa-Goto, Kyoko; Yamada, Koji; Nakamura, Seikou; Chen, Tzu-Hsuan; Chiang, Po-Cheng; Bastow, Kenneth F; Wang, Shao-Chun; Spohn, Bill; Hung, Mien-Chie; Lee, Fang-Yu; Lee, Fang-Chen; Lee, Kuo-Hsiung (2007. ) Antitumor agents. 258. Syntheses and evaluation of dietary antioxidant--taxoid conjugates as novel cytotoxic agents.Bioorganic & medicinal chemistry letters, , 17 (18 ) ,5204-9 More Information
Wang, Shao-Chun; Nakajima, Yusuke; Yu, Yung-Luen; Xia, Weiya; Chen, Chun-Te; Yang, Cheng-Chieh; McIntush, Eric W; Li, Long-Yuan; Hawke, David H; Kobayashi, Ryuji; Hung, Mien-Chie (2006. ) Tyrosine phosphorylation controls PCNA function through protein stability.Nature cell biology, , 8 (12 ) ,1359-68 More Information
Yu, Zhenming; Xia, Weiya; Wang, Hong-Ying; Wang, Shao-Chun; Pan, Yong; Kwong, Ka Yin; Hortobagyi, Gabriel N; Hung, Mien-Chie (2006. ) Antitumor activity of an Ets protein, PEA3, in breast cancer cell lines MDA-MB-361DYT2 and BT474M1.Molecular carcinogenesis, , 45 (9 ) ,667-75 More Information
Xia, Wei-Ya; Lien, Huang-Chun; Wang, Shao-Chun; Pan, Yung; Sahin, Aysegul; Kuo, Yau-Hung; Chang, King-Jeng; Zhou, Xin; Wang, Hongying; Yu, Zhengming; Hortobagyi, Gabriel; Shi, Dar-Ren; Hung, Mien-Chie (2006. ) Expression of PEA3 and lack of correlation between PEA3 and HER-2/neu expression in breast cancer.Breast cancer research and treatment, , 98 (3 ) ,295-301 More Information
Chen, I-Fen; Ou-Yang, Fu; Hung, Jen-Yu; Liu, Jaw-Ching; Wang, Hongying; Wang, Shao-Chun; Hou, Ming-Feng; Hortobagyi, Gabriel N; Hung, Mien-Chie (2006. ) AIM2 suppresses human breast cancer cell proliferation in vitro and mammary tumor growth in a mouse model.Molecular cancer therapeutics, , 5 (1 ) ,1-7 More Information
Giri, Dipak K; Ali-Seyed, Mohamed; Li, Long-Yuan; Lee, Dung-Fang; Ling, Pin; Bartholomeusz, Geoffrey; Wang, Shao-Chun; Hung, Mien-Chie (2005. ) Endosomal transport of ErbB-2: mechanism for nuclear entry of the cell surface receptor.Molecular and cellular biology, , 25 (24 ) ,11005-18 More Information
Wang, Shao-Chun; Hung, Mien-Chie (2005. ) Cytoplasmic/nuclear shuttling and tumor progression.Annals of the New York Academy of Sciences, , 1059 ,11-5 More Information
Chou, Lien-Yang; Hu, Pan; Zhuang, Jia; Morabito, Joseph V; Ng, Ka Chon; Kao, Ya-Chuan; Wang, Shao-Chun; Shieh, Fa-Kuen; Kuo, Chun-Hong; Tsung, Chia-Kuang (2015. ) Formation of hollow and mesoporous structures in single-crystalline microcrystals of metal-organic frameworks via double-solvent mediated overgrowth.Nanoscale, , 7 (46 ) ,19408-12 More Information
Wang, Shao-Chun; Hung, Mien-Chie (2004. ) Finding the bEST routes to cancer. Cancer biology & therapy, , 3 (11 ) ,1090-1
Hu, Jun-Li; Li, Xian; Wang, Xi-Ming; Cheng, Zhao-Ping; Chen, Dong-Feng; Wang, Shao-Chun; Kong, Qing-Xia (2015. ) Comparison of Elastic Properties of Bilateral Carotid Arteries in Relation to Site of Acute Ischemic Stroke Using Velocity Vector Imaging.Chinese medical journal, , 128 (21 ) ,2960-3 More Information
Wang, Shao-Chun; Lien, Huang-Chun; Xia, Weiya; Chen, I-Fen; Lo, Hui-Wen; Wang, Zhiqin; Ali-Seyed, Mohamed; Lee, Dung-Fang; Bartholomeusz, Geoffrey; Ou-Yang, Fu; Giri, Dipak K; Hung, Mien-Chie (2004. ) Binding at and transactivation of the COX-2 promoter by nuclear tyrosine kinase receptor ErbB-2.Cancer cell, , 6 (3 ) ,251-61 More Information
Liu, Liang-Chih; Wang, Yuan-Liang; Lin, Pei-Le; Zhang, Xiang; Cheng, Wei-Chung; Liu, Shu-Hsuan; Chen, Chih-Jung; Hung, Yu; Jan, Chia-Ing; Chang, Ling-Chu; Qi, Xiaoyang; Hsieh-Wilson, Linda C; Wang, Shao-Chun (2019. ) Long noncoding RNA HOTAIR promotes invasion of breast cancer cells through chondroitin sulfotransferase CHST15.International journal of cancer, , 145 (9 ) ,2478-2487 More Information
Makino, Keishi; Day, Chi-Ping; Wang, Shao-Chun; Li, Yan M; Hung, Mien-Chie (2004. ) Upregulation of IKKalpha/IKKbeta by integrin-linked kinase is required for HER2/neu-induced NF-kappaB antiapoptotic pathway.Oncogene, , 23 (21 ) ,3883-7 More Information
Hung, Yu; Wang, Yuan-Liang; Lin, You-Zhe; Chiang, Shu-Fen; Wu, Wan-Rong; Wang, Shao-Chun (2019. ) The exosomal compartment protects epidermal growth factor receptor from small molecule inhibitors.Biochemical and biophysical research communications, , 510 (1 ) ,42-47 More Information
Yan, Duen-Hwa; Wen, Yong; Su, Li-Kuo; Xia, Weiya; Wang, Shao-Chun; Zhang, Su; Gan, Lin; Lee, Dung-Fang; Spohn, Bill; Frey, Jennifer A; Hortobagyi, Gabriel N; Hung, Mien-Chie (2004. ) A delayed chemically induced tumorigenesis in Brca2 mutant mice.Oncogene, , 23 (10 ) ,1896-901 More Information
Hunt, Brian G; Wang, Yuan-Liang; Chen, Min-Shan; Wang, Shao-Chun; Waltz, Susan E (2017. ) Maternal diethylhexyl phthalate exposure affects adiposity and insulin tolerance in offspring in a PCNA-dependent manner.Environmental research, , 159 ,588-594 More Information
Lee, Christine M; Lo, Hui-Wen; Shao, Ru-Ping; Wang, Shao-Chun; Xia, Weiya; Gershenson, David M; Hung, Mien-Chie (2004. ) Selective activation of ceruloplasmin promoter in ovarian tumors: potential use for gene therapy. Cancer research, , 64 (5 ) ,1788-93
De Toni, Enrico N; Ziesch, Andreas; Rizzani, Antonia; Török, Helga-Paula; Hocke, Sandra; Lü, Shuai; Wang, Shao-Chun; Hucl, Tomas; Göke, Burkhard; Bruns, Christiane; Gallmeier, Eike (2016. ) Inactivation of BRCA2 in human cancer cells identifies a subset of tumors with enhanced sensitivity towards death receptor-mediated apoptosis.Oncotarget, , 7 (8 ) ,9477-90 More Information
Lee, Christine M; Shvartsman, Hyun; Deavers, Michael T; Wang, Shao-Chun; Xia, Weiya; Schmandt, Rosemarie; Bodurka, Diane C; Atkinson, E Neely; Malpica, Anais; Gershenson, David M; Hung, Mien-Chie; Lu, Karen H (2003. ) beta-catenin nuclear localization is associated with grade in ovarian serous carcinoma. Gynecologic oncology, , 88 (3 ) ,363-8
Yu, Yong; Zhao, Xin-Yu; Xu, Jin-Jun; Wang, Shao-Chun; Xie, Tian-Yu (2022. ) Evaluation of Shear Capacity of Steel Fiber Reinforced Concrete Beams without Stirrups Using Artificial Intelligence Models.Materials (Basel, Switzerland), , 15 (7 ) , More Information
Asada, Shinichi; Choi, Yongmun; Yamada, Masaki; Wang, Shao-Chun; Hung, Mien-Chie; Qin, Jun; Uesugi, Motonari (2002. ) External control of Her2 expression and cancer cell growth by targeting a Ras-linked coactivator.Proceedings of the National Academy of Sciences of the United States of America, , 99 (20 ) ,12747-52 More Information
Ou-Yang, Fu; Li, Chung-Liang; Chen, Chia-Chi; Shen, Yi-Chun; Moi, Sin-Hua; Luo, Chi-Wen; Xia, Wei-Ya; Wang, Ying-Nai; Lee, Heng-Huan; Wang, Lu-Hai; Wang, Shao-Chun; Pan, Mei-Ren; Hou, Ming-Feng; Hung, Mien-Chie (2022. ) De-glycosylated membrane PD-L1 in tumor tissues as a biomarker for responsiveness to atezolizumab (Tecentriq) in advanced breast cancer patients. American journal of cancer research, , 12 (1 ) ,123-137
Wang, Shao-Chun; Shao, Ruping; Pao, Annie Y; Zhang, Su; Hung, Mien-Chie; Su, Li-Kuo (2002. ) Inhibition of cancer cell growth by BRCA2. Cancer research, , 62 (5 ) ,1311-4
Lin, You-Zhe; Liu, Shu-Hsuan; Wu, Wan-Rong; Shen, Yi-Chun; Wang, Yuan-Liang; Liao, Chien-Ching; Lin, Pei-Le; Chang, Han; Liu, Liang-Chih; Cheng, Wei-Chung; Wang, Shao-Chun (2022. ) miR-4759 suppresses breast cancer through immune checkpoint blockade.Computational and structural biotechnology journal, , 20 ,241-251 More Information
Zou, Yiyu; Peng, Hua; Zhou, Binhua; Wen, Yong; Wang, Shao-Chun; Tsai, Eing-Mei; Hung, Mien-Chie (2002. ) Systemic tumor suppression by the proapoptotic gene bik. Cancer research, , 62 (1 ) ,8-12
Sánchez-Rivera, Kevin L; Zhou, Panzheng; Kim, Min Soo; González Chávez, Leonardo D; Grey, Steve; Nelson, Kevin; Wang, Shao-Chun; Hermans, Ive; Zavala, Victor M; Van Lehn, Reid C; Huber, G W (2021. ) Reducing Antisolvent Use in the STRAP Process by Enabling a Temperature-Controlled Polymer Dissolution and Precipitation for the Recycling of Multilayer Plastic Films.ChemSusChem, , 14 (19 ) ,4317-4329 More Information
Hsieh, Tsung-Hua; Hsu, Chia-Yi; Tsai, Cheng-Fang; Long, Cheng-Yu; Chai, Chee-Yin; Hou, Ming-Feng; Lee, Jau-Nan; Wu, Deng-Chyang; Wang, Shao-Chun; Tsai, Eing-Mei (2014. ) miR-125a-5p is a prognostic biomarker that targets HDAC4 to suppress breast tumorigenesis. Oncotarget, ,
Lin, You-Zhe; Lee, Chuan-Chun; Cho, Der-Yang; Wang, Yuan-Liang; Chen, Chia-Yun; Weng, Ching-Yu; Chiu, Shao-Chih; Hung, Mien-Chie; Wang, Shao-Chun (2021. ) Suppression of breast cancer cells resistant to a pure anti-estrogen with CAR-transduced natural killer cells. American journal of cancer research, , 11 (9 ) ,4455-4469
Broering, Tyler J; Wang, Yuan-Liang; Pandey, Ram Naresh; Hegde, Rashmi S; Wang, Shao-Chun; Namekawa, Satoshi H (2015. ) BAZ1B is dispensable for H2AX phosphorylation on Tyrosine 142 during spermatogenesis.Biology open, , More Information
Wang, Shao-Chun; Wang, Jessica Chia-Yi; Chang, Chen-Jung; Yuan, Kuo (2021. ) Interdisciplinary treatment with implant-supported two-unit cantilever prosthesis for a patient with hypodontia: A clinical report.The Journal of prosthetic dentistry, , More Information
Wang, Yuan-Liang; Overstreet, Anne-Marie; Chen, Min-Shan; Wang, Jiang; Zhao, Hua-Jun; Ho, Po-Chun; Smith, Molly; Wang, Shao-Chun (2015. ) Combined inhibition of EGFR and c-ABL suppresses the growth of triple-negative breast cancer growth through inhibition of HOTAIR. Oncotarget, , 6 (13 ) ,11150-61
Wang, Yuan-Liang; Lee, Chuan-Chun; Shen, Yi-Chun; Lin, Pei-Le; Wu, Wan-Rong; Lin, You-Zhe; Cheng, Wei-Chung; Chang, Han; Hung, Yu; Cho, Yi-Chun; Liu, Liang-Chih; Xia, Wei-Ya; Ji, Jin-Huei; Liang, Ji-An; Chiang, Shu-Fen; Liu, Chang-Gong; Yao, Jun; Hung, Mien-Chie; Wang, Shao-Chun (2021. ) Evading immune surveillance via tyrosine phosphorylation of nuclear PCNA.Cell reports, , 36 (8 ) ,109537 More Information
Lin, You-Zhe; Shen, Yi-Chun; Wu, Wan-Rong; Wang, Wei-Jan; Wang, Yuan-Liang; Lin, Chen-Yuan; Hung, Mien-Chie; Wang, Shao-Chun (2021. ) Imatinib (STI571) Inhibits the Expression of Angiotensin-Converting Enzyme 2 and Cell Entry of the SARS-CoV-2-Derived Pseudotyped Viral Particles.International journal of molecular sciences, , 22 (13 ) , More Information
Lee, Heng-Huan; Wang, Ying-Nai; Yang, Wen-Hao; Xia, Weiya; Wei, Yongkun; Chan, Li-Chuan; Wang, Yu-Han; Jiang, Zhou; Xu, Shouping; Yao, Jun; Qiu, Yufan; Hsu, Yi-Hsin; Hwang, Wei-Lun; Yan, Meisi; Cha, Jong-Ho; Hsu, Jennifer L; Shen, Jia; Ye, Yuanqing; Wu, Xifeng; Hou, Ming-Feng; Tseng, Lin-Ming; Wang, Shao-Chun; Pan, Mei-Ren; Yang, Chin-Hua; Wang, Yuan-Liang; Yamaguchi, Hirohito; Pang, Da; Hortobagyi, Gabriel N; Yu, Dihua; Hung, Mien-Chie (2021. ) Human ribonuclease 1 serves as a secretory ligand of ephrin A4 receptor and induces breast tumor initiation.Nature communications, , 12 (1 ) ,2788 More Information
Huang, Sheng-Teng; Chen, Yeh; Chang, Wei-Chao; Chen, Hsiao-Fan; Lai, Hsiang-Chun; Lin, Yu-Chun; Wang, Wei-Jan; Wang, Yu-Chuan; Yang, Chia-Shin; Wang, Shao-Chun; Hung, Mien-Chie (2021. ) Scutellaria barbata D. Don Inhibits the Main Proteases (Mpro and TMPRSS2) of Severe Acute Respiratory Syndrome Coronavirus 2 (SARS-CoV-2) Infection.Viruses, , 13 (5 ) , More Information
Wang, Hsueh-Chun; Liu, Kwei-Yan; Wang, Li-Ting; Hsu, Shih-Hsien; Wang, Shao-Chun; Huang, Shau-Ku (2021. ) Aryl hydrocarbon receptor promotes lipid droplet biogenesis and metabolic shift in respiratory Club cells.Human cell, , 34 (3 ) ,785-799 More Information
Liu, Chunxiao; Zha, Zhengyu; Zhou, Chenhao; Chen, Yeh; Xia, Weiya; Wang, Ying-Nai; Lee, Heng-Huan; Yin, Yirui; Yan, Meisi; Chang, Chiung-Wen; Chan, Li-Chuan; Qiu, Yufan; Li, Hui; Li, Chia-Wei; Hsu, Jung-Mao; Hsu, Jennifer L; Wang, Shao-Chun; Ren, Ning; Hung, Mien-Chie (2021. ) Ribonuclease 7-driven activation of ROS1 is a potential therapeutic target in hepatocellular carcinoma.Journal of hepatology, , 74 (4 ) ,907-918 More Information
Wang, Yuan-Liang; Chang, Ling-Chu; Chen, Kuen-Bao; Wang, Shao-Chun (2021. ) Aptamer-guided targeting of the intracellular long-noncoding RNA HOTAIR. American journal of cancer research, , 11 (3 ) ,945-954
Wang, Shao-Chun; Chen, Yeh; Wang, Yu-Chuan; Wang, Wei-Jan; Yang, Chia-Shin; Tsai, Chia-Ling; Hou, Mei-Hui; Chen, Hsiao-Fan; Shen, Yi-Chun; Hung, Mien-Chie (2020. ) Tannic acid suppresses SARS-CoV-2 as a dual inhibitor of the viral main protease and the cellular TMPRSS2 protease. American journal of cancer research, , 10 (12 ) ,4538-4546
Li, Yen-Liang; Chen, Chung-Hsing; Chen, Jing-Yi; Lai, You-Syuan; Wang, Shao-Chun; Jiang, Shih-Sheng; Hung, Wen-Chun (2020. ) Single-cell analysis reveals immune modulation and metabolic switch in tumor-draining lymph nodes.Oncoimmunology, , 9 (1 ) ,1830513 More Information
Fan, Chi-Chen; Tsai, Sheng-Ta; Lin, Chen-Yuan; Chang, Ling-Chu; Yang, Juan-Cheng; Chen, Guan-Yu; Sher, Yuh-Pyng; Wang, Shao-Chun; Hsiao, Michael; Chang, Wei-Chao (2020. ) EFHD2 contributes to non-small cell lung cancer cisplatin resistance by the activation of NOX4-ROS-ABCC1 axis.Redox biology, , 34 ,101571 More Information
Chu, Chin-Nan; Wang, Yun-Chi; Chang, Wen-Shin; Wang, Zhi-Hong; Liu, Liang-Chih; Wang, Shao-Chun; Lin, Cheng-Chieh; Liu, Ting-Yuan; Chang, Jan-Gowth; Tsai, Chia-Wen; Yu, Chien-Chih; Bau, DA-Tian Association of Interleukin-4 Polymorphisms With Breast Cancer in Taiwan.In vivo (Athens, Greece), , 34 (3 ) ,1111-1116 More Information
Book Chapter
Hung, M.-C. and Wang, S.-C. (1998 ) Gene Therapy and Molecular Biology Vol. 3 Transcriptional repression in cancer gene therapy: targeting HER-2/neu overexpression as an example. (pp. 1 -11).Palo Alto, CA USA, Gene Therapy Press (Co-Author)
Hung, M.-C., Wang, S.-C., and Hortobagyi, G. (1999 ) Cancer Gene Therapy Using Cationic Liposome: Preclinic and Clinic Studies. Targeting HER-2/neu-overexpressing cancer cells with transcriptional repressor genes delivered by cationic liposome. (pp. 357 -377).San Diego, CA, Academic Press (Co-Author)
1996 -1997 Breast Cancer Research Project Award University of Texas M. D. Anderson Cancer Center Status:Recipient Type:Grant
1999 -2000 W. M. Keck Center for Cancer Gene Therapy Development Award University of Texas M. D. Anderson Cancer Center Status:Recipient Type:Grant
2000 -2002 Susan G. Komen Cacner Foundation Translational Research Award Role: PI Susan G. Komen Foundation Status:Recipient Level:National Type:Grant
2003 -2007 American Cancer Society Research Scholar Grant role: Co-PI American Cancer Society Status:Recipient Level:National Type:Grant
2007 -2008 University of Cincinnati Cancer Center Research Award
receptor tyrosine kinase, PCNA, EGFR, HER-2/neu/ErbB-2, chromatin, cancer, DNA damage, cell cycle, cell proliferation, targeted therapy, signal transduction
Academic - Vontz Center for Molecular Studies
3125 Eden Avenue
Cincinnati  Ohio, 45267
Phone: 513-558-4259
shao-chun.wang@uc.edu