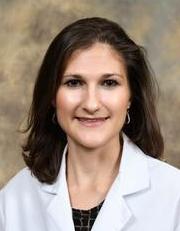 Kaitlyn Weinert-Stein
Clinical Instructor
Personal Statement
It's 8:30 pm. The back door to the kitchen opens and the buzz of our parents rambling of patients, images, and diagnoses fill our house. This is our cue. My siblings and I mobilize, heating up store‐bought rotisserie chicken to the familiar song of our parents taking turns unloading cases in rapid fire, continuing without pause through dinner. The nightly debriefs were always fun to witness: a duet of rheumatology, compliments of my father, and pediatric radiology, compliments of my mother. Both diagnostically oriented, my father's were highlighted by his relationships with long time patients and their psychosocial issues, while my mother's were focused on imaging findings made in a dark reading room and her short one‐time interactions with families. They playfully jabbed at each other's stories, always at the end announcing how thankful they were to be in their respective specialties. And so, every night I had a seat at the kitchen table where I watched the comparison of direct and indirect patient care, complete with commentary.

Why I Chose Cincinnati
My choice to attend Cincinnati was based on an immediate gut feeling. I loved Dr. Warm's presentation, and every person‐ faculty, staff, and resident ‐ was extremely nice. The program was innovative while still being resident‐oriented, and I loved the guiding values. Having grown up in Cleveland, it was also great to be able to come back to the midwest. As such, I knew Cincinnati was the right place for me.