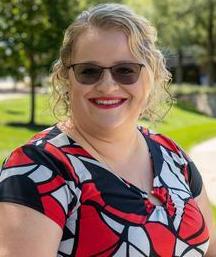 Emily Grace Westbrook , PHD
Asst Professor
Assistant Professor
Synder S252N
4200 Clermont College Drive
MS 0162
Batavia, Ohio 45103
Phone 513-558-4777
Email westbreg@ucmail.uc.edu
Dr. Emily Westbrook is an Assistant Professor of General Chemistry in the Science & Health Department at the University of Cincinnati Clermont College. She has true passion for teaching and chemistry, and enjoys teaching her General Chemistry lecture and lab courses. 
 
Research and Practice Interests
Dr. Emily G Westbrook's research interests include drug release kinetics from common hydrogels and simple hydrogel design for various applications. 
Peer Reviewed Publications
Silva, Rebecca N; Vijayan, Anjaly N; Westbrook, Emily; Yu, Zhao; Zhang, Peng (2019. ) Nanoparticle assisted nuclear relaxation-based oligonucleotide detection.Analytica chimica acta, , 1062 ,118-123 More Information
Westbrook, Emily G; Zhang, Peng (2018. ) Plasmon-enhanced triplet-triplet annihilation upconversion of post-modified polymeric acceptors.Dalton transactions (Cambridge, England : 2003), , 47 (26 ) ,8638-8645 More Information
Bhowmick, Saurav; Moore, Jeanette T; Kirschner, Daniel L; Curry, Mary C; Westbrook, Emily G; Rasley, Brian T; Drew, Kelly L (2017. ) Acidotoxicity via ASIC1a Mediates Cell Death during Oxygen Glucose Deprivation and Abolishes Excitotoxicity.ACS chemical neuroscience, , 8 (6 ) ,1204-1212 More Information
Michael E. Smith, Emily Westbrook, Angela L. Stastny, Robert P. Streicher, & Michael G. Elliott (2022. ) Method development for on-site monitoring of volatile organic compounds via portable TD-GC-MS: evaluation of the analytical performances of HAPSITE ER instrumentation and thermal desorption sampling media.International Journal of Environmental Analytical Chemistry, , More Information
Emily G. Westbrook, Amos Doepke, and Robert P. Streicher (2022. ) Evaluation of Propylene Glycol Methyl Ether as a Potential Challenge Agent for Leak Detection of Liquid and Headspace from Closed System Drug Transfer Devices using Fourier Transform Infrared Spectroscopy .Analytical Methods, ,
Academic - Synder S252N
4200 Clermont College Drive
Batavia  Ohio, 45103
Phone: 513-558-4777
westbreg@ucmail.uc.edu