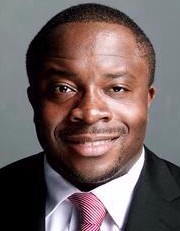 Guy-Lucien Whembolua , Ph.D.
Associate Professor
French Hall
3605
A&S Africana Studies - 0370
Dr. Whembolua is an Associate Professor of Health Policy and Management in the department of Africana studies and an affiliate faculty in the College of Medicine. As a behavioral scientist, his research explores the socio-cultural determinants of health among African populations (global health) and their diasporas (health disparities). He is the founding director of the Global Health Studies certificate.
Ph.D.: Pennsylvania State University (Biobehavioral Health)
BS: Pennsylvania State University (Biology/ African Studies Minor)
Research and Practice Interests
Socio-cultural Determinants of Health
Global Health
African Health
African Diaspora Health
Health Equity
Post-colonial Health
Peer Reviewed Publications
Conserve DF, Rwezahura P, Issango J , Maboko L, Msofe J, Nhigula P, Ndugulile F, Kamwela J , Ahonkhai A, Iwelunmor J, Whembolua GL (2022. ) Development, Implementation, and Scale Up of the National Furaha Yangu Campaign to Promote HIV Test and Treat Services Uptake Among Men in Tanzania .American Journal of Mens Health , , 16 (2 ) ,
Nwaozuru U, Obiezu-Umeh C, Diallo H, Graham D, Janeeca, Ritchwoord T, Whembolua GL, Conserve D. (2022. ) Perceptions of COVID-19 Self-Testing and Recommendations for Implementation and Scale up Among Black/African Americans: Implications for the COVID-19 STEP Project. .BMC Public Health , ,
Conserve D, Saini S, Issango J, Kilale A , Kamwela J , Maboko L, Sims V, ShirimaS, Vargo J, Rawson R , Ondrus A, Ezeanolue E, Whembolua GL. (2022. ) Perceived Benefits, Challenges, and Recommendations for the Dissemination and Implementation of HIV Evidence: Findings from A Brainstorming Session with Stakeholders in Tanzania. .PLOS Global Health, , (October ) ,
Ilunga Tshiswaka D, Murphy, C, Whembolua GL, Williams O (2021. ) Stroke Disparities in Florida: Examining the relationship between county classification, age-adjusted stroke mortality rates, and the presence of primary stroke center.Preventing Chronic Disease , , 18 (200561 ) , More Information
Whembolua GL, Ilunga Tshiswaka D. (2020. ) Public Trust in the Time of Coronavirus Disease 2019 (COVID-19): The Case of the DR Congo .Pan African Medical Journal, , 35 (Supp 2 ) ,
Hamilton A, Shin S, Taggart T, Whembolua GL ,Martin I, Budhwani H, Conserve DF (2020. ) HIV testing barriers and intervention strategies among men, transgender women, female sex workers and incarcerated persons in the Caribbean: a systematic revie.Sex Transm Infect., , 96 ,186-196 More Information
Ilunga Tshiswaka D, Whembolua GL,Nduka U, Muvuka B , Hill A , Inungu J, & Conserve (2019. ) Correlates of HIV testing among Congolese men: An analysis of the 2014 Demographic Health Survey .AIDS Care, , Dec 17 (1-5 ) ,
Whembolua GL, Conserve DF, Thomas K, Ilunga Tshiswaka D,Handler L (2019. ) HIV Serostatus Disclosure in the Democratic Republic of the Congo: a Systematic Review.Aids Care, , 31 (4 ) ,489-493 More Information
Whembolua GL, Muvuka B, Tshiswaka DI, Conserve DF (2019. ) Socio-Structural Factors Influencing the Prevention of Mother-to-Child Transmission of HIV in the Democratic Republic of the Congo: A Systematic Review.Matern Child Health J., , Jan 2 , More Information
Ilunga Tshiswaka D, Ibe-Lamberts K, Whembolua GL, Fapohunda A, Tull ES. (2018. ) Going to the Gym is not Congolese's Culture": Examining Attitudes toward Physical Activity and Risk for Type-2 Diabetes among Congolese Immigrants. .The Diabetes Educator, , Feb (44 ) ,94-102 More Information
Conserve DF, Iwelunmor J, Whembolua GL, Sofolahan-Oladeinde Y, Teti M, Surkan PJ (2017. ) Factors Associated With HIV Testing Among Men in Haiti: Results From the 2012 Demographic and Health Survey.Am J Mens Health, , 11 (5 ) ,1322 - 1330 More Information
Whembolua GL, Conserve DF. Thomas K., Handler L. (2017. ) A Systematic Review of HIV Serostatus Disclosure among African Immigrants in Europe.Journal of Immigrant and Minority Health , , Aug;19 (4 ) ,947-958 More Information
Ilunga Tshiswaka D, Whembolua GL, Conserve DF. (2017. ) A Qualitative Analysis of Newspaper Response to the Ebola Outbreak in Central Africa .Africology: The Journal of Pan African Studies, vol.10, no.1, March 2017 , , 1 (March ) ,224
Whembolua GL, Conserve DF, Ilunga Tshiswaka D (2017. ) Socio-cultural Factors Influencing the Ebola Virus Disease-related Stigma among African Immigrants in the United States .Irinkerindo: a Journal of African Migration, , December (9 ) ,114-136
Oluwoye OA, Whembolua GL, Merianos AL (2017. ) Extending the reach: The influence of social media and culture on substance use among African and African American males .Spectrum: A Journal on Black Men, , 6 (1 ) ,59-75
Conserve DF, Whembolua GL, Surkan PJ (2016. ) Attitudes Toward Intimate Partner Violence and Associations With Condom Use Among Men in Haiti: An Analysis of the Nationally Representative Demographic Health Survey .J Interpers Violence, , 31(6):989-1006. (6 ) ,989-1006
Whembolua GL, Conserve DF, IlungaTshiswaka D. (2015. ) Cultural Identity and Health Promotion: Assessing a Health Education Campaign Targeting African Immigrants in France. (8) :23-39 .Journal of Pan African Studies July, , 8 (2 ) ,23
Whembolua GL, Conserve DF, Gott M (2014. ) Racial Profiling: the Afro-French Experience .Black Diaspora Review, , 4 (2 ) ,16-34
Ilunga Tshiswaka D., Whembolua GL, Conserve DF,Mwamba M. (2014. ) Factors Associated with Health Insurance Coverage and Health Insurance Knowledge among Congolese Immigrants in Illinois.Journal of Public Health, , 22 ,497 More Information
Okuyemi, Kolawole S; Goldade, Kate; Whembolua, GL; Thomas, Janet L; Eischen, Sara; Sewali, Barrett; Guo, Hongfei; Connett, John E; Grant, Jon; Ahluwalia, Jasjit S; Resnicow, Ken; Owen, Greg; Gelberg, Lillian; Des Jarlais, Don (2013. ) Motivational interviewing to enhance nicotine patch treatment for smoking cessation among homeless smokers: a randomized controlled trial.Addiction (Abingdon, England), , 108 (6 ) ,1136-44 More Information
Harcourt, Nonyelum; Ghebre, Rahel G; Whembolua, GL; Zhang, Yan; Warfa Osman, S; Okuyemi, Kolawole S (2013. ) Factors Associated with Breast and Cervical Cancer Screening Behavior Among African Immigrant Women in Minnesota.Journal of immigrant and minority health / Center for Minority Public Health, , More Information
Whembolua, GL; Davis, Julia T; Reitzel, Lorraine R; Guo, Hongfei; Thomas, Janet L; Goldade, Kate R; Okuyemi, Kola S; Ahluwalia, Jasjit S (2012. ) .Subjective social status predicts smoking abstinence among light smokers.American journal of health behavior, , 36 (5 ) ,639-46 More Information
Goldade, Kate; Burgess, Diana; Olayinka, Abimbola; Whembolua, GL; Okuyemi, Kolawole S (2012. ) Applying anthropology to eliminate tobacco-related health disparities.Nicotine & tobacco research : official journal of the Society for Research on Nicotine and Tobacco, , 14 (6 ) ,631-8 More Information
Book Chapter
Whembolua GL, Conserve D (2022 ) Postcolonial Global Health: Notes from Two Africanists in the United States 'Health, Culture and Place: From the Tree to the Forest .(pp. 177).U-Rise
Banjo O, Whembolua GL, Howard S, Frederick N, *Lindsey (2015 ) As Seen on TV: Hip Hop Images and Health Consequences in the Black Community" The Research Companion to Black Sociology .(pp. 223-240).Ashgate Publishing Company
2022 Dean's Award for Innovative Instruction
2020 Excellence in Undergraduate Research Mentoring Award
2018 E-learning Champion Center for Excellence in eLearning
2018 Chair, Caucus on Refugee and Immigrant Health. American Public Health Association
2017 Rising Stars Award College of Arts & Sciences
2017 Excellence in Scholarship UC Black Faculty Association
2015 Faculty Mentor of the Year McNair Postbaccalaureate Achievement Program
2011 Emerging Scholars Interdisciplinary Network Fellow University of Michigan
Post Graduate Training and Education
Program in Health Disparities Research, University of Minnesota Medical School, , Minneapolis,MN
-AFST-1005 INTRO GLOBAL HEALTH Level:Undergraduate
-AFST-3005 AFR HEALTH DEVEL Level:Undergraduate
-PSYC-3034 DIVERSITY & HEALTH Level:Graduate