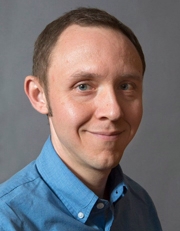 Curt Whitacre
Dir Marketing Publication & Fac
Director of Marketing and Communications
Corbett Cntr Perform Arts
3840A
CCM Public Relations - 0003
Curt Whitacre is a marketer, content creator and multimedia storyteller with more than 20 years of experience in the arts, entertainment and higher education industries. Whitacre has been a CCM staff member since 2007, and he has served as the college's director of marketing and communications since 2015.

Over the years, his responsibilities at CCM have included copywriting and editing, graphic and web design, media and public relations, ad planning and strategy, brand building and strategy, and the management of several large-scale print and digital projects. In 2009, he received the Gold Medal for "Excellence in Feature Writing for a Series" by the Council for Advancement and Support of Education (CASE) District V for his UC Magazine feature entitled "Medical musician uses voice to heal." In 2020, he was a UC Staff Excellence Award Nominee.

Whitacre began his career in the amusement parks and attractions industry, managing marketing and communications for Water Parks Incorporated from 2003-07. He led what was at the time the company's highest grossing membership sales campaign for its Mason-based facility (The Beach Waterpark) in 2005. He also served as the company's media spokesperson, making television appearances to promote upcoming concerts, performances by area arts organizations like Madcap Productions Puppet Theatre and other special park events.

In addition to his marketing/communications work, Whitacre has maintained a career as a freelance journalist. He was an arts and culture contributor to the Cincinnati Enquirer and its CinWeekly Magazine imprint, interviewing and writing features on local musicians as well as nationally touring artists like Black Francis of the platinum-selling rock band The Pixies. His writing has also been featured within the pages of PAUSE Magazine, Tracer Magazine and Milk Money Magazine, as well as UC publications including UC Magazine, the UC College of Arts & Sciences' Magazine and the Carl H. Lindner College of Business' Portfolio Magazine.

In partnership with the Ragged Film Company, Whitacre has produced video content for recording artists and acts including St. Vincent, Au Revoir Simone and Great Lake Swimmers.

Whitacre graduated with honors from Xavier University in 2002, receiving a double-major BA in English Literature (with a concentration in drama) and Electronic Media. Whitacre was a contributor to The Anthenaeum, Xavier's literary magazine, throughout his undergraduate studies. A member of Xavier Production Services (XPS), Whitacre worked on promotional videos for local organizations including Cincinnati's Center for Peace Education and the Cincinnati Art Museum.

Whitacre completed his graduate studies at the University of Cincinnati from 2004-08. In 2004-05, he received the University of Cincinnati Department of English's Graduate Level Shakespeare Prize for "The Novel Without a Hero," an examination of The Tragedy of King Richard the Third through the prism of Alfred Tennyson's The Palace of Art. He also received grant funding for study abroad trips to Venice and Paris during his graduate studies at UC. He graduated with an MA in English: Professional Writing and Editing in 2006 and an MS in Business Administration: Marketing in 2008. While enrolled in UC's MS Marketing program, Whitacre conducted capstone research for the Procter & Gamble Company.

A native of Cincinnati, Whitacre spent his formative years in Iowa and Washington state before returning to the Queen City. He currently lives in Cincinnati with his wife – fellow CCM staff member Rebekah Whitacre – along with their son, cat and dog.
Bachelor of Arts: Xavier University Cincinnati, Ohio, 2002 (Double major in English and Electronic Media.)
Master of Arts: College of Arts and Sciences, University of Cincinnati Cincinnati, Ohio, 2006 (English: Professional Writing and Editing)
Master of Science: Carl H. Lindner College of Business, University of Cincinnati Cincinnati, Ohio, 2008 (Business Administration: Marketing)
2009 Gold Medal for Excellence in Feature Writing for a Series, Council for Advancement and Support of Education (CASE) District V Gold Medal for Excellence in Feature Writing for a Series, Council for Advancement and Support of Education (CASE) District V for my feature included in UC Magazine's May 2009 Issue: Alumni Committed to a Cause ("Medical musician uses voice to heal"). Council for Advancement and Support of Education (CASE) District V Status:Recipient Level:Regional Type:Recognition
2020 UC Staff Excellence Award Nominee University of Cincinnati Staff Senate Status:Nomination Level:University Type:Recognition
2004 -2005 Graduate Level Shakespeare Prize Awarded for Whitacre's "The Novel Without a Hero," an examination of The Tragedy of King Richard the Third through the prism of Alfred Tennyson's The Palace of Art. University of Cincinnati Department of English Status:Recipient Level:Department Type:Monetary
curt.whitacre@uc.edu