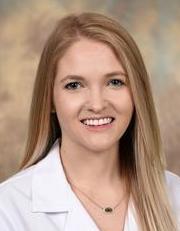 Alexandra Willauer
Clinical Instructor
Resident- PGY 1
Personal Statement
Concerned expressions were silently shared between the resident and me as we slowly scrolled through the CT scan. The imaging indicated what I hoped it would not; multiple masses were present in the gastrointestinal tract of our patient with new-onset ascites. Our suspicions were confirmed when further workup revealed gastric adenocarcinoma. Although we had just met this patient, our team was about to deliver life-changing news. Simultaneously, my thoughts were crowded with unanswered questions. Which tumor was the primary? What therapeutic options were available? How will our patient cope with this diagnosis? I dove into the literature in search of explanations for these questions in order to clinically correlate the data with our patient's presentation. I shared my findings with the internal medicine team and consultants; together, we optimized the management of our patient's condition. Additionally, we provided emotional support to the patient and family during this difficult time. Caring for this patient yielded valuable insights into the practice of internal medicine, including patient-centered care and working together as a team.

Why I Chose Cincinnati
The University of Cincinnati felt like the right fit for me in many ways. I was impressed the program's dedication to medical education, patient-centered care, and growth mindset. On my interview day, I remember Dr. Warm saying, "the team is not a team without the patient", and those words resonated with me. Additionally, I was excited by the opportunities for research and innovation at UC. I knew that I would receive excellent training as an internist while having the opportunities to explore subspecialties and conduct research. Lastly, the residents and faculty created a welcoming and collaborative learning environment. The combination of these qualities made UC my top choice for residency!
MD: Paul L Foster School of Medicine, Texas Tech Univ
University of Cincinnati College of Medicine
231 Albert Sabin Way
Cincinnati  Ohio, 45267
WILLAUAA@UCMAIL.UC.EDU