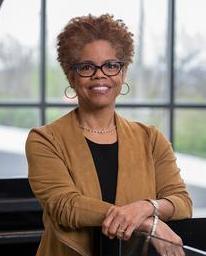 Verna Williams
Interim Dean and Nippert Professor of Law
College of Law Building
200A
College of Law - 0040
Professor Williams joined the College of Law in 2001 after practicing many years in the areas of civil and women's rights. With Professor Kristin Kalsem, she co-directs the university's joint-degree program in Law and Women's Studies, a signature program of the College of Law. Professor Williams teaches in the areas of family law, gender discrimination, and constitutional law. In 2004 and 2011, she received the Goldman Prize for Teaching Excellence.
Prior to joining the faculty, Professor Williams practiced law in the private and public sectors. She was Vice President and Director of Educational Opportunities at the National Women's Law Center, where she focused on issues of gender equity in education. During her time at the Center, Professor Williams was lead counsel and successfully argued before the United States Supreme Court Davis v. Monroe County Board of Education, which established that educational institutions have a duty to respond to and address complaints of student-to-student sexual harassment. She also practiced at the Department of Justice and at Sidley Austin LLP. Professor Williams began her legal career clerking for the Honorable David S. Nelson, U.S. District Judge for the District of Massachusetts.
Professor Williams' research examines the intersection of race, gender, and class in education law and policy. She has presented papers at numerous conferences, including meetings of the American Association of Law Schools, the Association of Law, Culture and the Humanities, and the Latina/o Critical Race Theory Conference. Professor Williams also has served as a consultant for the Ford Foundation; in that capacity, she chaired the convening of a national conference at UC entitled Women Coming Together: Claiming the Law for Social Change.
This year, Professor Williams was listed in The Women's Book (2012 Cincinnati edition), which includes profiles of a diverse range of women who are succeeding in their careers and giving back to their communities.
BS, Georgetown University
JD, Harvard Law School
Interim Dean and Nippert Professor of Law,