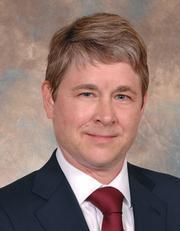 T. John Winhusen , PhD
Professor
Vice Chair of Addiction Sciences, Donald C. Harrison Endowed Chair in Medicine
DR. T. JOHN WINHUSEN is the Donald C. Harrison Endowed Chair in Medicine, a Professor of Psychiatry and Behavioral Neuroscience, and the Vice Chair of Addiction Sciences. Dr. Winhusen has conducted NIDA-funded clinical trials for the past 20 years devoted to improving the treatment of substance use disorders including opioid, cocaine, and tobacco use disorders.
Bachelor's Degree: University of Cincinnati 1990 (Psychology)
Doctoral Degree: Indiana University 1996 (Clinical Psychology)
Psychology
Psychology
Research and Practice Interests
Dr. Winhusen is one of the foremost experts in conducting multi-site addiction clinical trials in community practice settings, having been the national PI for six multi-site clinical trials in NIDA's Clinical Trials network (CTN) since 2001. Throughout the last 20 years, Dr. Winhusen has conducted NIDA-funded research to identify effective substance abuse treatments with a particular emphasis on treating opioid and stimulant use disorders.


 
Positions and Work Experience
2006 -2013 Research Associate Professor, Psychiatry and Behavioral Neuroscience Department, College of Medicine, University of Cincinnati, Cincinnati, OH
2001 -2006 Research Assistant Professor, Psychiatry Department, College of Medicine, University of Cincinnati, Cincinnati, OH
2001 -To Present Supervisor, Duties: psychological work supervision for master's level employees, Cincinnati Addiction Research Center, Cincinnati, Ohio
2000 -To Present Associate Director, Cincinnati Addiction Research Center, Cincinnati, Ohio
1999 -To Present Licensed Psychologist, #5568, Ohio
1999 -2000 Psychologist (part-time), Trihealth Psychological Services, Cincinnati, Ohio
1997 -1999 Psychology Fellow (part-time), Trihealth Psychological Services, Cincinnati, Ohio
1996 -2001 Research Psychologist, NIDA's Cincinnati Medication Development Research Unit, Cincinnati, Ohio
1995 -1996 Clinical Psychology Intern, VA Medical Center, Cincinnati, OH
1993 -1995 Clinical Associate Instructor, Duties: trained graduate students in psychological assessment and report writing, Indiana University, Bloomington, IN
1992 - Instructor, Duties: designed and taught a course on research methodology, Indiana University, Bloomington, IN
2013 - Professor, Department of Psychiatry and Behavioral Neuroscience, College of Medicine, University of Cincinnati, Cincinnati, OH
2013 -2020 Director, Addiction Sciences Division, Department of Psychiatry and Behavioral Neuroscience, College of Medicine, University of Cincinnati, Cincinnati, OH
2014 -2017 Associate Vice Chair of Addiction Sciences, Department of Psychiatry and Behavioral Neuroscience, College of Medicine, University of Cincinnati, Cincinnati, OH
2020 - Co-Director, Addiction Sciences Division, Department of Psychiatry and Behavioral Neuroscience, College of Medicine, University of Cincinnati, Cincinnati, OH
2020 - Director, Center for Addiction Research, College of Medicine, University of Cincinnati, Cincinnati, OH
Grant: #U10DA013733-CTN-0052 2011 -2015 NIDA A Randomized Controlled Trial of Buspirone for Relapse-Prevention in Adults with Cocaine Dependence Role:Principal Investigator
Grant: #U10DA013733-CTN-0046 2009 -2013 Smoking-cessation and stimulant treatment Role:Principal Investigator
Grant: #R01DA025249 2008 -2012 NIDA NIDA Coordinated R01, Multisite Controlled Trial of Cocaine Vaccine (2 of 6) Role:Co-Investigator
Grant: #R01 DA025249 Investigators:Somoza, Eugene; Winhusen, Theresa 09-01-2008 -01-31-2013 National Institute on Drug Abuse Controlled Trial of Cocaine Vaccine (2 of 6) Cincinnati Treatment Center Role:Collaborator $792,842.00 Active Level:Federal
Grant: #PRO-806-019 / 1 RC2 DA028910-01 Rev Investigators:Somoza, Eugene; Winhusen, Theresa 09-30-2009 -08-31-2011 National Institute on Drug Abuse A Six-Month, RCT of Probuphine Safety and Efficacy in the Treatment of Opioid Addiction Role:Collaborator $537,129.00 Active Level:Federal
Grant: #U10 DA013732 Investigators:Burlew, Ann Kathleen Hoard; Fichtenbaum, Carl; Horn, Paul; Lyons, Michael; Somoza, Eugene; Winhusen, Theresa; Wulsin, Lawson 09-15-2010 -08-31-2015 National Institute on Drug Abuse Competing Renewal of Clinical Trials Network, Ohio Valley Node Role:PI $10,370,010.00 Active Level:Federal
Grant: #Prime HHSN271201200020C Investigators:Somoza, Eugene; Winhusen, Theresa 08-15-2012 -02-14-2013 National Institute on Drug Abuse Phase I Patient Study for Subcontract under AiCT SBIR Medication Adherence in Higher Risk Populations Role:Collaborator $17,824.00 Active Level:Federal
Grant: #APNF Research Grant Investigators:Osterman, Robin; Winhusen, Theresa 06-01-2014 -05-31-2015 American Psychiatric Nursing Foundation Alcohol Use Biomarkers in Pregnant Methadone Users Role:Collaborator $5,000.00 Awarded Level:Private Non-Profit
Grant: #NIDA-VA AZD8529 Investigators:Winhusen, Theresa 05-01-2015 -10-31-2016 National Institute on Drug Abuse A Phase 2, Multi-Center Trial of AZD8529 for Smoking Cessaton In Female Smokers Role:PI $457,556.00 Awarded Level:Federal
Grant: #UG1DA013732 Investigators:Elder, Nancy; Lyons, Michael; Winhusen, Theresa 09-01-2015 -05-31-2025 National Institute on Drug Abuse Ohio Valley Node-Network (OVNN) of the NIDA Clinical Trials Network Role:PI $789,514.00 Active
Grant: #U10DA013732 Investigators:Winhusen 09-01-2015 -05-31-2020 NIDA NIDA Cooperative Agreement Role:PI 3952624 Active Type:Grant
Grant: #U10DA013732 Investigators:Winhusen 2015 -2020 NIDA Role:PI 3,952,624 Active Type:Grant
Grant: #AZD Investigators:Winhusem, Theresa 2015 -2016 NIH/NIDA Phase 2, Multi-Center Trial of AZD8529 for Smoking Cessation in Female Smokers Role:Principal Investigator 457,556 Active Type:Grant
Grant: #GRAND Award Investigators:Winhusen, Theresa 2015 -2016 Pfizer, Inc A Pilot Randomized, Placebo-Controlled, Crossover Study of the Effect of the Nicotine Nasal Spray and Varenicline on Cigarette Smoking following Methadone Dosing in Methadone-Maintained Patients Role:PI 150,000 Type:Grant
Grant: #R34DA040862 Investigators:Lyons, Michael; Welge, Jeffrey; Wilder, Christine; Winhusen, Theresa 09-15-2016 -06-30-2019 National Institute on Drug Abuse A tailored, peer-delivered intervention to reduce recurring opioid overdoses Role:PI $225,150.00 Active Level:Federal
Grant: #VA-CSPCC #1033 Investigators:Brown, Jennifer; Pandalai, Soumya; Winhusen, Theresa 06-01-2017 -02-28-2019 National Institute on Drug Abuse Phase 2, Multi-Center Trial of Lorcaserin for the Treatment of Cocaine Use Disorder Role:PI $728,149.00 Active Level:Federal
Grant: #R01DA044248 Investigators:Elder, Nancy; Regan, Saundra; Welge, Jeffrey; Winhusen, Theresa 09-01-2017 -06-30-2022 National Institute on Drug Abuse EMPOWER: Evaluating the ability to reduce Morphine equivalent dose for chronic Pain patients receiving Opioid-therapy through a Web-based E-Health self-management program: a Randomized multi-site Clin Role:PI $619,130.00 Active Level:Federal
Grant: #OSU (NIH NIDA) Investigators:Brown, Jennifer; Latessa, Edward; Lyons, Michael; McMullan, Jason; Winhusen, Theresa 04-17-2019 -03-31-2023 National Institute on Drug Abuse Optimizing HEALing in Ohio Communities (OHIO) Role:PI $2,958,861.00 Awarded Level:Federal
Grant: #20-A0-S1-003671 (UG1DA013035-19S1) Investigators:Winhusen, Theresa 06-01-2020 -02-28-2025 National Institute on Drug Abuse Clinical Trials Network (CTN0101) - Subcontract from NYU Role:PI $15,350.00 Active
Grant: #20-A0-S2-003671 / UG1DA013035 Investigators:Winhusen, Theresa 09-01-2020 -02-28-2025 National Institute on Drug Abuse CTN0100 - Optimizing Retention, Duration and Discontinuation Strategies for Opioid Use Disorder Phramacotherapy (RDD) Role:PI $22,367.00
Grant: #UG1DA013732 Investigators:Brown, Jennifer; Lyons, Michael; Montgomery, La'trice; Winhusen, T 06-01-2020 -02-25-2025 National Institute on Drug Abuse The Ohio Valley Node of the Clinical Trials Network Role:PI 982781.00 Active Level:Federal
Grant: #A00-0322-S010 UG1DA013727 03-01-2021 -02-28-2022 National Institute on Drug Abuse Southern Consortium Node of the Clinical Trials Network Role:PI 43189.00 Hold Level:Federal
Grant: #A00-0322-S010 UG1DA013727 03-01-2021 -02-28-2022 National Institute on Drug Abuse Southern Consortium Node of the Clinical Trials Network Role:PI 43189.00 Hold Level:Federal
Grant: #NY UM1DA049417 Investigators:Wilder, Christine; Winhusen, T 08-01-2021 -02-28-2022 New York University NIDA CTN-0112: Optimal Policies to Improve Methadone Maintenance Adherence Long term (OPTIMMAL Study) Role:PI 0.00 Hold Level:Higher Education
Grant: #UG1DA013732 Investigators:Winhusen, T PhD 06-01-2018 -02-29-2024 National Institute on Drug Abuse (NIDA) CTN-0080: Medication Treatment for Opioid Use Disorder in Expectant Mothers (MOMs): A Pragmatic Randomized Trial Comparing Two Buprenorphine Formulations. (Study sites: Vanderbilt University Medical Center, Nashville, TN; Marshall, Huntington, WV) $9,157,440.0 Active
Grant: #UG1DA013732 Investigators:Winhusen, T PhD 03-01-2022 -02-29-2024 National Institute on Drug Abuse (NIDA) CTN-0142: Towards personalized medicine in medication for opioid use disorder (MOUD): Analyses of Veterans Health Administration data to delineate patient characteristics associated with treatment outcomes and successful MOUD discontinuation $610,901.0 Active
Grant: #UG1DA013732 Investigators:Winhusen, T PhD 03-01-2022 -02-29-2024 National Institute on Drug Abuse (NIDA) CTN-0138: Adaptation and Implementation of a Community Pharmacy-Based Prescription Drug Monitoring Pro-gram Risk Assessment Tool $806,307.0 Active
Grant: #UG1DA013732 Investigators:Winhusen, T PhD 03-01-2021 -02-29-2024 National Institute on Drug Abuse (NIDA) CTN-0129: "The Great Plains Initiative."  $770.042.0 Active
Grant: #UG1DA013732 Investigators:Winhusen, T PhD 07-01-2021 -02-29-2024 National Institute on Drug Abuse (NIDA) CTN-0125: Integrative Data Analysis of CTN Studies to Examine the Impact of Psychosocial Treatments for Black People who use Cocaine (Secondary analysis) $105,781.0 Active
Grant: #UG1DA013732 Investigators:Winhusen, T PhD 09-01-2020 -02-29-2024 National Institute on Drug Abuse (NIDA) CTN-0114: Drug Repurposing for Cocaine Use Disorder (CUD) Using a Combined Strategy of Artificial Intelligence (AI)-Based Prediction and Retrospective Clinical Corroboration (AI-4-CUD) $1,613,197.0 Active
Grant: #UG1DA013732 Investigators:Winhusen, T PhD 06-01-2020 -02-29-2024 National Institute on Drug Abuse (NIDA) CTN Base: The Ohio Valley Node (OVN) joined NIDA's Clinical Trials Network (CTN) in September of 2000 as one of the CTN's second wave of awardees and has been funded continuously since then. Funds in the current 5-year award cycle (6/1/2020 - 2/28/2025) support OVN infrastructure, project development, and support to all OVN performance sites. $3,129,564.0 Active
Grant: #A00-0322-S010 Investigators:Winhusen, T PhD 03-01-2021 -02-29-2024 Medical University of South Carolina CTN-0107: Peer Recovery Support: A Bridge to Treatment for Overdose Survivors (Study site: Mercy Health, Youngstown, OH)  $94,674.0 Active
Grant: #UG1DA013732 Investigators:Winhusen, T PhD 03-01-2021 -02-29-2024 National Institute on Drug Abuse (NIDA) CTN-0134: Buprenorphine-Precipitated Withdrawal Hotspots and Correlates: Identifying Regional 'Hotspots' and Potential Correlates of Precipitated Withdrawal during Buprenorphine Induction in Fentanyl Users Through Prescriber Survey Responses and Patient Urine Drug Test Results. $265,227.0 Active
Grant: #22-A0-S1-003671 Investigators:Winhusen, T PhD 06-01-2020 -02-28-2023 New York University CTN-0101: Subthreshold Opioid Use Disorder Prevention (STOP) Trial (Study site: Ohio State University, Columbus, OH) $75,971.0 Completed
Peer Reviewed Publications
Montgomery, LaTrice; Mantey, Dale S; Peters, Erica N; Herrmann, Evan S; Winhusen, Theresa (2020. ) Blunt use and menthol cigarette smoking: An examination of adult marijuana users.Addictive behaviors, , 102 ,106153 More Information
Winhusen, Theresa; Lofwall, Michelle; Jones, Hendrée E; Wilder, Christine; Lindblad, Robert; Schiff, Davida M; Wexelblatt, Scott; Merhar, Stephanie; Murphy, Sean M; Greenfield, Shelly F; Terplan, Mishka; Wachman, Elisha M; Kropp, Frankie; Theobald, Jeff; Lewis, Mitra; Matthews, Abigail G; Guille, Connie; Silverstein, Michael; Rosa, Carmen (2020. ) Medication treatment for opioid use disorder in expectant mothers (MOMs): Design considerations for a pragmatic randomized trial comparing extended-release and daily buprenorphine formulations.Contemporary clinical trials, , 106014 More Information
Winhusen, Theresa; Theobald, Jeff; Kaelber, David C; Lewis, Daniel (2020. ) The association between regular cocaine use, with and without tobacco co-use, and adverse cardiovascular and respiratory outcomes.Drug and alcohol dependence, , 214 ,108136 More Information
Winhusen, Theresa; Wilder, Christine; Kropp, Frankie; Theobald, Jeff; Lyons, Michael S; Lewis, Daniel (2020. ) A brief telephone-delivered peer intervention to encourage enrollment in medication for opioid use disorder in individuals surviving an opioid overdose: Results from a randomized pilot trial.Drug and alcohol dependence, , 216 ,108270 More Information
Winhusen, Theresa; Wilder, Christine; Lyons, Michael S; Theobald, Jeff; Kropp, Frankie; Lewis, Daniel (2020. ) Evaluation of a personally-tailored opioid overdose prevention education and naloxone distribution intervention to promote harm reduction and treatment readiness in individuals actively using illicit opioids.Drug and alcohol dependence, , 216 ,108265 More Information
Montgomery, LaTrice; Plano Clark, Vicki L; Twitty, Dylanne; Budney, Alan J; Prochaska, Judith J; Winhusen, Theresa (2020. ) Is it "loud" enough?: A qualitative investigation of blunt use among African American young adults.Journal of ethnicity in substance abuse, , 1-15 More Information
Winhusen, Theresa; Theobald, Jeff; Kaelber, David C; Lewis, Daniel (2020. ) Increased Morbidity and Mortality in Hypertensive Patients With Substance Use Disorders: Electronic Health Record Findings. Journal of studies on alcohol and drugs, , 81 (4 ) ,471-478
Winhusen, Theresa; Theobald, Jeff; Kaelber, David C; Lewis, Daniel (2019. ) The association between regular cannabis use, with and without tobacco co-use, and adverse cardiovascular outcomes: cannabis may have a greater impact in non-tobacco smokers.The American journal of drug and alcohol abuse, , 1-8 More Information
Luo, Sean X; Covey, Lirio S; Hu, Mei-Chen; Winhusen, Theresa M; Nunes, Edward V (2019. ) Differential Posttreatment Outcomes of Methylphenidate for Smoking Cessation for Individuals With ADHD.The American journal on addictions, , 28 (6 ) ,497-502 More Information
Winhusen, Theresa; Theobald, Jeff; Kaelber, David C; Lewis, Daniel (2019. ) Regular cannabis use, with and without tobacco co-use, is associated with respiratory disease.Drug and alcohol dependence, , 204 ,107557 More Information
Winhusen, Theresa; Theobald, Jeff; Kaelber, David C; Lewis, Daniel (2019. ) Medical complications associated with substance use disorders in patients with type 2 diabetes and hypertension: electronic health record findings.Addiction (Abingdon, England), , 114 (8 ) ,1462-1470 More Information
Montgomery, LaTrice; McClure, Erin A; Tomko, Rachel L; Sonne, Susan C; Winhusen, Theresa; Terry, Garth E; Grossman, Jason T; Gray, Kevin M (2019. ) Blunts versus joints: Cannabis use characteristics and consequences among treatment-seeking adults.Drug and alcohol dependence, , 198 ,105-111 More Information
Winhusen, Theresa M; Theobald, Jeff; Lewis, Daniel F (2019. ) Substance use outcomes in cocaine-dependent tobacco smokers: A mediation analysis exploring the role of sleep disturbance, craving, anxiety, and depression.Journal of substance abuse treatment, , 96 ,53-57 More Information
Winhusen, Theresa; Feaster, Daniel J; Duan, Rui; Brown, Jennifer L; Daar, Eric S; Mandler, Raul; Metsch, Lisa R (2018. ) Baseline Cigarette Smoking Status as a Predictor of Virologic Suppression and CD4 Cell Count During One-Year Follow-Up in Substance Users with Uncontrolled HIV Infection.AIDS and behavior, , 22 (6 ) ,2026-2032 More Information
Luo, Sean X; Wall, Melanie; Covey, Lirio; Hu, Mei-Chen; Scodes, Jennifer M; Levin, Frances R; Nunes, Edward V; Winhusen, Theresa (2018. ) Exploring longitudinal course and treatment-baseline severity interactions in secondary outcomes of smoking cessation treatment in individuals with attention-deficit hyperactivity disorder.The American journal of drug and alcohol abuse, , 44 (6 ) ,653-659 More Information
Brown, Jennifer L; Winhusen, Theresa; DiClemente, Ralph J; Sales, Jessica M; Rose, Eve S; Safonova, Polina; Levina, Olga; Belyakov, Nikolay; Rassokhin, Vadim V (2017. ) The association between cigarette smoking, virologic suppression, and CD4+ lymphocyte count in HIV-Infected Russian women.AIDS care, , 29 (9 ) ,1102-1106 More Information
Wilder, Christine M; Hosta, Daniel; Winhusen, Theresa (2017. ) Association of methadone dose with substance use and treatment retention in pregnant and postpartum women with opioid use disorder.Journal of substance abuse treatment, , 80 ,33-36 More Information
Osterman, Robin; Lewis, Daniel; Winhusen, Theresa (2017. ) Efficacy of motivational enhancement therapy to decrease alcohol and illicit-drug use in pregnant substance users reporting baseline alcohol use.Journal of substance abuse treatment, , 77 ,150-155 More Information
Brown, Jennifer L; Gause, Nicole K; Lewis, Daniel; Winhusen, Theresa (2017. ) Examination of the Hepatitis C Virus care continuum among individuals with an opioid use disorder in substance use treatment.Journal of substance abuse treatment, , 76 ,77-80 More Information
Winhusen, Theresa (2017. ) Introduction to Special Issue on Tobacco and Other Substance Use Disorders: Links and Implications.The American journal of drug and alcohol abuse, , 43 (2 ) ,129-131 More Information
Kropp, Frankie; Lewis, Daniel; Winhusen, Theresa (2017. ) The Effectiveness of Ultra-Low Magnitude Reinforcers: Findings From a "Real-World" Application of Contingency Management.Journal of substance abuse treatment, , 72 ,111-116 More Information
Winhusen, T; Theobald, J; Lewis, D; Wilder, C M; Lyons, M S (2016. ) Development and initial testing of a tailored telephone intervention delivered by peers to prevent recurring opioid-overdoses (TTIP-PRO).Health education research, , 31 (2 ) ,146-60 More Information
Winhusen, Theresa; Theobald, Jeffrey; Lewis, Daniel (2016. ) Design considerations for a pilot trial using a novel approach for evaluating smoking-cessation medication in methadone-maintained smokers.Contemporary clinical trials, , 47 ,334-9 More Information
Adinoff, Bryon; Carmody, Thomas J; Walker, Robrina; Donovan, Dennis M; Brigham, Gregory S; Winhusen, Theresa M (2016. ) Decision-making processes as predictors of relapse and subsequent use in stimulant-dependent patients.The American journal of drug and alcohol abuse, , 42 (1 ) ,88-97 More Information
Covey, Lirio S; Hu, Mei-Chen; Winhusen, Theresa; Lima, Jennifer; Berlin, Ivan; Nunes, Edward (2015. ) Anxiety and Depressed Mood Decline Following Smoking Abstinence in Adult Smokers with Attention Deficit Hyperactivity Disorder.Journal of substance abuse treatment, , 59 ,104-8 More Information
Wilder, Christine M; Miller, Shannon C; Tiffany, Elizabeth; Winhusen, Theresa; Winstanley, Erin L; Stein, Michael D (2015. ) Risk Factors for Opioid Overdose and Awareness of Overdose Risk Among Veterans Prescribed Chronic Opioids for Addiction or Pain.Journal of addictive diseases, , 0 More Information
Westover, Arthur N; Kashner, T Michael; Winhusen, Theresa M; Golden, Richard M; Nakonezny, Paul A; Adinoff, Bryon; Henley, Steven S (2015. ) A systematic approach to subgroup analyses in a smoking cessation trial.The American journal of drug and alcohol abuse, , 41 (6 ) ,498-507 More Information
Magee, Joshua C; Winhusen, Theresa (2015. ) The Coupling of Nicotine and Stimulant Craving During Treatment for Stimulant Dependence.Journal of consulting and clinical psychology, , More Information
Wilder, Christine M; Winhusen, Theresa (2015. ) Pharmacological Management of Opioid Use Disorder in Pregnant Women.CNS drugs, , 29 (8 ) ,625-36 More Information
Magee, Joshua C; Lewis, Daniel F; Winhusen, Theresa (2015. ) Evaluating Nicotine Craving, Withdrawal, and Substance Use as Mediators of Smoking Cessation in Cocaine- and Methamphetamine-Dependent Patients.Nicotine & tobacco research : official journal of the Society for Research on Nicotine and Tobacco, , More Information
Luo, Sean X; Covey, Lirio S; Hu, Mei-Chen; Levin, Frances R; Nunes, Edward V; Winhusen, Theresa M (2015. ) Toward personalized smoking-cessation treatment: Using a predictive modeling approach to guide decisions regarding stimulant medication treatment of attention-deficit/hyperactivity disorder (ADHD) in smokers.The American journal on addictions / American Academy of Psychiatrists in Alcoholism and Addictions, , 24 (4 ) ,348-56 More Information
McClure, Erin A; Campbell, Aimee N C; Pavlicova, Martina; Hu, Meichen; Winhusen, Theresa; Vandrey, Ryan G; Ruglass, Lesia M; Covey, Lirio S; Stitzer, Maxine L; Kyle, Tiffany L; Nunes, Edward V (2015. ) Cigarette Smoking During Substance Use Disorder Treatment: Secondary Outcomes from a National Drug Abuse Treatment Clinical Trials Network study.Journal of substance abuse treatment, , 53 ,39-46 More Information
Wilder, Christine; Lewis, Daniel; Winhusen, Theresa (2015. ) Medication assisted treatment discontinuation in pregnant and postpartum women with opioid use disorder.Drug and alcohol dependence, , 149 ,225-31 More Information
LoBue, Christian; Cullum, C Munro; Braud, Jacqueline; Walker, Robrina; Winhusen, Theresa; Suderajan, Prabha; Adinoff, Bryon (2014. ) Optimal neurocognitive, personality and behavioral measures for assessing impulsivity in cocaine dependence.The American journal of drug and alcohol abuse, , 40 (6 ) ,455-62 More Information
McClure, Erin A; Sonne, Susan C; Winhusen, Theresa; Carroll, Kathleen M; Ghitza, Udi E; McRae-Clark, Aimee L; Matthews, Abigail G; Sharma, Gaurav; Van Veldhuisen, Paul; Vandrey, Ryan G; Levin, Frances R; Weiss, Roger D; Lindblad, Robert; Allen, Colleen; Mooney, Larissa J; Haynes, Louise; Brigham, Gregory S; Sparenborg, Steve; Hasson, Albert L; Gray, Kevin M (2014. ) Achieving cannabis cessation -- evaluating N-acetylcysteine treatment (ACCENT): design and implementation of a multi-site, randomized controlled study in the National Institute on Drug Abuse Clinical Trials Network.Contemporary clinical trials, , 39 (2 ) ,211-23 More Information
Walker, Jessica; Winhusen, Theresa; Storkson, Jayne M; Lewis, Daniel; Pariza, Michael W; Somoza, Eugene; Somoza, Veronika (2014. ) Total antioxidant capacity is significantly lower in cocaine-dependent and methamphetamine-dependent patients relative to normal controls: results from a preliminary study.Human psychopharmacology, , 29 (6 ) ,537-43 More Information
Winhusen, Theresa; Wilder, Christine; Wexelblatt, Scott L; Theobald, Jeffrey; Hall, Eric S; Lewis, Daniel; Van Hook, James; Marcotte, Michael (2014. ) Design considerations for point-of-care clinical trials comparing methadone and buprenorphine treatment for opioid dependence in pregnancy and for neonatal abstinence syndrome.Contemporary clinical trials, , 39 (1 ) ,158-65 More Information
Winhusen, Theresa (2014. ) Not getting lost in translational science: A tool for navigating the pre-implementation phase of multi-site pharmacological clinical trials. Applied clinical trials, , 23 (8-9 ) ,36-39
Winhusen, Theresa M; Lewis, Daniel F; Somoza, Eugene C; Horn, Paul (2014. ) Pharmacodynamics must inform statistics: an example from a cocaine dependence pharmacotherapy trial.ISRN Addiction, , 2014 ,927290 More Information
Winhusen, Theresa M; Somoza, Eugene C; Lewis, Daniel F; Kropp, Frankie; Theobald, Jeff; Elkashef, Ahmed (2014. ) An Evaluation of Substance Abuse Treatment and HIV Education on Safe Sex Practices in Cocaine Dependent Individuals.ISRN Addiction, , 2014 ,912863 More Information
Brigham, Gregory S; Slesnick, Natasha; Winhusen, Theresa M; Lewis, Daniel F; Guo, Xiamei; Somoza, Eugene (2014. ) A randomized pilot clinical trial to evaluate the efficacy of Community Reinforcement and Family Training for Treatment Retention (CRAFT-T) for improving outcomes for patients completing opioid detoxification.Drug and alcohol dependence, , 138 ,240-3 More Information
Campbell, Aimee N C; Nunes, Edward V; Matthews, Abigail G; Stitzer, Maxine; Miele, Gloria M; Polsky, Daniel; Turrigiano, Eva; Walters, Scott; McClure, Erin A; Kyle, Tiffany L; Wahle, Aimee; Van Veldhuisen, Paul; Goldman, Bruce; Babcock, Dean; Stabile, Patricia Quinn; Winhusen, Theresa; Ghitza, Udi E (2014. ) Internet-Delivered Treatment for Substance Abuse: A Multisite Randomized Controlled Trial.The American journal of psychiatry, , More Information
Winhusen, Theresa M; Brigham, Gregory S; Kropp, Frankie; Lindblad, Robert; Gardin, John G; Penn, Pat; Hodgkins, Candace; Kelly, Thomas M; Douaihy, Antoine; McCann, Michael; Love, Lee D; Degravelles, Eliot; Bachrach, Ken; Sonne, Susan C; Hiott, Bob; Haynes, Louise; Sharma, Gaurav; Lewis, Daniel F; Vanveldhuisen, Paul; Theobald, Jeff; Ghitza, Udi (2014. ) A randomized trial of concurrent smoking-cessation and substance use disorder treatment in stimulant-dependent smokers.The Journal of clinical psychiatry, , 75 (4 ) ,336-43 More Information
Denton, Wayne H; Adinoff, Bryon H; Lewis, Daniel; Walker, Robrina; Winhusen, Theresa (2014. ) Family discord is associated with increased substance use for pregnant substance users.Substance use & misuse, , 49 (3 ) ,326-32 More Information
Winhusen, Theresa M; Kropp, Frankie; Theobald, Jeff; Lewis, Daniel F (2014. ) Achieving smoking abstinence is associated with decreased cocaine use in cocaine-dependent patients receiving smoking-cessation treatment.Drug and alcohol dependence, , 134 ,391-5 More Information
Winhusen, Theresa M; Kropp, Frankie; Lindblad, Robert; Douaihy, Antoine; Haynes, Louise; Hodgkins, Candace; Chartier, Karen; Kampman, Kyle M; Sharma, Gaurav; Lewis, Daniel F; VanVeldhuisen, Paul; Theobald, Jeff; May, Jeanine; Brigham, Gregory S (2014. ) Multisite, randomized, double-blind, placebo-controlled pilot clinical trial to evaluate the efficacy of buspirone as a relapse-prevention treatment for cocaine dependence.The Journal of clinical psychiatry, , More Information
Winstanley, Erin L; Brigham, Greg S; Babcock, Dean; Winhusen, Theresa (2014. ) Improving Treatment for Opioid Dependence: A Perspective From the Ohio Valley Node of the NIDA Clinical Trials Network.Progress in community health partnerships : research, education, and action, , 8 (1 ) ,99-107 More Information
Winhusen T, Kropp F, Theobald J, Lewis DF (2013. ) Achieving smoking abstinence is associated with decreased cocaine use in cocaine-dependent patients receiving smoking-cessation treatment .Drug and Alcohol Dependence, ,
Nunes, Edward V; Covey, Lirio S; Brigham, Gregory; Hu, Mei-Chen; Levin, Frances R; Somoza, Eugene C; Winhusen, Theresa M (2013. ) Treating nicotine dependence by targeting attention-deficit/ hyperactivity disorder (ADHD) with OROS methylphenidate: the role of baseline ADHD severity and treatment response.The Journal of clinical psychiatry, , 74 (10 ) ,983-90 More Information
Winhusen, Theresa M; Adinoff, Bryon; Lewis, Daniel F; Brigham, Gregory S; Gardin Ii, John G; Sonne, Susan C; Theobald, Jeff; Ghitza, Udi (2013. ) A tale of two stimulants: Mentholated cigarettes may play a role in cocaine, but not methamphetamine, dependence.Drug and alcohol dependence, , More Information
Winhusen, Theresa; Walker, Jessica; Brigham, Gregory; Lewis, Daniel; Somoza, Eugene; Theobald, Jeff; Somoza, Veronika (2013. ) Preliminary evaluation of a model of stimulant use, oxidative damage and executive dysfunction.The American journal of drug and alcohol abuse, , 39 (4 ) ,227-34 More Information
Somoza, Eugene C; Winship, Douglas; Gorodetzky, Charles W; Lewis, Daniel; Ciraulo, Domenic A; Galloway, Gantt P; Segal, Scott D; Sheehan, Michael; Roache, John D; Bickel, Warren K; Jasinski, Donald; Watson, Donnie W; Miller, Steven R; Somoza, Peggy; Winhusen, Theresa (2013. ) A multisite, double-blind, placebo-controlled clinical trial to evaluate the safety and efficacy of vigabatrin for treating cocaine dependence.JAMA psychiatry (Chicago, Ill.), , 70 (6 ) ,630-7 More Information
Winhusen, Theresa; Lewis, Daniel (2013. ) Sex differences in disinhibition and its relationship to physical abuse in a sample of stimulant-dependent patients.Drug and alcohol dependence, , 129 (1-2 ) ,158-62 More Information
Schwartz, Robert P; Stitzer, Maxine L; Feaster, Daniel J; Korthuis, P Todd; Alvanzo, Anika A H; Winhusen, Theresa M; Donnard, Lillian; Snead, Ned; Metsch, Lisa R (2013. ) HIV rapid testing in drug treatment: comparison across treatment modalities.Journal of substance abuse treatment, , 44 (4 ) ,369-74 More Information
Westover, Arthur N; Nakonezny, Paul A; Winhusen, Theresa; Adinoff, Bryon; Vongpatanasin, Wanpen (2013. ) Risk of methylphenidate-induced prehypertension in normotensive adult smokers with attention deficit hyperactivity disorder.Journal of clinical hypertension (Greenwich, Conn.), , 15 (2 ) ,124-32 More Information
Tamm, Leanne; Trello-Rishel, Kathlene; Riggs, Paula; Nakonezny, Paul A; Acosta, Michelle; Bailey, Genie; Winhusen, Theresa (2013. ) Predictors of treatment response in adolescents with comorbid substance use disorder and attention-deficit/hyperactivity disorder.Journal of substance abuse treatment, , 44 (2 ) ,224-30 More Information
Heffner, Jaimee L; Lewis, Daniel F; Winhusen, Theresa M (2013. ) Osmotic release oral system methylphenidate prevents weight gain during a smoking-cessation attempt in adults with ADHD.Nicotine & tobacco research : official journal of the Society for Research on Nicotine and Tobacco, , 15 (2 ) ,583-7 More Information
Heffner, Jaimee L; Lewis, Daniel F; Winhusen, Theresa M (2013. ) Preliminary evidence that adherence to counseling mediates the effects of pretreatment self-efficacy and motivation on outcome of a cessation attempt in smokers with ADHD.Nicotine & tobacco research : official journal of the Society for Research on Nicotine and Tobacco, , 15 (2 ) ,393-400 More Information
Winhusen, Theresa M; Somoza, Eugene C; Lewis, Daniel F; Kropp, Frankie B; Horigian, Viviana Elizabeth; Adinoff, Bryon (2013. ) Frontal systems deficits in stimulant-dependent patients: evidence of pre-illness dysfunction and relationship to treatment response.Drug and alcohol dependence, , 127 (1-3 ) ,94-100 More Information
Kalapatapu, Raj K; Lewis, Daniel F; Vinogradov, Sophia; Batki, Steven L; Winhusen, Theresa (2013. ) Relationship of age to impulsivity and decision making: a baseline secondary analysis of a behavioral treatment study in stimulant use disorders.Journal of addictive diseases, , 32 (2 ) ,206-16 More Information
Winstanley, Erin L; Gay, Joe; Roberts, Lisa; Moseley, Judi; Hall, Orman; Beeghly, B Christine; Winhusen, Theresa; Somoza, Eugene (2012. ) Prescription drug abuse as a public health problem in Ohio: a case report.Public health nursing (Boston, Mass.), , 29 (6 ) ,553-62 More Information
Ondersma, Steven J; Winhusen, Theresa; Lewis, Daniel F (2012. ) Pre-treatment change in a randomized trial with pregnant substance-abusing women in community-based outpatient treatment.Contemporary clinical trials, , 33 (5 ) ,1074-9 More Information
Winhusen, Theresa; Brady, Kathleen T; Stitzer, Maxine; Woody, George; Lindblad, Robert; Kropp, Frankie; Brigham, Gregory; Liu, David; Sparenborg, Steven; Sharma, Gaurav; Vanveldhuisen, Paul; Adinoff, Bryon; Somoza, Eugene (2012. ) Evaluation of buspirone for relapse-prevention in adults with cocaine dependence: an efficacy trial conducted in the real world.Contemporary clinical trials, , 33 (5 ) ,993-1002 More Information
Kropp, Frankie; Somoza, Eugene; Lilleskov, Maurine; Moccasin, Mabel Granados-Bad; Moore, Michelle; Lewis, Daniel; Boetel, Brenda; Smith, Corey; Winhusen, Theresa (2012. ) Characteristics of Northern Plains American Indians Seeking Substance Abuse Treatment in an Urban, Non-Tribal Clinic: A Descriptive Study.Community mental health journal, , More Information
Croghan, Ivana T; Trautman, Judith A; Winhusen, Theresa; Ebbert, Jon O; Kropp, Frankie B; Schroeder, Darrell R; Hurt, Richard D (2012. ) Tobacco dependence counseling in a randomized multisite clinical trial.Contemporary clinical trials, , More Information
Campbell, Aimee N C; Nunes, Edward V; Miele, Gloria M; Matthews, Abigail; Polsky, Daniel; Ghitza, Udi E; Turrigiano, Eva; Bailey, Genie L; VanVeldhuisen, Paul; Chapdelaine, Rita; Froias, Autumn; Stitzer, Maxine L; Carroll, Kathleen M; Winhusen, Theresa; Clingerman, Sara; Perez, Livangelie; McClure, Erin; Goldman, Bruce; Crowell, A Rebecca (2012. ) Design and methodological considerations of an effectiveness trial of a computer-assisted intervention: an example from the NIDA Clinical Trials Network.Contemporary clinical trials, , 33 (2 ) ,386-95 More Information
Berlin, Ivan; Hu, Mei-Chen; Covey, Lirio S; Winhusen, Theresa (2012. ) Attention-deficit/hyperactivity disorder (ADHD) symptoms, craving to smoke, and tobacco withdrawal symptoms in adult smokers with ADHD.Drug and alcohol dependence, , More Information
Tamm, Leanne; Adinoff, Bryon; Nakonezny, Paul A; Winhusen, Theresa; Riggs, Paula (2012. ) Attention-deficit/hyperactivity disorder subtypes in adolescents with comorbid substance-use disorder.The American journal of drug and alcohol abuse, , 38 (1 ) ,93-100 More Information
Winhusen, Theresa; Stitzer, Maxine; Woody, George; Brigham, Gregory; Kropp, Frankie; Ghitza, Udi; Lindblad, Robert; Adinoff, Bryon; Green, Cindy; Sharma, Gaurav; Somoza, Eugene (2012. ) Design considerations for a study to evaluate the impact of smoking cessation treatment on stimulant use outcomes in stimulant-dependent individuals.Contemporary clinical trials, , 33 (1 ) ,197-205 More Information
Warden, Diane; Riggs, Paula D; Min, Sung-Joon; Mikulich-Gilbertson, Susan K; Tamm, Leanne; Trello-Rishel, Kathlene; Winhusen, Theresa (2012. ) Major depression and treatment response in adolescents with ADHD and substance use disorder.Drug and alcohol dependence, , 120 (1-3 ) ,214-9 More Information
Winhusen, Theresa; Winstanley, Erin L; Somoza, Eugene; Brigham, Gregory (2012. ) The potential impact of recruitment method on sample characteristics and treatment outcomes in a psychosocial trial for women with co-occurring substance use disorder and PTSD.Drug and alcohol dependence, , 120 (1-3 ) ,225-8 More Information
Winhusen, Theresa M; Lewis, Daniel F; Riggs, Paula D; Davies, Robert D; Adler, Lenard A; Sonne, Susan; Somoza, Eugene C (2011. ) Subjective effects, misuse, and adverse effects of osmotic-release methylphenidate treatment in adolescent substance abusers with attention-deficit/hyperactivity disorder.Journal of child and adolescent psychopharmacology, , 21 (5 ) ,455-63 More Information
Covey, Lirio S; Hu, Mei-Chen; Weissman, Judith; Croghan, Ivana; Adler, Lenard; Winhusen, Theresa (2011. ) Divergence by ADHD subtype in smoking cessation response to OROS-methylphenidate.Nicotine & tobacco research : official journal of the Society for Research on Nicotine and Tobacco, , 13 (10 ) ,1003-8 More Information
Covey, Lirio S; Hu, Mei-Chen; Green, Carla A; Brigham, Gregory; Hurt, Richard D; Adler, Lenard; Winhusen, Theresa (2011. ) An exploration of site effects in a multisite trial of OROS-methylphenidate for smokers with attention deficit/hyperactivity disorder.The American journal of drug and alcohol abuse, , 37 (5 ) ,392-9 More Information
Greenfield, Shelly F; Rosa, Carmen; Putnins, Susan I; Green, Carla A; Brooks, Audrey J; Calsyn, Donald A; Cohen, Lisa R; Erickson, Sarah; Gordon, Susan M; Haynes, Louise; Killeen, Therese; Miele, Gloria; Tross, Susan; Winhusen, Theresa (2011. ) Gender research in the National Institute on Drug Abuse National Treatment Clinical Trials Network: a summary of findings.The American journal of drug and alcohol abuse, , 37 (5 ) ,301-12 More Information
Gray, Kevin M; Riggs, Paula D; Min, Sung-Joon; Mikulich-Gilbertson, Susan K; Bandyopadhyay, Dipankar; Winhusen, Theresa (2011. ) Cigarette and cannabis use trajectories among adolescents in treatment for attention-deficit/hyperactivity disorder and substance use disorders.Drug and alcohol dependence, , 117 (2-3 ) ,242-7 More Information
Riggs, Paula D; Winhusen, Theresa; Davies, Robert D; Leimberger, Jeffrey D; Mikulich-Gilbertson, Susan; Klein, Constance; Macdonald, Marilyn; Lohman, Michelle; Bailey, Genie L; Haynes, Louise; Jaffee, William B; Haminton, Nancy; Hodgkins, Candace; Whitmore, Elizabeth; Trello-Rishel, Kathlene; Tamm, Leanne; Acosta, Michelle C; Royer-Malvestuto, Charlotte; Subramaniam, Geetha; Fishman, Marc; Holmes, Beverly W; Kaye, Mary Elyse; Vargo, Mark A; Woody, George E; Nunes, Edward V; Liu, David (2011. ) Randomized controlled trial of osmotic-release methylphenidate with cognitive-behavioral therapy in adolescents with attention-deficit/hyperactivity disorder and substance use disorders.Journal of the American Academy of Child and Adolescent Psychiatry, , 50 (9 ) ,903-14 More Information
Covey, Lirio S; Hu, Mei-Chen; Winhusen, Theresa; Weissman, Judith; Berlin, Ivan; Nunes, Edward V (2010. ) OROS-methylphenidate or placebo for adult smokers with attention deficit hyperactivity disorder: racial/ethnic differences.Drug and alcohol dependence, , 110 (1-2 ) ,156-9 More Information
Nunes, Edward V; Ball, Samuel; Booth, Robert; Brigham, Gregory; Calsyn, Donald A; Carroll, Kathleen; Feaster, Daniel J; Hien, Denise; Hubbard, Robert L; Ling, Walter; Petry, Nancy M; Rotrosen, John; Selzer, Jeffrey; Stitzer, Maxine; Tross, Susan; Wakim, Paul; Winhusen, Theresa; Woody, George (2010. ) Multisite effectiveness trials of treatments for substance abuse and co-occurring problems: have we chosen the best designs?.Journal of substance abuse treatment, , 38 Suppl 1 ,S97-112 More Information
Winhusen, Theresa M; Somoza, Eugene C; Brigham, Gregory S; Liu, David S; Green, Carla A; Covey, Lirio S; Croghan, Ivana T; Adler, Lenard A; Weiss, Roger D; Leimberger, Jeffrey D; Lewis, Daniel F; Dorer, Emily M (2010. ) Impact of attention-deficit/hyperactivity disorder (ADHD) treatment on smoking cessation intervention in ADHD smokers: a randomized, double-blind, placebo-controlled trial.The Journal of clinical psychiatry, , More Information
Ondersma, Steven J; Winhusen, Theresa; Lewis, Daniel F (2010. ) External pressure, motivation, and treatment outcome among pregnant substance-using women.Drug and alcohol dependence, , 107 (2-3 ) ,149-53 More Information
Kropp, Frankie; Winhusen, Theresa; Lewis, Daniel; Hague, Diane; Somoza, Eugene (2010. ) Increasing prenatal care and healthy behaviors in pregnant substance users. Journal of psychoactive drugs, , 42 (1 ) ,73-81
Brigham, Gregory; Winhusen, Theresa; Lewis, Daniel; Kropp, Frankie (2010. ) Incentives for retention of pregnant substance users: a secondary analysis.Journal of substance abuse treatment, , 38 (1 ) ,90-5 More Information
Ondersma, Steven J; Winhusen, Theresa; Erickson, Sarah J; Stine, Susan M; Wang, Yun (2009. ) Motivation Enhancement Therapy with pregnant substance-abusing women: does baseline motivation moderate efficacy?.Drug and alcohol dependence, , 101 (1-2 ) ,74-9 More Information
Ziedonis, Douglas M; Amass, Leslie; Steinberg, Marc; Woody, George; Krejci, Jonathan; Annon, Jeffrey J; Cohen, Allan J; Waite-O'Brien, Nancy; Stine, Susan M; McCarty, Dennis; Reid, Malcolm S; Brown, Lawrence S; Maslansky, Robert; Winhusen, Theresa; Babcock, Dean; Brigham, Greg; Muir, Joan; Orr, Deborah; Buchan, Betty J; Horton, Terry; Ling, Walter (2009. ) Predictors of outcome for short-term medically supervised opioid withdrawal during a randomized, multicenter trial of buprenorphine-naloxone and clonidine in the NIDA clinical trials network drug and alcohol dependence.Drug and alcohol dependence, , 99 (1-3 ) ,28-36 More Information
Winhusen, Theresa; Kropp, Frankie; Babcock, Dean; Hague, Diane; Erickson, Sarah J; Renz, Connie; Rau, Leela; Lewis, Daniel; Leimberger, Jeff; Somoza, Eugene (2008. ) Motivational enhancement therapy to improve treatment utilization and outcome in pregnant substance users.Journal of substance abuse treatment, , 35 (2 ) ,161-73 More Information
Somoza, Eugene; Somoza, Peggy; Lewis, Daniel; Li, Shou-Hua; Winhusen, Theresa; Chiang, Nora; Vocci, Frank; Horn, Paul; Elkashef, Ahmed (2008. ) The SRPHK1 outcome measure for cocaine-dependence trials combines self-report, urine benzoylecgonine levels, and the concordance between the two to determine a cocaine-use status for each study day.Drug and alcohol dependence, , 93 (1-2 ) ,132-40 More Information
Winhusen, Theresa; Somoza, Eugene; Ciraulo, Domenic A; Harrer, Judy M; Goldsmith, R Jeffrey; Grabowski, John; Coleman, Florence S; Mindrum, Gordon; Kahn, Roberta; Osman, Sabuhi; Mezinskis, Juris; Li, Shou-Hua; Lewis, Daniel; Horn, Paul; Montgomery, Margaret A; Elkashef, Ahmed (2007. ) A double-blind, placebo-controlled trial of tiagabine for the treatment of cocaine dependence.Drug and alcohol dependence, , 91 (2-3 ) ,141-8 More Information
Winhusen, Theresa; Somoza, Eugene; Sarid-Segal, Ofra; Goldsmith, R Jeffrey; Harrer, Judy M; Coleman, Florence S; Kahn, Roberta; Osman, Sabuhi; Mezinskis, Juris; Li, Shou-Hua; Lewis, Daniel; Afshar, Maryam; Ciraulo, Domenic A; Horn, Paul; Montgomery, Margaret A; Elkashef, Ahmed (2007. ) A double-blind, placebo-controlled trial of reserpine for the treatment of cocaine dependence.Drug and alcohol dependence, , 91 (2-3 ) ,205-12 More Information
Brigham, Gregory S; Amass, Leslie; Winhusen, Theresa; Harrer, Judy M; Pelt, Alvin (2007. ) Using buprenorphine short-term taper to facilitate early treatment engagement.Journal of substance abuse treatment, , 32 (4 ) ,349-56 More Information
Winhusen, Theresa; Somoza, Eugene; Singal, Bonita M; Harrer, Judy; Apparaju, Sandhya; Mezinskis, Juris; Desai, Pankaj; Elkashef, Ahmed; Chiang, C Nora; Horn, Paul (2006. ) Methylphenidate and cocaine: a placebo-controlled drug interaction study.Pharmacology, biochemistry, and behavior, , 85 (1 ) ,29-38 More Information
Kampman, Kyle M; Leiderman, Deborah; Holmes, Tyson; LoCastro, Joseph; Bloch, Daniel A; Reid, Malcolm S; Shoptaw, Steve; Montgomery, Margaret A; Winhusen, Theresa M; Somoza, Eugene C; Ciraulo, Domenic A; Elkashef, Ahmed; Vocci, Frank (2005. ) Cocaine Rapid Efficacy Screening Trials (CREST): lessons learned.Addiction (Abingdon, England), , 100 Suppl 1 ,102-10 More Information
Winhusen, Theresa M; Somoza, Eugene C; Harrer, Judy M; Mezinskis, Juris P; Montgomery, Margaret A; Goldsmith, R Jeffrey; Coleman, Florence S; Bloch, Daniel A; Leiderman, Deborah B; Singal, Bonita M; Berger, Paul; Elkashef, Ahmed (2005. ) A placebo-controlled screening trial of tiagabine, sertraline and donepezil as cocaine dependence treatments.Addiction (Abingdon, England), , 100 Suppl 1 ,68-77 More Information
Berger, S Paul; Winhusen, Theresa M; Somoza, Eugene C; Harrer, Judy M; Mezinskis, Juris P; Leiderman, Deborah B; Montgomery, Margaret A; Goldsmith, R Jeffrey; Bloch, Daniel A; Singal, Bonita M; Elkashef, Ahmed (2005. ) A medication screening trial evaluation of reserpine, gabapentin and lamotrigine pharmacotherapy of cocaine dependence.Addiction (Abingdon, England), , 100 Suppl 1 ,58-67 More Information
Winhusen, T; Somoza, E; Harrer, J M; Moore, E; Ussery, T; Kropp, F; Singal, B; Elkashef, A; Mojsiak, J (2005. ) Metyrapone and cocaine: a double-blind, placebo-controlled drug interaction study.Pharmacology, biochemistry, and behavior, , 80 (4 ) ,631-8 More Information
Amass, Leslie; Ling, Walter; Freese, Thomas E; Reiber, Chris; Annon, Jeffrey J; Cohen, Allan J; McCarty, Dennis; Reid, Malcolm S; Brown, Lawrence S; Clark, Cynthia; Ziedonis, Douglas M; Krejci, Jonathan; Stine, Susan; Winhusen, Theresa; Brigham, Greg; Babcock, Dean; Muir, Joan A; Buchan, Betty J; Horton, Terry (2004. ) Bringing buprenorphine-naloxone detoxification to community treatment providers: the NIDA Clinical Trials Network field experience.The American journal on addictions / American Academy of Psychiatrists in Alcoholism and Addictions, , 13 Suppl 1 ,S42-66 More Information
Somoza, Eugene C; Winhusen, Theresa M; Bridge, T Peter; Rotrosen, John P; Vanderburg, Douglas G; Harrer, Judy M; Mezinskis, Juris P; Montgomery, Margaret A; Ciraulo, Domenic A; Wulsin, Lawson R; Barrett, Jera A (2004. ) An open-label pilot study of methylphenidate in the treatment of cocaine dependent patients with adult attention deficit/hyperactivity disorder. Journal of addictive diseases, , 23 (1 ) ,77-92
Winhusen, Theresa M; Kropp, Frankie (2003. ) Psychosocial treatments for women with substance use disorders. Obstetrics and gynecology clinics of North America, , 30 (3 ) ,483-99, vi
Winhusen, Theresa M; Somoza, Eugene C; Singal, Bonita; Kim, Sunme; Horn, Paul S; Rotrosen, John (2003. ) Measuring outcome in cocaine clinical trials: a comparison of sweat patches with urine toxicology and participant self-report. Addiction (Abingdon, England), , 98 (3 ) ,317-24
Winhusen, T; Somoza, E (2001. ) The HPA axis in cocaine use: implications for pharmacotherapy.Journal of addictive diseases, , 20 (3 ) ,105-19 More Information
Winhusen, Theresa; Lewis, Daniel; Adinoff, Bryon; Brigham, Gregory; Kropp, Frankie; Donovan, Dennis M; Seamans, Cindy L; Hodgkins, Candace C; Dicenzo, Jessica C; Botero, Christopher L; Jones, Davina R; Somoza, Eugene Impulsivity is associated with treatment non-completion in cocaine- and methamphetamine-dependent patients but differs in nature as a function of stimulant-dependence diagnosis.Journal of substance abuse treatment, , 44 (5 ) ,541-7 More Information
Aharonovich, Efrat; Campbell, Aimee N C; Shulman, Matisyahu; Hu, Mei-Chen; Kyle, Tiffany; Winhusen, Theresa; Nunes, Edward V Neurocognitive Profiling of Adult Treatment Seekers Enrolled in a Clinical Trial of a Web-delivered Intervention for Substance Use Disorders.Journal of addiction medicine, , 12 (2 ) ,99-106 More Information
Winhusen, Theresa; Lewis, Daniel Cigarette smoking in pregnant substance users: Association with substance use and desire to quit.Journal of addictive diseases, , 36 (1 ) ,88-91 More Information
Winhusen, Theresa; Wilson, Marian; Dolor, Rowena J; Theobald, Jeff; Lewis, Daniel; Regan, Saundra L; Vonder Meulen, Mary Beth (2020. ) Design considerations for a remote randomized multi-site clinical trial evaluating an e-health self-management program for chronic pain patients receiving opioid therapy.Contemporary clinical trials, , 101 ,106245 More Information
, (2020. ) The HEALing (Helping to End Addiction Long-term SM) Communities Study: Protocol for a cluster randomized trial at the community level to reduce opioid overdose deaths through implementation of an integrated set of evidence-based practices.Drug and alcohol dependence, , 217 ,108335 More Information
Winhusen, Theresa; Walley, Alexander; Fanucchi, Laura C; Hunt, Tim; Lyons, Mike; Lofwall, Michelle; Brown, Jennifer L; Freeman, Patricia R; Nunes, Edward; Beers, Donna; Saitz, Richard; Stambaugh, Leyla; Oga, Emmanuel A; Herron, Nicole; Baker, Trevor; Cook, Christopher D; Roberts, Monica F; Alford, Daniel P; Starrels, Joanna L; Chandler, Redonna K (2020. ) The Opioid-overdose Reduction Continuum of Care Approach (ORCCA): Evidence-based practices in the HEALing Communities Study.Drug and alcohol dependence, , 217 ,108325 More Information
Montgomery, LaTrice; Winhusen, Theresa; Scodes, Jennifer; Pavlicova, Martina; Twitty, Dylanne; Campbell, Aimee N C; Wang, An Li; Nunes, Edward V; Rotrosen, John (2021. ) Reductions in tobacco use in naltrexone, relative to buprenorphine-maintained individuals with opioid use disorder: Secondary analysis from the National Drug Abuse Treatment Clinical Trials Network.Journal of substance abuse treatment, , 130 ,108489 More Information
Montgomery, LaTrice; Winhusen, Theresa; Scodes, Jennifer; Pavlicova, Martina; Twitty, Dylanne; Campbell, Aimee N C; Wang, An Li; Nunes, Edward V; Rotrosen, John (2021. ) Reductions in tobacco use in naltrexone, relative to buprenorphine-maintained individuals with opioid use disorder: Secondary analysis from the National Drug Abuse Treatment Clinical Trials Network.Journal of substance abuse treatment, , 130 ,108489 More Information
Cochran, Gerald; Brown, Jennifer; Yu, Ziji; Frede, Stacey; Bryan, M Aryana; Ferguson, Andrew; Bayyari, Nadia; Taylor, Brooke; Snyder, Margie E; Charron, Elizabeth; Adeoye-Olatunde, Omolola A; Ghitza, Udi E; Winhusen, T (2021. ) Validation and threshold identification of a prescription drug monitoring program clinical opioid risk metric with the WHO alcohol, smoking, and substance involvement screening test.Drug and alcohol dependence, , 228 ,109067 More Information
Devlin, Lori A; Young, Leslie W; Kraft, Walter K; Wachman, Elisha M; Czynski, Adam; Merhar, Stephanie L; Winhusen, T; Jones, Hendrée E; Poindexter, Brenda B; Wakschlag, Lauren S; Salisbury, Amy L; Matthews, Abigail G; Davis, Jonathan M (2021. ) Neonatal opioid withdrawal syndrome: a review of the science and a look toward the use of buprenorphine for affected infants.Journal of perinatology : official journal of the California Perinatal Association, , More Information
Bryan, M Aryana; Charron, Elizabeth; Adeoye-Olatunde, Omolola; Brown, Jennifer; Ghitza, Udi; Winhusen, T John; Cochran, Gerald (2021. ) Concomitant Cannabis Misuse and Associations with Depression, Pain and Substance Misuse among Patients Prescribed Opioids.Pharmacy (Basel, Switzerland), , 9 (3 ) , More Information
Kropp, Frankie; Wilder, Christine; Theobald, Jeff; Lewis, Daniel; Winhusen, T John (2021. ) The feasibility and safety of training patients in opioid treatment to serve as peer recovery support service interventionists.Substance abuse, , 1-4 More Information
Carter, Gentry; Yu, Ziji; Aryana Bryan, M; Brown, Jennifer L; Winhusen, T; Cochran, Gerald (2022. ) Validation of the tobacco, alcohol, prescription medication, and other substance use (TAPS) tool with the WHO alcohol, smoking, and substance Involvement screening test (ASSIST).Addictive behaviors, , 126 ,107178 More Information
Cochran, Gerald; Charron, Elizabeth; Brown, Jennifer L; Cernasev, Alina; Hohmeier, Kenneth C; Winhusen, T John (2022. ) Risky alcohol use among patients dispensed opioid medications: A clinical community pharmacy study.Drug and alcohol dependence, , 234 ,109406 More Information
Charron, Elizabeth; Okifuji, Akiko; Bryan, M Aryana; Reese, Sarah; Brown, Jennifer L; Ferguson, Andrew; Ghitza, Udi E; Winhusen, T; Cochran, Gerald (2022. ) Pain Severity and Interference and Substance Use Among Community Pharmacy Patients Prescribed Opioids: A Secondary Analysis of the PHARMSCREEN Study.The journal of pain, , More Information
Brown, Jennifer L; Cochran, Gerald; Bryan, M Aryana; Charron, Elizabeth; Winhusen, T John (2022. ) Associations between elevated depressive symptoms and substance use, prescription opioid misuse, overdose history, pain, and general health among community pharmacy patients prescribed opioids.Substance abuse, , 43 (1 ) ,1110-1115 More Information
Khan, Md Tareq Ferdous; Lewis, Daniel; Kaelber, David C; Winhusen, T John (2023. ) Health outcomes associated with patterns of substance use disorders among patients with type 2 diabetes and hypertension: Electronic health record findings.Primary care diabetes, , 17 (1 ) ,43-47 More Information
Young, April M; Brown, Jennifer L; Hunt, Timothy; Sprague Martinez, Linda S; Chandler, Redonna; Oga, Emmanuel; Winhusen, T John; Baker, Trevor; Battaglia, Tracy; Bowers-Sword, Rachel; Button, Amy; Fallin-Bennett, Amanda; Fanucchi, Laura; Freeman, Patricia; Glasgow, LaShawn M; Gulley, Jennifer; Kendell, Charles; Lofwall, Michelle; Lyons, Michael S; Quinn, Maria; Rapkin, Bruce David; Surratt, Hilary L; Walsh, Sharon L (2022. ) Protocol for community-driven selection of strategies to implement evidence-based practices to reduce opioid overdoses in the HEALing Communities Study: a trial to evaluate a community-engaged intervention in Kentucky, Massachusetts, New York and Ohio.BMJ open, , 12 (9 ) ,e059328 More Information
Wilson, Marian; Dolor, Rowena J; Lewis, Daniel; Regan, Saundra L; Vonder Meulen Adn, Mary Beth; Winhusen, T John (2022. ) The opioid dose and pain effects of an online pain self-management program to augment usual care in adults with chronic pain: a multi-site randomized clinical trial.Pain, , More Information
Sprunger, Joel G; Johnson, Keilan; Lewis, Daniel; Kaelber, David C; Winhusen, T John (2022. ) Five-year incidence of substance use and mental health diagnoses following exposure to opioids or opioids with benzodiazepines during an emergency department encounter for traumatic injury.Drug and alcohol dependence, , 238 ,109584 More Information
Gao, Zhenxiang; Winhusen, T John; Gorenflo, Maria; Ghitza, Udi E; Davis, Pamela B; Kaelber, David C; Xu, Rong (2023. ) Repurposing ketamine to treat cocaine use disorder: Integration of artificial intelligence-based prediction, expert evaluation, clinical corroboration, and mechanism of action analyses.Addiction (Abingdon, England), , More Information
Chandler, Redonna; Nunes, Edward V; Tan, Sylvia; Freeman, Patricia R; Walley, Alexander Y; Lofwall, Michelle; Oga, Emmanuel; Glasgow, LaShawn; Brown, Jennifer L; Fanucchi, Laura; Beers, Donna; Hunt, Timothy; Bowers-Sword, Rachel; Roeber, Carter; Baker, Trevor; Winhusen, T John (2023. ) Community selected strategies to reduce opioid-related overdose deaths in the HEALing (Helping to End Addiction Long-term SM) communities study.Drug and alcohol dependence, , 245 ,109804 More Information
Kropp, Frankie B; Smid, Marcela C; Lofwall, Michelle R; Wachman, Elisha M; Martin, Peter R; Murphy, Sean M; Wilder, Christine M; Winhusen, T John (2023. ) Collaborative care programs for pregnant and postpartum individuals with opioid use disorder: Organizational characteristics of sites participating in the NIDA CTN0080 MOMs study.Journal of substance use and addiction treatment, , 149 ,209030 More Information
Charron, Elizabeth; Brooks, Jennifer H; Peterson, Keegan T; Akinwolere, Olusegun G; Winhusen, T; Cochran, Gerald (2023. ) Mapping prescription drug monitoring program data to self-report measures of non-medical prescription opioid use in community pharmacy settings.Research in social & administrative pharmacy : RSAP, , More Information
Fleck, David E; Wilson, Marian; Lewis, Daniel; Welge, Jeffrey A; Arya, Grace; Sathyan, Anoop; Cohen, Kelly; Winhusen, T John (2023. ) Neurocognitive predictors of adherence to an online pain self-management program adjunct to long-term opioid therapy.Journal of clinical and experimental neuropsychology, , 45 (3 ) ,242-254 More Information
Fleck, David E; Wilson, Marian; Lewis, Daniel; Welge, Jeffrey A; Arya, Grace; Sathyan, Anoop; Cohen, Kelly; Winhusen, T John (2023. ) Neurocognitive predictors of adherence to an online pain self-management program adjunct to long-term opioid therapy.Journal of clinical and experimental neuropsychology, , 45 (3 ) ,242-254 More Information
1988 Psi Chi (National Psychology Honorary) Induction
1989 Psi Chi Distinguished Service Award University of Cincinnati
1989 -1990 President of Psi Chi: University of Cincinnati Chapter Cincinnati, Ohio
1990 Doris Twitchell Allen Award: Outstanding Senior Woman University of Cincinnati Psychology Department, Cincinnati, Ohio
1990 Phi Beta Kappa Induction
1991 Indiana University Graduate Fellowship Bloomington, IN
1991 -1993 Predoctoral NIMH Research Traineeship
1993 -1994 Drolet Summer Fellowship to conduct research on depression Bloomington, IN
1994 Indiana University Graduate Doctoral Grant-In-Aid of Research Bloomington, IN
2006 Faculty Achievement in Research Award Cincinnati, Ohio University of Cincinnati College of Medicine
2010 National Institute on Drug Abuse (NIDA) Clinical Trials Network (CTN) Besteman Award First recipient of this award, which is given for outstanding contributions to CTN's mission - presented by Dr. Nora Volkow, NIDA Director
(NIDA Clinical Trials Network Training Subcommittee ) Committee Chair 2001 -2002
Drug and Alcohol Dependence Reviewer 2005 -To Present
Human Psychopharmacology: Clinical and Experimental Reviewer 2005 -To Present
Journal of Clinical Psychiatry Reviewer 2005 -To Present
Journal of Pharmacology and Experimental Therapeutics Reviewer 2005 -To Present
Journal of Substance Abuse Treatment Reviewer 2005 -To Present
Psychological Assessment Reviewer 2005 -To Present
(Pre-Review of Medical Protocols Committee ) Member 2010 -To Present
(ZDA1 JXR-D (10) Special Emphasis Panel ) Member 2010
(ZDA1 JXR-D (09) Special Emphasis Panel ) Member 2010
(Executive Committee of the Center for Treatment, Research, & Education in Addictive Disorders (CeTREAD) ) Member 2010 -To Present
2010 -To Present: Regular Member College on Problems of Drug Dependence (CPDD),
2012 -To Present: Society for Research on Nicotine and Tobacco- Full Member
Research - Medical Office Building East
3131 Harvey Avenue, Suite 104
Cincinnati  Ohio, 45229
Phone: 513-585-8292
Fax: 513-585-8278
winhust@ucmail.uc.edu