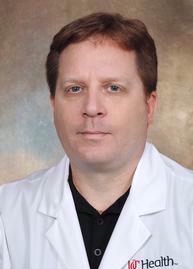 Jason J Winnick , PhD
Assistant Professor
University of Cincinnati College of Medicine; Department of Internal Medicine
231 Albert Sabin Way
MSB-7063
Cincinnati, Ohio 45267-0547
Phone 513-558-4437
Email jason.winnick@uc.edu
In humans, the liver plays a central role in the regulation of blood glucose homeostasis; consuming the sugar and storing it as glycogen during the fed state, then releasing it back into the blood on a need-basis when fasting. Unfortunately, these processes become dysfunctional in some people, thereby leading to diabetes which, if left uncontrolled, can hasten the development of micro- and macro-vascular disease.
The research that my colleagues and I perform revolves around the study of how hepatic glucose metabolism is regulated in both the healthy and diseased states. As such, one area of focus is hypoglycemic counter-regulation. In preliminary animal studies, we showed that an acute increase in liver glycogen content can augment hepatic glucose production (HGP) in response to insulin-induced hypoglycemia. As a result, current NIH-funded studies are underway to investigate the translational potential of this finding to healthy humans and to people with type 1 diabetes whose counterregulatory responses to hypoglycemia are diminished.
Chronic exercise training, with and without weight loss, can lower fasting HGP and improve blood glucose homeostasis in people with type 2 diabetes. Accordingly, a second arm of the research that we perform relates to the whole-body mechanisms responsible for these improvements and the study of how the intrahepatic pathways that contribute to HGP respond to lifestyle modification.
Finally, there is now overwhelming evidence demonstrating that Roux-en-Y gastric bypass (RYGB) surgery not only leads to significant weight loss in people who are obese, but it also markedly improves blood glucose homeostasis in people with type 2 diabetes. The two primary metabolic improvements, as a result of RYGB, include increased insulin responsiveness to a mixed meal and lowered fasting HGP. Hence, we are interested in better understanding the mechanisms leading to reduced HGP after RYGB in people with type 2 diabetes as well as the effect that the increased insulin responsiveness has on the liver.
Bachelor's Degree: SUNY College at Brockport Brockport, NY, 1998 (Exercise Physiology)
Master's Degree: University of South Carolina Columbia, SC, 2000 (Exercise Physiology)
Doctoral Degree: The Ohio State University Columbus, OH, 2006 (Exercise Physiology)
Fellowship : Vanderbilt University School of Medicine Nashville, TN, 2011 (In vivo hepatic glucose metabolism )
Research and Practice Interests
Hepatic glucose production, diabetes, liver, pancreas, glucagon, hepatic glucose metabolism, liver glycogen, hypoglycemia, surgical weight loss, exercise, gastric bypass.
Positions and Work Experience
1990 -1994 Infantry, United States Marine Corps, Camp Lejeune, NC
2011 -2016 Research Track Faculty Member, Vanderbilt University Department of Molecular Physiology & Biophysics, Nashville, TN
2016 - Faculty Member, Vanderbilt University's Diabetes Research and Training Center., Served as a faculty member with Vanderbilt's DRTC., Vanderbilt University, Nashville, TN
Grant: #K01-DK-093799 08-01-2012 -05-31-2016 NIDDK The effect of exercise on hepatic glucose metabolism in type 2 diabetes mellitus. Role:PI
Grant: #F32-DK-080606 02-01-2008 -01-31-2010 NIDDK Effect of hepatic glycogen level on hepatic glucose uptake and disposition. Role:PI Completed
Grant: #R01-DK-106364 06-01-2016 -05-31-2021 NIDDK Effect of liver glycogen content on hypoglycemic counterregulation Role:PI
12-01-2021 -01-31-2023 Helmsley Charitable Trust On the role of C-peptide in metabolic regulation during sleep and exercise Role:PI
Grant: #R01-DK-106364 01-20-2023 -12-31-2027 NIDDK On the regulation of hepatic glucose metabolism during insulin-induced hypoglycemia Role:PI
Peer Reviewed Publications
Winnick, Jason J; Kraft, Guillaume; Gregory, Justin M; Edgerton, Dale S; Williams, Phillip; Hajizadeh, Ian A; Kamal, Maahum Z; Smith, Marta; Farmer, Ben; Scott, Melanie; Neal, Doss; Donahue, E Patrick; Allen, Eric; Cherrington, Alan D (2016. ) Hepatic glycogen can regulate hypoglycemic counterregulation via a liver-brain axis.The Journal of clinical investigation, , 126 (6 ) ,2236-48 More Information
Yu, Erin Nz; Winnick, Jason J; Edgerton, Dale S; Scott, Melanie F; Smith, Marta S; Farmer, Ben; Williams, Phillip E; Cherrington, Alan D; Moore, Mary Courtney (2016. ) Hepatic and Whole-Body Insulin Metabolism during Proestrus and Estrus in Mongrel Dogs. Comparative medicine, , 66 (3 ) ,235-40
Gregory, Justin M; Kraft, Guillaume; Scott, Melanie F; Neal, Doss W; Farmer, Ben; Smith, Marta S; Hastings, Jon R; Allen, Eric J; Donahue, E Patrick; Rivera, Noelia; Winnick, Jason J; Edgerton, Dale S; Nishimura, Erica; Fledelius, Christian; Brand, Christian L; Cherrington, Alan D (2015. ) Insulin Delivery Into the Peripheral Circulation: A Key Contributor to Hypoglycemia in Type 1 Diabetes.Diabetes, , 64 (10 ) ,3439-51 More Information
Edgerton, Dale S; Moore, Mary C; Winnick, Jason J; Scott, Melanie; Farmer, Ben; Naver, Helle; Jeppesen, Claus B; Madsen, Peter; Kjeldsen, Thomas B; Nishimura, Erica; Brand, Christian L; Cherrington, Alan D (2014. ) Changes in glucose and fat metabolism in response to the administration of a hepato-preferential insulin analog.Diabetes, , 63 (11 ) ,3946-54 More Information
Winnick, J J; Ramnanan, C J; Saraswathi, V; Roop, J; Scott, M; Jacobson, P; Jung, P; Basu, R; Cherrington, A D; Edgerton, D S (2013. ) Effects of 11?-hydroxysteroid dehydrogenase-1 inhibition on hepatic glycogenolysis and gluconeogenesis.American journal of physiology. Endocrinology and metabolism, , 304 (7 ) ,E747-56 More Information
Winnick, Jason J; An, Zhibo; Kraft, Guillaume; Ramnanan, Christopher J; Irimia, Jose M; Smith, Marta; Lautz, Margaret; Roach, Peter J; Cherrington, Alan D (2013. ) Liver glycogen loading dampens glycogen synthesis seen in response to either hyperinsulinemia or intraportal glucose infusion.Diabetes, , 62 (1 ) ,96-101 More Information
An, Zhibo; Winnick, Jason J; Moore, Mary C; Farmer, Ben; Smith, Marta; Irimia, Jose M; Roach, Peter J; Cherrington, Alan D (2012. ) A cyclic guanosine monophosphate-dependent pathway can regulate net hepatic glucose uptake in vivo.Diabetes, , 61 (10 ) ,2433-41 More Information
Moore, Mary Courtney; Coate, Katie C; Winnick, Jason J; An, Zhibo; Cherrington, Alan D (2012. ) Regulation of hepatic glucose uptake and storage in vivo.Advances in nutrition (Bethesda, Md.), , 3 (3 ) ,286-94 More Information
Winnick, Jason J; An, Zhibo; Ramnanan, Christopher J; Smith, Marta; Irimia, Jose M; Neal, Doss W; Moore, Mary Courtney; Roach, Peter J; Cherrington, Alan D (2011. ) Hepatic glycogen supercompensation activates AMP-activated protein kinase, impairs insulin signaling, and reduces glycogen deposition in the liver.Diabetes, , 60 (2 ) ,398-407 More Information
An, Zhibo; Winnick, Jason J; Farmer, Ben; Neal, Doss; Lautz, Margaret; Irimia, Jose M; Roach, Peter J; Cherrington, Alan D (2010. ) A soluble guanylate cyclase-dependent mechanism is involved in the regulation of net hepatic glucose uptake by nitric oxide in vivo.Diabetes, , 59 (12 ) ,2999-3007 More Information
Winnick, Jason J; An, Zhibo; Moore, Mary Courtney; Ramnanan, Christopher J; Farmer, Ben; Shiota, Masakazu; Cherrington, Alan D (2009. ) A physiological increase in the hepatic glycogen level does not affect the response of net hepatic glucose uptake to insulin.American journal of physiology. Endocrinology and metabolism, , 297 (2 ) ,E358-66 More Information
An, Zhibo; Moore, Mary C; Winnick, Jason J; Farmer, Ben; Neal, Doss W; Lautz, Margaret; Smith, Marta; Rodewald, Tiffany; Cherrington, Alan D (2009. ) Portal infusion of escitalopram enhances hepatic glucose disposal in conscious dogs. European journal of pharmacology, , 607 (1-3 ) ,251-7
Winnick, Jason J; Gaillard, Trudy; Schuster, Dara P (2008. ) Resistance training differentially affects weight loss and glucose metabolism of White and African American patients with type 2 diabetes mellitus. Ethnicity & disease, , 18 (2 ) ,152-6
Winnick, Jason J; Sherman, W Michael; Habash, Diane L; Stout, Michael B; Failla, Mark L; Belury, Martha A; Schuster, Dara P (2008. ) Short-term aerobic exercise training in obese humans with type 2 diabetes mellitus improves whole-body insulin sensitivity through gains in peripheral, not hepatic insulin sensitivity.The Journal of clinical endocrinology and metabolism, , 93 (3 ) ,771-8 More Information
Winnick, Jason J; Davis, J Mark; Welsh, Ralph S; Carmichael, Martin D; Murphy, E Angela; Blackmon, Jill A (2005. ) Carbohydrate feedings during team sport exercise preserve physical and CNS function. Medicine and science in sports and exercise, , 37 (2 ) ,306-15
Kraft, Guillaume; Coate, Katie C; Winnick, Jason J; Dardevet, Dominique; Donahue, E Patrick; Cherrington, Alan D; Williams, Phillip E; Moore, Mary Courtney (2017. ) Glucagon's effect on liver protein metabolism in vivo.American journal of physiology. Endocrinology and metabolism, , ajpendo.00045.2017 More Information
Gregory, Justin M; Rivera, Noelia; Kraft, Guillaume; Winnick, Jason J; Farmer, Ben; Allen, Eric J; Donahue, E Patrick; Smith, Marta S; Edgerton, Dale S; Williams, Phillip E; Cherrington, Alan D (2017. ) Glucose Autoregulation is the Dominant Component of the Hormone-Independent Counterregulatory Response to Hypoglycemia in the Conscious Dog.American journal of physiology. Endocrinology and metabolism, , ajpendo.00099.2017 More Information
Gregory, Justin M; Muldowney, James A; Engelhardt, Brian G; Tyree, Regina; Marks-Shulman, Pam; Silver, Heidi J; Donahue, E Patrick; Edgerton, Dale S; Winnick, Jason J (2019. ) Aerobic exercise training improves hepatic and muscle insulin sensitivity, but reduces splanchnic glucose uptake in obese humans with type 2 diabetes.Nutrition & diabetes, , 9 (1 ) ,25 More Information
Engelhardt, Brian G; Savani, Ujjawal; Jung, Dae Kwang; Powers, Alvin C; Jagasia, Madan; Chen, Heidi; Winnick, Jason J; Tamboli, Robyn A; Crowe, James E; Abumrad, Naji N (2019. ) New-Onset Post-Transplant Diabetes Mellitus after Allogeneic Hematopoietic Cell Transplant Is Initiated by Insulin Resistance, Not Immunosuppressive Medications.Biology of blood and marrow transplantation : journal of the American Society for Blood and Marrow Transplantation, , 25 (6 ) ,1225-1231 More Information
Flynn, C Robb; Albaugh, Vance L; Tamboli, Robyn A; Gregory, Justin M; Bosompem, Amma; Sidani, Reem M; Winnick, Jason J (2020. ) Roux-en-Y gastric bypass surgery improves hepatic glucose metabolism and reduces plasma kisspeptin levels in morbidly obese patients with type 2 diabetes.American journal of physiology. Gastrointestinal and liver physiology, , 318 (2 ) ,G370-G374 More Information
Warner, Shana O; Yao, Michael V; Cason, Rebecca L; Winnick, Jason J (2020. ) Exercise-Induced Improvements to Whole Body Glucose Metabolism in Type 2 Diabetes: The Essential Role of the Liver.Frontiers in endocrinology, , 11 ,567 More Information
Moore, Mary Courtney; Warner, Shana O; Dai, Yufei; Sheanon, Nicole; Smith, Marta; Farmer, Ben; Cason, Rebecca L; Cherrington, Alan D; Winnick, Jason J (2021. ) C-peptide enhances glucagon secretion in response to hyperinsulinemia under euglycemic and hypoglycemic conditions.JCI insight, , 6 (12 ) , More Information
Warner, Shana O; Wadian, Abby M; Smith, Marta; Farmer, Ben; Dai, Yufei; Sheanon, Nicole; Edgerton, Dale S; Winnick, Jason J (2021. ) Liver glycogen-induced enhancements in hypoglycemic counterregulation require neuroglucopenia.American journal of physiology. Endocrinology and metabolism, , 320 (5 ) ,E914-E924 More Information
Academic - University of Cincinnati College of Medicine; Department of Internal Medicine
231 Albert Sabin Way
Cincinnati  Ohio, 45267-0547
Phone: 513-558-4437
jason.winnick@uc.edu