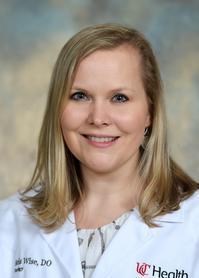 Starla Marie-Stiles Wise , DO
Assistant Professor of Clinical
One Stetson Square
COM Neurology General Neurology - 0525
Bachelor of Science: Virginia Polytechnic Institute and State University Blacksburg, VA, 2005 (Biology (concentration on Biotechnology))
Doctor of Osteopathic Medicine: Edward Via Virginia College of Osteopathic Medicine Blacksburg, VA, 2009 (Osteopathic Medicine)
Internship: Wake Forest University Winston-Salem, NC, 2010 (Internal Medicine)
Residency: Wake Forest Baptist Health Winston-Salem, NC, 2013 (Neurology )
Fellowship: Wake Forest Baptist Health Winston-Salem, NC, 2014 (Clinical Neurophysiology)
American Board of Electrodiagnostic Medicine (Certification Date: 04-27-2017 )
American Board of Psychiatry and Neurology (Neurology) (Certification Date: 09-25-2014 )
Neurology
Pain Medicine
Electrodiagnostic Medicine
Neurology
Research and Practice Interests
2011 – 2013
Clinical Research, Department of Neurology, Wake Forest
Baptist Health. Thirty-day readmission study in Stroke; Principle Investigator: Cheryl Bushnell M.D. This was a retrospective study evaluating risk factors that were common in patients who were readmitted 30 days after their initial admission for ischemic or hemorrhagic stroke.
Positions and Work Experience
2016 -2020 Assistant Professor of Neurology, Wake Forest School of Medicine, Winston-Salem, NC
2014 -2016 General Neurologist, Riverside Medical Group, Williamsburg, VA
2013 -2014 Fellow in Neurophsysiology, Wake Forest Baptist Health, Winston-Salem, NC
Dr. Wise is a general neurologist with additional interests in medical student and resident education.
Published Books
Wise S and Bushnell C (2016. ) Sex-Specific Risk Factors for Stroke in Women. In: Seshadri S, Debette S (eds). Risk Facotrs for Cerebrovascular Disease and stroke. Oxford, England , Oxford University Press
Electronic Journal
Strowd RE, Wise SM, Umesi UN, Bishop L, Craig J, Lefkowitz D, Reynolds PS, Tegeler C, Arnan M, Duncan PW, Bushnell CD. (2015. ) Predictors of 30-day hospital readmission following ischemic and hemorrhagic stroke. American Journal of Medicine Qual., 30 (5 ) ,
Poster Presentations
Wells RE, Stewart A, Strauss L, Wise S, Granetzke L, Kumar S, Kumar V, Pierce C, Speiser4 J, O'Connell N. (2019. ) Educating Patients On New Treatments: The Experience of One Headache Center's Launch of the New CGRP Migraine Medications. American Headache Society Annual Meeting, Philadelphia, PA. .
Clinical Focus and Interests:
Dr. Wise treats a variety of neurological conditions with a clinical focus on headache and neuromuscular medicine.,