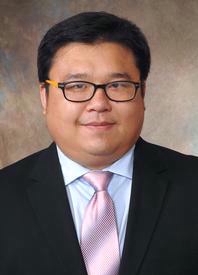 Danny T. Y. Wu
Assistant Professor
Medical Sciences Building
6465
COM Biomedical Informatics - 0840
Medical Science Building (Room 6465)
231 Albert Sabin Way
Cincinnati, Ohio 45229

Danny T.Y. Wu is an Assistant Professor of Biomedical Informatics at the University of Cincinnati College of Medicine. His research draws on human-computer interaction, data mining, information retrieval, natural language processing, and visual analytics, to maximize the value of clinical data stored in electronic health records and further improve care quality and support clinical and translational research. Wu received both his PhD and master's degree from the University of Michigan School of Information prior to joining BMI. Before going to graduate school, he worked as a software engineer for four years. In addition to research, Wu is dedicated to education, service, and practical engagement. 
PhD, University of Michigan School of Information Ann Arbor, 2016 (Information Science)
MS, University of Michigan School of Information Ann Arbor, 2011 (Information Analysis and Retrieval)
BBA, National Taiwan Univeristy Taipei, 2003 (Information Management)
Positions and Work Experience
09-2014 -08-2016 Database Analyst/Programmer Sr., University of Michigan Health System, Ann Arbor
09-2015 -12-2015 Adjunct Lecturer, University of Michigan Department of Health Management and Policy, Ann Arbor
Research and Practice Interests
Human-computer interaction, Data science, Information Retriaval, Natrual Language Processing, Visual Analytics. 
Grant: #1708-04721 Investigators:Blevins, Jeffrey; Culley, Theresa; Johnson, Arlene; Lee, James; Wang, Xuemao; Wu, Tzu-Yu 01-01-2018 -06-30-2020 Andrew W. Mellon Foundation A Catalyst Model for Transdisciplinary Teams in Digital Scholarship: The University of Cincinnati's Digital Scholarship Center Role:Collaborator $900,000.00 Awarded Level:Private Non-Profit
Grant: #URS Wu New Faculty Development Award – 2017/18 Investigators:Wu, Tzu-Yu 06-01-2018 -06-30-2019 UC's Research Support URS Wu New Faculty Development Award – 2017/18 Role:PI $2,500.00 Active Level:Internal UC
Grant: #2018 Mary K. Logan Research Grant Investigators:Wu, Tzu-Yu 07-01-2018 -06-30-2019 Association for the Advancement of Medical Instrumentation Developing and Evaluating a Machine-Learning Algorithm to Detect Pediatric Weight Entry Errors Role:PI $40,000.00 Active Level:Private Non-Profit
Grant: #302971 / U24HL135691 Investigators:Wu, Tzu-Yu 07-01-2018 -06-30-2020 National Heart, Lung and Blood Institute Risk adjusted evaluation of Fontan Fenestration Role:PI $14,772.25 Active Level:Federal
Grant: #Mellon Foundation 2020 Award Investigators:Lee, James; Wang, Xuemao; Wu, Tzu-Yu 10-01-2020 -09-30-2023 Andrew W. Mellon Foundation Computable Archives: Activating Digital Archives with Machine Learning and Data Visualization for Transdisciplinary Digital Scholarship Role:Collaborator $700,000.00 Awarded Level:Private Non-Profit
Grant: #313198 / IIP-2028008 Investigators:Wu, Tzu-Yu 06-01-2020 -11-30-2020 National Science Foundation Accelerating Understanding of COVID-19 Biology and Treatment Via Scaled Medical Record and Biosimulation Analytics Role:PI $7,461.00 Awarded Level:Federal
Grant: #Services Agreement Investigators:Wu, Tzu-Yu 07-01-2020 -06-30-2021 Cincinnati Children's Hospital Medical Center ARC - SA0001517_CHMC.Schumacher_UC.Wu Role:PI $16,096.00 Awarded Level:Private Non-Profit
Grant: #R40766 Investigators:Wu, Tzu-Yu 04-01-2021 -04-30-2022 UC's AHSS Improving the Understanding and Actionability of Clinical Notes to Support Self-care in Patients with a Chronic Disease and Low Health Literacy: A Pilot Study Role:PI $10,000.00 Active Level:Internal UC
Peer Reviewed Publications
Wu, Danny T Y; Hanauer, David A; Mei, Qiaozhu; Clark, Patricia M; An, Lawrence C; Lei, Jianbo; Proulx, Joshua; Zeng-Treitler, Qing; Zheng, Kai (2013. ) Applying multiple methods to assess the readability of a large corpus of medical documents. Studies in health technology and informatics, , 192 ,647-51
Van Camp, P J; Mahdi, C Monifa; Liu, Lei; Ni, Yizhao; Spooner, S Andrew; Wu, Danny T Y (2019. ) Development and Preliminary Evaluation of a Visual Annotation Tool to Rapidly Collect Expert-Annotated Weight Errors in Pediatric Growth Charts.Studies in health technology and informatics, , 264 ,853-857
Kronk, Clair; Tran, Giao Q; Wu, Danny T Y (2019. ) Creating a Queer Ontology: The Gender, Sex, and Sexual Orientation (GSSO) Ontology.Studies in health technology and informatics, , 264 ,208-212
Zhang, Zhan; Lu, Yu; Kou, Yubo; Wu, Danny T Y; Huh-Yoo, Jina; He, Zhe (2019. ) Understanding Patient Information Needs About Their Clinical Laboratory Results: A Study of Social Q&A Site.Studies in health technology and informatics, , 264 ,1403-1407
Zheng, Kai; Chen, Yunan; Adler-Milstein, Julia; Rosenberg, Andrew L; Wu, Danny T Y; Mei, Qiaozhu; Hanauer, David A (2019. ) How Do Healthcare Professionals Personalize Their Software? A Pilot Exploration Based on an Electronic Health Records Search Engine.Studies in health technology and informatics, , 264 ,1408-1412
Su, Wu-Chen; Dufendach, Kevin; Wu, Danny T Y (2019. ) Assessing the Readability of Freely Available ICU Notes. AMIA Joint Summits on Translational Science proceedings. AMIA Joint Summits on Translational Science, , 2019 ,696-703
Wu, Danny T Y; Meganathan, Karthikeyan; Newcomb, Matthew; Ni, Yizhao; Dexheimer, Judith W; Kirkendall, Eric S; Spooner, S Andrew (2018. ) A Comparison of Existing Methods to Detect Weight Data Errors in a Pediatric Academic Medical Center. AMIA ... Annual Symposium proceedings. AMIA Symposium, , 2018 ,1103-1109
Ehrler, Frederic; Ducloux, Pascal; Wu, Danny T Y; Lovis, Christian; Blondon, Katherine (2018. ) Acceptance of a Mobile Application Supporting Nurses Workflow at Patient Bedside: Results from a Pilot Study. Studies in health technology and informatics, , 247 ,506-510
Wu, Danny T Y; Zheng, Kai; Bradley, David J (2018. ) CHCi - A Dynamic Data Platform for Clinical Data Capture and Use. AMIA Joint Summits on Translational Science proceedings. AMIA Joint Summits on Translational Science, , 2017 ,246-255
Wu, Danny T Y; Smart, Nikolas; Ciemins, Elizabeth L; Lanham, Holly J; Lindberg, Curt; Zheng, Kai (2017. ) Using EHR audit trail logs to analyze clinical workflow: A case study from community-based ambulatory clinics. AMIA ... Annual Symposium proceedings. AMIA Symposium, , 2017 ,1820-1827
Wu, Danny T Y; Deoghare, Smruti; Shan, Zhe; Meganathan, Karthikeyan; Blondon, Katherine (2019. ) The potential role of dashboard use and navigation in reducing medical errors of an electronic health record system: a mixed-method simulation handoff study.Health systems (Basingstoke, England), , 8 (3 ) ,203-214
Electronic Journal
Hanauer, David A; Wu, Danny T Y; Yang, Lei; Mei, Qiaozhu; Murkowski-Steffy, Katherine B; Vydiswaran, V G Vinod; Zheng, Kai (2017. ) Development and empirical user-centered evaluation of semantically-based query recommendation for an electronic health record search engine. Journal of biomedical informatics, 67 ,
Bradley, David J; Wu, Danny T Y; Goldberg, Caren S; Serwer, Gerald S; Lowery, Ray E; Donohue, Janet E; Hirsch-Romano, Jennifer C; Zheng, Kai; Pasquali, Sara K (2016. ) Out of many, one: integrating data in the paediatric cardiovascular environment. Cardiology in the young,
Wu, Danny T Y; Hanauer, David A; Mei, Qiaozhu; Clark, Patricia M; An, Lawrence C; Proulx, Joshua; Zeng, Qing T; Vydiswaran, V G Vinod; Collins-Thompson, Kevyn; Zheng, Kai (2016. ) Assessing the readability of ClinicalTrials.gov. Journal of the American Medical Informatics Association : JAMIA, 23 (2 ) ,
Wu, Danny T Y; Xin, Chen; Bindhu, Shwetha; Xu, Catherine; Sachdeva, Jyoti; Brown, Jennifer L; Jung, Heekyoung (2020. ) Clinician Perspectives and Design Implications in Using Patient-Generated Health Data to Improve Mental Health Practices: Mixed Methods Study. JMIR formative research, 4 (8 ) ,
Wu, Danny T Y; Vennemeyer, Scott; Brown, Kelly; Revalee, Jason; Murdock, Paul; Salomone, Sarah; France, Ashton; Clarke-Myers, Katherine; Hanke, Samuel P (2019. ) Usability Testing of an Interactive Dashboard for Surgical Quality Improvement in a Large Congenital Heart Center. Applied clinical informatics, 10 (5 ) ,
Wu, Danny T Y; Chen, Annie T; Manning, John D; Levy-Fix, Gal; Backonja, Uba; Borland, David; Caban, Jesus J; Dowding, Dawn W; Hochheiser, Harry; Kagan, Vadim; Kandaswamy, Swaminathan; Kumar, Manish; Nunez, Alexis; Pan, Eric; Gotz, David (2019. ) Evaluating visual analytics for health informatics applications: a systematic review from the American Medical Informatics Association Visual Analytics Working Group Task Force on Evaluation. Journal of the American Medical Informatics Association : JAMIA, 26 (4 ) ,
Ozkaynak, Mustafa; Wu, Danny T Y; Hannah, Katia; Dayan, Peter S; Mistry, Rakesh D (2018. ) Examining Workflow in a Pediatric Emergency Department to Develop a Clinical Decision Support for an Antimicrobial Stewardship Program. Applied clinical informatics, 9 (2 ) ,
Schumacher, Daniel J; Wu, Danny T Y; Meganathan, Karthikeyan; Li, Lezhi; Kinnear, Benjamin; Sall, Dana R; Holmboe, Eric; Carraccio, Carol; van der Vleuten, Cees; Busari, Jamiu; Kelleher, Matthew; Schauer, Daniel; Warm, Eric (2019. ) A Feasibility Study to Attribute Patients to Primary Interns on Inpatient Ward Teams Using Electronic Health Record Data. Academic medicine : journal of the Association of American Medical Colleges, 94 (9 ) ,
Academic - Medical Science Building (Room 6465)
231 Albert Sabin Way
Cincinnati  Ohio, 45229
Phone: 5135586464
wutz@ucmail.uc.edu