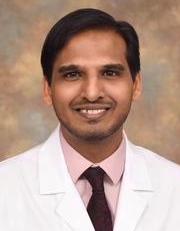 Syed Zaidi
Peer Reviewed Publications
Zaidi SA Zaidi SA, Haq MAU, Bindman D, et al. Crossed cerebellar diaschisis: a radiological finding in status epilepticus not to miss. Case Reports 2013 :bcr2013200478 .
Zaidi SA, Chhetri SK, Lekwuwa G, et al. An unusual presentation of diabetic amyotrophy: myoclonus. Case Reports. 2013:bcr2012008245.
Zaidi SA, Ahmed F (2016) Acupuncture in Primary Headache Disorders; Review of the Evidence. J Neurol Disord 4:288. doi:10.4172/2329-6895.1000288.
Zaidi SA, Majeed T. Investigation and management of Idiopathic intracranial Hypertension. Foundation Years Journal, volume 7, issue 7, p.32. (123Doc Education, London, July 2013).
Jennifer Sharma, Daniel Macias-Garcia, Amir Zaidi, Alberto J. Espay. Teaching Video NeuroImages: The signs of dystonic tremor Neurology Sep 2018, 91 (12) e1204-e1205. .