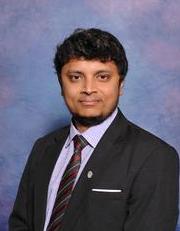 Adib Zaman , PhD
Asst Professor - Visiting
Teachers College
560R
CECH - School of Information Technology - 0002
Dr. Muhammad Adib Uz Zaman is currently a visiting assistant professor in the school of IT at UC and will start his appointment as a tenure-track assistnat professor in the school of IT at UC in August 2023. Before joining UC, he was a postdoctoral research associate of Pharmacotherapy and Translational Research (PTR) department at University of Florida.

Dr. Zaman received his BS, MS and PhD degree in Industrial Engineering from Bangladesh University of Engineering and Technology, Northern Illinois University, and Texas Tech University respectively in 2015, 2018 and 2021. His research interests are predictive modeling, data science and operations research.

Throughout his academic career, Dr. Zaman has worked on numerous projects in engineering, data science and optimzation techniques. His current research is based on the applications of artificial intelligence (AI) in EHR data analytics. To know more about his research, kindly visit his research webpage.
PhD, Industrial Engineering: Texas Tech University Lubbock, TX, 2021 (Applied operations research, data science, statistical modeling)
MS, Industrial and Systems Engineering: Northern Illinois University Dekalb, IL, 2018 (Applied operations research, bi-level optimization)
B.Sc. Engg. in Industrial and Production Engineering: Bangladesh University of Engineering and Technology Dhaka, Bangladesh, 2015 (Operations research)
Research and Practice Interests
My primary research direction is based on big data analytics and the application of machine learning methodology in healthcare informatics. With the advancement of technology, more and more reliable electronic healthcare databases can be obtained. Fully automated models have been developed for a few years now to help physicians get a better idea before any procedure. Over the course of many decades, numerous patients with different health conditions have been treated. Some of them were completely cured, some of them had to be readmitted, some of them passed away. Most of these patients generally have electronic records during their stay at the hospitals. Taking advantage of these electronic records, different predictive models (e.g readmission, mortality, etc.) can be formulated.
Positions and Work Experience
09-01-2021 -08-12-2022 Postdoctoral Research Associate, I worked on projects related to EHR data analytics, University of Florida, Gainesville, FL
Grant: #5K01HL141690-03 Investigators:Dr. Caitrin W. McDonough 06-01-2018 -05-31-2022 National Institute of Health (NIH) Integrative Data Approaches for Resistant Hypertension Identification and Prediction Role:Postdoctoral research associate Completed Type:Grant Level:National
(MSIT Review Panel ) Member Type:Departmental Service Level:Department 09-12-2022 -09-17-2022
Ohio Cyber Range Institute Coordinator Type:Service to Professional Associations Level:State 10-12-2022 -10-12-2022
School of Information Technology (Ad-hoc MSIT Application review panel ) Member Type:Departmental Service Level:Department 01-17-2022 -02-05-2023
Advanced Storage Technologies Level:Graduate
Data-driven Cybersecurity Level:Graduate
System Administration Level:Both