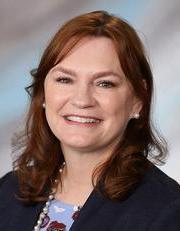 Debra Renee Zevallos
Assoc Professor - Educator
College of Allied Health Sciences
Health Sciences Building Room 107
3225 Eden Ave
Cincinnati, Ohio 45267
Phone 513-558-3694
Email debra.zevallos@uc.edu
Debra is board-certified in Health Care Management and a credentialed Fellow of the American College of Healthcare Executives (FACHE).  She has a Master of Health Administration (MHA) degree from The Ohio State University and a doctoral degree in Behavioral Health Management (DBH) from Arizona State University. 

Debra's professional experience in higher education includes over ten years of teaching experience and serving in leadership roles as the Associate Dean of Health Sciences and Program Director/Lead Faculty for the Healthcare Administration undergraduate degree program at The Christ College of Nursing and Health Sciences in Cincinnati, Ohio. 

Debra is a former Medical Service Corps officer (Healthcare Administrator) in the U.S. Navy and has over 20 years of experience in executive leadership roles in Health Care Administration, including hospital and ambulatory operations, strategic planning, quality and performance excellence, health policy, patient experience, financial management, and human resources.  Outside the Navy, Debra has held leadership positions at The Ohio State University College of Medicine; Kettering Health Network; The Christ Hospital Health Network; and The Christ College of Nursing and Health Sciences.
 
Doctor of Behavioral Health (DBH): Arizona State University Tempe, AZ, 2021 (Integrated Primary and Behavioral Health Care - Population Health Focus)
Master of Health Administration (MHA): The Ohio State University Columbus, OH, 2002 (Health Services Management & Policy)
Bachelor of Arts (BA): Saint Leo University Saint Leo, FL, 1996 (Business Administration - Healthcare Management Concentration)
Research and Practice Interests
Leadership Models in Health Care
Change and Innovation
Integrated Primary and Behavioral Health Care
Population Health Management
Veterans' Health
Quadruple Aim of Health Care
Online Teaching Effectiveness
Engaging Online Learners
Positions and Work Experience
01-03-2022 - Associate Professor, Full-time faculty in the Master of Health Administration (MHA) program. Course Director for HCA 7002 Principles of Leadership and HCA 7033 Global Health Systems. Core faculty for HCA 7031 Health Policy; HCA 7081 Emerging Issues in Health Systems Management (Capstone I); and HCA 7099 Health Systems Management (Capstone II), University of Cincinnati, Cincinnati, OH
03-06-2016 -12-31-2021 Executive Director; Associate Dean; HCA Program Director, Executive Director, Heart and Vascular Service Line; Business Leader with more than 50 physicians and Advanced Practice Providers and 500 clinical and administrative staff. Full profit/loss accountability for the 300 million-dollar H&V service line. Responsible for all capital and operating budgets. Developed and implemented business processes based on best practices to ensure effective alignment of service line and practice operations to promote superior patient care, patient experience, employee engagement, quality performance measures, resource allocation, safety, and innovation; Associate Dean, Health Sciences; leadership oversight of administrative operations, 38 faculty members and Health Care Administration, General Education, Medical Assisting, and Sonography degree programs; Program Director, Healthcare Administration undergraduate degree program, The Christ Hospital Health Network/The Christ College of Nursing and Health Sciences, Cincinnati, OH
07-01-2014 -03-05-2016 Director of Operations, Provided leadership and subject matter expertise to facilitate collaboration, alignment and integration of 7 Cardiology practices with 45 physicians and 110 staff members in a service delivery market spanning over 100 miles. Responsible for service line financial management with an annual operating budget of more than 50 million. Provided leadership for strategic planning, business development, research, marketing, HR, patient experience and quality improvement initiatives, Kettering Health Network, Kettering, OH
10-01-2008 -03-01-2012 Division Administrator, Provided leadership oversight of all administrative, operational, research, GME, fiscal/revenue cycle and HR activities for a division with more than 80 faculty and staff and an annual budget of 3 million. Analyzed physician productivity and patient satisfaction data and developed award-winning performance and quality improvement strategies targeted at all levels of the division using LEAN strategies. Developed and implemented budget, business plans and strategic planning initiatives. Led training and conversion to electronic medical record, The Ohio State University College of Medicine, Columbus, OH
01-01-1996 -10-01-2008 Medical Service Corps Officer, Commissioned officer in the U.S. Navy Medical Service Corps (Healthcare Administration section). Leadership experience in practice operations, humanitarian relief missions, legislative affairs, health care policy, teambuilding, strategic planning, and fiscal and supply chain management, U.S. Navy, Washington, DC (and various additional duty stations)
01-01-2016: Fellow Board-certified and credentialed in Healthcare Management (FACHE) American College of Healthcare Executives, Chicago, IL
Academic - College of Allied Health Sciences
Health Sciences Building Room 107
Cincinnati  Ohio, 45267
Phone: 513-558-3694
debra.zevallos@uc.edu