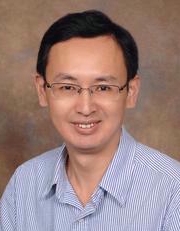 Yuhang Zhang , PHD
Professor
231 Albert Sabin Way
MSB 3005G
Cincinnati, Ohio 45267
Phone 513-558-0740
Email yuhang.zhang@uc.edu
Research in the lab focuses in three major directions. The first project aims at elucidating the roles of different fibroblast populations in epithelial-mesenchymal interactions (EMIs) that drive skin homeostasis, hair follicle induction, and growth and to translate these findings to the clinic and hair care products for a healthy skin. Acquisition of this knowledge is critical for the effective treatment of a variety of hair growth disorders, for the regeneration of hair follicles in cases of absence or loss of hair, and for improving the functionality of tissue-engineered skin substitutes. The second project focuses on exploring the molecular mechanisms underlying tumor-stroma interactions in malignant melanoma. The goal of this project is to discover and develop novel and effective therapeutic approaches that target the tumor microenvironment for melanoma treatment. The third project consists of two on-going collaborations with Procter & Gamble beauty and skin research groups, including a skin biomarker project and a zinc pyrithione (ZPT) metabolism project. The goals of two projects are to develop/validate human skin explant model as a pre-clinical screening tool for  testing natural moisture factors (NMFs) and the safety of ZPT metabolism in human skin and for determining the comprehensive mechanisms underlying the cleansing process in order to develop new skincare products. 
Ph.D: South China University of Technology Guangzhou, China, 1999 (Biotechnology)
Research and Practice Interests
The Mesenchymal Compartment, Epithelial-Mesenchymal Interaction and Hair Follicle Biology
 
Reversing hair loss disorders and creating relatively normal skin replacement after injury have long been major clinical challenges to dermatologists and surgeons. A stumbling block is the lack of an effective means to regulate epithelial-mesenchymal interactions (EMIs) between epidermal keratinocytes and dermal fibroblasts, which is necessary to control stem cell activation and self-renewal for successful tissue development, homeostasis and regeneration. Although the requirements and responses of epidermal cells during those interactions have been extensively characterized, the contributions of dermal cells to EMIs are less well defined. Our long-term goal is to better understand the roles of different fibroblast populations in EMIs that drive hair follicle induction and growth and to translate these findings to the clinic for hair and skin regeneration. The objective of the project is to obtain a mechanistic understanding of the roles and functions of cells in the DP and DS in promotion of hair follicle neogenesis and regeneration, which is likely to contribute meaningfully to the ultimate development of improved strategies for tissue engineering.

Cancer-Associated Fibroblasts, the Tumor Microenvironment and Melanoma
 
Cutaneous melanoma arises from the malignant transformation of skin melanocytes and is known for its aggressive clinical behavior, high propensity to metastasize and resistance to therapeutic treatments. Although a great deal of progress has been made in the past decade, including the development of immunotherapy using immune checkpoint inhibitors and targeted therapy using BRAF, MEK or KIT inhibitors, treatment for unresectable stage III, stage IV, and recurrent melanoma is still challenging with limited response rate, severe side effects and poor prognosis. The metastatic process of melanoma not only depends on the tumorigenic capacity of tumor cells, but also is driven by their constant signaling exchanges with the surrounding microenvironment. As cutaneous melanoma begins predominantly at the junction of the epidermis and the dermis, malignant tumor cells actively interact with fibroblasts in the local dermal microenvironment in order to break away from keratinocytes, invade underlying dermis and spread to other parts of the body. Emerging evidence underpins that transdifferentiated fibroblasts, also known as cancer-associated fibroblasts (CAFs), remodel the extracellular matrix and architecture of the diseased tissue and secrete chemical factors, which all together promote the transformation process by encouraging tumor growth, angiogenesis and inflammation, and contribute to drug resistance. Our long-term goal is to discover and design new therapeutic approaches that target tumor-stroma interactions for melanoma treatment. The objective of the project is to identify molecular complexes that mediate interactions between CAFs and melanoma cells, and develop novel therapies that co-target the host and tumor cells to conquer malignant melanoma.
 
Beauty Care Surfactant Skin/Scalp Mildness Mechanistic Understanding:  Natural Moisturizing Factors and Related Skin Biomarkers
 
During the past two years, we have established strong collaboration with P&G to better understand the interaction between cleansing product and skin/hair for beauty care applications.  The initial part of the on-going research focuses on the clinical mildness performance through in-depth mechanism understanding of skin biomarkers during the cleansing process (Wei as P&G SPOC). The seond part is to better understand metabolism of zinc pyrithione (ZPT) in human skin using explant cultured skin model (Nash as P&G SPOC).
Positions and Work Experience
05-09-2005 -05-09-2008 Research Associate, Department of Dermatology, University of Pennsylvania, Philadelphia, PA 19104
05-10-2008 -08-31-2010 Senior Research Investigator, Department of Dermatolgy, University of Pennsylvania, Philadelphia, PA 19104
09-01-2010 -To Present Adjunct Assistant Professor, Department of Dermatology, University of Cincinnati, Cincinnati, OH 45267
01-01-2014 -To Present Associate Member, Cincinnati Cancer Center, Cincinnati, OH 45267
01-01-2014 -To Present Associate member, Shriners Burn Hospital, Cincinnati, OH 45267
Grant: #Dertmatology Foundation Research Career Development Award Investigators:Boissy, Raymond; Zhang, Yuhang 07-01-2012 -07-31-2012 Dermatology Foundation Contribution of Wnt in Epthelial-Mesenchymal Interactions for Hair Follicle Organogenesis Role:PI $4,583.33 Closed Level:Private Non-Profit
Grant: #R03AR062788 Investigators:Zhang, Yuhang 08-01-2012 -07-31-2015 National Institute of Arthritis, Musculoskeletal and Skin Disease Manipulation of Beta-catenin Signaling in the Dermal Papilla Cells for Hair Regeneration and Pigmentation Role:PI $153,075.00 Active Level:Federal
Grant: #3351 Investigators:Zhang, Yuhang 12-01-2012 -11-30-2013 Elsa U. Pardee Foundation Targeting Tumor-associated Fibroblasts as a Therapeutic Strategy in Melanoma Role:PI $81,385.00 Active
Grant: #MRA Young Investigator Award #300586 Investigators:Zhang, Yuhang 05-30-2014 -05-29-2017 Melanoma Research Alliance Molecular Basis of Tumor-Associated Fibroblasts in Melanoma Role:PI $60,000.00 Awarded Level:Private Non-Profit
Grant: #2015 Research Grant Investigators:Zhang, Yuhang 08-01-2015 -03-31-2016 Skin Cancer Foundation Reprogramming the Tumor Microenvironment to Treat Melanoma Role:PI $25,000.00 Awarded Level:Private Non-Profit
Grant: #R21CA191761 Investigators:Abdelmalek, Zalfa; Mutasim, Diya; Zhang, Yuhang 07-03-2015 -06-30-2017 National Cancer Institute Melanoma prevention by MC1R selective small peptide analogs of alpha MSH Role:Collaborator $221,595.00 Awarded Level:Federal
Grant: #406 Investigators:Yuhang Zhang 07-01-2015 -Bad Format: 20170631 Procter & Gamble Beauty Care Surfactant Skin/Scalp Mildness Mechanistic Understanding: Natural Moisturizing Factors and Related Skin Biomarkers Role:PI 210,000 Active Type:Contract
Grant: #Harry J. Lloyd Charitable Trust 2015-17 Investigators:Abdelmalek, Zalfa; Zhang, Yuhang 06-01-2015 -05-31-2017 Harry J. Lloyd Charitable Trust Reprogramming the Tumor Microenvironment to Treat Melanoma Role:PI $200,000.00 Awarded Level:Private Non-Profit
Grant: #R15 CA228014 Investigators:Abdelmalek, Zalfa; Kadekaro, Ana Luisa; Zhang, Yuhang 04-01-2018 -03-31-2021 National Cancer Institute Breaking down the matrix in the melanoma microenvironment: Mechanism and therapeutic evaluation Role:PI $480,750.00 Awarded Level:Federal
Grant: #URC Interdisciplinary Award AY2015-16 Investigators:Boyce, Steven; Supp, Dorothy; Zhang, Yuhang 05-01-2016 -04-30-2017 UC's University Research Council ENGINEERING HAIR FOLLICLE REGENERATION BY TARGETING DERMAL SHEATH CELLS Role:PI $25,000.00 Active Level:Internal UC
Grant: #R21AR0173380 Investigators:Boyce, Steven; Supp, Dorothy; Zhang, Yuhang 04-01-2018 -03-31-2020 National Institute of Arthritis, Musculoskeletal and Skin Disease Reprogramming the dermal microenvironment to induce hair follicle neogenesis in engineered skin Role:PI $211,043.00 Awarded Level:Federal
Grant: #R01AR077238 Investigators:Supp, Dorothy; Xie, Changchun; Zhang, Yuhang 02-04-2021 -11-30-2025 National Institute of Arthritis, Musculoskeletal and Skin Disease Multiscale modeling of an inductive hair follicle microenvironment in engineered skin substitute Role:PI $364,613.00 Awarded Level:Federal
Grant: #R01AR077238 Investigators:Supp, Dorothy; Xie, Changchun; Zhang, Yuhang 02-01-2021 -11-30-2025 National Institute of Arthritis, Musculoskeletal and Skin Disease Multiscale modeling of an inductive hair follicle microenvironment in engineered skin substitute Role:PI $364,613.00 Awarded Level:Federal
Grant: #W81XWH-16-1-0489 (CA150055) Investigators:Abdelmalek, Zalfa; Kadekaro, Ana; Merino, Edward; Zhang, Yuhang 09-01-2016 -08-31-2019 Department of the Army Medical Research Acquisition Activity Exploring a New Paradigm in Melanoma Prevention Role:Collaborator $631,883.00 Closed Level:Federal
Grant: #R21AR078976 Investigators:Boyce, Steven; Supp, Dorothy; Zhang, Yuhang 04-12-2021 -03-31-2023 National Institute of Arthritis, Musculoskeletal and Skin Disease Reprogramming of human fibroblasts into inductive dermal papilla cells Role:PI 213345.00 Awarded Level:Federal
Grant: #R01CA249737 Investigators:Abdelmalek, Zalfa; Chaudhary, Rekha; Harris, Gregory; Xie, Changchun; Zhang, Yuhang 06-15-2021 -05-31-2026 National Cancer Institute Reprogramming of the stromal microenvironment in melanoma progression and therapeutic escape Role:PI 375431.00 Awarded Level:Federal
Grant: #S10OD030402 Investigators:Closson, Chet; Fan, Guochang; Hong, Christian; Luo, Yu; Sadayappan, Sakthivel; Wang, Hongsheng; Weiss, Alison; Zhang, Yuhang 09-01-2021 -08-31-2022 Office of the Director, National Institutes of Health Leica Stellaris 8 Confocal Microscope Role:Collaborator 598148.00 Awarded Level:Federal
Peer Reviewed Publications
Zhang, Yuhang; Tomann, Philip; Andl, Thomas; Gallant, Natalie M; Huelsken, Joerg; Jerchow, Boris; Birchmeier, Walter; Paus, Ralf; Piccolo, Stefano; Mikkola, Marja L; Morrisey, Edward E; Overbeek, Paul A; Scheidereit, Claus; Millar, Sarah E; Schmidt-Ullrich, Ruth (2009. ) Reciprocal requirements for EDA/EDAR/NF-kappaB and Wnt/beta-catenin signaling pathways in hair follicle induction.Developmental cell, , 17 (1 ) ,49-61 More Information
Zhang, Yuhang; Andl, Thomas; Yang, Steven H; Teta, Monica; Liu, Fei; Seykora, John T; Tobias, John W; Piccolo, Stefano; Schmidt-Ullrich, Ruth; Nagy, Andras; Taketo, Makoto M; Dlugosz, Andrzej A; Millar, Sarah E (2008. ) Activation of beta-catenin signaling programs embryonic epidermis to hair follicle fate.Development (Cambridge, England), , 135 (12 ) ,2161-72 More Information
Liu, Fei; Chu, Emily Y; Watt, Brenda; Zhang, Yuhang; Gallant, Natalie M; Andl, Thomas; Yang, Steven H; Lu, Min-Min; Piccolo, Stefano; Schmidt-Ullrich, Ruth; Taketo, Makoto M; Morrisey, Edward E; Atit, Radhika; Dlugosz, Andrzej A; Millar, Sarah E (2008. ) Wnt/beta-catenin signaling directs multiple stages of tooth morphogenesis.Developmental biology, , 313 (1 ) ,210-24 More Information
Zhang, Yuhang*; Imtiyaz, Hongxia Z*; Rosenberg, Stephen*; Rahman, Ziaur S M; Hou, Ying-Ju; Manser, Tim; Zhang, Jianke (2006. ) The Fas-associated death domain protein is required in apoptosis and TLR-induced proliferative responses in B cells. Journal of immunology (Baltimore, Md. : 1950), , 176 (11 ) ,6852-61
Andl, Thomas; Murchison, Elizabeth P; Liu, Fei; Zhang, Yuhang; Yunta-Gonzalez, Monica; Tobias, John W; Andl, Claudia D; Seykora, John T; Hannon, Gregory J; Millar, Sarah E (2006. ) The miRNA-processing enzyme dicer is essential for the morphogenesis and maintenance of hair follicles.Current biology : CB, , 16 (10 ) ,1041-9 More Information
Imtiyaz, Hongxia Z; Zhang, Yuhang; Zhang, Jianke (2005. ) Structural requirements for signal-induced target binding of FADD determined by functional reconstitution of FADD deficiency.The Journal of biological chemistry, , 280 (36 ) ,31360-7 More Information
Zhang, Yuhang; Rosenberg, Stephen; Wang, Hanming; Imtiyaz, Hongxia Z; Hou, Ying-Ju; Zhang, Jianke (2005. ) Conditional Fas-associated death domain protein (FADD): GFP knockout mice reveal FADD is dispensable in thymic development but essential in peripheral T cell homeostasis. Journal of immunology (Baltimore, Md. : 1950), , 175 (5 ) ,3033-44
Liu F, Dangaria S, Andl T, Zhang Y, Wright AC, Damek-Poprawa M, Piccolo S, Nagy A, Taketo MM, Diekwisch TG, Akintoye SO, Millar SE. (2010. ) beta-Catenin initiates tooth neogenesis in adult rodent incisors.Journal of Dental Research, , 89 (9 ) ,904 More Information
Choi, Yeon Sook; Zhang, Yuhang; Xu, Mingang; Yang, Yongguang; Ito, Mayumi; Peng, Tien; Cui, Zheng; Nagy, Andras; Hadjantonakis, Anna-Katerina; Lang, Richard A; Cotsarelis, George; Andl, Thomas; Morrisey, Edward E; Millar, Sarah E (2013. ) Distinct functions for Wnt/beta-catenin in hair follicle stem cell proliferation and survival and interfollicular epidermal homeostasis.Cell stem cell, , 13 (6 ) ,720-33 More Information
Andl, Claudia D; Le Bras, Grégoire F; Loomans, Holli; Kim, Annette S; Zhou, Linli; Zhang, Yuhang; Andl, Thomas (2016. ) Association of TGF-beta signaling with the maintenance of a quiescent stem cell niche in human oral mucosa.Histochemistry and cell biology, , 146 (5 ) ,539-555 More Information
Zhou, Linli; Yang, Kun; Carpenter, April; Lang, Richard A; Andl, Thomas; Zhang, Yuhang (2016. ) CD133-positive dermal papilla-derived Wnt ligands regulate postnatal hair growth.The Biochemical journal, , 473 (19 ) ,3291-305 More Information
Zhou, Linli; Yang, Kun; Wickett, R Randall; Kadekaro, Ana Luisa; Zhang, Yuhang (2016. ) Targeted deactivation of cancer-associated fibroblasts by beta-catenin ablation suppresses melanoma growth.Tumour biology, , 37 (10 ) ,14235-14248 More Information
Zhou, Linli; Yang, Kun; Xu, Mingang; Andl, Thomas; Millar, Sarah E; Boyce, Steven; Zhang, Yuhang (2016. ) Activating beta-catenin signaling in CD133-positive dermal papilla cells increases hair inductivity.The FEBS journal, , 283 (15 ) ,2823-35 More Information
Zhou, Linli; Xu, Mingang; Yang, Yongguang; Yang, Kun; Wickett, Randall R; Andl, Thomas; Millar, Sarah E; Zhang, Yuhang (2016. ) Activation of beta-Catenin Signaling in CD133-Positive Dermal Papilla Cells Drives Postnatal Hair Growth.PloS one, , 11 (7 ) ,e0160425 More Information
Zhou, Linli; Yang, Kun; Randall Wickett, R; Zhang, Yuhang (2016. ) Dermal fibroblasts induce cell cycle arrest and block epithelial-mesenchymal transition to inhibit the early stage melanoma development.Cancer medicine, , 5 (7 ) ,1566-79 More Information
Zhou, Linli; Yang, Kun; Wickett, Randall R; Andl, Thomas; Zhang, Yuhang (2016. ) Dermal sheath cells contribute to postnatal hair follicle growth and cycling.Journal of dermatological science, , 82 (2 ) ,129-31 More Information
Zhou, Linli; Yang, Kun; Andl, Thomas; Wickett, R Randall; Zhang, Yuhang (2015. ) Perspective of Targeting Cancer-Associated Fibroblasts in Melanoma.Journal of Cancer, , 6 (8 ) ,717-26 More Information
Andl, Thomas; Zhou, Linli; Yang, Kun; Kadekaro, Ana Luisa; Zhang, Yuhang (2017. ) YAP and WWTR1: New targets for skin cancer treatment.Cancer letters, , More Information
Zhou, Linli; Yang, Kun; Dunaway, Spencer; Abdel-Malek, Zalfa; Andl, Thomas; Kadekaro, Ana Luisa; Zhang, Yuhang (2017. ) Suppression of MAPK signaling in BRAF-activated PTEN-deficient melanoma by blocking ?-catenin signaling in cancer-associated fibroblasts.Pigment cell & melanoma research, , More Information
Andl, Thomas; Zhang, Yuhang (2017. ) Reaping Wnt after calming Hippo: Wnt and Hippo signaling cross paths in lung cancer.Journal of thoracic disease, , 9 (11 ) ,4174-4179 More Information
Dunaway, Spencer; Odin, Rachel; Zhou, Linli; Ji, Liyuan; Zhang, Yuhang; Kadekaro, Ana L (2018. ) Natural Antioxidants: Multiple Mechanisms to Protect Skin From Solar Radiation.Frontiers in pharmacology, , 9 ,392 More Information
Song, Yaolin; Boncompagni, Ana C; Kim, Sang-Seok; Gochnauer, Heather R; Zhang, Yuhang; Loots, Gabriela G; Wu, Dianqing; Li, Yulin; Xu, Mingang; Millar, Sarah E (2018. ) Regional Control of Hairless versus Hair-Bearing Skin by Dkk2.Cell reports, , 25 (11 ) ,2981-2991.e3 More Information
Andl, Thomas; Andl, Claudia D; Zhang, Yuhang (2018. ) Two-edged sword: how activation of the "proto-oncogene" yes-associated protein 1 in lung squamous cell carcinoma can surprisingly inhibit tumor growth.Journal of thoracic disease, , 10 (Suppl 33 ) ,S3870-S3874 More Information
Liu, Tianyi; Zhou, Linli; Yang, Kun; Iwasawa, Kentaro; Kadekaro, Ana Luisa; Takebe, Takanori; Andl, Thomas; Zhang, Yuhang (2019. ) The ?-catenin/YAP signaling axis is a key regulator of melanoma-associated fibroblasts.Signal transduction and targeted therapy, , 4 ,63 More Information
Dunaway, Spencer; Rothaus, Alexandra; Zhang, Yuhang; Luisa Kadekaro, Ana; Andl, Thomas; Andl, Claudia D (2019. ) Divide and conquer: two stem cell populations in squamous epithelia, reserves and the active duty forces.International journal of oral science, , 11 (3 ) ,26 More Information
Liu, Tianyi; Zhou, Linli; Li, Danni; Andl, Thomas; Zhang, Yuhang (2019. ) Cancer-Associated Fibroblasts Build and Secure the Tumor Microenvironment.Frontiers in cell and developmental biology, , 7 ,60 More Information
Liu, Tianyi; Zhou, Linli; Xiao, Yao; Andl, Thomas; Zhang, Yuhang (2022. ) BRAF Inhibitors Reprogram Cancer-Associated Fibroblasts to Drive Matrix Remodeling and Therapeutic Escape in Melanoma.Cancer research, , 82 (3 ) ,419-432 More Information
Zhou, Linli; Ji, Wei; Dicolandrea, Teresa; Finlay, Deborah; Supp, Dorothy; Boyce, Steven; Wei, Karl; Kadekaro, Ana Luisa; Zhang, Yuhang (2023. ) An improved human skin explant culture method for testing and assessing personal care products.Journal of cosmetic dermatology, , 22 (5 ) ,1585-1594 More Information
Andl, Thomas; Zhou, Linli; Zhang, Yuhang (2023. ) The dermal papilla dilemma and potential breakthroughs in bioengineering hair follicles.Cell and tissue research, , 391 (2 ) ,221-233 More Information
Post Graduate Training and Education
02-01-2001-Bad Format: 20050431 Postdoctoral Researcher, Kimmel Cancer Center, , Philadelphia, PA, USA
Academic - 231 Albert Sabin Way
Cincinnati  Ohio, 45267
Phone: 513-558-0740
yuhang.zhang@uc.edu
Research - Zhang's Lab
231 Albert Sabin Way
Cincinnati  Ohio, 45229
Phone: 513-558-0817