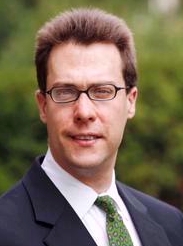 Aaron Christopher Bryant
Professor
Rufus King Professor of Constitutional Law
Since joining the College of Law faculty in 2003, Professor A. Christopher Bryant has been a prolific scholar and an exceptionally skilled and award-winning teacher of constitutional law.
Professor Bryant's numerous published articles and essays reach a wide range of issues of contemporary constitutional importance, including the separation of powers, judicial review, and the roles of the various branches of the national government in constitutional interpretation.  He is a recognized expert on the scope and exercise of national legislative power and the respect that Congressional action is owed from the federal judiciary, with leading articles on the subject published in the Cornell Law Review, George Washington Law Review, BYU Law Review, Notre Dame Journal of Legislation, and William & Mary Bill of Rights Journal.  Professor Bryant's research in federalism and unenumerated rights include a co-authored book, "Powers Reserved for the People and the States": A History of the  Ninth and Tenth Amendments (Greenwood Press 2006), as well as articles in the Georgia Law Review and the Cornell Journal of Law and Public Policy, to name only a few.  He authored thirteen essays on landmark constitutional cases for the Encyclopedia of the Supreme Court of the United States(Macmillan 2008), and is a frequent speaker on the Constitution, the Congress, and the federal courts at symposiums, conferences, and public programs.
Professor Bryant is a member of the America Society for Legal History and the Federalist Society and also serves as faculty advisor to the College's Federalist Society chapter.
Professor Bryant previously was a law professor at the William S. Boyd School of Law, University of Nevada, Las Vegas where he taught in the areas of federal courts, legislative process and statutory interpretation, criminal law, and conflicts.
Before beginning his academic career, Professor Bryant served as Assistant Senate Legal Counsel in the U.S. Senate Office of Legal Counsel and as an associate at Shea & Gardner in Washington, D.C. After earning his JD, Professor Bryant clerked for the Hon. James L. Buckley of the U.S. Court of Appeals for the District of Columbia Circuit.
BA: Hanover College
JD: University of Chicago
Other Publications
(2018. ) How the Prohibition on "Under-Ruling" Distorts the Judicial Function (And What to do About & Essays it) .45 PEPPERDINE L. REV,
(2013. ) Constitutional Newspeak: Learning to Love the Affordable Care Act Decision .39 NOTRE DAME J. OF LEG., 15 ,
(2012. ) Constitutional Forbearance .46 U. RICHMOND L. REV, 695 ,
(2012. ) Nigro v. United States: The Most Disingenuous Supreme Court Opinion, Ever .12 NEV. L.J, 650 ,
(2011. ) Foreign Law as Legislative Fact in Constitutional Cases .BYU L. REV., 1005 ,
(2011. ) What McDonald Means for Unenumerated Rights .45 GA. L. REV., 1073 ,
(2010. ) The Pursuit of Perfection: Congressional Power to Enforce the Reconstruction Amendments .47 HOUS. L. REV, 579 ,
(2008. ) · Bibb v. Navajo Freight Lines · Cleburne v. Cleburne Living Center, Inc. · Duke Power Co. v. Carolina Environmental Study Group, Inc. · Garcia v. San Antonio Metropolitan Transit Authority · Gravel v. United States · Hodel v. Virginia Surface Mining & Reclamation Association · Missouri v. Jenkins · Nixon v. Fitzgerald · City of Philadelphia v. New Jersey · Williamson v. Lee Optical Co., and · Younger v. Harris .ENCYCLOPEDIA OF THE SUPREME COURT OF THE UNITED STATES, Macmillan
(2007. ) The Third Death of Federalism .17 CORNELL J.L. & PUB. POL'Y, 101 ,
(2007. ) Presidential Signing Statements and Congressional Oversight .16 WM. & MARY BILL RTS. J. , 169 ,
(2003. ) Quirin Revisited .WIS. L. REV., 309 ,
(2003. ) Stopping Time: The Pro-Slavery and "Irrevocable" Thirteenth Amendment .26 HARV. J.L. & PUB. POL'Y, 501 ,
(2002. ) Youngstown Revisited .29 HASTINGS CONST. L.Q., 373 ,
(2002. ) Retroactive Application of "New Rules" and the Antiterrorism and Effective Death Penalty Act .70 GEO. WASH. L. REV, 1 ,
(2001. ) Reading the Law in the Office of Calvin Fletcher .1 NEV. L.J, 19 ,
(2001. ) Remanding to Congress: The Supreme Court's New "On the Record" Constitutional Review of Federal Statutes .86 CORNELL L. REV, 328 ,